DAY 10 - SUNDAY 12TH AUGUST
Tam and I are awake at 7.00am despite our hectic day yesterday as we have a long drive ahead of us to Hilton Head and still have to pack.
The girls wake a little later and we all have cereal for breakfast. There is some complaining as little legs and arms are aching, but the women tell me to stop moaning.
The next hour is spent packing and cramming stuff into the car.

At 9.30am we say a fond farewell to Majestic Manor and the wonderful view of Lake Watauga. Just a couple of miles along the road a wild turkey flies in front of the car, there's certainly no lack of wildlife here.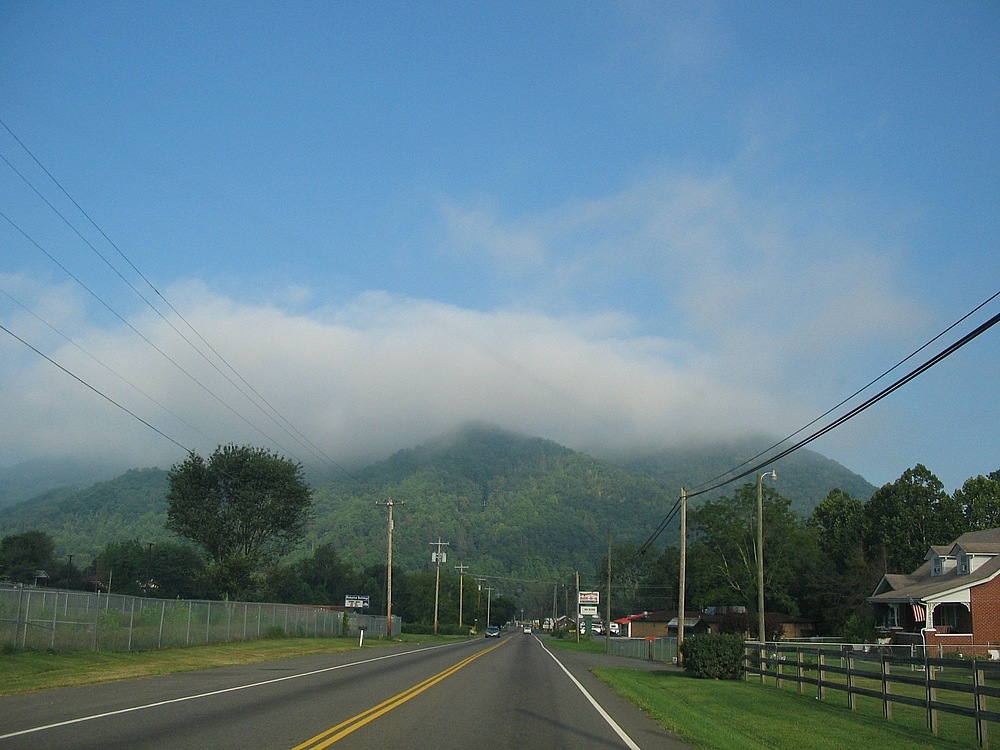 3 hours into the journey we stop at Bojangles just outside Columbia for lunch. This is a chain that specializes in chicken and biscuits. I knew I'd get my chicken eventually. We have the 12 piece family meal with 6 biscuits and a large tub of gravy. Me and Tam look at the huge amount of chicken and agree that there's no way we'll eat all of it. Wrong. Everything goes except one sad looking lonely chicken leg sitting unhappily in the bottom of the box.
The chicken is covered in a similar coating to KFC, but not so spicy. The biscuits are soft and fresh, warm and lovely, especially when dipped in the gravy. Including 4 sodas the cost is $22 and we all come out stuffed.

Back on the road we amuse ourselves by listening to the radio or playing CD's. Georgia has her holiday compilation on and Tam says she doesn't like one of the tracks, so me and the girls sing along loudly to a delightful little number by Lordi called 'The Devil is a Loser and He's My *****'. It fair brings to mind the wit and sophistication of Noel Coward.

We finally reach Hilton Head Island around 5.00pm after 7 ½ hours on the road and just over 400 miles.
We find Disney's Hilton Head Resort after just one wrong turn. First impressions are that it's in a much more built up area than I thought it would be. A small bridge connects it to Shelter Cove and the marina.
We check-in and are given a room just above the registration area in Live Oak Lodge. Our room is 1124. We have a studio and it is certainly bigger than the studios we have stayed in at the Boardwalk and Beach Club. The kitchen is by the door and around the corner from the bedroom. The bathroom is bigger, but the thing that stands out the most is the balcony. This is at least twice as big as other studio balconies and has a couple of rocking chairs.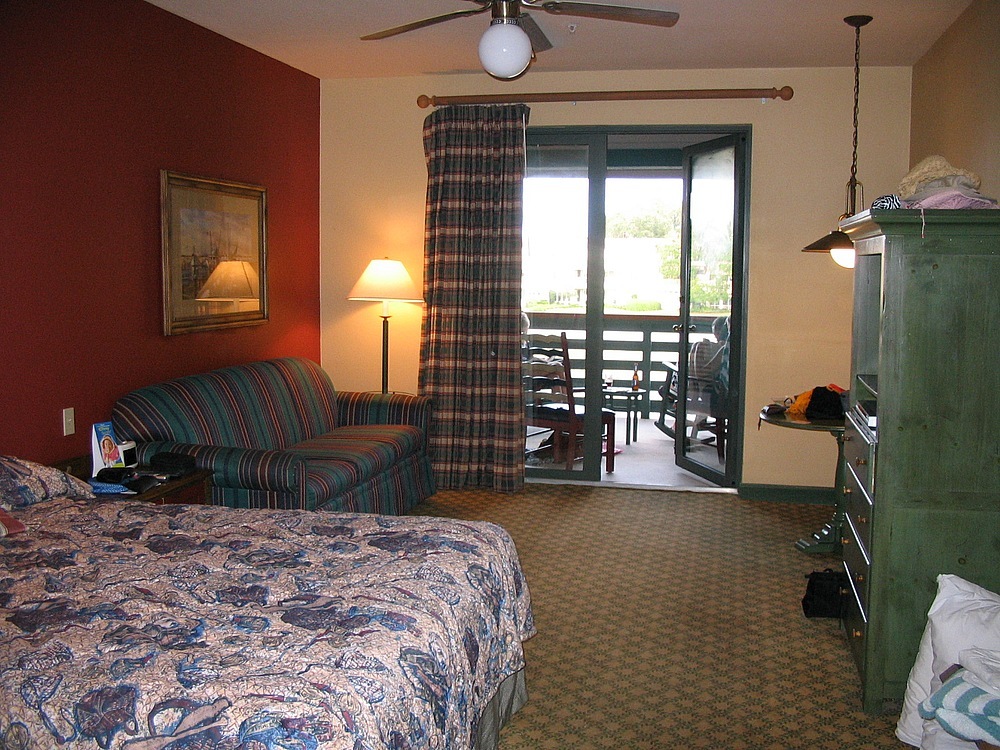 The view is over an inlet and to the left is the wide marshland area. It's certainly a very pleasing vista.


We unpack and I discover that I am lacking 2 pairs of chinos, which have been specially brought along for some fine dining when we reach WDW. They have been left in a hotel somewhere along the way. Tam hides her annoyance pretty well.

Next we take a stroll around the resort. There is no sit down restaurant here and no lounge. It seems as if the facilities have been scaled back as there are so many dining options on Hilton Head Island.
The pool also looks very small considering the number of people staying here, although there is another pool at the beach house, which we haven't visited yet. The views over the marshland are very pretty though.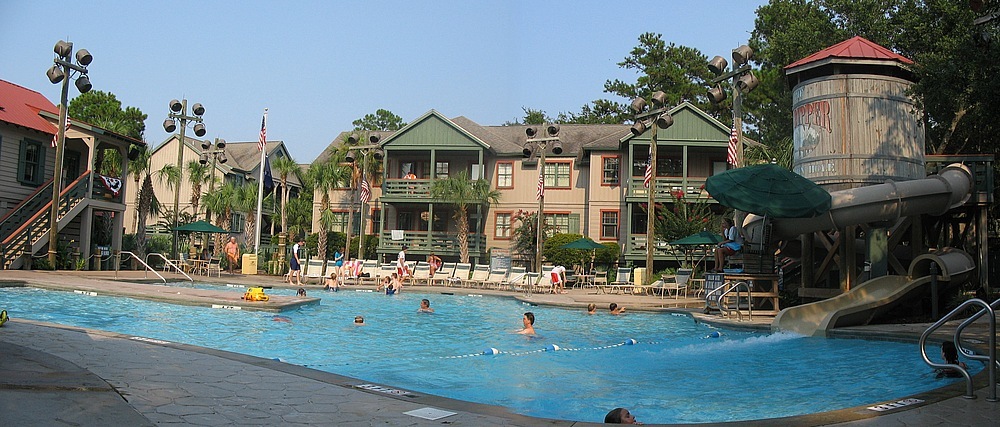 Back in the room we have showers. While waiting our turns Georgia and I are flicking through the television channels and we find a station showing drag racing. They have fairly normal looking cars, motorbikes and long thin cars with big engines and two bicycle wheels at the front. These things move faster than I do when it's my round (opposite direction, obviously).
They even have snowmobiles! Drag racing snowmobiles! These things do the quarter mile in just over 8 seconds reaching 150mph. What next? Drag racing Stannah stair lifts?

We go out to eat at around 8.30pm and walk across the bridge to Shelter Cove. It is immediately apparent that this part of town doesn't party hard. A couple of the restaurants are closed because it is Sunday, so we decide to eat at the San Miguel restaurant. I'll bet you thought this was a Chinese place, didn't you? Well, you're wrong it's Mexican.

More indications that this is not party town are when the chap singing and playing the guitar packs up a few songs after we arrive. The crowded bar empties and diners leave one by one. We are the last to finish at 10.00pm. That being said, the food is very good and the margaritas even better. $80 with tip is pretty good too.

We walk back around the marina and admire the beautiful yachts. It's another lovely, balmy evening, I suppose that is one advantage of going in the summer months, the nights are hot and I like that baby!

Back at the resort we take a look in Big Murgie's Den, which is a nice room with a TV and pool table. There is not much else though except lots of old black and white photos of fishing related things, as this is the theme of the room. One shows a car with a row of fish attached to it. Personally I think a go-faster stripe and some fluffy dice would be more appealing as decoration, but what do I know?

In another photo there is someone holding a large fish in front of a sign saying Glenn's Camp. If your name was Glenn, why you want to advertise the fact that you were camp?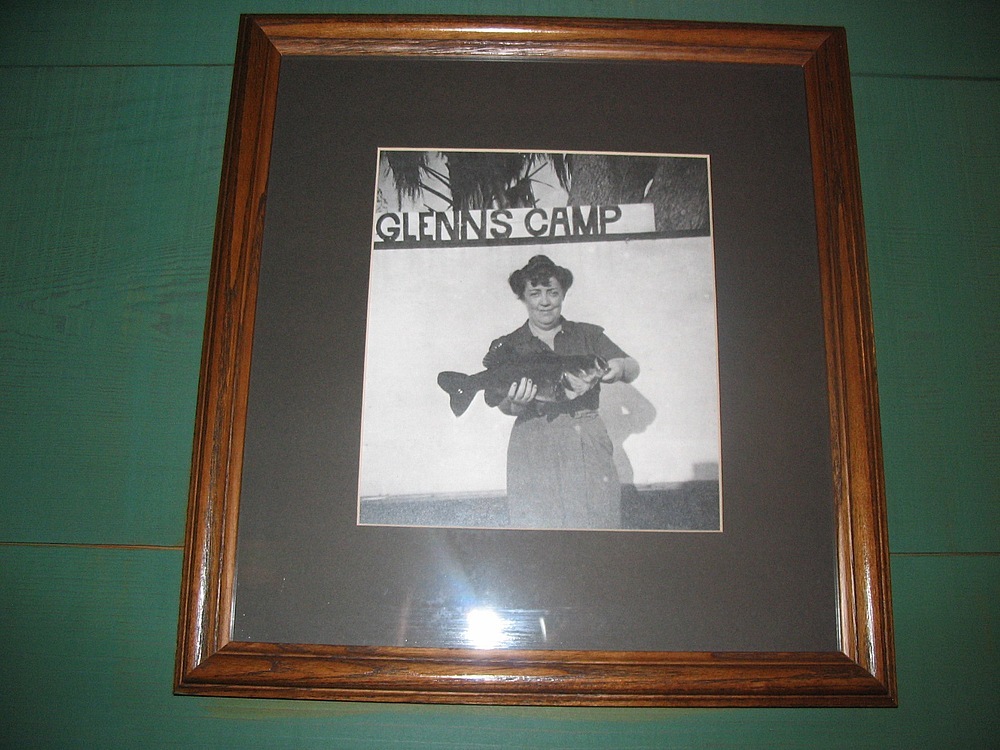 I've never understood why the President spends so much time with camp David either, shouldn't he be running the country or something?

Tomorrow we have to decide between going to Savannah or going to the beach all day and drinking beer at the beach house. Oh dear, who would have thought the car could suddenly get 4 flat tyres all at once.

[AUGUST 2007 REPORT HOME PAGE]