DAY 12 - TUESDAY 14TH AUGUST
We've decided on a more relaxing day, or at least as relaxing as it gets when you're on holiday with the Stringers.
Tam and I get up at 8.00am. Tam reads on the balcony while I walk around the resort and take some video, especially on the little walkway that juts out into the marshes. This is probably the prettiest part of the resort. I've been wondering what the large barge that is moored in this area is for and I hear a man telling his son that this is where they launch the fireworks from later this evening. Ah, that makes sense now. I also enjoy a swing in one of the hammocks dotted around the resort.

Back in the room the girls rise and we all have breakfast. We decide to look around Hilton Head Island a little more before going to the beach house in the afternoon.
We jump in the car and head towards Harbour Town I didn't realise that you have to pay $5 to enter the Sea Pines area of the island, but at least parking is free after that.

Harbour Town has a lighthouse and a marina with some very expensive yachts. There are also some shops and restaurants as well as the seemingly compulsory golf course. You can barely move in Hilton Head without falling over a golf course. I hope I don't sound bitter; it's just that I will not get to play until we get to WDW.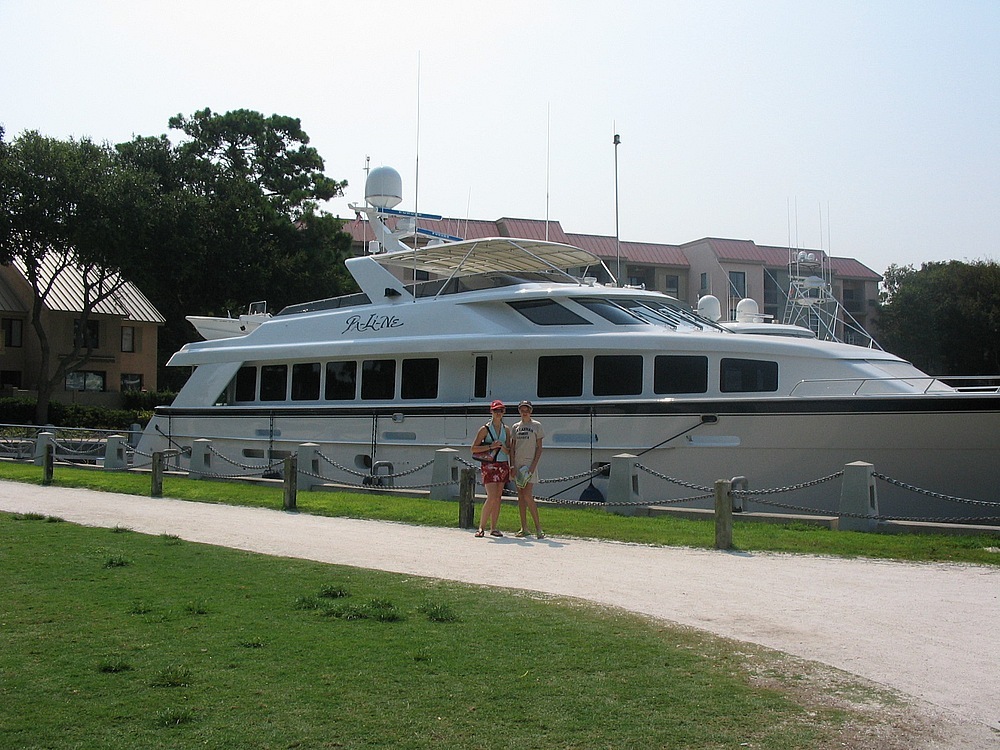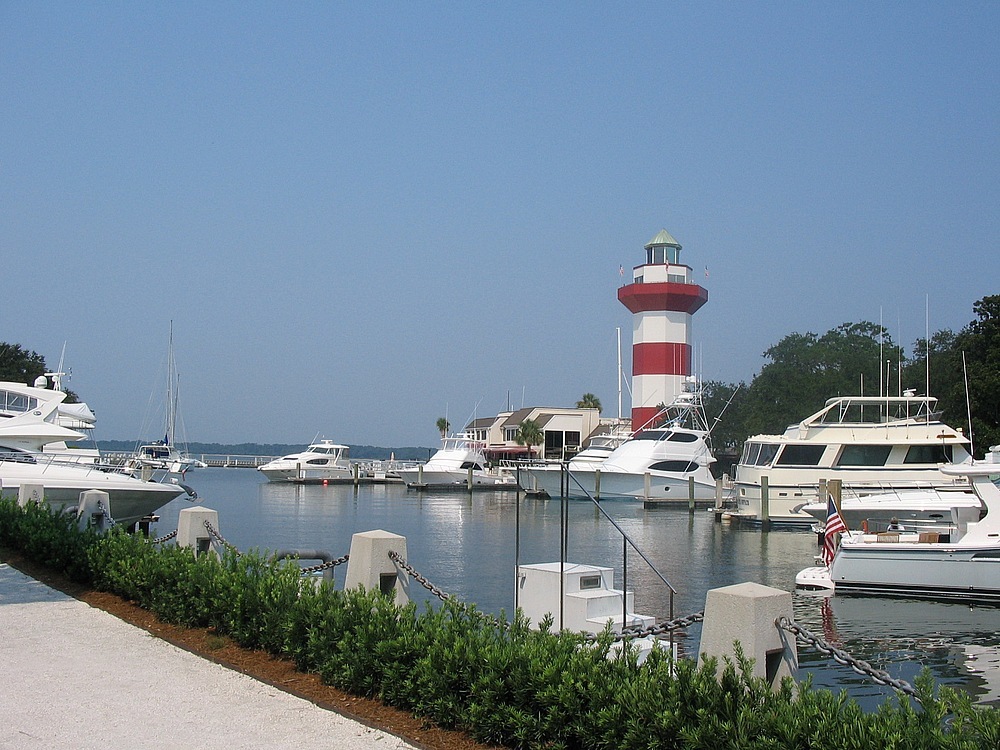 On to South Beach marina. This is much more rustic in appearance and has a number of fishing boats moored up. Again, there are shops and restaurants. There are many miles of bike paths around the island; I think we would certainly rent bikes if we were staying here.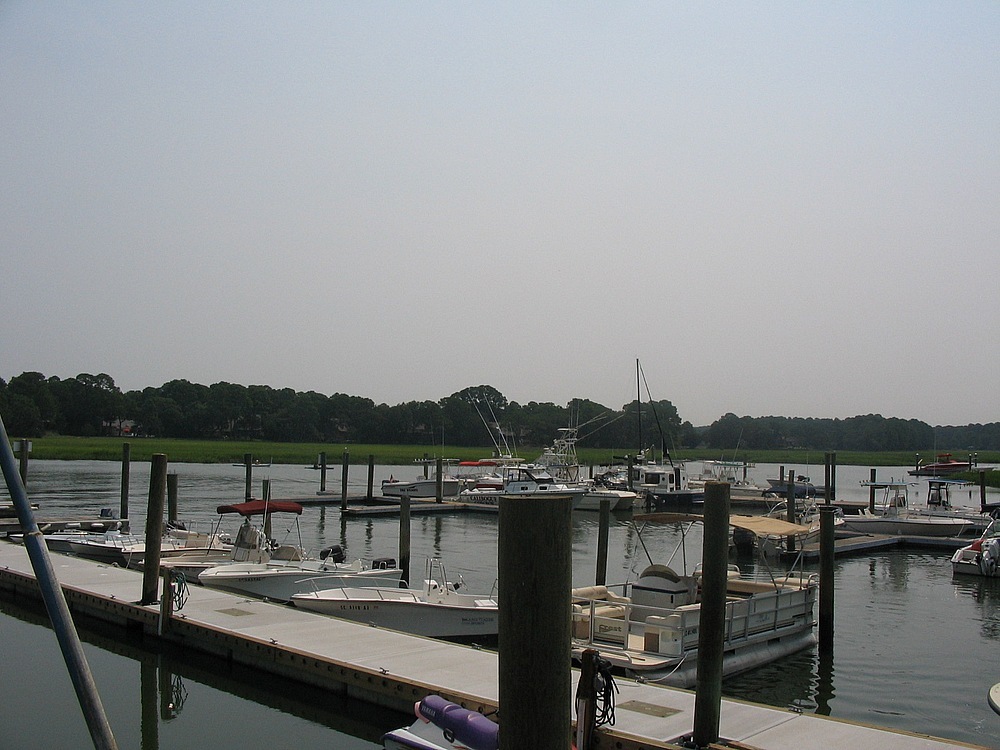 It's time to check out Disney's beach house. This is about a mile from the resort and you can drive there or take the shuttle, which is free. As we're already in the car I decide we'll drive. This proves to be easier said than done as the car park is packed and there are a couple of cars looking for places.
Being the selfless and decent human being that I am, I offer to drop the ladies off and take the car back before catching the shuttle, expecting the women to show a modicum, of solidarity and say 'That's ok, we'll come with you'. Instead I get 'ok' and they exit the vehicle in indecent haste.
And what are the thanks I get for my act of kindness? Tam says 'Get the washing out of the dryer while you're there'. There are times when I think this family doesn't deserve me.

As I drop the car off there is a shuttle bus waiting, but of course I have to do my laundry duties first. By the time this is finished the shuttle has left. Sigh, it just doesn't pay to be kind. I take the opportunity to go to the room and pour a beer into a plastic cup and then walk down to the shuttle bus stop where sitting and drinking in the sunshine makes the whole world seem fine again.
The bus only takes a few minutes and the kind driver allows me to bring my cup of beer onboard.

Disney's beach house is an area with a swimming pool, bar, snack bar and seating areas. It's pleasant enough, but packed. The ladies have procured sun beds, but we decide to get lunch before we settle down. This is the usual fare of hamburgers, Philly steak sandwich and chicken caesar salad.
Just as we start to eat the music starts blaring out really loudly, which is ok in itself, but then a voice announces they are going to start pool games. Saints preserve us. I could get this sort of entertainment a whole lot cheaper at Butlins.

They are still at it when we sit down after lunch with a cocktail. They are passing water filled sausages along a line between their legs. Is this a suitable game for children I ask? After an indeterminate length of time (it seemed like hours, but was probably only minutes) the 2 teams are declared to have tied and there needs to be one more game to determine the winning side. Oh joy, my enthusiasm knows no bounds. This game involves each team doing a sort of war dance at each other. It's a bit like watching the New Zealand rugby teams Haka, but a damn sight more frightening. The winning team gets congratulated and the losing team gets packed off to darkest Siberia or a monastery or something.
Now you may get the impression that I'm not too keen on children. You'd be right, nasty, noisy little beasts. Thank the lord mine have grown up into nasty, noisy little teenagers.

We decide to beat a hasty retreat to the beach. The sand is quite powdery up the top end, but the tide is out so it's quite a trek to the water. We set our towels down on the sand and me and Inds go for a swim. I really can't believe how warm it is. I know the Gulf Coast of Florida is often warm, but I thought the Atlantic would be much cooler. It's like tepid bath water and you certainly don't get that bit where you start to stand on tip-toe when the waves lap around your unmentionables.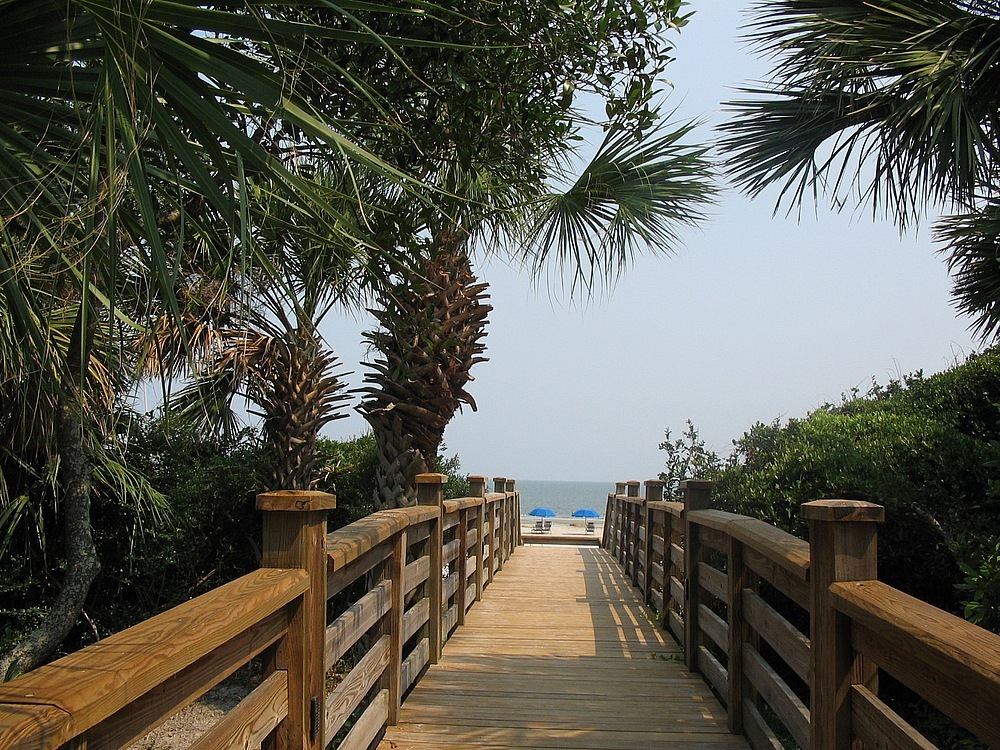 The beach stretches for as far as the eye can see in both directions and is certainly better than the one we went to on Tybee Island yesterday, but there are also people as far as the eye can see. It's certainly no Captiva.

After a couple of hours we get the bus back to the resort. While chatting with the bus driver we discover that the fireworks are paid for by all the businesses in Shelter Cove, not just Disney.

It's coming up to 4.30pm so we go to the pool for a refreshing dip. Me and India go down the slide, which is fun. I say to her 'Again,again', so off we go. 'Again, again'. After the 5th time she's starting to get fed up with me.

Just after 5.00pm we head back to the room and on the way we have a go at one of those things where you have to throw a horseshoe around a peg sticking out of the ground. I know you like me to get things right, so I looked on the internet and its proper name is Horseshoe Chucky Peg.

Back at the room we all get showered and ready to leave as we're eating at the Ocean Grill overlooking the marina tonight. We booked a table for 8.00pm as it's supposed to give a good view of the fireworks at 9.00pm.

By 7.00pm the women are ready after only brief shouting on my behalf. There are many more people about in Shelter Cove tonight, the driver of the shuttle bus told us they can get a couple of thousand people watching on a good night. I think this might be a slight exaggeration, but there are lots of people and some stalls selling knick-knacks.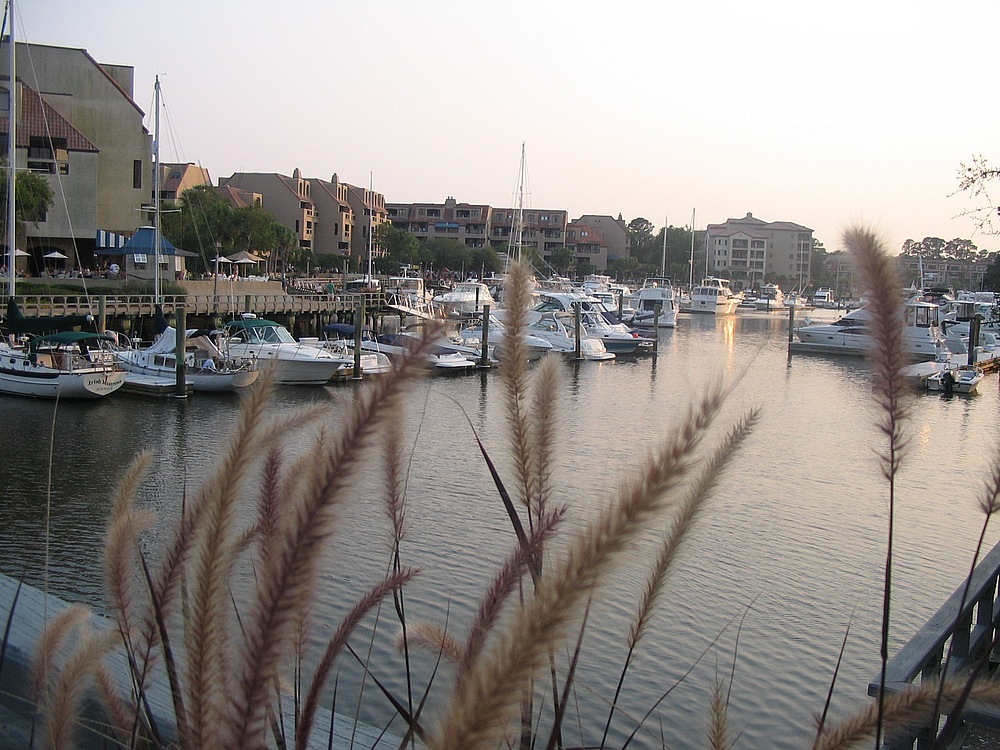 We go to the bar in the San Miguel first where Tam and I enjoy a margarita. There are two blokes playing guitar and bongos and it's quite laid back, it reminds me a bit of Captiva except it is a lot more crowded. Still, we enjoy it a lot.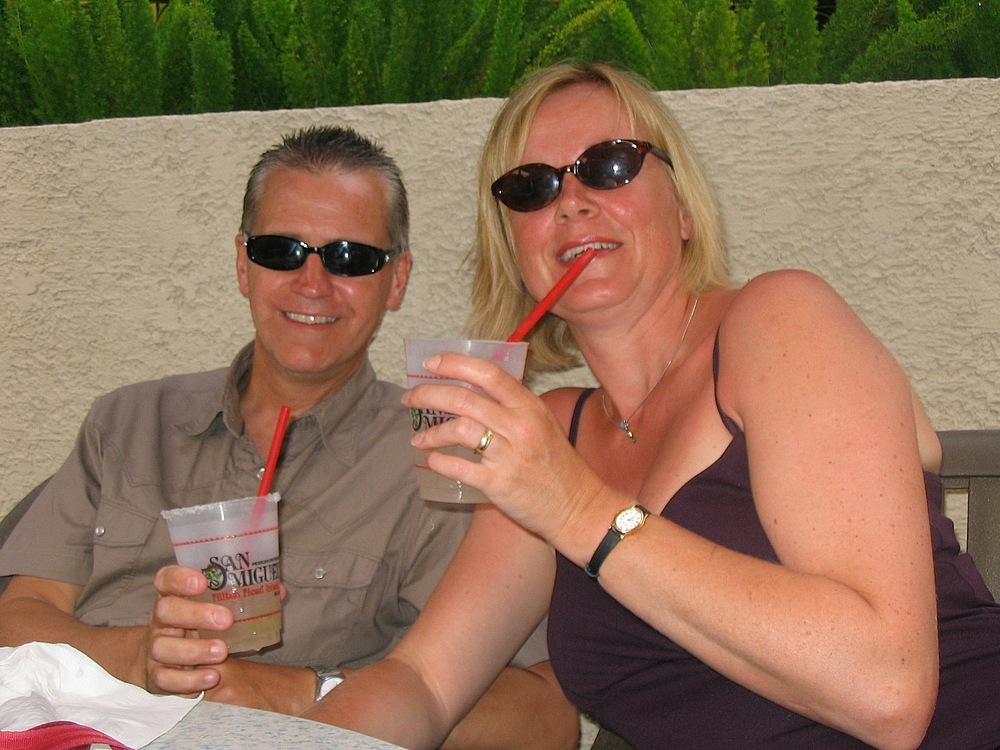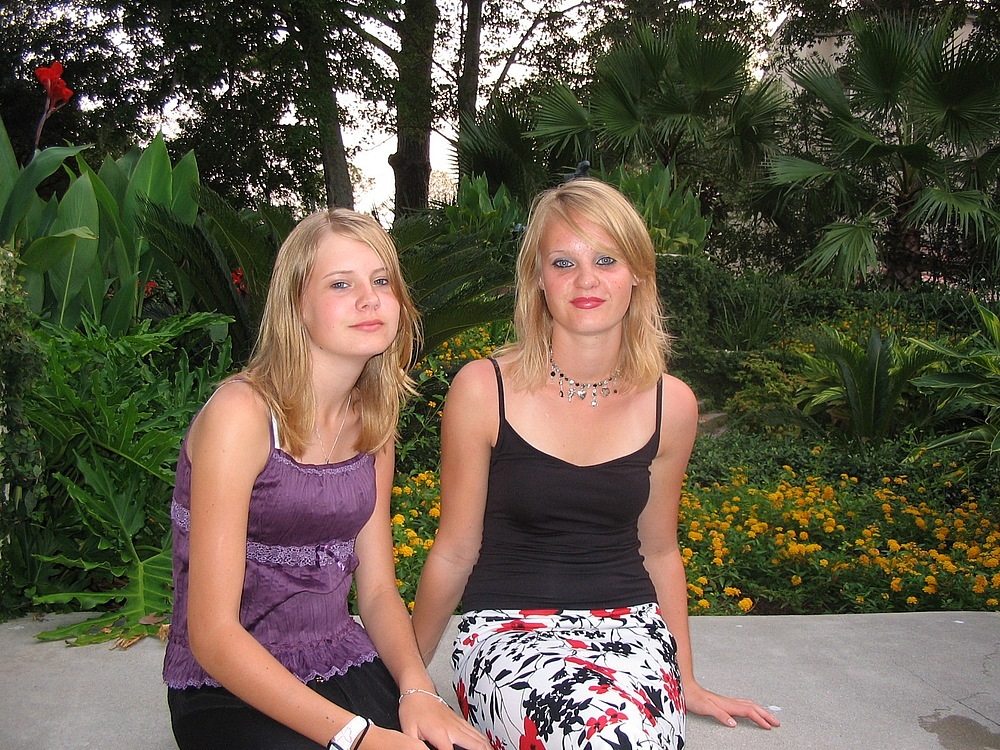 On to the Ocean Grill at 7.45pm where we ask for an outdoor table in order to see the fireworks. The guy on the desk tells us it will be an hour before the table is ready. We're in no hurry so we say ok. We get a drink from the bar and sit and wait. In the end it is no more than 30 minutes before we are seated in the perfect position to see the fireworks. It's a hot and sticky night although I am surprised again at how little this bothers me.

Our server is a really great guy, our guess is that he is of North African descent and he tells us he spent 3 years in London. When I ask him how he landed up in the States he tells us that he spends a few months each summer working and then travels to new Zealand, Australia and other places meeting up with friends. I think maybe this guy has got his life sorted.

Our food is fine. I have lemon chicken, Tam has lobster pasta and Georgia and India have the pork tenderloin. We also enjoy a bottle of Australian Shiraz, mainly chosen because it has the name Woop Woop. This cause Tam to whoop in an alarming fashion every time she takes a sip.

The fireworks start at 9.00pm and are pretty good. The problem is, once you have seen the fireworks in WDW you are always comparing. The most noticeable thing is the lack of music.
As soon as they are finished you see all the little boats return to harbour. There are even some kayaks with little lights on paddling back.
The girls have a crème brulee to finish a meal that costs us $175 including tip. I've actually enjoyed this evening more than any other evening we've had so far on Hilton Head. I think it's a combination of having a more leisurely day along with a very pleasurable evening. Don't get carried away with thinking this is a late night, we leave the Ocean Grill just after 10.00pm and walk back past all the establishments on the marina that are closing up for the night.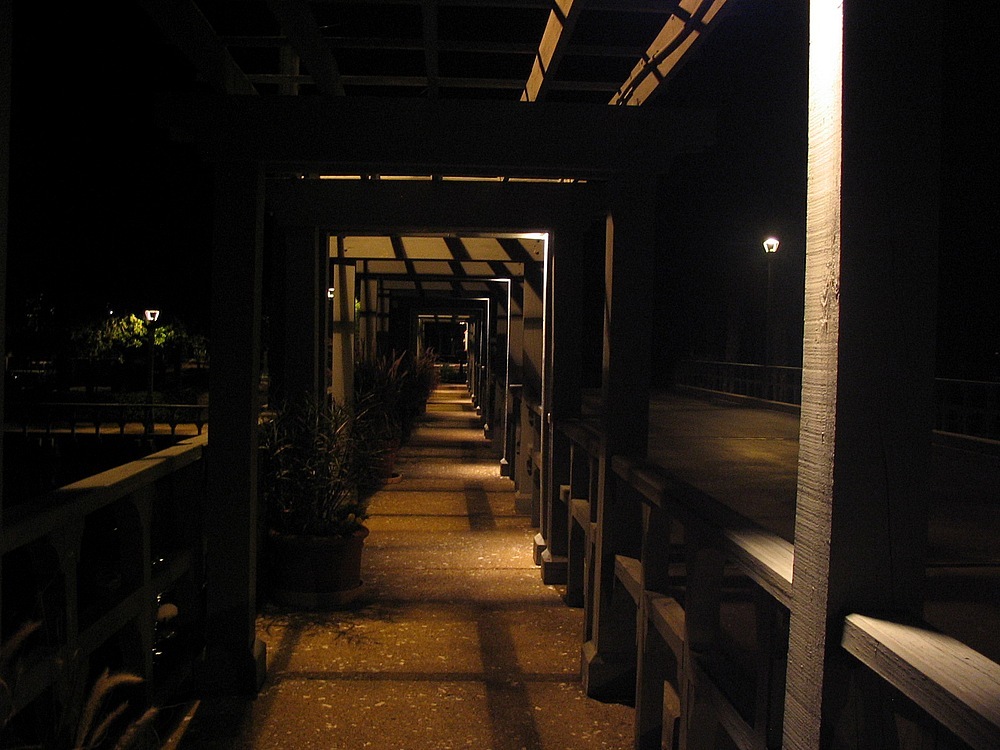 The bridge to Disney's Hilton Head Resort

We get back to the room and I have to point out to the ladies that it's getting quite late. After all, it's nearly 10.20pm. This sparks the women into action and they get out the cards while I crack open a beer and write up my trip report. When I ask the women if there is anything else I should add to today's report they make some totally inappropriate suggestions. The fairer sex? I think not.

Just before I retire for the night I sit out on the balcony (and I appreciate that this is more information than you require) in just my underpants. It's just like being snuggled up in an enormous electric blanket. I mean it's hot outside not in my underpants. Although……
Doubtless it would be far too hot without air conditioning, but as we have it, it's wonderful.

[AUGUST 2007 REPORT HOME PAGE]