DAY 10 - FRIDAY AUGUST 12TH 2005
Tam's theory on sleeping better at sea level seems to have some validity as we all sleep well and only wake up when someone starts moving furniture at 6.30am on the floor above us.
I think Tam is going to publish – 'Sleep Depravation at Altitude – An Hypothesis', based on deeply scientific data of 1 nights relatively unbroken sleep. J.K.Rowling look out.
A change of tack has been decided for today (we are nothing if not flexible) and agree to ditch the boat trip in favour of getting a MUNI ticket, which allows unlimited travel on the transport system. Let's see how much we can see in one day.
We walk to the booth on Powell to buy our tickets and a $3 map. This looks like someone has taken different coloured spaghetti and thrown it onto a map of San Francisco.
Before starting to use the transport system we walk back to Chinatown as India and Georgia want to buy dresses. I start to get irritable (an unusual occurrence when I'm shopping as I'm sure you'll agree) as valuable touring time is slipping away.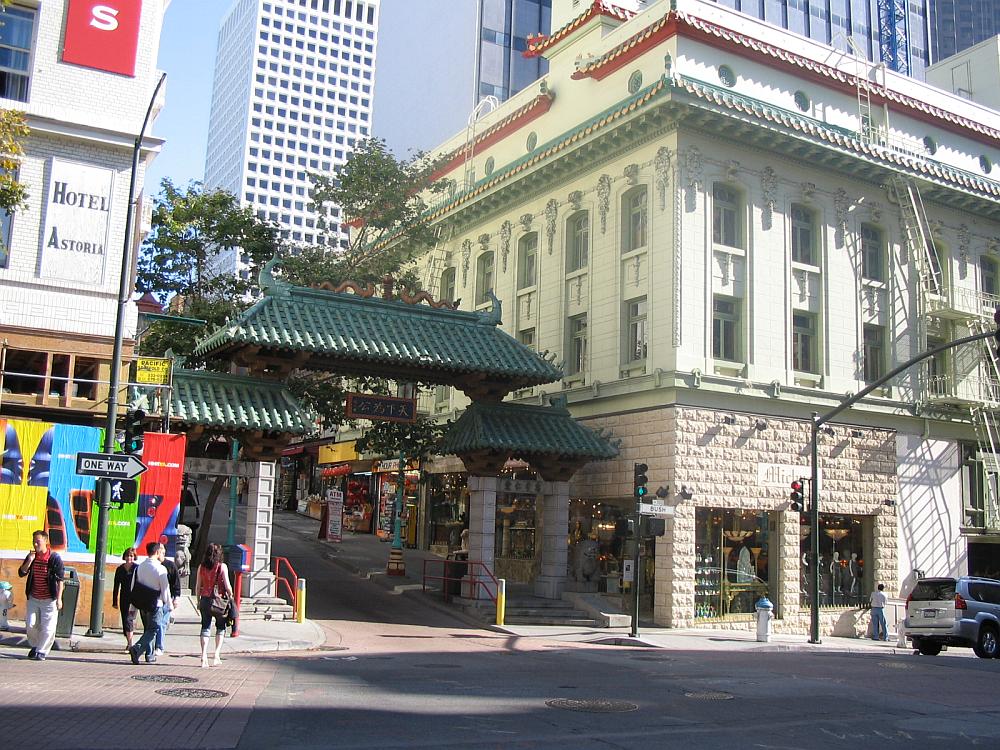 Eventually they are done and we catch the number 1 bus across town to 25th Street where we wait for a number 29 into the Presidio.
The change in temperature is amazing. In Chinatown it's a lovely sunny morning and t-shirt and shorts are fine. Waiting for the bus on 25th it's really cold. We have a little key ring on the rucksack and when pressed a nice lady tells us the temperature. She informs us that it's 16°C. Luckily she is a very polite temperature lady or else she might have added 'and flamin' chilly'. As Georgia points out, we did not come all the way to California for 'chilly'.
The number 29 takes us into the Presidio and drops us off at the Golden Gate Bridge. It's not very golden today as it's mostly covered by fog. It also doesn't look quite as impressive as I thought it would. Maybe on a sunny day it would look better.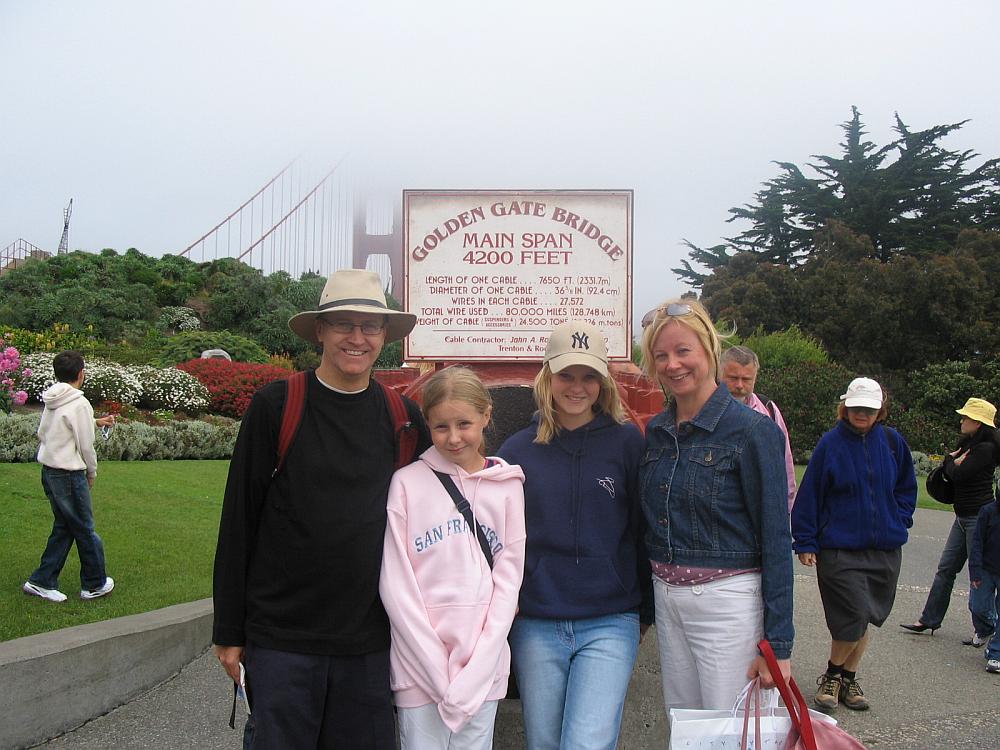 Those aren't smiles - they are grimaces of pain!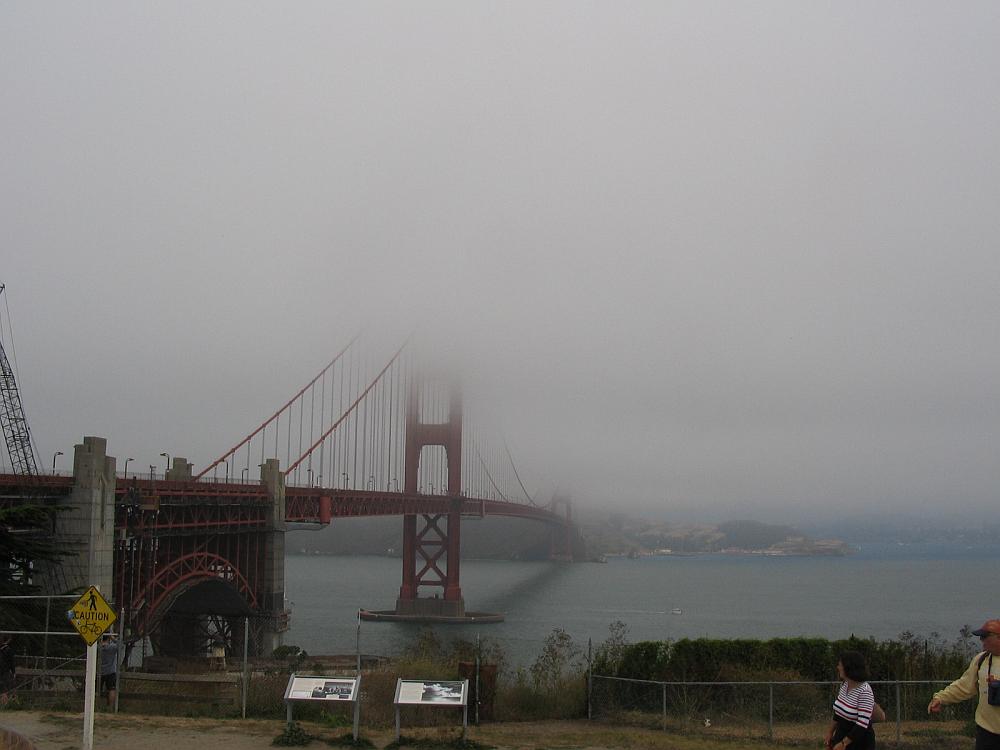 You've got to admit, it's not the prettiest thing you've ever seen.
Next we jump on a number 28 (I'm going to start playing bus bingo in a minute) and get off in the Golden Gate Park. It's quite pretty here, but not much different from many parks except for the Japanese Tea Gardens, but you have to pay $3.50 each to get in so we don't bother. It does look quite pretty from the entrance though.
Back on the street we take a bus going the wrong way before getting the right one to Haight Ashbury. This was, of course, the centre of the flower power and hippydom back in the 60's. It's still retained some of it's charm and roots with a few funky shops and restaurants.
It's now 1.00pm and we haven't eaten yet today. A rebellion is brewing. Decisive action is called for. That place over there – it has food, it has drink, it'll do!
It's called Bia's Wine Bar and is a quaint little place with a range of soups and salads available.
Temperature lady now informs us that it's 22°C and then adds 'Woohoo! Warm at last'.
The food is actually quite average, although India likes her smoked trout salad. Tam and I have a glass of Sangria, which tastes more like red wine, sp we have to drink that quick and move on to beer. Being a wine bar they have a limited choice so we opt for Sierra Nevada, which we have never tried before. It turns out to be a pale ale and Tam likes it a lot, it's a bit sweet for me though. The bill comes to $65.75 without tip. Not good value. We paid less for our Chinese meal last night. I guess they get by on passing trade.
We walk down Haight towards Market Street. I suppose it's inevitable, but the cooler shops are interspersed with tacky tourist traps.
At Market Street we get the historic street car all the way down to Fisherman's Wharf. This is an old tram powered by overhead cables and it's a really cool way to travel, you feel like you're stepping back in time.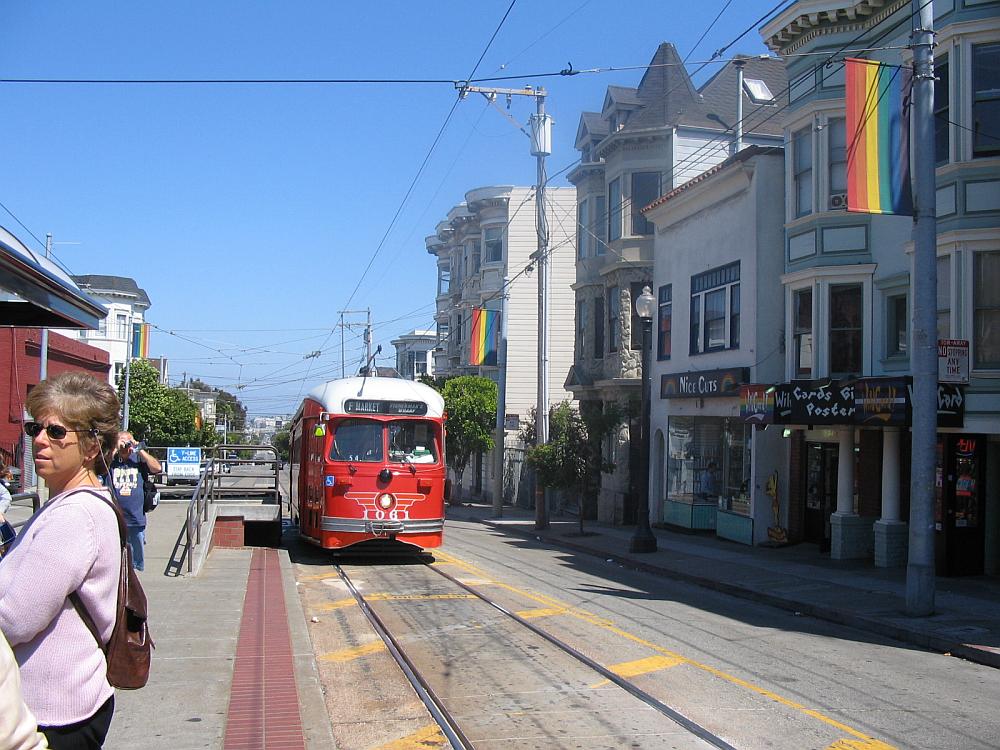 Pier 39 and Fisherman's Wharf are packed, so we walk back to the Cannery and enjoy a margarita sat in the sunshine outside Las Margaritas Bar. Temperature lady tells me it's still 22°C, she never rests.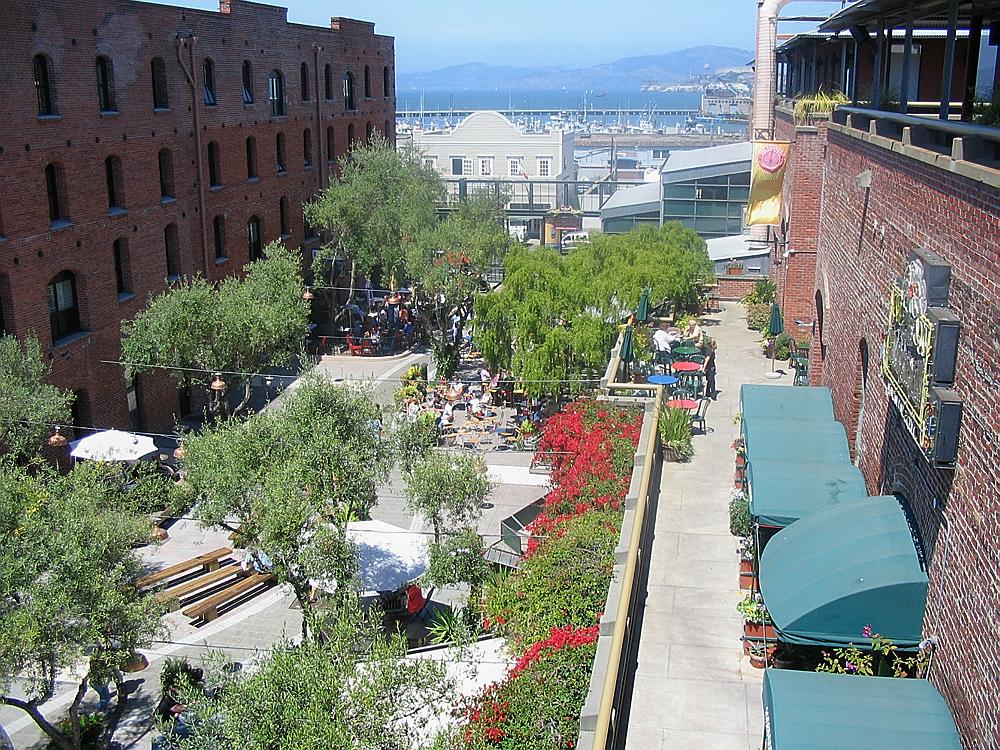 The Cannery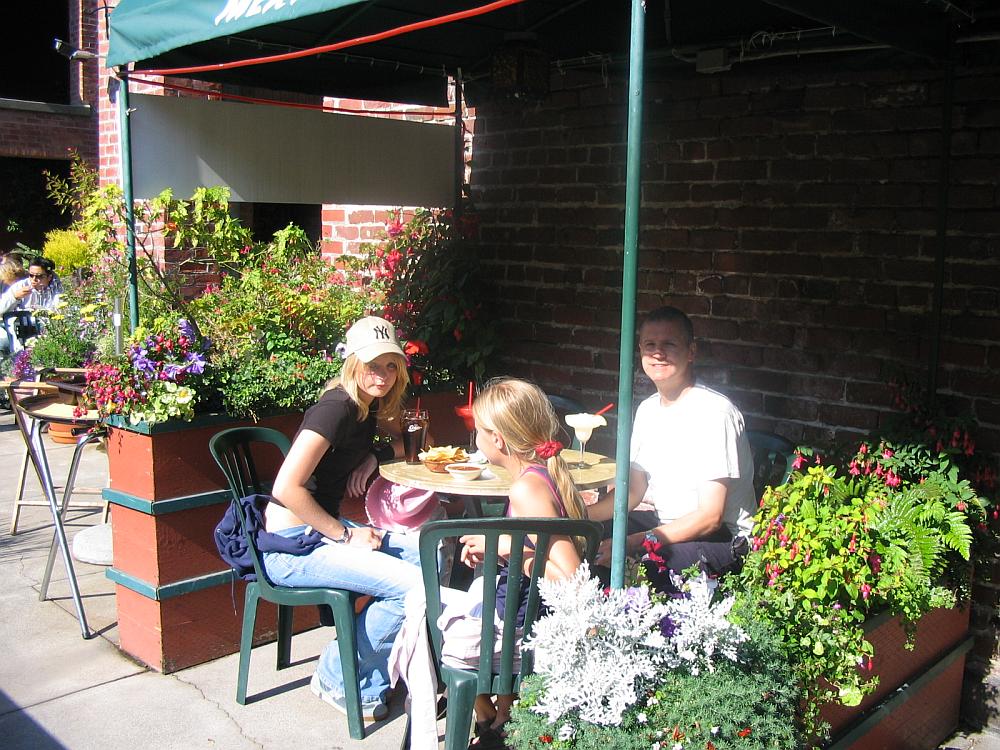 It's margarita time! Then again, when isn't it?
Tam decides we have still not seen enough so we walk along to Ghiradelli Square. This is another collection of shops and a couple of restaurants, nice enough, but nothing inspiring.
It's now 5.15pm and time to start our journey back to the Adagio, but how? The cable car terminus is heaving so we walk to the historic street car stop. That too is packed. Change of plans, walk to the bus stop. Here we can get a bus to Market Street where we would need to change. After 10 minutes or so one turns up. Within 2 stops it's full to the rafters and they're still trying to squeeze more in. It's stop, start, stop, start and even the hardened San Franciscans are muttering away.
Meanwhile, Georgia is desperate for the loo. We eventually make it to Market Street and manage to find a loo for Georgia thanks to a beggar in a wheelchair who directs us to a toilet. We drop some money in his pot.
We can get a 2, 3 or 4 bus along Sutter, which will take us most of the way back, but nothing appears to be happening on the bus front. Another 10 block walk gets us back to the Adagio close to 7.00pm.
I know we are not on a direct bus route from the Wharf, but this is ridiculous. The cable car is nearly direct, but impossible to use unless you want to wait an hour or two. The whole scenario has not finished our visit to San Francisco on a high note.
We have to shower and pack as much as we can really fast as we have an 8.15pm reservation for the Cortez, the restaurant in the Adagio.
The Cortez is in a similar style to the rest of the hotel, modern, chic and beautifully lit with a kitchen a la California Grill. We are warned by the server that the dishes are small and designed to be shared in tapas style.
The place is packed and the girls are the only children in there, but I'm proud of them as they try all the dishes we choose and behave impeccably.
It was all so good that I have to copy what we had from the menu to make you jealous.
Prawns a la plancha with basque pimentos, lemon garlic butter & creamy crab rice. ($12)
Roasted organic chicken breast with white asparagus ragu, parmesan fava puree & braised lardons. ($15)
Pan roasted natural Meyer hanger steak, creamy swiss chard & spice dusted crispy onions. ($16)
Glazed Long Island duck breast with gingered green beans, roasted cherries and sunchoke puree. ($15)
Slow roasted Berkshire pork belly with crispy herbed spaetzle, carrot coriander puree and ginger-balsamic butter. ($14)
Fries with harissa & zaatar spiced aiolis. ($6)
Don't ask me what most of the above means because I haven't got a clue. All I can tell you is that it was wonderful.
The drink is a little expensive. Red wine starts at $10 a glass and the girls have raspberry lemonade at $5 each. This limits us to one drink each. The bill, which has gratuity included comes to $130.
By the way, the place is packed, mostly with Americans so I'm assuming that it's popular with the locals.
After the meal the ladies use the hotel computers to check e-mail and I find out that England won the second test against the Australians and are looking good in the third. No offence to Australian readers, but after so many years of having Warne & Co. bragging about being the best in the world (which they undoubtedly were) it's nice to get a bit of revenge.
Back to the room to pack the final things and an early night as we've got to be up in the morning for the long drive down the Pacific Coast Highway to Solvang.