DAY 2 - THURSDAY AUGUST 4TH 2005
The usual semi-sleepless night is experienced. Our room overlooks one of the runways and it is quite noisy when a plane is taking off or landing. Fortunately they don't fly after 11.30pm. This titbit of information was given to us by a particularly chatty bus driver we met while waiting for our shuttle bus. I thought they flew 24 hours at Heathrow.
We are out of bed by 6.45am and go down to the pool. We are the only people foolish enough to be swimming at that time and splash around for a while. As Tam says, the pool area doesn't look quite so pretty in the cold light of day, but it's still nice.
We are showered and checked out by 8.00am and then get the shuttle bus back to Terminal 3. At this point we find why Tam's suitcase has become difficult to pull along. One of the wheels has broken off. I console myself with the thought that it's not mine. I'm all right Jack.
At the airport we hunt around for another case or a set of wheels for the broken one. This proves to be pretty fruitless as the luggage here costs a fortune. A captive audience I guess. We decide to soldier on and see if we can get something in the States.
At the Virgin on-line check-in desk we talk to Willow about our problem with the seats. She is sympathetic, but cannot find us 4 seats together, which is weird as we still have 3 ½ hours before the flight. I even try surreptitiously pinching the youngest child until it cries in order to tug at Willow's heartstrings. All to no avail. The best she can do is move me to 2 rows in front of the others. The good news is that it is an exit seat. Our first experience with on-line check-in has been mixed. We do not get to sit together, but check-in is extremely swift. There was only one person ahead of us in the queue.
Time for breakfast. We eat in the food court where an argument ensues between Tam and me as to who has the healthier breakfast. I have a tuna baguette. Tam bases her whole rationale of un-healthiness on the premise that it's too fishy for breakfast! I counter with the viewpoint that a banana and oatmeal muffin probably contains enough calories to sink a battleship. Perhaps we could combine the two. A banana, oatmeal and tuna muffin. Fishy yet satisfying.
Going through to the departure lounge we experience an unusual thing. A passport control officer with a sense of humour! He looks at Georgia and then says to me 'Please remember to feed the animals during the flight Sir.' Okay dokey govner.
In the departure lounge I start to feel uneasy. This is not normal. Tam is in non-shopping mode. A quick trip round duty free where smelly stuff is swiftly purchased for both of us and that's about it. Tam glances into FCUK and declares 'I can't really be bothered'. Flabbergasted! I nearly bought a round.
Our flight comes up on the board and we walk to gate 42. We are all hoping that the plane is fitted with V-Port and Tam, being the slightly anal person she is, has a list of all the Virgin planes that carry this latest in-flight entertainment system. We are in luck, we have Tubular Belle.
For those that don't know, V-Port is like a personal DVD player. There is a choice of 40 films plus TV, music, games etc. and you can start, stop, and pause whenever you wish.
Our flight leaves a little late at 12.30pm, but the flight time is reduced to 10 ½ hours.
Now, here's where I get to do my Jonathon Ross impression and give you the wisdom of my thoughts on the films I watch.
Firstly, Constantine with Keanu Reeves. I suppose it's a fairly old theme with a lost soul (Reeves) sending demons back to hell to keep the balance here on earth. The catch is, when he dies he is destined to end up in hell himself. It's reasonably enjoyable although would probably benefit from being watched in a cinema rather than with all the distractions of a plane. It does have just about the coolest devil I've ever seen though.
Hitchhikers Guide To The Galaxy – Most films suffer if you've read the book before watching them, especially when the book is one of the funniest and cleverest books ever written. Still, the film did a pretty good job. You've gotta like something that includes a song called 'So long and thanks for all the fish'.
Sin City – I'd read a few reviews about this film and they varied from awful to wonderful. I've got to say I thought it was excellent. Filmed in black and white with splashes of colour, it tells several separate stories which are loosely linked together. It's an adaptation of a comic book and looks and feels like it.
It's very, very violent, so if you don't like that sort of thing then stay well clear, but there is a strange sort of morality within it.
It also contains a fair portion of bosoms and bottoms. Not a bad thing in my book, in fact there ought to be an Oscar for this category. It could be a little gold statue with an ample bust and J-Lo behind. I'd stay awake into the early hours of the morning to see that one presented.
Kingdom of Heaven is a bit of an epic telling the story of a blacksmith who rises to become the head of the Crusader army defending Jerusalem. There's nothing particularly wrong with it and maybe I'm all filmed out, but it doesn't really catch my attention. The ladies may enjoy watching Orlando Bloom though.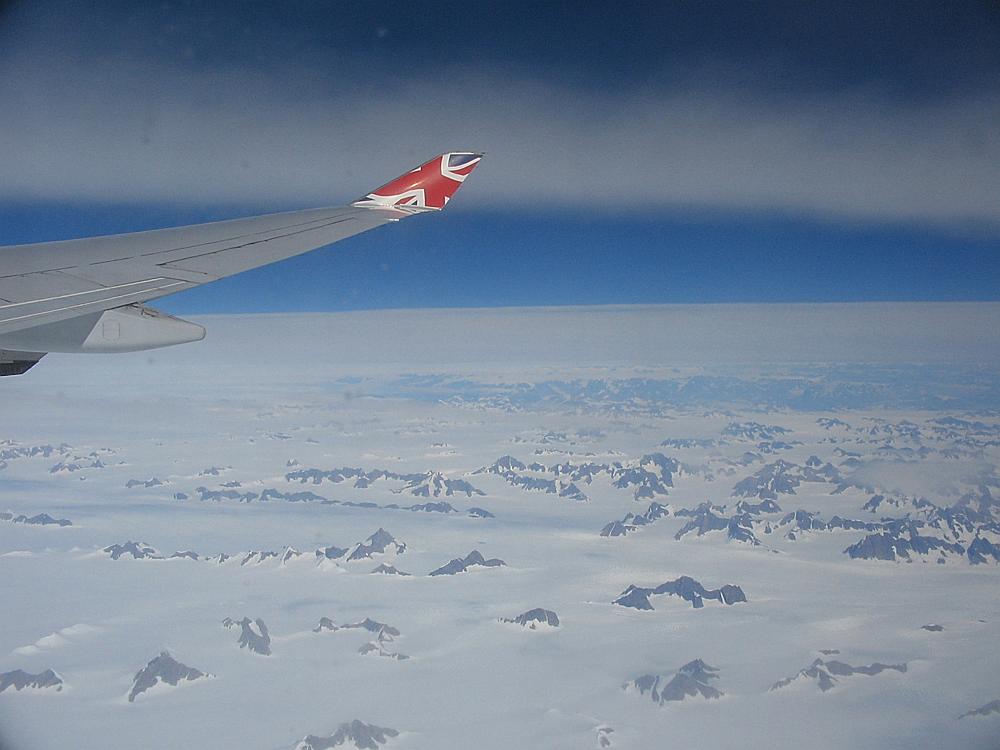 As you can see, Tam got a little artisitic with photos out of the plane window.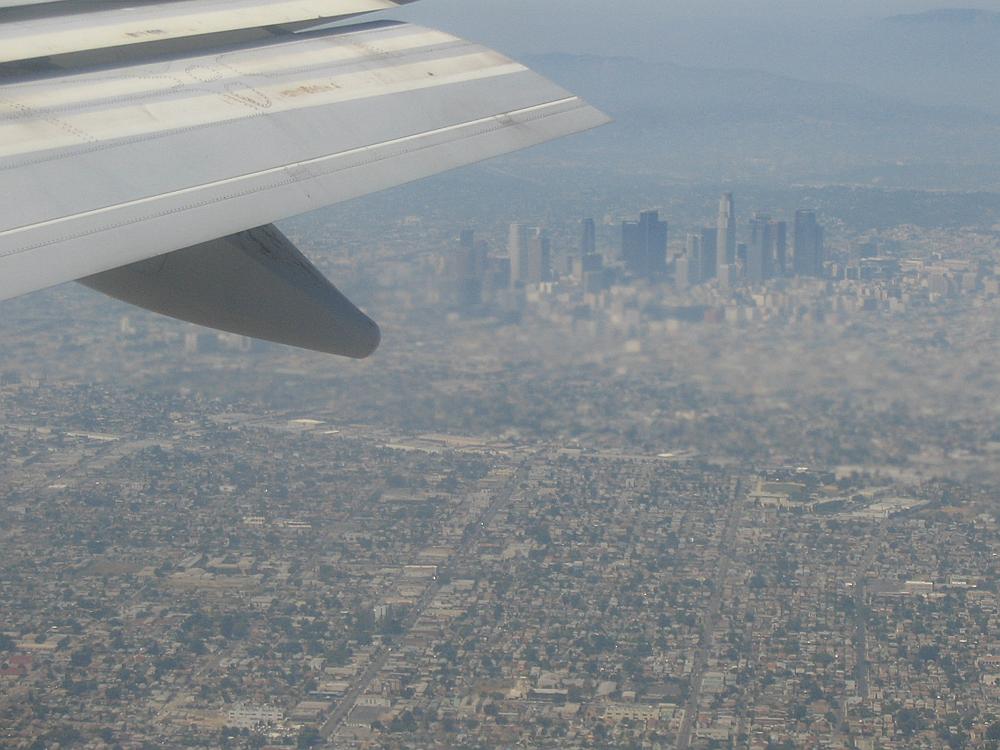 LA sprawls below us
The plane lands early at 3.00pm. All things considered things move reasonably swiftly considering we have off-site car hire with Dollar and we have to catch a bus. I feel really sorry for the bus driver who handles lots of luggage in a bus packed with British tourists and I am the only one to give him a tip. No wonder we Brits have a bad reputation.
We queue up for a little while before picking up our car, a rather swish looking Chrysler 300.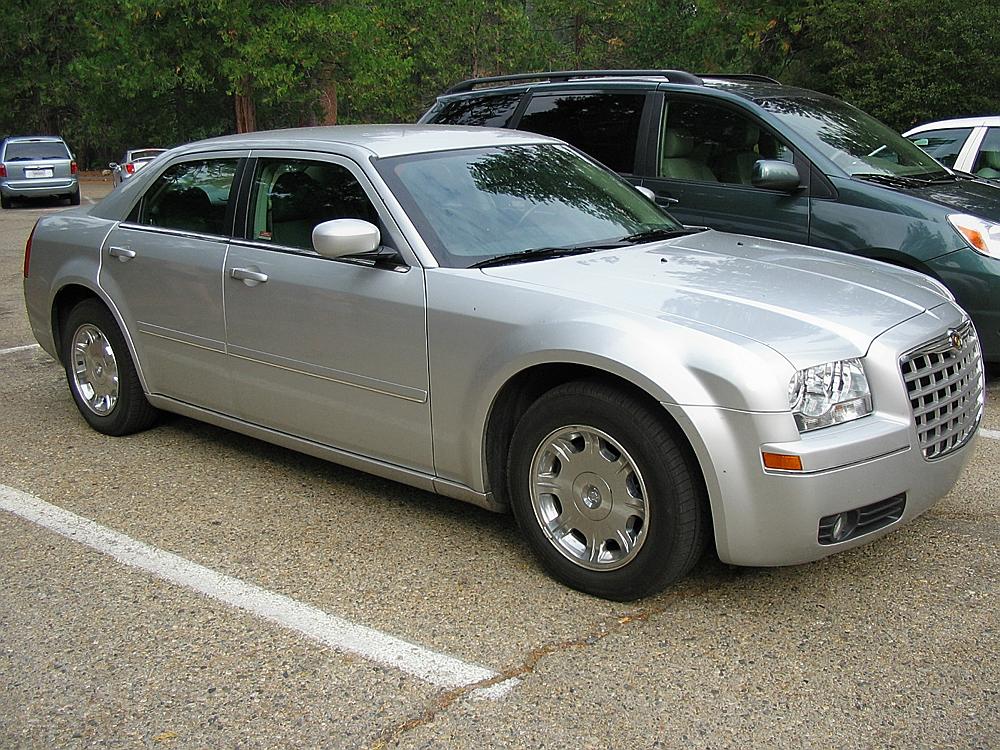 Ain't she a booty? The girls called it Fred.
We spend another 10 minutes trying to figure out how to get our 3 suitcases in the boot. It's like the Krypton Factor, but eventually a way is found after much grunting, sweating and under the breath swearing. I told the girls they shouldn't, but to no avail. We pull out of the car hire place at 5.00pm.
We manage to get onto the 405 with only one wrong turn and from here on the traffic is nose to tail for the first 15 miles. Tam is busy filming road signs as we go along as they are so familiar from films, TV shows etc. Santa Monica Boulevard, Mulholland Drive, Beverley Hills etc.
Eventually the traffic clears and we speed up and seem to spend the next hour going uphill as we climb to 4000ft. Tam remarks on how it is much prettier than she thought this part of our trip was going to be. Rolling hills with interesting vegetation and the occasional lake to break things up.
Then, suddenly, looming along the side of the road, the holy of holies. A Budweiser brewery! Unfortunately it is on the other side of a 6-lane highway and I can only wave in appreciation as we pass.
We are playing a CD that I made that has every California song we could think of. Is This The Way To Amarillo has found it's way onto the CD purely based on the fact that Tam thought Amarillo was in California. I had to gently point out that she was thinking of Camarillo. Well, actually it wasn't very gentle as I killed myself laughing.
We arrive at our first overnight stop at the Ramada in Lebec around 7.15pm. Although this is a new structure it is built in the style of an old ranch. I suppose it is sympathetic to its environment. I never did understand this. How can a building be sympathetic? Does it say 'Oh dear, how sad' when I spill my beer? I think not.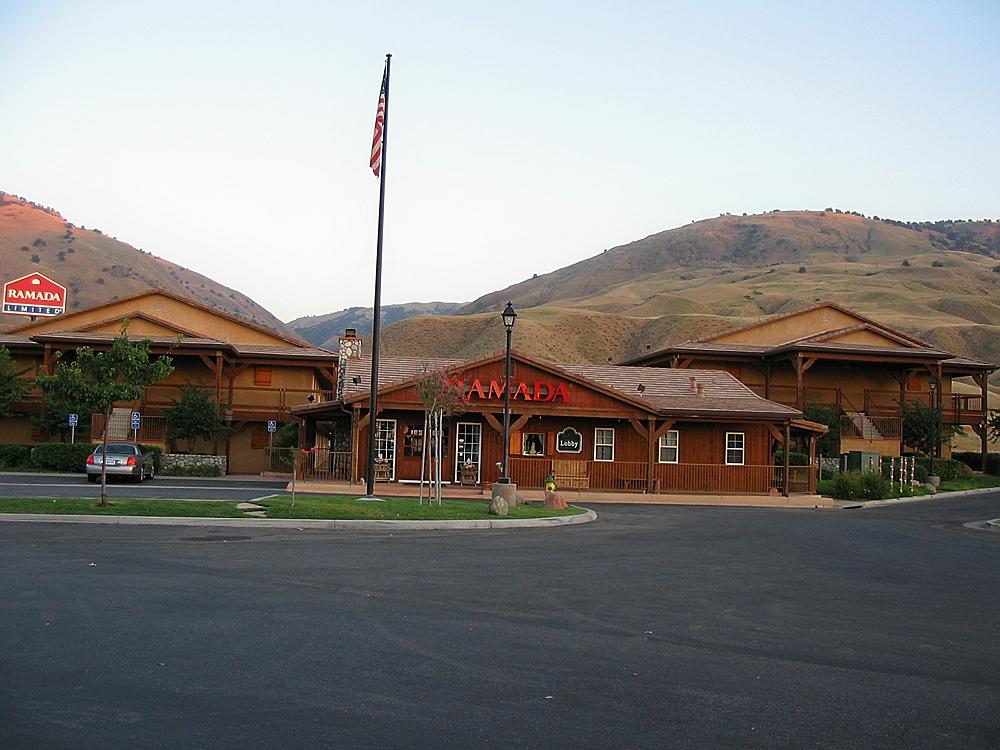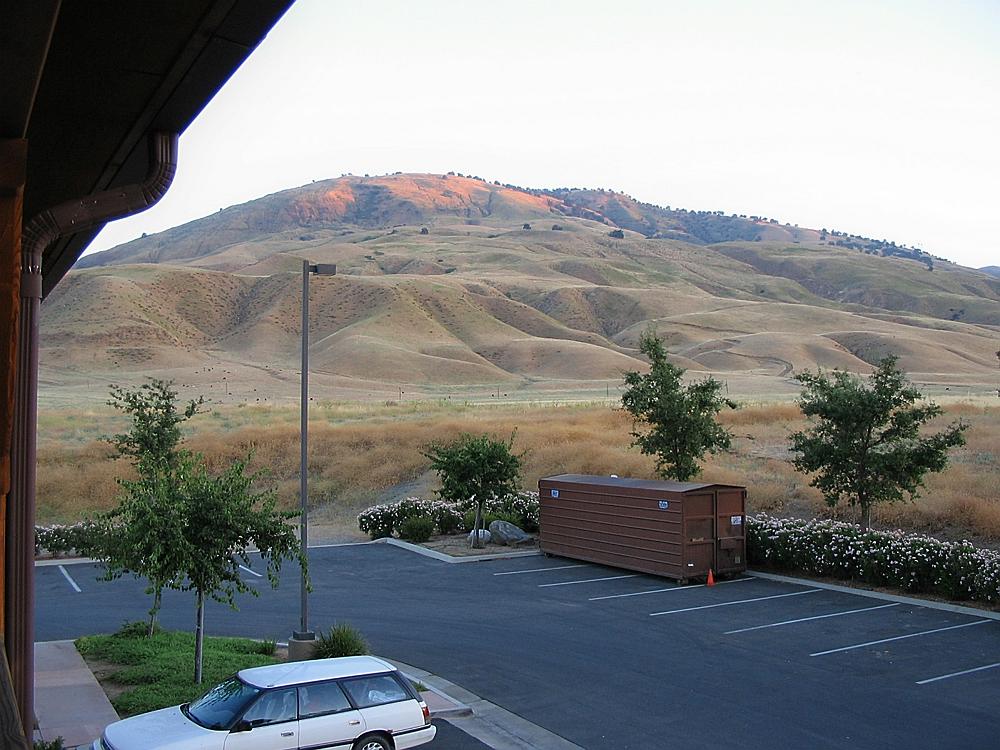 The view out the back of our room is very nice.

We dump the suitcases and walk the short distance to a nearby Mexican restaurant called Don Perico where we are reminded of the size of the portions served in America. Unfortunately this is after we have received the food and there is much left when we finish. With nachos, enchiladas, chimichangas and a salad and drinks all round (2 for me actually) the bill comes to $55 and that includes a $10 tip.
We have paid slightly less in dollars for tonight's meal then we did in pounds for the meal at the airport hotel last night and both the quantity and quality have been much greater.
Back to the hotel and bed at 9.30pm, 5.30am UK time.
Ah, it's good to be back in the US of A.