DAY 5 - SUNDAY AUGUST 7TH 2005
Now this is just getting plain silly. I wake up and look at the clock. 2.22am. Don't panic. Just relax. I told Tam earlier in the day that you can't go to sleep by thinking about anything in particular, you just have to try and let your mind wander into strange places of it's own accord.
I nearly succeed as I somehow discover how to generate enough electricity to power a small town using only a handful of potato peelings and yesterdays copy of the Daily Mirror. Unfortunately I then go on to think about a place where beer flows in all the rivers and Hooters girls frolic happily in the chicken wing meadows. By the time I return to the electricity problem, I've forgotten the solution.
Look at the clock. 3.35am.
On the plus side I don't think I've added to my impressive collection of mosquito bites. Although the one on the back of my hand is itching like the devil. Perhaps I'll stick a pin in it, that will show it who's boss.
They don't want to make mosquito repellent with Deet. They should make it smell like ugly mosquito. The little fellers would be flying happily until they approach you and think 'Oh my god, what a minger' and fly off in the other direction. This would repel 99% of mosquitoes. You would only have the perverts left to worry about.
Another look at the clock. 4.00am.
At this point I give up and go and sit in the loo and write down all the stuff you've just been reading. Life is a full and rich pageant, isn't it?
Desperate measures are called for. Tonight I'm going to stay up until the un-godly hour of at least 10.00pm and drink a minimum of 5 beers. Ah beer. My one true friend and the solution to all of life's problems.
We all get up at 6.30am and pack everything for the drive to Yosemite. At 8.00am we leave Cedar Grove and begin the winding drive out of the canyon, stopping occasionally to take photos. I'm not sure how they will look on a computer, not as impressive as the real thing that's for sure.
About half an hour in to the trip Georgia starts to feel sick. It's hardly surprising, it's a thrill ride all of it's own, twisting up the face of the mountains. We stop for a few minutes to let Georgia settle down before continuing at a slower place. After a short while Georgia drops off to sleep and we drive on until we reach Fresno around 10.30am where we fill up with petrol and stop for a late breakfast at a place called Perkos. All sorts of eggy, hammy, French toasty things are consumed along with cups of coffee. We don't want to fall asleep on the drive ahead, do we? It's pretty good value at $44 including tip.
A little way up the road there is a sign that says 'Yosemite Scenic Route' so we decide to take it. It becomes apparent pretty soon that this is taking us in the wrong direction. There is a sign to Bass Lake and we realise we can get back on to Highway 41 if we go this way. I'm very glad we did as it takes us around the edge of the aforementioned lake and a very pretty drive it is to. This is obviously a fairly well to do vacation resort with many people driving speedboats and jet skis and boats around the lake. Some of the water front properties are very nice too.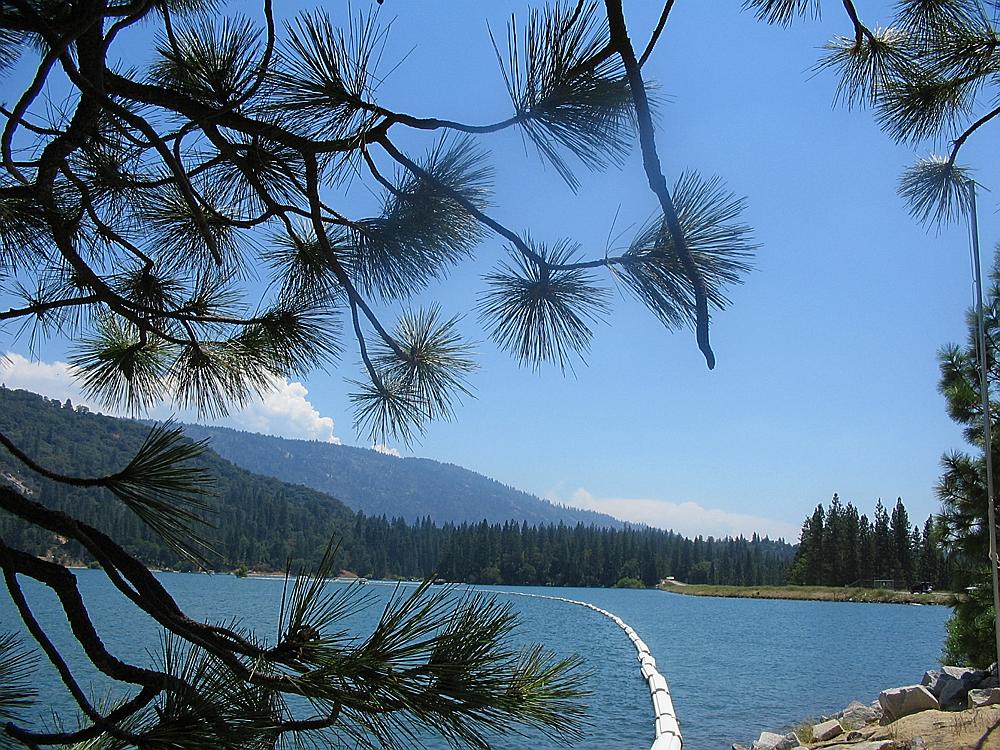 We soon rejoin 41 and it's not too long before we pay our $20 (for up to 7 days) entrance to Yosemite National Park. A few miles in and we stop at the Wawona Hotel for a look around and a cold drink. This is quite an old hotel and looks very pretty, but I'm not sure I would want to stay this far out of the valley; it's easily an hour on from here.
We continue along the usual twisting roads until we turn a corner and you suddenly see the valley in front of you. Simply stunning. You go through a tunnel and can then stop and have the same photo taken as millions of tourists before you, sitting on a low wall with the valley behind you.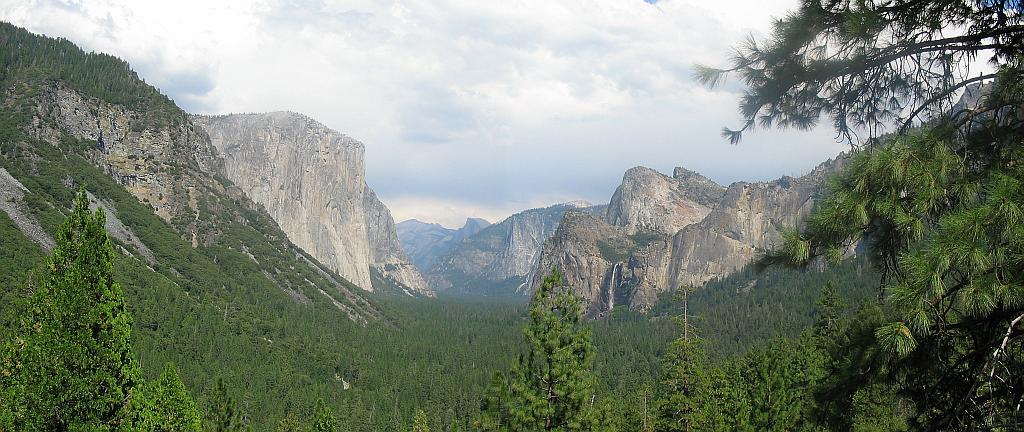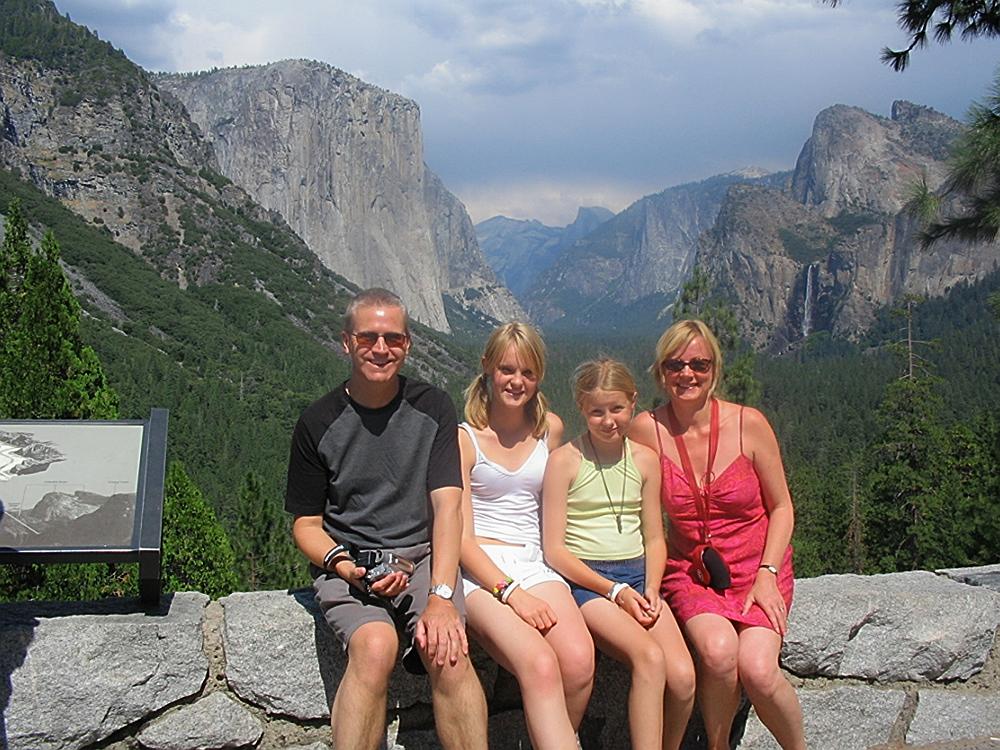 El Capitan looms to the left and Half Dome is off in the distance on the right. You can also see Bridalveil Falls cascading down.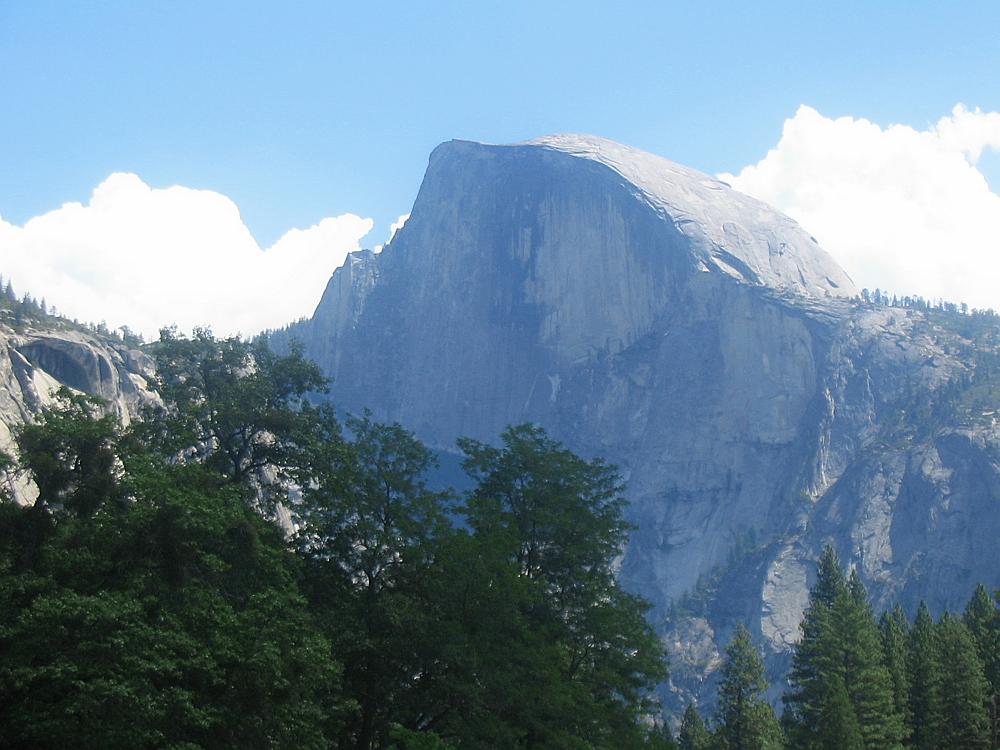 Half Dome. Now I wonder how they ever thought up that name.

In the information pack we received it says that El Capitan is the single largest rock structure in the world, it looks it too. We are wondering if this means it is bigger than Ayers Rock? It is quite simply the stunning single vista I've ever seen.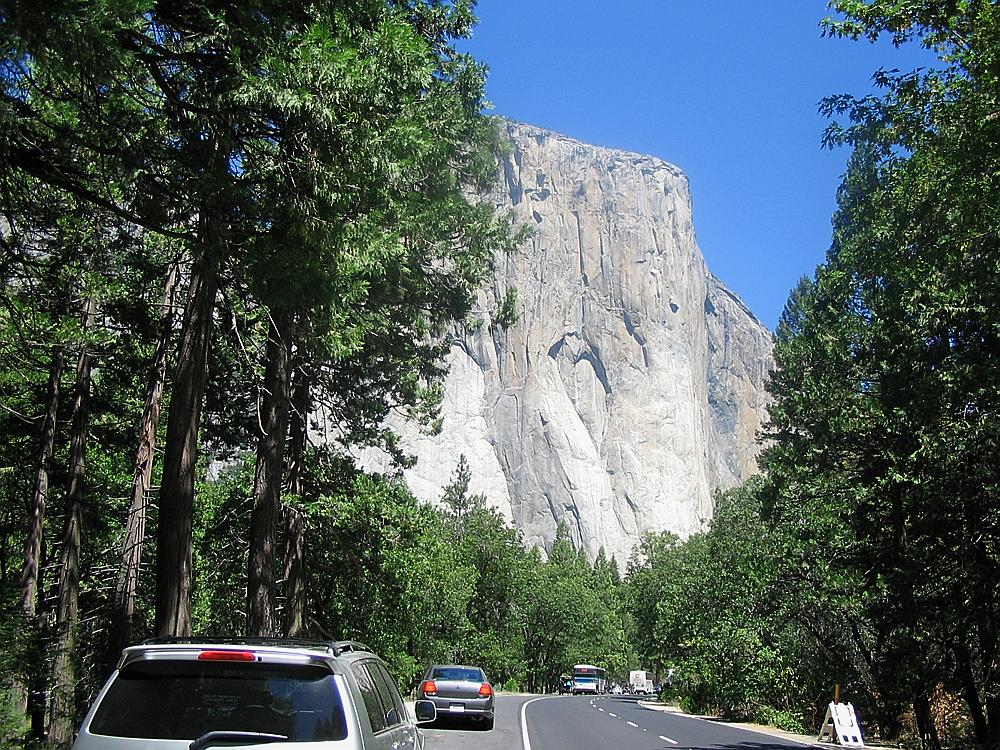 El Capitan
We drive for another couple of miles before stopping to look at Bridalveil Falls. There are a lot of people around so we agree to return early one morning when it will be quieter.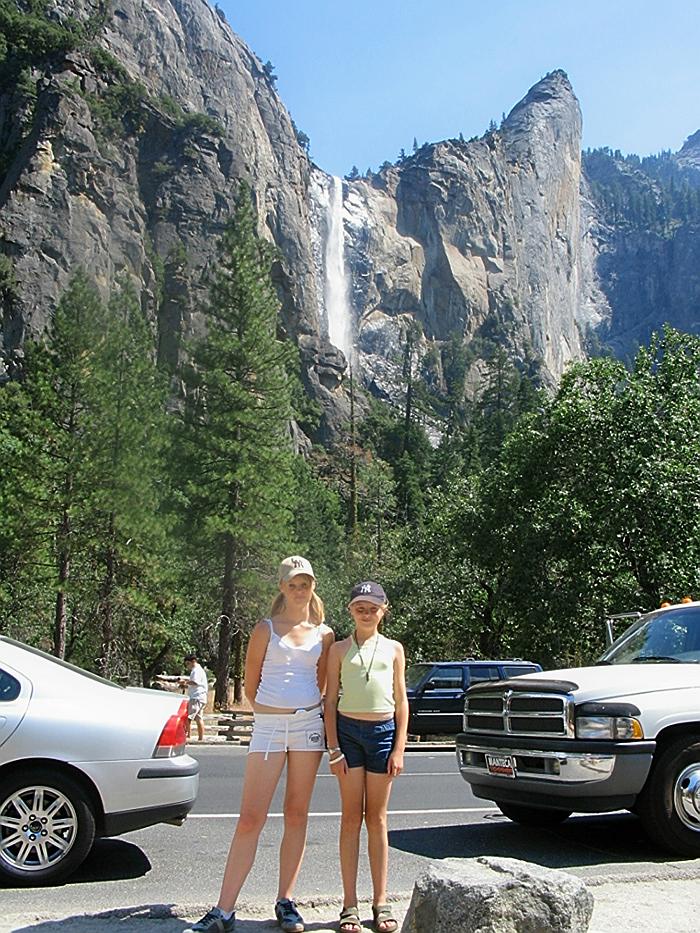 Bridalveil falls
Next we drive through a lush green meadow with Yosemite Falls tumbling down to our left. Another useless piece of information – this is the 5th tallest falls in the world. Yosemite also boasts the 7th tallest in Sentinel Falls.
We soon reach our destination, Curry Camp. Lots of people are checking in, but it only takes about 30 minutes. You have to park your car in the car park and carry all belongings with you to your accommodation. As we are getting the suitcases out the car there are 3 large deer grazing in the car park.
Curry Camp is mostly canvas tents on concrete bases, but there are a number of cabins as well. We have one of these, number 272. It is really only a wooden structure with 2 double beds, a small desk unit and a rail to hang clothes. Oh, and a heater. That will come in useful in near 100°F temperatures.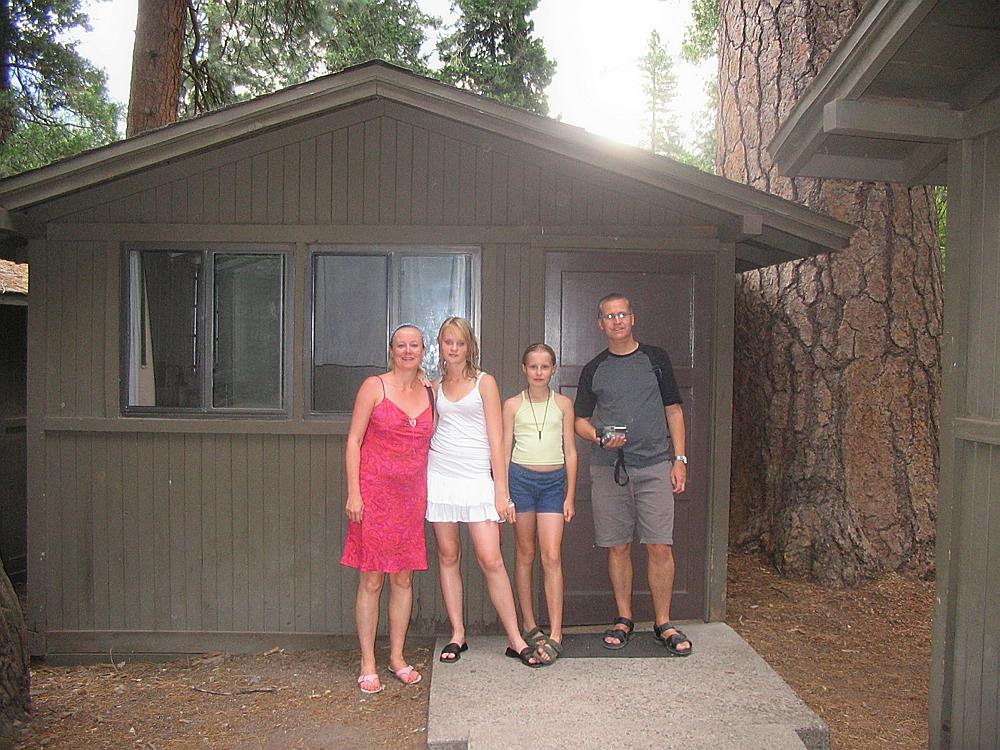 We quickly unpack and head straight for the pool to cool off. It's just a basic pool, but I don't think there will be a more spectacular setting. Huge cliffs rise either side of the valley floor.
We all need showers and there are shower blocks for that purpose. They are basic but adequate.
When we are all ready we go exploring. There is a buffet restaurant, a pizza place with a terrace outside and an adjoining bar. There is also a Mexican fast food place, which strangely shuts at 5.00pm. The retail needs are catered for by a store and a shop, which has all manner of paraphernalia, associated with hiking and camping.
Never mind that rubbish, where's the beer!
Tam stands in the queue to get a pizza while I go to the bar to get the drinks. It's $4.50 for a pint and $5.50 for a large beer. I order 2 pints. It isn't until after that I realise that a pint in the US is not the same as a pint in the UK. Should have got the large beer.
The pizza on the other hand is the exact opposite. For $29 we get a monster pizza for me, Tam and Ind and a small pizza for Georgia who insists she cannot eat tomato, mushroom, garlic, pepperoni, peppers …. Just about any edible substance known to man that isn't ham and pineapple. The girls also split a large Coke.
It's all very nice and the pint of beer is swiftly followed by a large beer while Tam has a Pina Colada.
It certainly isn't a quiet place as there are people waiting to grab a table on the terrace as soon as one becomes available. In fact it's the exact opposite of Cedar Grove in the Kings Canyon, but that is not a criticism, both places have their pros and cons.
After being fed and watered we explore further. It looks like rafting on the Merced River is a possibility tomorrow. Before turning in another beer is required and we make plans for tomorrows activities. There is so much we want to fit in and so little time.
The contrast between here and Kings Canyon is amazing. This place is packed with tourists, but also has a better infrastructure to deal with it. In Curry camp alone there are 1,500 plus people staying at any time along with the other people in Yosemite Village.
Compare this with the end of the road in Kings Canyon, which gives the alternative of 2 campsites or 22 rooms at Cedar Grove Lodge. I'm not sure which one I prefer or even if it's fair to compare.
By the way, this is similar to Kings Canyon in that it sure ain't no party town. The bar, pizza place and shops all shut down at 10.00pm. They even have big signs up saying that 'quiet time' is between 10.00pm and 6.00am. Looks like early to bed and early to rise is going to be the motto for this holiday.
Even so, by the time we get back to the hut (cabin is too posh a word for it), gone to the communal bathroom to do our teeth (no loo or sink in the hut) it is probably 10.45pm. 24 hour party people! Who knows, perhaps I will get a lie-in until 4.00am tomorrow!