DAY 8 - THURSDAY 9th DEC 2004
We all have to get up at 6.00am to go through US immigration at Wavebands. The queue is not too long and it takes about 30 minutes.
Back in the stateroom we pack the final few things into our hand luggage and then go up to the promenade deck to sit and wait until breakfast at 8.00am in Animators Palate.
We say goodbye to Dave and Thabang (our servers) and then leave the ship. It's always a sad moment to be walking underneath the sign of Mickey saying 'See ya real soon', especially as you know some other lucky devils will be clamouring on-board in just a few hours.
Back at the cars we say farewell to Mark and Mandy who are going to the Hard Rock Hotel for a few days. They have both been excellent company and we have had great fun over the last few days.
The drive back to Orlando is uneventful and we are pulling into the Boardwalk at 10.00am. The good chap at valet parking removes our vehicle and we enter the lobby. Check-in is very smooth and the lady tells us that we have been upgraded to a Boardwalk view, as they are very busy. This seems a bit strange, as we had booked a 2 bedroom Boardwalk view anyway. Oh well.
We wander around for a while before relaxing at the quiet pool for a short time. Just before midday we walk to Big River Grille where we meet up with a few ladies who are attending Mousefest. I had specifically arranged to meet Nativetxn (Kath) and Kathytx from the DIS boards. Matt immediately wants to know if all ladies from Texas are called Kath. A few of us try the beer sampler along with some food, the beer being better than the food. The server is pretty good (I think the ladies find him just pretty!) and splits the bill in the various required ways without any problems.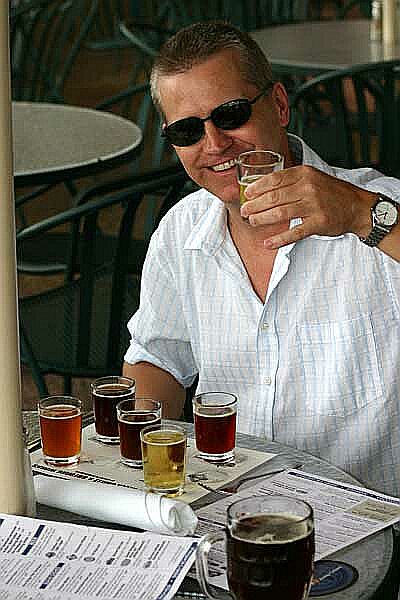 Just the 6 for me thankyou.
We have spent a fun hour with the ladies chatting about holidays and learning some secrets about the DIS. Unless I hear from either of the Texas Kaths in the next 48 hours with details of where I can pick up my $500 in used notes, I will be revealing all.
The Kaths invite us to Jellyrolls tomorrow night where they are having a get together. Unfortunately we will be at the Contemporary and have a PS at the California Grill for 9.30pm, otherwise it would have been fun. I get the feeling these ladies know how to party.
Our room is ready so we head off to find it. As we walk along the corridor we come to room 3037 and find it has double doors. As we enter we discover that we have been upgraded – to a GRAND VILLA! 3 bedrooms, a full kitchen and a large living room that is much too big for just the 4 of us, but, hey we're not complaining!
The balcony is huge and runs the total length of the Thimbles and Threads store below. The ladies are running from room to room like excited schoolgirls and I have to say that I experience a slight twinge myself. Never mind that, what about the villa?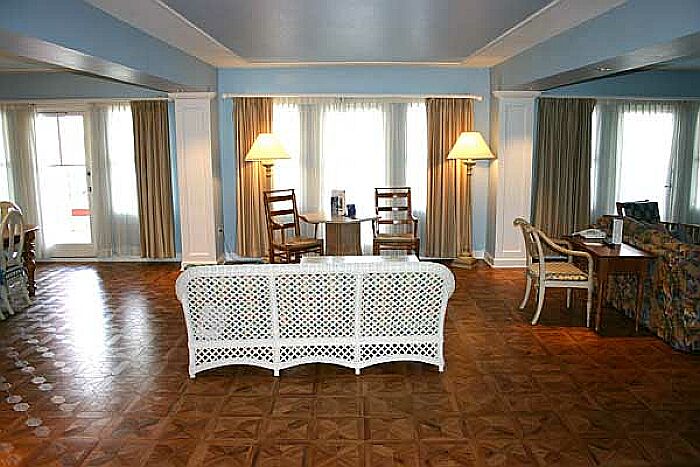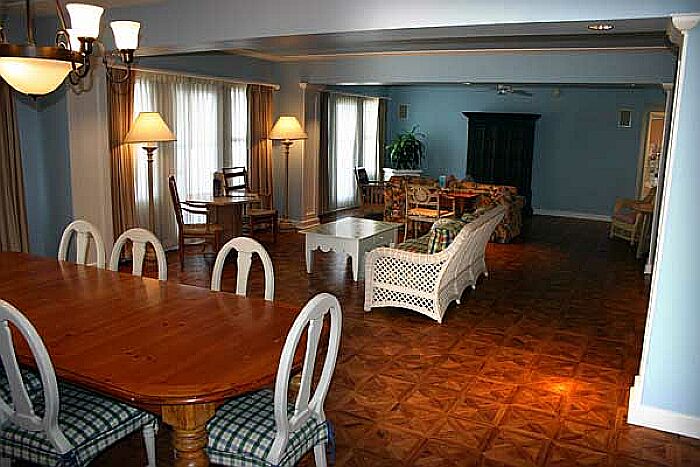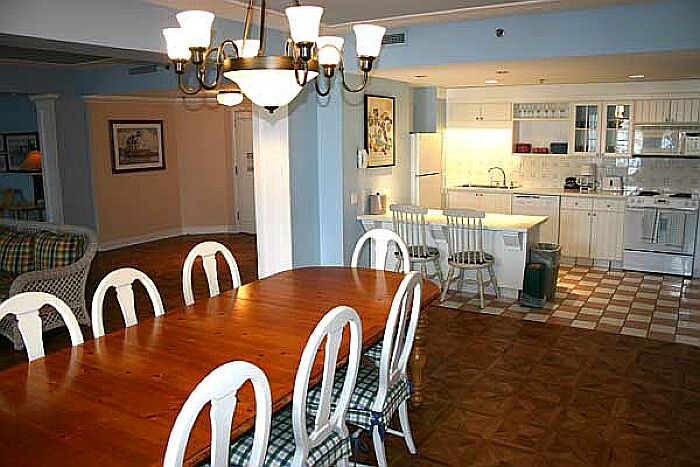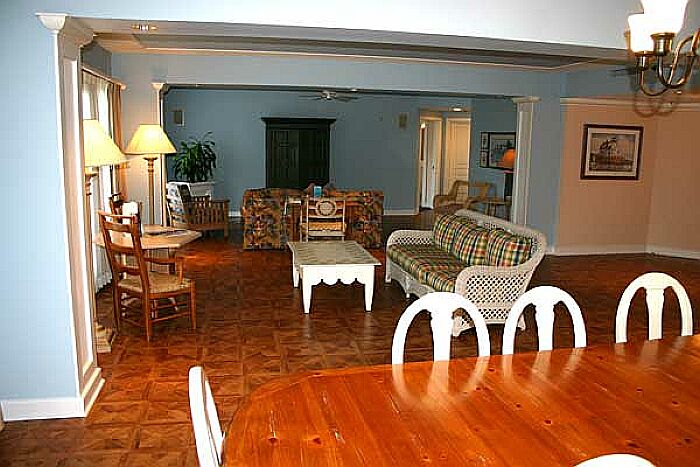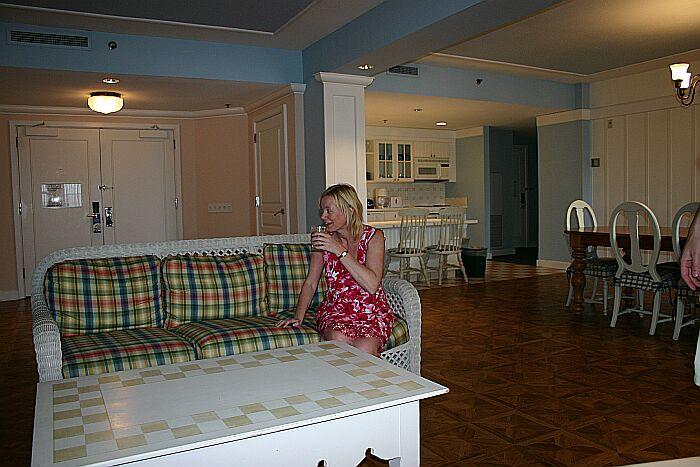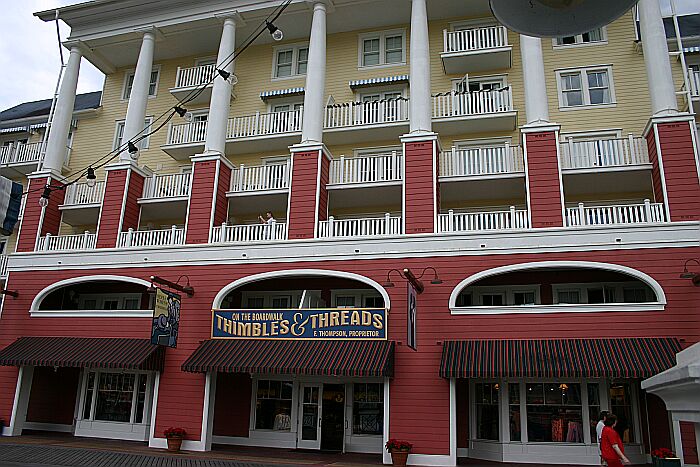 That's me, that is. Our balcony runs the entire width of the photo.
We take loads of photos and then discuss what we are going to do tonight. We have reservations for Blue Zoo in the Dolphin at 8.00pm, but we all agree that it would be lovely to sit on the balcony and watch Reflections of Earth, so Matt rings up and changes the reservation to 7.15pm. This should give time for a couple of looseners in the Belle Vue Lounge before Blue Zoo, then beer on the balcony while watching Illuminations. Now there's a plan!
A couple of relaxing beers later the ladies retire to bed (in separate rooms I hasten to add, it's not that kind of holiday!) to recharge their batteries. Matt and I sit on the balcony with a beer and I write up my trip report.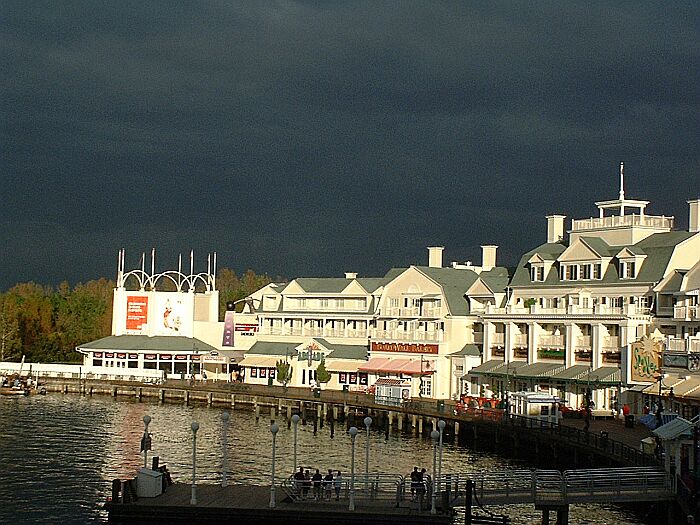 We shower and make our way to the Belle Vue Lounge at 6.00pm for pre-dinner drinkies before walking across to the Dolphin to eat at Blue Zoo. Deb and Matt have eaten here before and tell us it is owned by Todd English, apparently he's a well known chef in the US. It is a very modern style restaurant with lovely low-level lighting in blues and greens along with ambient cool jazz music.
The menu is primarily fish and I start with the Yellow Fin Tuna followed by the Blackened Swordfish. Both Tam and Deb have a fish called Opa. All the meals are of very good quality with thick portions of succulent fish.
Desserts include sorbets and a trio of strawberries, which are pronounced to be very good by those partaking. Coffee finishes things off.
Deb announces that she and Matt are paying for the meal to thank us for staying in the DVC. We protest, but she insists. Thanks very much to you both for a very generous gesture and for taking us to a restaurant that we probably would not have tried. I think this will now be on our list of places to eat in again.
We discuss the quality of the meal vs. the cruise food and agree that it is on another level. This is not a slight on the food you get on the cruise, they do an excellent job of feeding so many people all at once, but the ambience, presentation and quality of food here is very good. Palo might come close to it though.
Back at the Boardwalk we stand on our balcony and see Wishes in the distance before Reflections of Earth begins over the ESPN Club. You only see the high level fireworks, but it's still a great sight. There is an additional Christmas section tacked on the end with many huge blooms of fireworks filling the sky. Very pretty.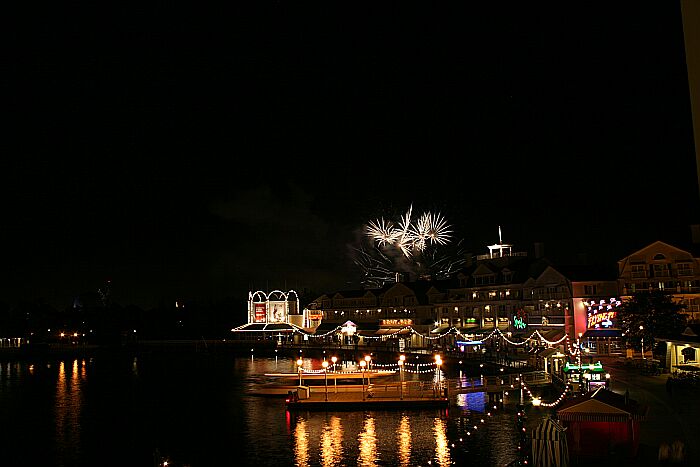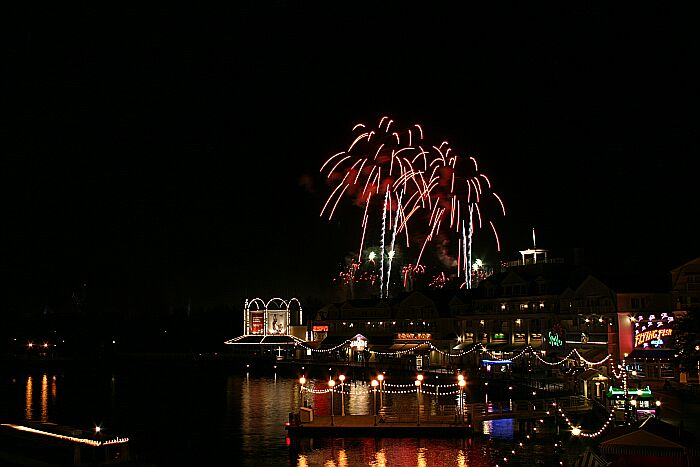 Matt has done a balancing act with 4 of the plastic tables on the balcony in order to make a stand for his camera and now links it in to the TV so we can see all the photos he has taken to date.
Everyone is tired now, so we go off to bed at 11.00pm.