DAY 15 - THURSDAY JUNE 10th 2004
We get up at 7:30am. Considering we didn't get to bed until 2:00am this is quite an achievement.
This turned out to be the longest, strangest and unhappiest final full day of a holiday that I've ever had.
We are all pretty tired, but we're determined to make the most of the day ahead, so we are on the bus to the Animal Kingdom by 8:30am.
Susan and Lu Beth have persuaded Evan to join us and we meet them outside the main gate at 9:00am. Good lord, they are actually on time! This has really thrown me. I'll have to re-plan the entire day now as the itinerary was based around them being at least 30 minutes late as normal!
We first get Fastpasses for Kali River Rapids, then proceed to Kilimanjaro Safaris which has a 20 minute wait. We see loads of animals including hippos, rhinos and lions.
Over to Kali where the ladies are all anticipating a soaking for yours truly with an almost evangelical zeal. Not to be, my friends. Susan gets soaked, the rest get wet and Kevin walks off with a few light splashes. The sun always shines on the righteous.
There are very few people in the stand by line, the clock out front reads 15 minutes. We are due to join up with Sharon, Gerry, Gabby and Marrisa at 11:00am, so Evan and I run over to Harambe to meet them and ask if they want to ride Kali.
As we enter the line the guy out front tells us the wait is now 45minutes. Wow, that jumped up quick. We decide to get Fastpasses and wile away the time by walking through the Maharajah Jungle Trail. The fruit bats are as fascinating as ever and the tigers are as relaxed as ever. Comatose would be a better description.
A big plus is the aviary at the end of the trail; we see many lovely and interesting birds here.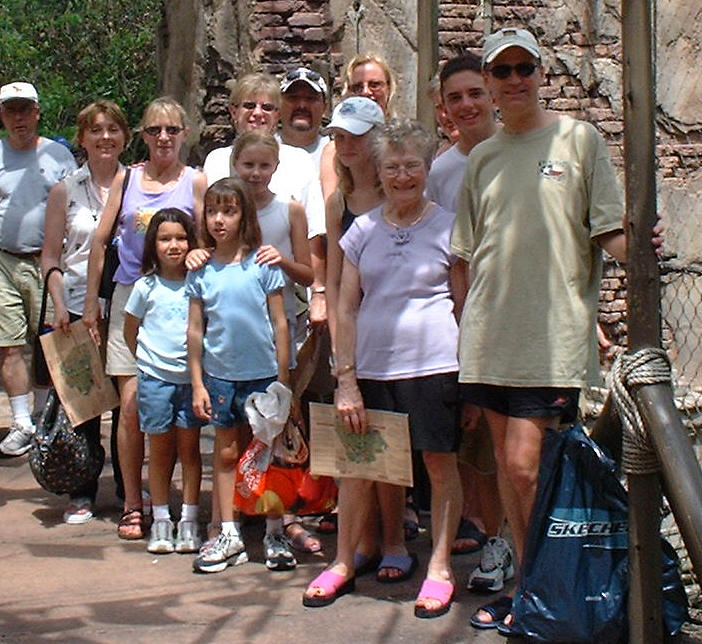 Dunno who the guy on the left is.
Not quite sure how, but this is the only photo we managed to get of the whole tour group.
Time for Kali. Or rather not time for Kali, as the ride has broken down. Foiled again.
Let's try Dinosaur. The wait says 25 minutes. After 20 minutes we have barely moved, so we decide to abandon this as a bad idea.
Unfortunately we now have to say goodbye to Sharon's gang as they are staying at the Animal Kingdom, while we are going to eat and then return to the Boardwalk for a rest before going into Epcot tonight.
It has been wonderful to see Sharon and Evan again and to meet Gerry, Gabby and Marissa for the first time. Due to a number of reasons we haven't been able to get together quite as much as we all would have liked, but the time we did spend together was great fun. Goodbyes are always sad, but we know we will all meet up again in the future.
The remaining members of the band head to Tusker House for lunch. As counter service restaurants go, this is a good one. As well as chicken dishes they also have salmon, salads and wraps. We have the 1./2 a rotisserie chicken with garlic potatoes, a chicken sandwich and peanut butter and jelly sandwiches for the girls. I can't remember the price, probably due to the large beer that accompanied the meal, but it was reasonable.
Back at the Boardwalk we rest, shower and get ready before Susan and Lu Beth join us. The plan is for the usual last night in Epcot.
We sit out on the balcony enjoying both the view and various alcoholic beverages. The skies get darker and darker and there is soon a reasonable display of lightning.
We move to the Belle Vu Lounge and watch as the rain hammers down. It is very heavy and showing no signs of letting up, so an executive decision is taken. We are going to eat at Spoodles rather than traipse around Epcot getting soaking wet.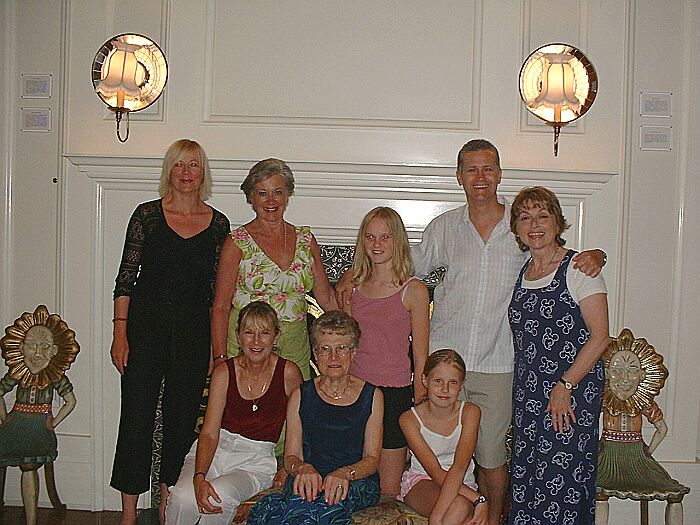 Unfortunately, before we move off, Grandma suddenly feels very sick. I take her back to the room and get her settled into bed, as her back is getting worse as well. She insists I go and eat, as she doesn't want to spoil anyone's fun.
Off to Spoodles. Now, the exact food items we have here and the cost are rather vague as Susan and Lu Beth insist on using their Wishes programme again to spoil us. I do recall a sampler plate, flatbreads and filet mignon flying around the table at various times. However, I can report with a degree of accuracy that the food is very good along with the service.
Around 8:40pm we look out the window to see it has finally stopped raining.
Great! Let's rush over to Epcot and watch Reflections of Earth one last time.
Doing the only gallant thing, I rush out leaving Susan and Tam to pay the bill and get dessert to go.
Me, Julia, Lu Beth India and Georgia walk to the International Gateway. When I say 'walk', I mean in the sense of a 50km walkers 'walk'. Arms are pumping and bottoms are waggling. Poor Lu Beth is never going to win an Olympic gold in this event. She's trailing in last. Come on woman, you didn't join up with the Stringers to have a good time you know.
As we pass the bag check, the security guard asks if I have alcohol in the plastic cup I'm holding. Well, it ain't Bovril me old mate! He tells me I'll have to finish it before entering the park. Now, wait a minute, I am just about to go into Epcot where they practically throw beer at you from every nook and cranny, and you're telling me that I can't take in half a plastic cup of beer that I've just purchased in a Boardwalk restaurant? Well, that makes a lot of sense.
There is no one else around, so I take it in anyway. None of the CM's on the gate says a word.
We manage to see Reflections of Earth from the area in front of the bridge alongside the fireworks cruise boats.
This gives a different perspective. The globe is a little closer from here and you can make out the changing scenes more readily, but I prefer our normal spot in front of Norway as you get a broader view from there.
After Reflections of Earth we stroll down to Mousegear for some last minute shopping. I leave the ladies to it for a while and slip out to stand under Spaceship earth and stare up for the last time. No matter how many times I stand in the same place, looking up at the same thing, it will always astound. How true it is that a thing of beauty is a joy to behold.
A slow walk finds us back at the Boardwalk where Susan and Lu Beth are going to come back to the room to see if Grandma is all right and to say goodbye.
Unfortunately, Grandma is far from all right. She has been sick several times and is in agony from her back. Anyone that knows my mother will tell you that she doesn't complain about anything unless it is really bad. She doesn't know where to put herself. A doctor is required quickly.
We try the local medical centre, but they won't do anything without a reference number from Grandma's insurers. We finally get through to the insurance company and they say we don't need one if it's less than $500.
How the hell do I know how much it's going to cost?
This is getting stupid. We are getting nowhere fast and Grandma is getting worse. I ring the front desk and tell them we have a medical emergency. They put me through to 911 and I explain the situation. They say they will send the paramedics.
They respond very quickly, within 10 minutes, but it seems like an eternity. The paramedics say they are going to take Grandma to Celebration Hospital.
So Grandma and I take a little trip in the ambulance.
We arrive at 11:45pm and are put in a room where a female nurse links up the monitors then disappears. 15 minutes go by and nothing happens. Grandma is in excruciating pain. I find the nurse and I'm told a doctor will be with us in a few minutes.
Another 15 minutes pass, still nothing. I go to the nurses' station to be told I should go to the other nurses station. Deep inhalation of breath, keep calm. At the next desk I repeat my request for a doctor. There is a chap in green overalls – he is the doc. He says he is just finishing up and will be right there. 10 minutes later he arrives in Grandma's room.
Now, 40 minutes to see a doctor in an emergency may not be too bad, but believe me, it seems an awfully long time when your mother is nearly crying in pain.
From here on things improve dramatically. The doctor checks Grandma over and says it may be kidney stones. They need to run some tests and that someone will be in to give Grandma something to help with the pain. 5 minutes later a male nurse comes in to administer the pain relief. The nurse says he has never heard such nice swear words come out of the mouth of a patient in pain as Grandma says 'Oh gosh' and 'Goodness gracious'.
Thankfully the painkillers kick in after 10 minutes and Grandma starts to feel a little better, she even manages to sleep a little before she is wheeled off for X rays at 1:45am.
Susan and Lu Beth have now arrived and brought a bag of things Tammy has packed in case we need to stay the night. Typical of mother the first thing she says to Susan is 'Did you have a good time tonight dear?'
We can't thank either Susan or Lu Beth enough for all their help in keeping things calm at the hotel and running around for us in the early hours of the morning. Without their kindness the whole unhappy experience would have been much worse. I might even forgive them for their unpunctuality now.
At 2:15am the doctor comes back and says Grandma has an infection, which has moved to her kidneys. Antibiotics and nausea medication are the solution. The male nurse returns to administer both and then gives me lots of information about how to help Grandma and tells me we should be able to return to the Boardwalk and will also be able to fly home tomorrow. Actually, that's now today!
I thought it was female nurses who were supposed to be considerate and kind. This chap has been wonderful, much better than the 'couldn't care less' nurse we met when we came in. Sorry we spoiled your night with our illness madam.
I go up to the main desk to sort out payment. $1374! And that doesn't include 2 more bills that will be sent direct to Grandma's house. Let's hope the insurance is forthcoming.
The hospital calls a taxi for us and we leave at 4:00am.
The taxi ride is a little surreal as the driver has a long beard, ponytail and is playing Country and Western music in his taxi. The weirdest thing is that he has one arm in a sling. A Twin Peaks moment.
Off we go with our one armed taxi driver to Walgreens to fetch Grandma's medication ($148!) before continuing to the Boardwalk. When we arrive at 4.30am I find I haven't got enough money for the tip, so I have to sprint the length of the resort and back to get some cash from the room.
We finally get Grandma tucked up in bed at 5:00am.
So ends the longest and strangest day I have ever had in Florida.