DAY 12 - MONDAY 26TH MAY 2003
We all sleep well again and don't get up until 9:00 am. Actually the girls get up at 9:00, Tam and I sneak out at 8:30 for a dip in the hot tub and then a swim in the pool. That definitely wakes you up.
This is the first REAL day of our holiday as it is the big UK DIS Meet in Florida. Kath will be the only American present, but we will make her an honorary Brit for the day.
After breakfast we get the bus to the Magic Kingdom and then the boat across to Fort Wilderness. We do this nearly every time we are here, it's just nice to leave the hustle and bustle of the parks behind and enjoy a stroll through the woods.
The kids petting area is still pleasant. The goats are still cute and the pigs are still …. er… piggy. I retain a certain affinity for the pigs, after all, I've been called one often enough.
As we stroll to the Wilderness Lodge, Georgia calls me 'poo pants' for some reason. What happened to subtle wit? I don't recall Oscar Wilde declaring 'The only thing worse than having poo pants, is not having poo pants.' He may have though, I could have just missed it.
Grow up child. How old do you think you are, 9?
At the Lodge we look around for a while, just taking in the surroundings. It's still a joy to me and ranks alongside the Animal Kingdom Lodge as my favourite resort.
The return boat and bus journey finds us on the Boardwalk. The girls have a peanut butter and jelly sandwich for lunch while me and Tam have chilli dogs and curly fries.
The girls do a spot of shopping while Tam returns to the pool for a lazy afternoon lying in the sun and dipping in the pool.
After 3 hours of relaxing in between bouts of trying to drown the children, we return to the room. As the girls have showers and get ready for the DIS Meet, I sit on the balcony and listen to the British Invasion playing Penny Lane in Epcot.
It's now 3 days since we arrived in WDW and I haven't so much as set foot in a park. I'm starting to develop a sort of nervous twitch. So close and yet so far.
Ooh … now they're playing 'Imagine'. Me and Tam are up on the balcony swaying with our lighters above our heads. Actually, we don't have any lighters, so half empty beer bottles have to suffice. Tam emits a particularly ladylike and elegant burp to bring the song to a sophisticated and thoughtful conclusion. Don't you just wish you were on holiday with the Stringers?
All are showered and out of the room by 5:45 pm to head over to the ESPN club for our UK DIS Meet.
People arrive a few at a time and the full cast is:
Us.
Jules, Andy and Josh.
Astrid, Bryn and Carys.
Mandy and Mark.
Jo, Simon, Rachel and Zac.
Kath (an honorary Brit).
I am wearing my lovely fluorescent green shirt dotted with naked ladies in order to make it easy to spot us.
To be honest, I am hoping to move in front of Matt and Shaun (UK DIS friends) in the shirt-that-makes-you-want-to-vomit competition. I feel I must have moved to the top of the list with this little beauty.
We enter the ESPN to start our meal.
Unfortunately we are spread across several tables, but I get to wander about making a nuisance of myself and annoying one and all.
The food here is pretty good value by Disney prices. $60 with tip and that included a pitcher of beer and a couple of desserts.
There is a bloke on the stage answering questions about sport. I don't know him from Adam, but apparently he is an anchorman for the ESPN channel. Lots of questions are asked and answered before Mark decides to ask a question about the popularity of Lacrosse in the US. The bloke looks at Mark as though he has just asked when his mother last had sex before mumbling something about the big sports in the US. The question gets the biggest round of applause of the night though.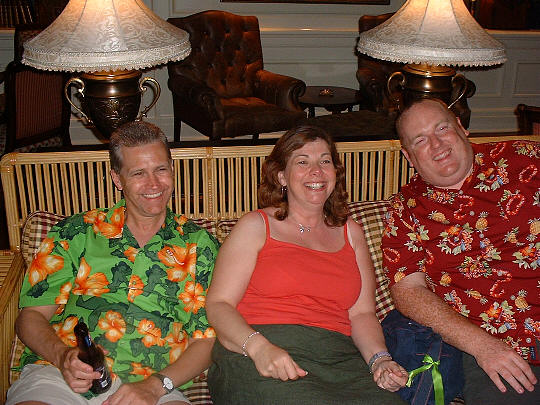 Who let the riff raff in?
Me, (note the wonderful shirt) Astrid & Mark
After the meal we adjourn to the Belle Vu Room in the Boardwalk Inn for drinks and general discussion. Kath goes off to make a phone call and returns to promptly spill her drink all over the place. A theory is put forward that Kath's phone call involved a bottle of gin. She strenuously denies this. I believe her. No, really, I do.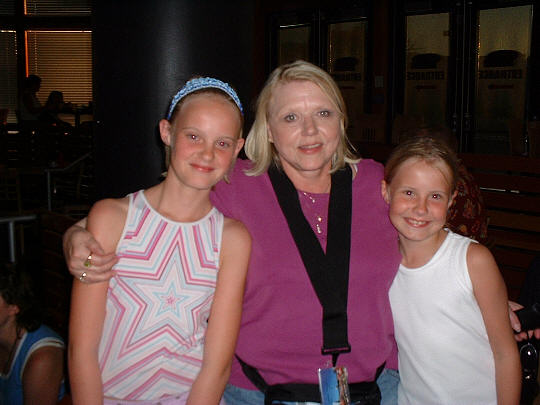 Kath prior to the 'gin' incident.
The children disappear to create havoc on the village green and the conversation deteriorates as is normal at DIS Meets.
Jo and Simon have a Pal Mickey, which they say can get very annoying. Tam wonders whether we will see hundreds of decapitated Mickeys in the park tomorrow.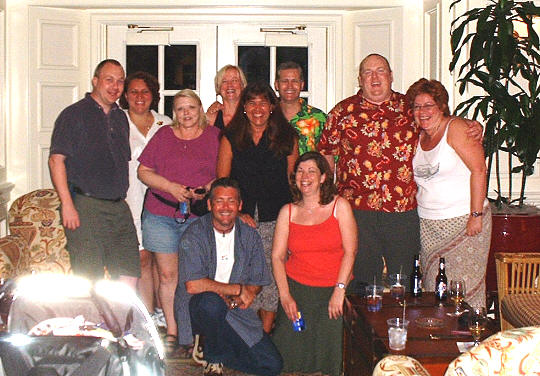 L-R: Simon, Jo, Kath, Tam, Jules, Kev, Mark, Mandy.
Front: Andy & Astrid.
Things break up around 11:00 pm and we walk back to the BCV with Jo and Simon who are also staying there. All the best people are, you know.
To all those that attended the meet, thanks very much for coming. I had a great time even if the rest of you didn't! And if any photos show up on the internet, that's not me, it's an incredibly handsome bloke they paid to wear an awful shirt.
When we get back to the room Tam and I discuss the evenings events and agree that everyone was great company. We also suddenly realise that I didn't buy a round of drinks. Tam is beside herself with embarrassment. I shrug my shoulders and get a beer out of the fridge.
Seriously, thank you all that bought the beer and profuse apologies for not being the 'mein host' that I should have been. This is not normal behaviour for me. (I'll thank you to keep your mouth shut at this point Matt!)
Bed at 12:15 am.