DAY 20
SUN 16th 2000

We all lie in until 8:30. Well, it's a lie in by WDW standards. By the time we all get moving and into the Disney MGM Studios it is 10:30.

We get fastpasses for Rock 'n Roller Coaster then visit the villains shop. I would like to spend a lot of money in here but my horrible wife will not let me. This is a pattern for the day with me liking things and Tammy saying 'no'. All right, so most of the things I like are along the lines of the $180 Disney Studios jacket but I'm worth it aren't I? Don't answer that.

Off we go to watch Bear In The Big Blue House for Georgia. She enjoys it but I can't say that I am riveted. The best I can say is that he is slightly less annoying than Barney, although that's not saying much as a mosquito bite is less annoying than Barney.

On to the Animation Tour, which I always enjoy. Being Sunday there are no animators working. It is a shame that they rush you through this, they used to let you take as long as you wanted and see everything at your leisure. I suppose I can understand it as they have to move so many people through.

Tammy, India and I go to use our fastpasses for Rock 'n Roller Coaster. I can't understand people not using fastpass. The standby queue is over 45 minutes but we walk straight on. Wow, I enjoy this even more the second time. The launch is a blast, as is the rest of the ride. I also feel less wobbly after I get off and India and I are grinning at each other like fools.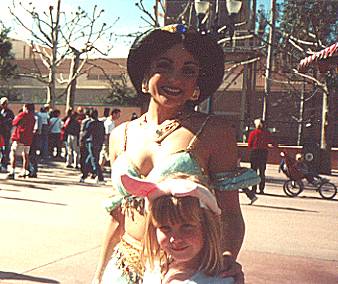 We go to Starring Roles for multiple pastries and coffee and we are ready to go again. There are a lot of characters in front of the Chinese Theatre and the girls get autographs and pictures with Hercules, Meg, Jasmine and Alice. Their books are getting pretty full now. I have got to say that Meg definitely has babe status. Hercules is one lucky guy. Alice is more... er... developed than an Alice should be. Cruella is also there and asks the girls whether they have got any puppies at home!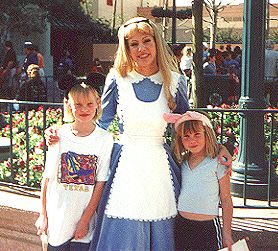 The backlot tour is always good. I always see different props as they change dependant on the films that have been made recently.

A stop for a beer is required while the girls have a play in the Honey I Shrunk The Kids playground.
On to watch the Mulan parade. Would you believe that this is the first time I have ever seen this parade? Well, you'll have to because it is, so there. It isn't the best show in WDW but it is entertaining enough. We have a quick rush across to the Hunchback of Notre Dame for the 4:05 show. We sit in the back tiered seats and quickly discover that this is a bad idea. People leave in the middle of the show, children bump around on the metal seats and it is all generally distracting. At one point the seats are vibrating so much I feel like I'm on the old Mission to Mars.

At the ABC Commissary we share a chicken caesar wrap, a beef sandwich and a grilled chicken sandwich. It goes without saying by now that we have a beer accompaniment. I have never eaten here before and the food was fine for a fast food place and the surroundings are interesting although I could probably do without the TV's. The problem with having televisions in public places is that I am naturally drawn to watch it. People talk to me and I reply without my eyes once leaving the screen, even if the adverts are on. A sad condemnation of our society, I am just an innocent victim.

We wander through a couple of shops on the way over to Fantasmic!, arriving about an hour before it starts. 15 minutes later it is packed solid with all the seats taken. I have read that the pre-show entertainment here is not very good but we all found it amusing and it made the time go quickly, along with the obligatory beer. I actually do not see all the pre-show as I am busy writing up my trip notes. See how I suffer for you people? Oh all right, person. At least you are faithful to have read this far. Haven't you got any paint you can watch dry?

This is only the second time that I have seen Fantasmic! and I have to say that it is excellent. A full theatre only adds to the atmosphere. My only complaint is the number of people who get up to leave as soon as the paddle steamer appears. Hey, you might not want to see the end of the show but the rest of us do, you ignorant pigs! I mean this in a kind and loving way, you understand.

The exit from Fantasmic! is again reasonable, a little crowded but not too bad.
The bus is waiting and we return to Dixie Landings. We are hoping for another sing along night but it must be the piano players night off. We have a pitcher of beer and a pizza big enough to feed the whole of Alligator Bayou. It even defeats the amazing stomach of Tammy, but she does at least prove my theory on TV in public places as she stares glassy eyed at the screen, making the occasional grunt as her input into the conversation. Perhaps I should have asked her if I could buy my $180 jacket, she would probably have mumbled her agreement while peering mesmerised at the screen.