DAY 22
TUES 18th JAN 2000
After our late night we sleep in until 9:00. We could probably stay in bed a little longer but this is our last full day (sniff, sniff) so we have to get up to make full use of it.

We are going to Epcot but get the bus to the Magic Kingdom to try and ride the front of the monorail for the first time. Goodness knows we have tried many times on this and previous trips.
We ride the resort monorail to the TTC and then have to wait for the second train before the front is free. Unfortunately only 4 can ride but Grandma is very gracious and sits in the main compartment. The rest of us pile in alongside the driver and off we go. I really enjoy this up front view a lot and video most of the journey over to Epcot. You really do get a different perspective up there.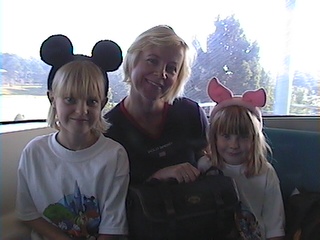 So now we are all sorted. I am going to be a monorail driver, Tammy is going to be a seamstress in the costume department and Grandma is going to help out in the gardens. (She might do a bit of night work as a dancer at Mannequins as well.)

In Epcot we go straight to Test Track and pick up a fastpass then stroll over to Honey I Shrunk The Audience. Tammy gets all misty eyed at True Colours as usual. The mice don't work for me or Tammy, I'm not sure if the effect comes from the seat in front of you or under your own seat. We both have bags in front of our legs but I always thought that it comes from behind you.

On to the Millennium Village to ride Journey to Jerusalem. This is a very tame simulator, but at least it adds something rather than just watching a film.
The whole Millennium Village is somewhat similar to the Tardis in Dr Who, it is deceptively big inside.

Over to Test Track to use our fastpasses. We all think this is a great ride, just the right amount of thrill. I used to enjoy World of Motion but this is a worthy successor.

It is now about 3:00 and a late lunch is called for. We leave through the International Gateway and walk to Beaches and Cream in the Yacht and Beach Club, another first for us. We have 2 Grand Slams and an order of onion rings between 4 of us while India has the chicken noodle soup. The waiter divides the 2 burgers onto 4 plates and it is still too much for us. These things are huge, triple decker burgers with cheese.
We follow this up with a Milky Way Sundae which again is massive but , with all of us attacking it, we manage to eat it all. You can practically feel the arteries clogging.

We take a SLOW walk back to Epcot and Canada where we watch O Canada. This is always a favourite, not least because of the music.
Back to ride Spaceship Earth. This is only the second time that I have ridden on this trip, practically a sin.
Into Innoventions where we send a video postcard. Hardly worth it really as we are going home tomorrow. (sob!)
We want to make a CD to include the music from Spaceship Earth and so we trot across to the Image Works in the Imagination pavilion. As we pass there is no line for Journey Into Your Imagination so we go in. Second time round I appreciate a couple of the clever illusions like the butterfly in the cage and the explosion at the end, if they had made the whole ride to this standard then it would have been very good. As it is they need to revamp quickly.

In the Image Works we are disappointed by the limited selection to choose from to make a CD so we don't bother.

We walk around World Showcase sampling a Beaver Tail and a Funnel Cake, after all our cholesterol level has probably dropped below the critical level, a couple of fried products are just what we need.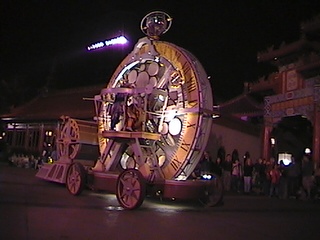 We stake out a place in front of Germany and watch Tapestry of Nations for the 4th time with a large Becks and it is soon time for Reflections of Earth. It seems that no matter how many times I see this show it never fails to move and amaze me. How do they detonate those large shells so perfectly in time with the music? It is a bitter sweet moment as it finishes, knowing that it is the last major event of the holiday.

A walk around World Showcase is followed by some MORE last minute shopping, although this time Tammy is not entirely at fault as I manage to buy the Tarzan CD and WDW screensaver.
We all walk out of Epcot for the last time, pausing at the entrance to turn around for a last farewell to Spaceship Earth. As I look something strikes me about the Leave a Legacy blocks. They really are not bad looking if you stand in the centre of the entrance. They actually do what they are designed to do, which is to provide a visual lead in and framework to highlight Spaceship Earth. The problem is that the majority of people enter from one side or the other and this makes the whole thing look lopsided and a bit of a mess.

Anyway, it is now 10:30 and the buses are supposed to have stopped 30 minutes ago but, Disney being Disney, they sort out transport back to Dixie Landings. The only people on the bus are us and a family going to Port Orleans. Well, you have to make full use of your last night, don't you?

Trip report notes are written and we are all in bed with heavy hearts at 11:30.