DAY 3
THURS 30th DEC 1999
Who we all are:

Kevin (me): 41. Now look, if you don't know who we are by now you have not been paying attention, have you? I am still an intelligent, articulate, handsome, virile liar.

Tammy (wife): 35. Bright, interesting and attractive, she is my life partner. We blend together very well, when decisions are to be made we discuss the subject thoroughly and then I do what I'm told.

India (daughter): 9. Growing up too fast. It wont be long until she is teaching her father instead of the other way round. She has far more self confidence than I ever did at her age.

Georgia (daughter): 6. When in the right mood she will giggle away for ages. Tammy says she has a dirty laugh. When in the wrong mood she can sulk along with the best of 'em.

Dorothy (my mother): 74. Hereafter referred to as Grandma. Under 5 foot tall but always taught me that the best things come in small packages. Boundless energy and enthusiasm, never seems to get flustered.

You join us in the All Star Movie Resort.

Tammy and I both sleep badly and are awake by 5:30. It is the old time difference thing. We lay around until 6:30 then sneak out leaving the girls asleep to have a look around the resort. We walk past the Fantasia pool just as the sun is rising. Steam is floating up from the warm water as Sorcerer Mickey looms in the background. It almost looks as if he is conducting the mist himself.
The Toy Story section is really well done as you enter Andy's bedroom through a huge door to find Buzz and Woody as the giant figureheads. This is the most visually appealing of all the buildings and would be a firm favourite with children. The Fantasia and 101 Dalmatian sections are also very good but the Mighty Ducks and Love Bug areas don't really do a lot for me, they are also the farthest from the food court and bus stop. We visit the food court next to pick up the refillable mugs and partake of coffee and a Danish before returning to the rooms where Grandma and the girls are up and about.
We shower and unpack and head back to the food court for a proper breakfast. I shan't regale you with the details of every meal we have as many of them tend to be the same sort of thing, you will of course get the full description of any proper restaurant meals.

The bus stop is next and we are off to the Magic Kingdom after just a few minutes. The first thing we notice on entry are the Christmas decorations and the Christmas music playing everywhere. The tree is a very impressive sight and Main Street looks very pretty, if a little cluttered. I am so used to looking straight along to the castle that I'm not entirely sure if I like it.
There are some characters in the Photo Centre so we go in and the girls get autographs and photos. It is at this point that Grandma spots Dopey. He has always been her favourite and she runs over and plants a big kiss on him. They then spend the next few minutes dancing around together. I'm starting to worry about Grandma.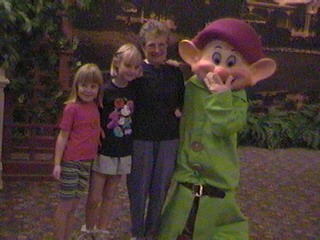 While all this has been going on I have been trying to take a photo with Grandma's camera but it will not work. It turns out to be the batteries but they do not have any of the correct size and direct us across the road to the Emporium. It is here that we come across the first bit of Disney magic of the trip. A lady called Rhonda serves us but does not seem to have any batteries either. She asks where we are going today and we tell her that we want to see the afternoon parade and then head over to Epcot. 'Oh, you can't possibly miss all the photo opportunities at the Magic Kingdom' she says and runs over to a counter, picks up a 39 shot disposable camera and gives it to Grandma. When we ask how much it is she just says 'That's OK, have a lovely day'. It is gestures like this that make WDW such a wonderful place full of wonderful people.

We catch the train round to Mickey's Toontown Fair and all go on Goofy's Barnstormer. Grandma is a bit reluctant as she has been on Big Thunder Mountain before and it makes her feel sick, but Georgia insists and she survives. Georgia loves this ride and we are hoping that this will bode well for the rougher attractions later in the week. The girls want to run about in Donald's boat for a while so we let them have a play. After a few minutes Grandma thinks that this looks like fun and is off in to run around with the girls and get wet.

We walk down to Tomorrowland and have a quick ride on the TTA before returning to Main Street to find a place to watch the Christmas parade. As we are waiting for it to start Georgia is sucking on a lolly and her first tooth comes out. Tammy wraps it up in tissue paper so that it can go under the pillow tonight for the tooth fairy. The parade itself is surprisingly long, my favourite part being the marching toy soldiers. It does seem slightly strange watching a Christmas parade in the heat. By the way, it has been a gloriously warm, balmy day with temperatures in the 70's and practically no breeze.

We leave after the parade and get the monorail to Epcot where we get our first proper view of the 2000 logo over Spaceship Earth. I really like it as it sparkles and glimmers in the afternoon sun. It is not until you stand underneath it that you realise how absolutely huge this structure is.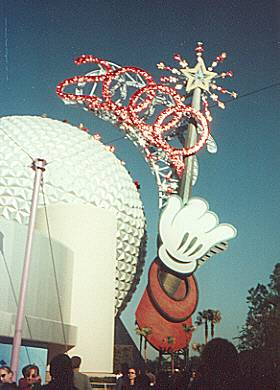 We are trying to pick up our tickets for the Candlelight Processional and a CM sends us to Guest Relations. Wrong place. You have to pick them up outside the park entrance. We have booked Le Cellier for the dining package and our seating is supposed to be at 4:30. It is now 4:00 so we should have plenty of time. Hah! The video battery has also chosen this time to run out so we decide that Tammy will go and get the tickets while the rest of us go to the Camera Centre to get the battery charged and we will meet there. Nice theory. Well, the minutes tick by and Tammy has still not returned. I keep walking up to the entrance to see if there is any sign of her. It is now 4:25 when I finally spot her waiting in the queue to get back in. To cut a long story short, she went to get the tickets only to be told that there was no record on the computer. Further investigation revealed that we had been booked in for the 13th not the 30th! As every restaurant in Epcot is fully booked for the next two days things do not look good. Tammy said that the tears sprang to her eyes as she had really been looking forward to this but the lady that she was dealing with was wonderful. She tried several times to ring Le Cellier in vain and finally managed to get through on a mobile. They said that they could fit us in if we were there within 10 minutes.
So here we are with Tammy in a large queue waiting to get in and the clock ticking. Tammy gets out of the queue and asks the CM on the gate to hand me the dining reservation and says she will meet me there. Back to Grandma and the girls at the Camera Centre and we are off! Marching at double speed with the girls nearly running and Grandma's legs going like the clappers, we scuttle round the bottom of World Showcase as fast as we can, with me bellowing commands as we go. 'Come on you 'orrible little children, move yourselves. Where do you think you are, Disneyworld?'
Let me tell you, that is quite a trip to make in 5 minutes but we arrive with seconds to spare. Not the best way to start a nice relaxing meal but we all take deep breaths and try and calm down. The first beer helps greatly.

We start with Cheddar Cheese Soup and the Steakhouse Caesar Salad. Tammy and I have half of each, something we continue to do for most meals. you get to try two things on the menu instead of one that way. Tammy really likes the soup although I prefer the salad.
Our entrees are Buffalo Rib Eye and the Mushroom Stuffed Fillet. The meat is very tender but maybe a little highly seasoned for our taste. For dessert we have the creme brulee with a glaze of maple syrup which is very good. Overall I would say that Le Cellier is very good if you like steak, the surroundings are relaxing and the service was very friendly. A look at the watch tells us that we are now cutting it fine for the 6:45 Candlelight Processional, so it's time to get the walking shoes on again.
We set off fighting our way through as Tapestry of Nations has just started. Even though we are walking we watch as we go and it really is a glorious sight. As Tammy says it makes the hairs on the back of your neck stand up. We will see it properly later on in the trip.

We are seated on the left hand side of the theatre towards the front with 5 minutes to spare. We have a slightly restricted view from there but boy, what a show. The lights are twinkling in the trees the choir is going full blast then it starts snowing. All right, so it's pretend Disney snow but it still makes a marvellous sight. I am by no means a religious man but it still highly impressive and moving.

We are going to leave the park now as there will be plenty of opportunities to watch Reflections of Earth later on. The girls really should get as much sleep as possible as tomorrow is New Year's Eve and they will need all the energy that they have to last all day.
As we walk out I reflect that you can see that Disney have made an effort at Epcot for the Millennium Celebrations, I don't think that I have ever seen it look better.

Back to the All Star Movies and we pick up our Millennium gift from the shop. Anyone staying on the Millennium Package is entitled to a free gift from Disney. Now I am expecting something a little bit cheap and tacky but what we are given is really beautiful. The box is wooden, inlaid with a hardened steel plate with Spaceship Earth depicted in 24 carat gold. Inside is a crystal block about 3 inches long with a picture of Mickey astride a globe picked out in tiny bubbles created by a laser. It almost looks holographic. There are only 4500 of these made and when I see a similar one in the crystal shop in Main Street later in the holiday it has a price tag of $295. The good thing is that, because she has her own room, Grandma gets one as well.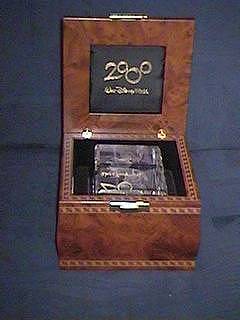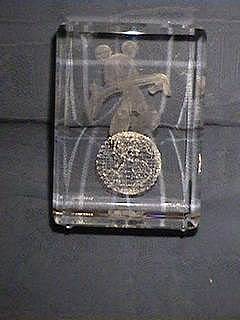 By this time we are all pretty tired, I have only had about 8 hours sleep in two days, so off to bed to prepare for tomorrow.
By the way, the tooth fairy did come and paid five Disney dollars. Flipping generous these American tooth fairy's, aren't they?