DAY 9
WEDS 5th JAN 2000
We are moving to Dixie Landings today so breakfast in the room is followed by packing. We are finished by 10:30 and leave the cases in the room as bell services will take them over for us.
We take the bus to the Studios and change there for Dixie Landings. Check in is pleasant and efficient, it is only 11:30 but our requested room in building 14 is ready! The luggage will not be over until later so we take a look around the resort. Our first impressions are that it is very nice indeed, quiet, green and very pretty. You can see why you pay the extra money to stay here. The main pool looks great for the children and I'm sure that we will make use of the hot tub.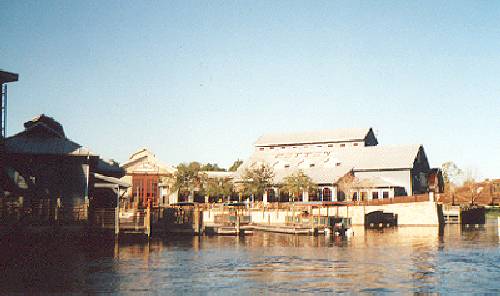 At 12:10 we are picked up to attend the Disney Vacation Club presentation. I have wanted to do this for ages and it seems like a good time while we are changing resorts.
The girls go into the play area and we have a cup of coffee and meet Bobby who gives us the presentation, he is nothing if not enthusiastic. It is supposed to take one hour but eventually ends up nearer to two. Bobby certainly knows how to talk! The Boardwalk apartments we are shown are wonderful, especially the en-suite jacuzzi that allows you to watch TV while soaking. The sales pitch is not too overpowering and Bobby is at pains to tell us that we are under no obligation. My only problem is how do I talk Tammy into it? Oh yes, and where the heck do I get the necessary £7500 for the 180 points? Much as I would love to do it, it is unlikely to happen for the time being.

We are finished around 2:30 and are given a voucher for a free lunch at either Spoodles, the ESPN Club or the Brewery place. Spoodles is closed so we go to the ESPN Club. If you like sport and TV you will be in heaven here. Various sports from around the world are being shown on the numerous TV's that seem to be everywhere you look, including in the bathrooms.
We start with 1lb of shrimp between us. This is the second time that I have had shrimp this holiday and both times it has been flavourless. I'm not sure if this is to do with the fact that it is winter. Next I have the steak sandwich, which is fine. We could have had a dessert as well but we are all too full. The only thing we have to pay for is the beer. Hah! Bet you thought I'd forgotton about that, didn't you?
Back to the Disney Vacation Club and they give us a ride back to Dixie Landings.

In our room we ring bell services and our luggage arrives within 5 minutes. Very efficient. Unpacking follows. The room itself is slightly larger than the All Star Movies but it needs to be as all 5 of us are sharing. The extra sink unit will be really handy and the storage space is quite deceptive as everything fits in OK. The best thing about the room is the individual air conditioner. That blasted communal air conditioner at the All Star Movies that you cannot turn off really gets on your nerves at night. Even though we have a parking lot view, the majority of the window looks out on a very pretty wooded area.

We all have showers and are on our way to Pleasure Island by 6:30. We use the boat to Downtown Disney, which is an incredibly civilised way to travel. A walk through the Marketplace sees us at Pleasure Island. Our first stop is at the Art of Disney where there is much temptation. It would be so nice to take home something to remind us of our Millennium holiday, we will have to see how the money lasts.
Into the Adventurers Club where an intended brief visit lasts all night (well, until 9:30 anyway) as we have a marvellous time. There are the usual jokes about 12 year olds in a bar (ho, ho!), mine are 9 and 6 so they can't be on about them. It is only 8:00 for goodness sake! The maid, Annelle, is very nice and makes sure the girls move into the treasure room and sit up front to watch her show. Both Georgia and India are loving it, singing the Adventurers song, learning the Club salute and watching all the shows. It really isn't a problem with the relatively mild sexual innuendo as it goes straight over their heads. As long as we are out of there by 10:00 PM, who are we harming?
Anyway, Grandma nearly scores! The Colonel takes a fancy to her but, unfortunately, nobody has a spanner to loosen his nuts so she has to come home with the rest of us. Kungaloosh's and various other beverages are enjoyed by all during our delightful evening. Thanks to all the talented and fun performers for keeping us so royally entertained.

We walk back through the West Side at 9:30. I don't remember the ice rink before, it must be a winter thing. Has anyone ever managed to visit all the shops and eat in all the restaurants here? The choice is amazing.

We are back in Dixie Landings and in bed by 10:30. India has the trundle bed and Georgia sleeps with Grandma. They will alternate over the next two weeks to keep it fair.