DAY 14 – TUES 20th NOV

K, this is going to be a very different sort of trip report.
It is now 7:40PM on a beautiful night in Epcot. I am sitting just in front of the stave church in Norway, full of margaritas, beer and wine. I have just danced myself silly to the British Invasion and I'm now sat here on my own writing my trip report while the rest of the party go off to ride Test Track. If the rest of this makes no sense at all, don't blame me, blame the booze.
I wake up at 7:30AM and everyone else is up shortly afterwards.
Breakfast is swift and efficient and we are soon on the bus to the Magic Kingdom. We are going there just so we can ride the monorail to Epcot. I just think it is so wonderful to enter via the main gate and see Spaceship Earth looming in front of you.
Sorry, I have to break off the chronological report here to zip back to present time (7:45PM) in Epcot. I am sitting on the railings of World Showcase lagoon looking across the millpond waters with the pink and white lights reflecting beautifully off the surface. Another incredibly happy moment. I can't explain it to you; it's too pretty for that. You have probably seen the same thing yourself, so you know what I am on about.
Those that have never been may sneer at WDW. Their loss, I love it.
Back to the report.
We head immediately for Test Track but the wait time is already 60 minutes, so we grab a Fastpass, which is already at 1:00 to 2:00PM. The queue for Fastpass is so long that you don't actually have to put in your tickets. There are CM's automatically giving you tickets from the machines, so I just go round again to a different queue to get another set of Fastpasses. Yeah, I know I'm devious.
Next up is Honey I Shrunk The Audience where Granny(J) is not as surprised at the mice as she might be because Tammy has told her not to put her bag on the floor and she has twigged that something is going to happen.
Another time shift. It is now 10:40PM after a loooong day in Epcot. I bet this is starting to feel like Back To The Future. Will I get my mother to kiss my father and save my entire future? Oooh, the suspense!
Anyway, I am now writing this even more full of beer, having sampled the delight of Dos Eqous from Mexico.
Right, I promise, no more messing about with time. We have just left Honey I Shrunk The Audience. We head for the Land to have a Tollhouse Cookie and coffee. Very nice too.
Off to Canada where the waterfall is being refurbished, which is a shame as I always think it is so pretty. O Canada is the same as ever. It just makes you want to go there.
On through the UK to France for some more shopping. (The ladies have already been in every shop en-route.)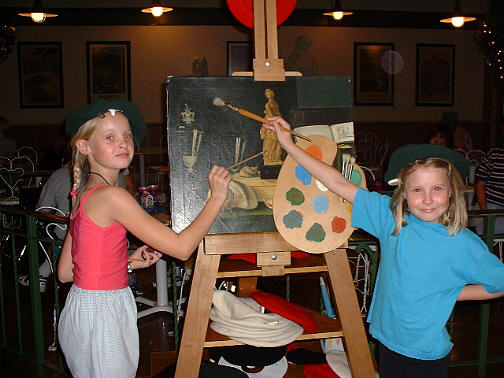 Now, I must admit that I am not so anti-shopping in Epcot as I am in other places, probably because the shops are so varied and full of beautiful things. Pass the pink handbag; I'm getting in touch with my feminine side.
Don't despair, things have not got totally out of hand. My tolerance for shopping has come to an end, so me, India and Georgia strike out on our own (it is now 2:00PM) and arrange to meet the other ladies at 5:00PM for our PS at Le Cellier.
Well, the girls and I have a great afternoon. First we ride Spaceship Earth, and then play in Innoventions for a while before heading for Test Track to use the first of our Fastpasses.
El Rio De Tiempo in Mexico is next before I get a frozen margarita and the girls have a churro while we sit in the cantina and enjoy the view over World Showcase lagoon.
I can't say I'm especially enamoured with the frozen margarita, but you can never entirely dismiss cold alcohol.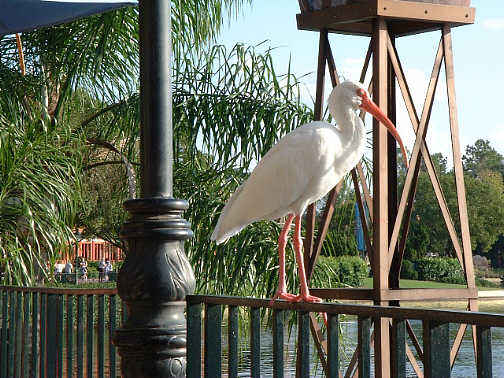 On to Norway for the girls and I to ride Maelstrom with a 25 minute wait.
It is now time to head back to Canada (via a beer stop) to meet up with the ladies.
What do I find when I get there? Bags of shopping and 3 slightly squiffy women. They have been at the wine and are now also enjoying a frozen margarita.
Into Le Cellier where we mostly have steak (it's almost compulsory) which is very good. The wine is also very nice, but then again it should be at $34 a bottle. Have you noticed that when you are on holiday, perspective on value for money goes out the window?
After the meal we all enjoy dancing to the British Invasion before I head round to Norway to find a good spot for the evenings events. Hang on. I'm getting a sense of déjà vu. Have we been here before?
Tapestry of Dreams is next. I have to say that I don't enjoy this quite as much as the old Tapestry of Nations. The Sage Of Time is sadly missed and it seems much lighter to me. Also, what are those children wittering on about during the narration? Get those brats out of her, will ya! I do enjoy the passage relating to Walt Disney.
Reflections Of Earth is still wonderful. Tam and I both notice subtle differences from last year. Not worse, just different.
Back towards the fountain we head. Georgia says it is now both my fountain and hers. Oh how quickly it slips away from us. First Georgia wants a bit of my fountain, next it will be India. Pretty soon you will all think of it as yours.
At least I manage to beat the girls at jumping on the sparkly pavements. The girls disagree, but it's amazing how many times I win when I'm the judge.
A slow walk home to the Boardwalk and we are all in bed just after 11:00PM, except me who stays up to write up the trip report.
I hope all the changes in time haven't confused you too much. I wish I really could alter time; I would make it the first day of my holiday again.