DAY 3
FRI 13th OCT 2000

I wake up and look at the clock. 3:30 AM. Shortly after the girls wake up with Georgia complaining about India fidgeting about, so Tam goes in with India and George clambers in with me. Tam is soon moaning about India wriggling around. Ah, poetic justice.

We are all up and having showers by 5:00 AM. Apologies if you had the room next to us that night but the time difference is to blame.
By 6:30 we are driving along International Drive where we stop to buy a few odds and ends before an all you can eat breakfast at Ponderosa for $3.99. The family shuttle back and forward between our table and the counters with amazing regularity and vast quantities of food are consumed. We finally waddle out and I consider calling the Orlando Bomb Squad as there is a strong chance that one of us may explode.

Back to the Delta Orlando Resort where we pick up our bags and head off to the Boardwalk Villas.
Pulling into the driveway to the resort is quite a moment for us! We draw up to the reception area and are greeted by a pleasant chap who unpacks our car, parks it and stores everything for us. I feel that this is what I was born for. Park the car my good man, I'll ring you when I require it again.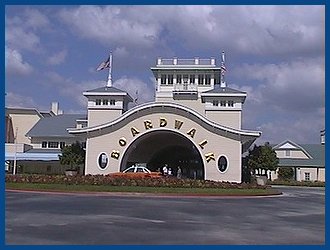 Check in is very quick as it is still only 9:00 AM, (we don't get a 'Welcome home' though) and we wander off for a look around. This is certainly a place that lives up to all expectations, beautiful decor and wonderful views.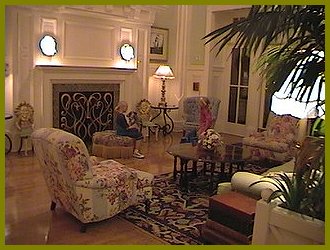 We roam along the Boardwalk, then up to the quiet pool and Community Hall where the girls would probably play all day on the free video games if we let them.
The main pool is next and we plonk ourselves down on 4 sun beds and finally start to relax. the girls, of course, are straight into the water and spend ages going down the impressive slide. (Georgia with her arm bands on).
I am writing this led on a sun bed beside a lovely pool with the sun blazing down from a cloudless Florida sky. A couple of hours into our first DVC stay and I already know that we have done the right thing.

Tammy is in the pool trying to teach Georgia to swim which, given Tammy's prowess in the water, is somewhat akin to me educating someone in the finer points of cooking. But then again, I shouldn't complain as I'm relaxing while she does all the hard work. She does have some success as Georgia manages to swim a few strokes.

11:30 AM on the first real day of our holiday and I haven't sampled the local brew yet. This is put right without further ado with a beer from the Leaping Horse Libations pool bar. We are charging most of our expenses to the room for the first time ever and will find out whether this turns out to be a good idea or not when we get the final bill.

After a look around and me doing my Steven Spielberg bit with the video camera, we walk over to the Yacht and Beach Club to use the pool. As other people have said, this is more like a small water park than a pool and the girls spend a happy couple of hours playing in the sand and water. Tam and I also spend a happy couple of hours enjoying some peace and quiet. (And a beer!)
At 3:00 PM our room is ready so back to the Boardwalk we go. We are in a standard view studio, number 2099, overlooking the entrance. We enter with some trepidation, hoping not to be disappointed. We certainly are not as the room is very tastefully furnished, clean and pleasant. I know that some find the studios to be too small, especially for a family of 4, but all I can say is that they must be used to the more palatial American homes than us because it is certainly large enough for us. I think that if you are used to basic hotel rooms then this is a huge improvement and perfectly adequate for two adults and two small children.
Bell services deliver the luggage very quickly and we are soon unpacked.

At 4:00 we go to Community Hall for the girls play Goofy Bingo. While they are doing that Tam and I go to the General Store to purchase the vital beer supply. On our return to watch the girls at play I can only say that I am shocked and horrified.. They are playing bingo with Disney characters instead of numbers but the spelling is all wrong! I mean, Mowgley? Brear Bear? No self respecting Disney fan would get this wrong. Shudder.
One of the shops on the Boardwalk is the Wyland Gallery that has wonderful paintings and sculptures of sea creatures. None are priced and as Tammy says, if you have to ask the price you can't afford it. Well, I didn't ask the price and I still probably couldn't afford it.

Back to the room to shower and change where Georgia has a bit of a tummy ache. She must also be very tired as we got up very early this morning and she has done an awful lot of swimming today.

We are out of the room at 5:45 and on our way to the Belle Vue Lounge for a drink. A pleasant spot for a beer but then again it would have to be absolutely awful to put me off my beer.
Over to Beaches and Cream we go to meet Trish and Kev who have just moved to Florida from Maine. We met them when Trish organised a New Year's Eve RADP meet which we attended.
I will be employing the patented Stringer marking system for our meals on this trip with marks out of ten. Hardly scientific but at least it gives a feel for our likes or dislikes. Obviously I will once again be referring to Tammy's trip notes for the details. Tam and I share a burger (9) and then we all attack a huge chocolate sundae (9). I can't remember what it was called but it had just about everything under the sun in it. Showing the true Dunkirk spirit we chomp away until it is no more.
Trish and Kev tell us about their move to Florida and the change of climate and we all enjoyed a very pleasant evening.

At 9:15 we wander back round to the Boardwalk and part with Trish and Kev, promising to keep in touch and hopefully meet up next year.
Tired as everyone is, the girls still want to watch the Epcot fireworks from afar, so we stroll the Boardwalk again to watch from the bridge. All we can see are the high fireworks and just about hear the strains of the distant music but it is still enough to rekindle the feelings that we all have for this excellent show.

Back to room and the girls are tucked up in bed while I sit on the balcony with a beer to enjoy the comings and goings at the Boardwalk entrance and ponder on life.
Am I exceptionally lucky or has all this fallen to me through good planning? So many people never get to enjoy the things that I have seen at WDW many times over and now I am staying in one of the highest rated timeshare resorts in the world. I come to the conclusion that, while planning may have played a part, I am still one lucky devil.