DAY 2 - WEDNESDAY 18TH OCTOBER
The usual procedure is followed. Awake at 5.00am with very little chance of return to sleep as Tam is tossing and turning. There is all this talk of how to produce energy in a clean and efficient manner to protect the environment, well I have the answer. Link up a generator to the perpetual motion mechanism that is known as Tam and the world is safe again.
Around 7.00am we get up and go into the girls room to wish Georgia happy birthday. Now, I realise that a half naked and excitable father running into your bedroom and singing 'Happy birthday to you' in a slightly discordant manner is probably not the best way to welcome a young lady into her teenage years, but you have to give me credit for enthusiasm.
Showered and refreshed we meet Deb and Matt in the lobby at 8.00am. Neither of them look any the worse for their wine spilling activities of the night before. Tam says she is feeling a little delicate and can't understand it as she only had two glasses of wine. Oh yeah? Two bucketfuls more like.
We stroll over to the airport where we experience a huge queue at the Virgin check-in desks. Luckily we have used on-line check-in and move up to a smaller queue. We then notice that the queue for Premium Economy is even smaller. Deb and Matt are flying PE and we are Silver Flying Club members so we now switch to that queue.
A few minutes later we have dropped off our luggage and gone through to the departure lounge. A very brief (thank the lord) spot of shopping in Duty Free and we are in the Virgin lounge. I'm not sure how many people know this, but you can pay £35 per head to use the lounge even if you are flying economy, you just have to be flying with Virgin. £140 for the 4 of us is undoubtedly a lot of money, but it is a haven away from the hustle and bustle of the departure lounge and a very relaxing way to start a long flight.
They are renovating the kitchen so there is no hot food today. Shame. Never mind, baguettes and champagne for breakfast it is.
Georgia now gets to open her presents. She has already had her main present from us at home, but gets another couple of little presents here including a Disney compilation CD. Deb and Matt give her their present and her face lights up as she sees that she has an appointment at the Bibbidi Bobbidi Boutique to have her hair, nails and makeup done. I feel a little left out and suggest to Matt that maybe we should steal her voucher, although this plan could come unstuck as Matt has little hair and I bite my nails. We would have looked good in the makeup though.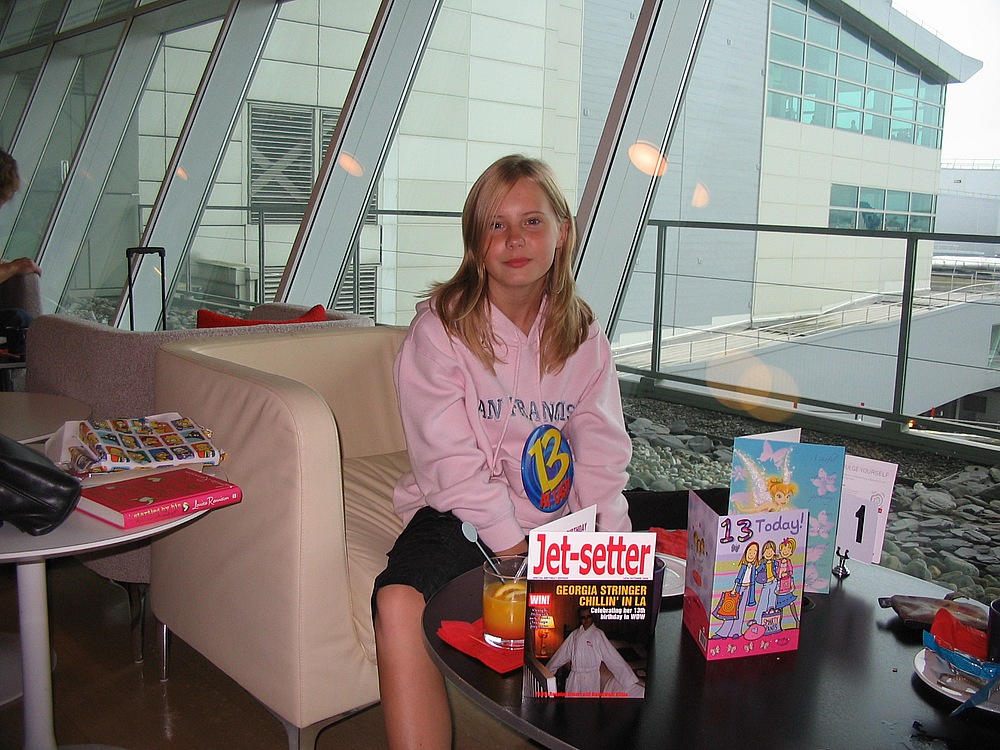 A few glasses of champagne later and we are ready for the flight.
Deb and Matt board and head off to the Premium Economy section with only a few jokes about the Stringers heading off to the riff-raff enclosure.
The flight pushes back from the gate just 15 minutes late, so with a fair wind (or rather lack of wind against) we should arrive in Orlando close to scheduled time.
Now, here is the bit that I'm sure many of you have been waiting for, my critical and analytical review of the films showing on our flight today. Many have said that they use my reviews to determine what to watch at the cinema. I realise that this is mostly along the lines of 'if he says it's good it must be dumb so avoid it at all costs', but at least it is of use to someone.
Up first is X Men 3. Dramatic special effects, mutants and a couple of dishy ladies – what's not to like? Actually I quite enjoy the humans v good mutants v bad mutants scenario. It passes the time quite quickly so that says something in itself. Not quite up to the Spiderman series, but still good.
Next up is Cars. Now I have enjoyed all the Pixar films, but I don't think this is one of their best. It's entertaining enough but it is a bit of a clichéd story. Didn't Michael J. Fox play a very similar role in Doc Hollywood? The animation is very detailed, right down to the rubber marbles flying around as the cars race round, but it doesn't have the appeal of Toy Story or Monsters Inc.
My enjoyment of the films is somewhat subdued by one of our close passengers having an unfortunate wind problem. One of the drawbacks of Economy I guess as Deb and Matt reckon it's rose petals and perfume all the way in Premium Economy.
My final film is Over The Hedge. This is an enjoyable little romp from Dreamworks. Nothing too original, but the there are some entertaining characters to help things along.
All in all the flight has gone incredibly smoothly and we land in Orlando 15 minutes early at 4.35pm.
It is interesting to see the difference in the time it takes our two parties to get through the airport as Deb and Matt disembark first on PE and we are in the very rear of the plane. We both make it through to the car hire desks in a similar time. The hold up doesn't seem to be at Immigration, but rather in the time it takes to pick up your luggage. Anyway, we are on our way quite swiftly and are pulling into the Reunion Resort at 6.15pm.
This is a vast resort with two golf courses and many very expensive condos and villas. After checking in we drive to our villa in Gathering Loop. It's huge!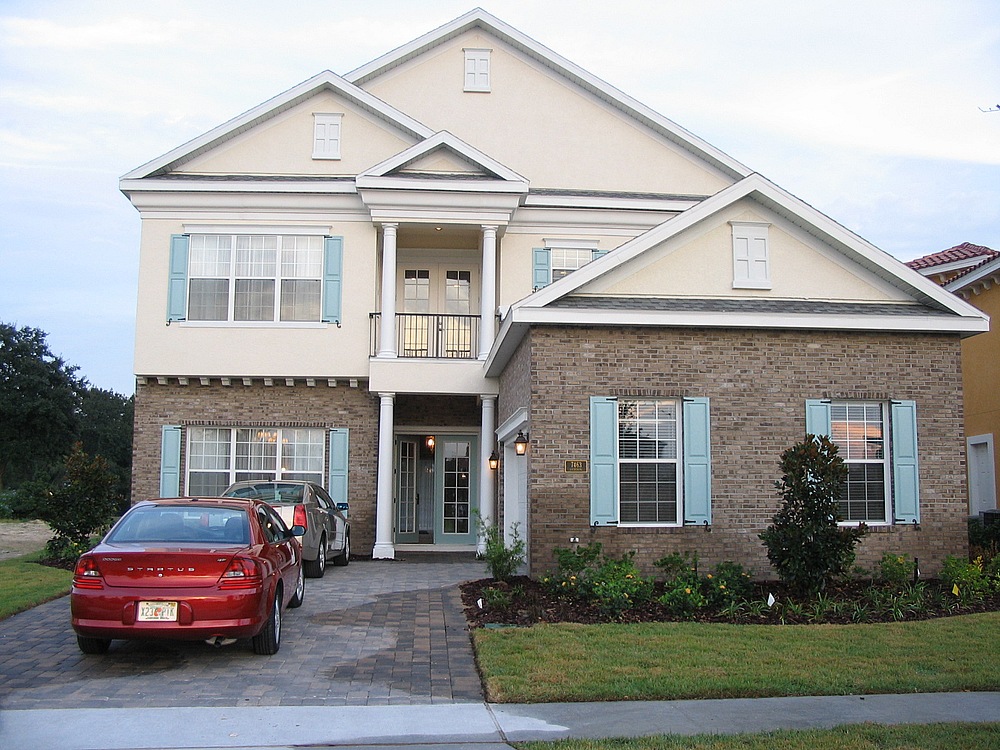 Not a bad little gaff.
The owners have only just left after furnishing it and checking everything out. We are literally the first guests to stay here.
We enter and stroll around enjoying everything we see. It's stunning. Tam and I have a bedroom with attached whirlpool bath and double walk in shower. The changing room is nearly as big as our bedroom at home! Every bedroom has a Plasma TV.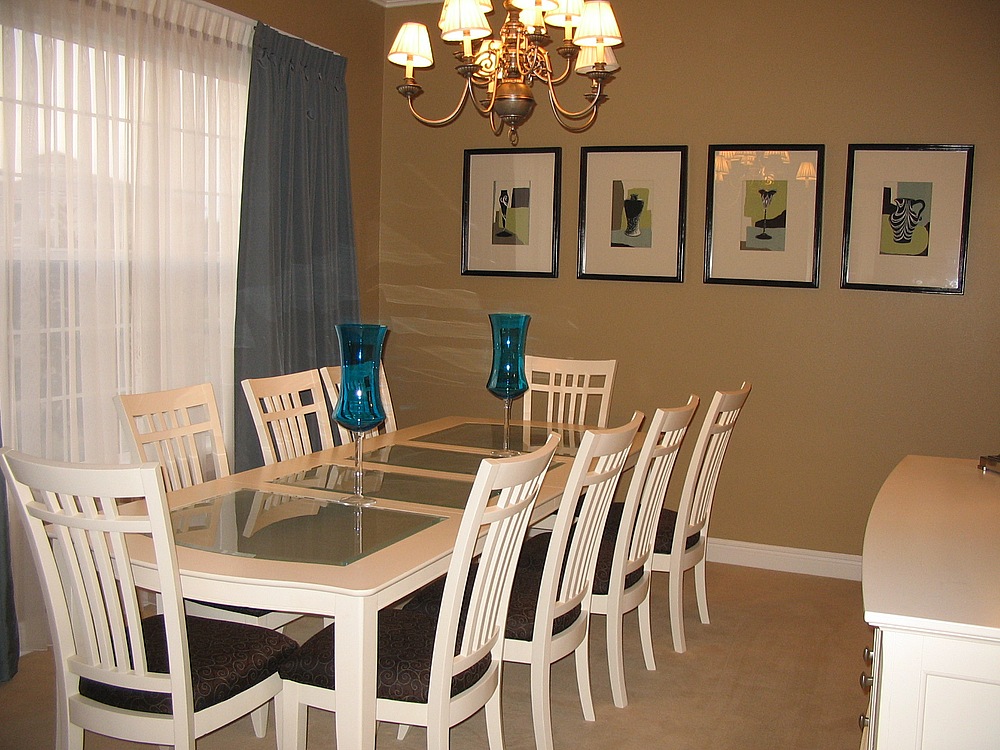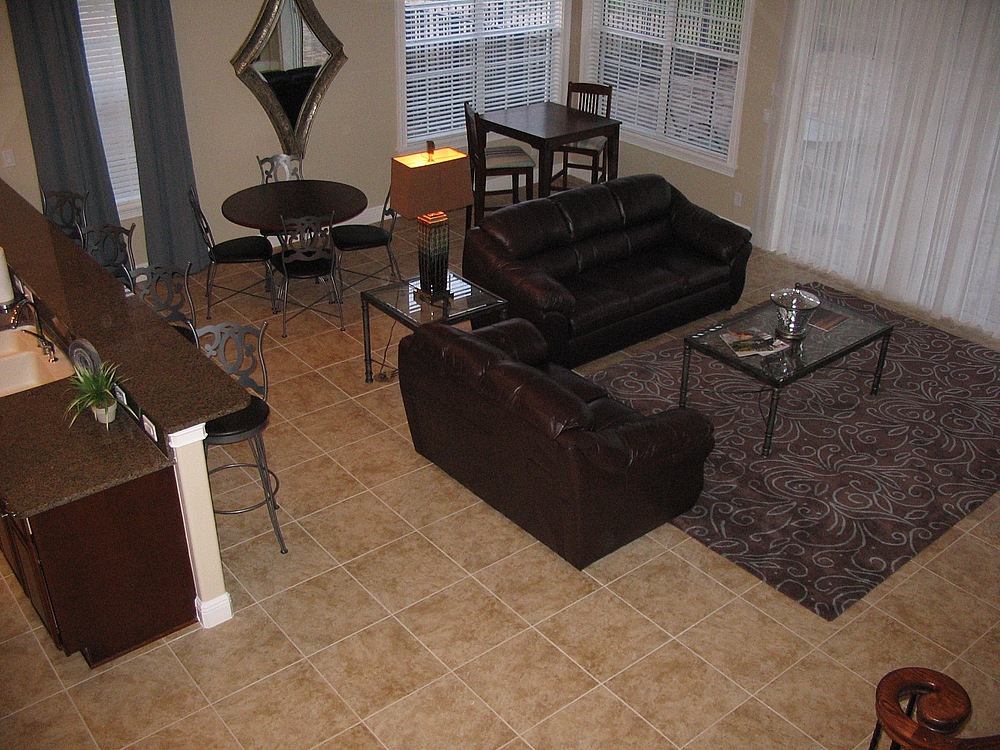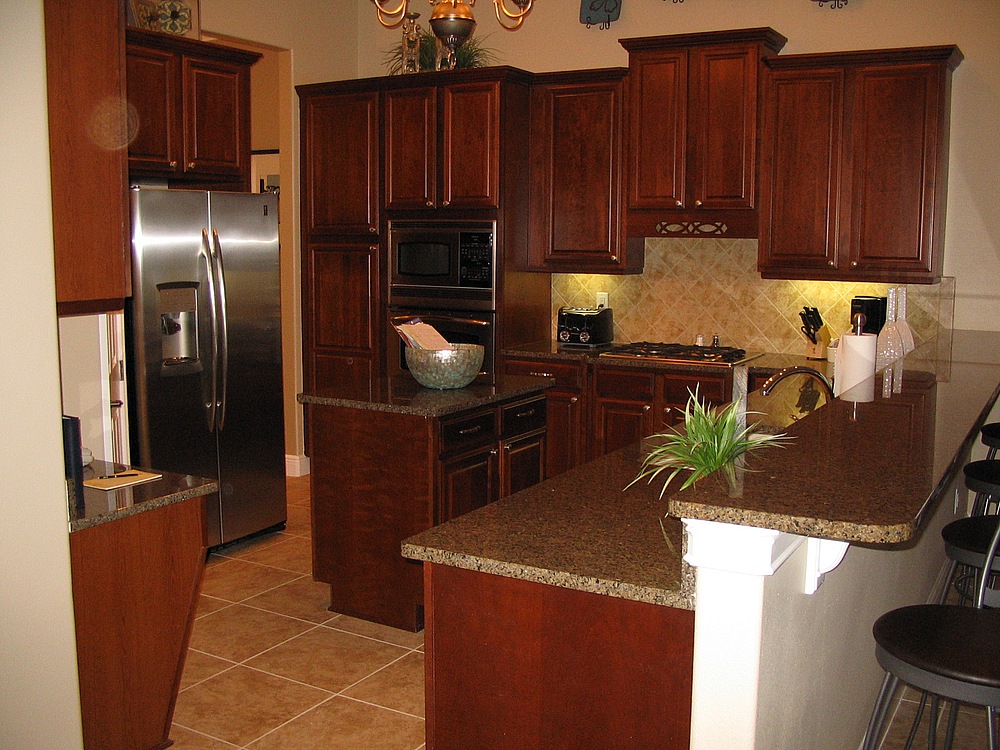 Huge beer fridge, always a desireable feature.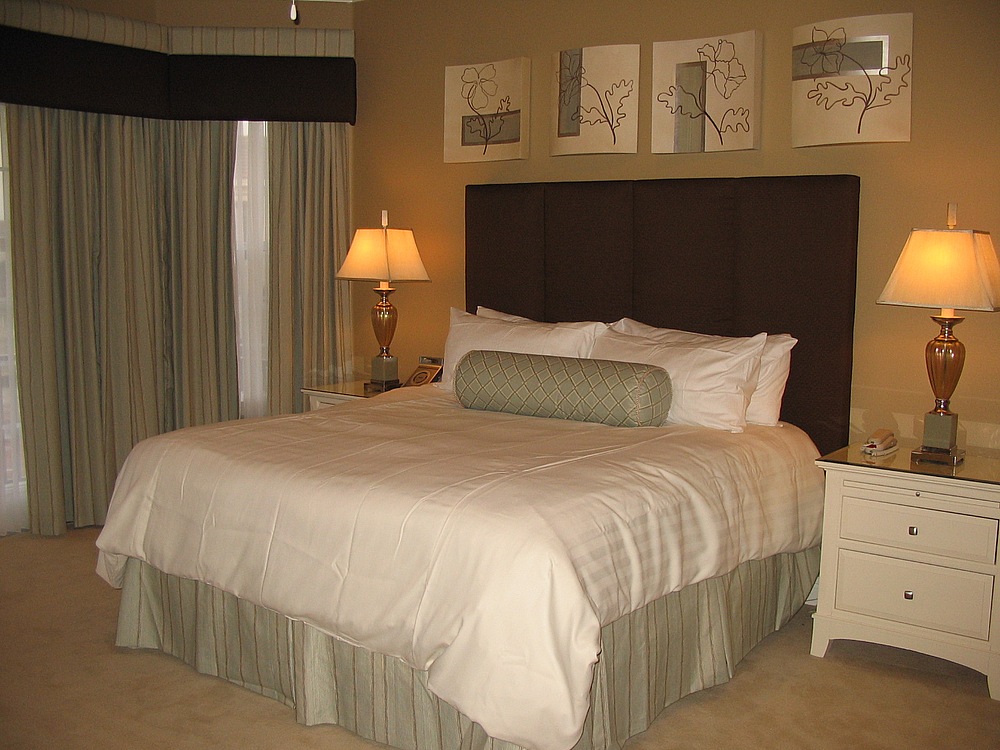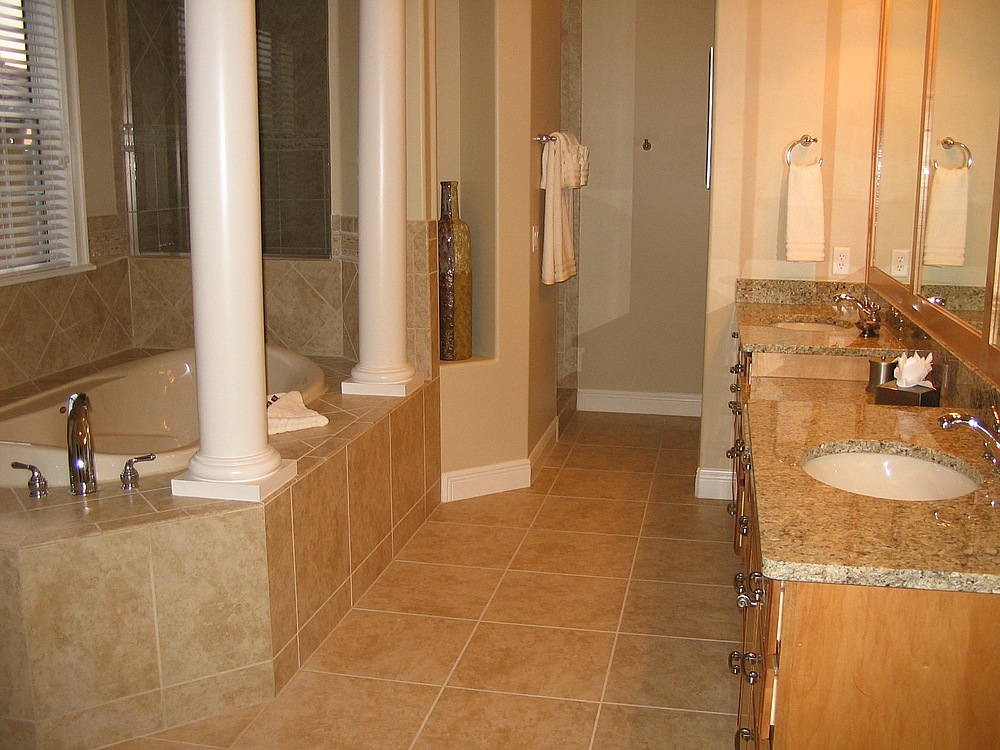 There is an empty lot next to us on one side and an incomplete villa on the other side, so we are pretty much on our own as we overlook the golf course at the rear.
I think Deb is pleased as she has been worried that everything would not be finished in time. The girl done good.
After taking video and photos we are off to Publix just up the road. Much shopping is done and we leave $277 lighter. It's a little disappointing as I think only half of this is alcohol.
Back at the villa we eat sandwiches, use the hot tub/pool, drink beer etc.
A game or two of pool is played in the enormous games room before we head off to bed around 11.00pm.
I've got a good feeling about this holiday.
[OCTOBER 2006 REPORT HOME PAGE]