DAY 4 - FRIDAY 20TH OCTOBER
Awake at 4.00am, but we doze on and off until 6.45am. Not bad really this early in the holiday.
Downstairs we have breakfast and then spend an hour or so playing pool while we wait for Deb to get ready. I thought Tam took a long time applying the slap, but Deb is the queen. She also has a truly impressive collection of insect bites. Why they have gone for Deb and not the rest of us is anyone's guess.
Current pool score is Kev 9, Matt 7.
Off to Downtown Disney where Georgia is having Deb and Matt's birthday present of hair, nails and makeup (the Crown package) at the Bibbidi Bobbidi Boutique. The place is full of little princesses being prettified. It takes about half an hour and they do a really good job as Georgia looks beautiful afterwards. Who would have thought she was a snarling little monster just a couple of hours earlier when asked to get out of bed?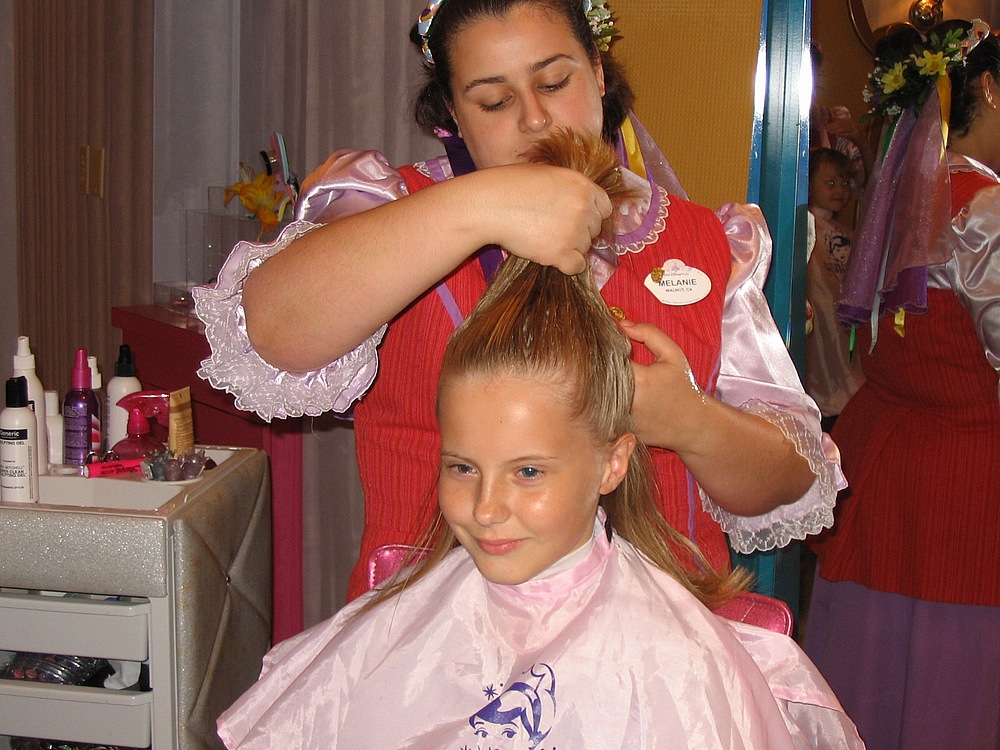 The poor womans face lift.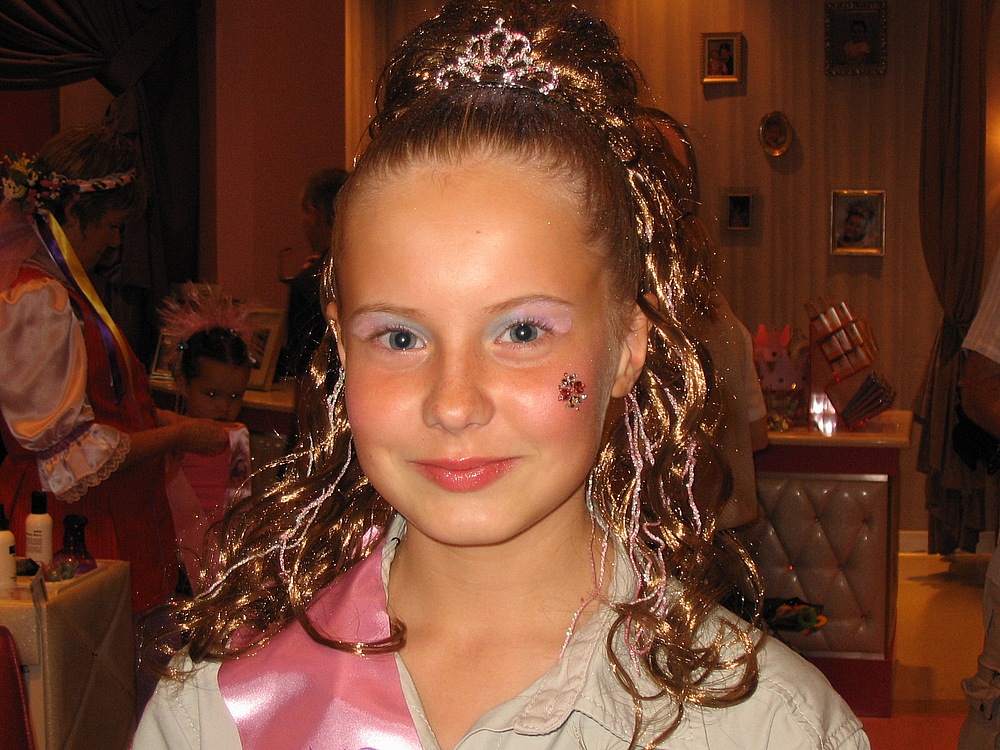 I never noticed that unsightly birthmark on Georgia's cheek before.
As we stroll around Downtown Disney we come across Vernon at one of the DVC booths. Vernon is an old friend from the DIS Boards who now lives in Florida and works for the Disney Vacation Club. He must be one hell of a salesman as he even manages to get Deb and Matt to sign up for the DVC tour later in the holiday.
After a quick visit to Goodings to get some stuff to help stop Deb's insect bites from itching, it is time for the highlight of this (or any other) holiday, a trip to Hooters. As we drive up the road the glistening towers of this most holy of places loom into view. It's actually a rather plain 'strip mall' sort of building, but that doesn't do justice to the delights within.
We are seated and our server introduces herself. I can't really remember her name and a quick check up with the rest of the party later shows that they can't remember either. Guesses include Rachel and Melanie. I think Melanie is probably more apt.
Anyway, Melanie asks Georgia if she has won a competition as she is wearing her Bibbidi Bobbedi Boutique sash. I want to ask Melanie if she has won the perkiest bosom competition, but think better of it.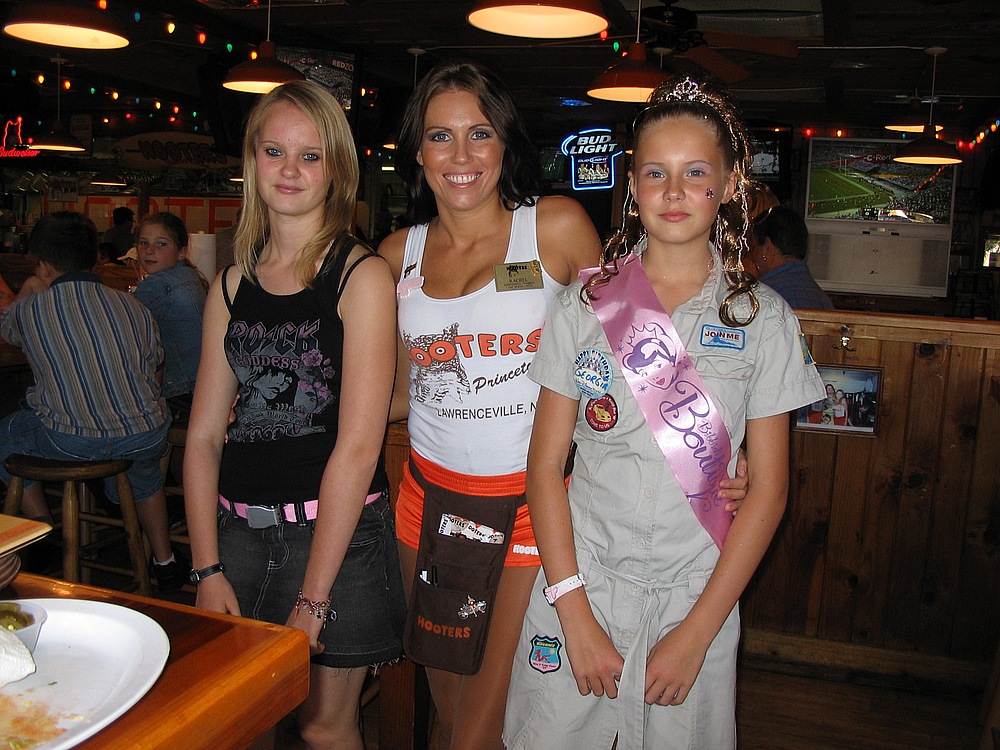 3 lovely ladies
Various food stuffs are ordered including the almost compulsory chicken wings. I have Cajun and Matt has Spicy Jack coating. He manages to smother large amounts of it over his face much to the hilarity of the girls. He blames it on having facial hair. Poor excuse.
The theme from Hawai 5 O comes on and Matt starts to sing along. 'Do,do,do,do,do'. 'Ooh, Matt knows the words' says Georgia teasingly. I believe the girls are starting to get the upper hand. I'm almost beginning to feel sorry for Matt. Almost.
After the food (a very reasonable $120 for the 6 of us including drinks and tip) we go to the Hooters shop for India to purchase presents for her male friends. Matt cannot resist the Hooters calendar and who can blame him?
Back to the villa where we spend the afternoon swimming, sunbathing and drinking. I would like to fill you in on some of the discussions that take place, but believe me, you don't want to know! These people are just rude, I don't know what a man of my sensitivity is doing here.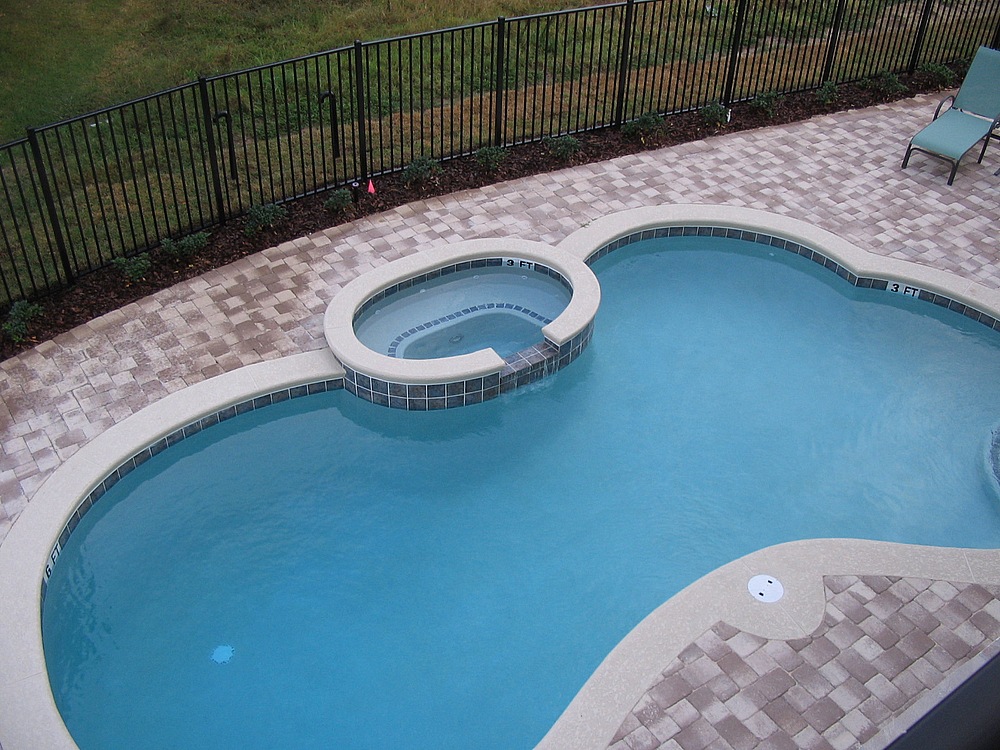 The pool was packed until Matt told a joke.
It's the first of two nights of outdoor rock concerts at Reunion tonight with Peter Frampton and Foreigner, so after showers we go to the area where it's taking place. It's an impressive set up with bars and a large tented area serving a buffet, which we may try tomorrow night. You have to buy vouchers to get drinks at the bar and at $6 a time they ain't cheap, but you can hardly complain when admission is free.
Peter Frampton is on first. He's looking a bit old now, but can still play a mean guitar. In the interval Tam, me and the girls go to get more drinks. We hear shouting and sounds of panic and look up to see sprinklers going off one after the other and people running to get out of the way. Whoops! I get the feeling someone's in for a telling off tomorrow. Having several thousand resort guests rushing to avoid a soaking is not good PR. Funny as hell though.
At the bar Tam asks for a Bacardi and Coke. The barman isn't paying attention and fills up her ½ pint plastic cup with ice and then pours Bacardi all the way to the top! He apologises and is just going to pour it away when Tam stops him. He asks her not to tell anyone, squeezes a splash of Coke into the top and gives it to her. The woman's going to be a handful, I can tell.
Foreigner are next and they are better than I thought they would be. The lead singer is obviously not the original, but is excellent. He looks and seems to have modelled himself on Steven Tyler from Aerosmith. 'I Want To Know What Love Is' is played as the first encore with everyone singing along.
We walk the mile or so back to the villa on a lovely, balmy Florida night. On the way back India spots a large owl sat on the gable of one of the houses. It's a lovely looking creature and it stares down at us as we stare up at it. Matt takes several photos, but the owl seems unimpressed by the whole experience.
Back at the villa several unhealthy snacks are eaten such as crisps, Twinkies and cake. Matt bets Tam she can't fit a whole Twinkie in her mouth. Being the game (and slightly drunk) woman she is, Tam attempts it. All is fine until she laughs and spills out half the contents of her mouth into her hand. Sometimes I wonder about her, I really do.
As we are supposed to be up early for the Magic Kingdom in the morning we all go to bed at 12.30am.
[OCTOBER 2006 REPORT HOME PAGE]