DAY 7 - MONDAY 23RD OCTOBER
Up at 9.00am as Georgia and Tam are going horse riding at Fort Wilderness while India and I are going to the Magic Kingdom. Deb and Matt are off shopping again. That boy's a glutton for punishment.
Breakfasted and in the car for 9.45am, we first drive to the parking lot at Fort Wilderness to drop Tam and Georgia before continuing to the Magic Kingdom.
One thing that struck me is that you can drive from Fort Wilderness to the Magic Kingdom car park without going through the ticket booths. I'm surprised Disney let you do this although it doesn't save us anything as we already have free parking with our Annual Passes.
Ind and I walk to the Pirates of the Caribbean, but they are already queuing out the door so we continue on past and go to Peter Pan where the wait is just 10 minutes. We follow this with Snow White, Mickey's Philharmagic, Winnie the Pooh and Goofy's Barnstormer before going to Casey's Corner for hotdogs.
Suitably sustained we try Pirates of the Caribbean once again, which is now a virtual walk on. We really enjoy the new enhancements especially the bit with Davy Jones and the new audio is considerably clearer.
Next we walk through the Swiss Family Tree House before meeting up with Tam and Georgia who have just done Pirates themselves.
They enjoyed the horse ride very much, it lasted about an hour and they got to see a couple of deer.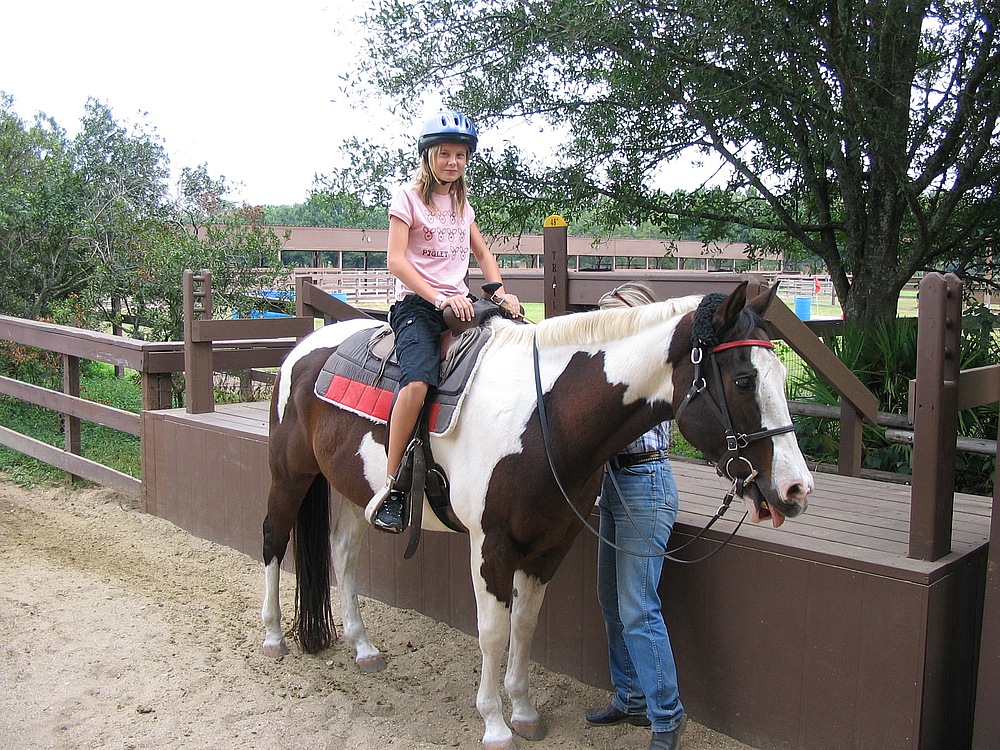 This horse does not seem overly impressed with having to cart Georgia around on his back.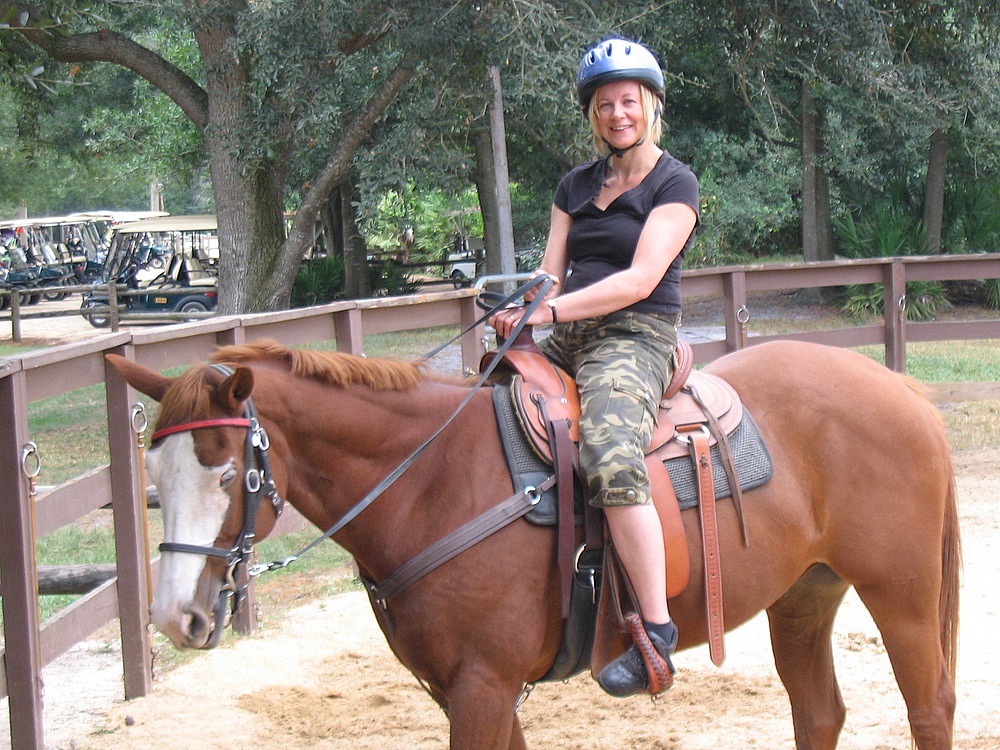 Into Tomorrowland where my score of a mere 63,000 is still enough to trounce the puny women.
We decide to try Space Mountain and it turns out to be a walk-on. It's funny that I can do this with little effect, but Expedition Everest makes me feel so ill.
The crowds today are noticeably lighter and the weather is perfect with highs around 80 and clearing skies to give a sunny afternoon. The forecast is for a cool day tomorrow (70°) followed by a record low nighttime temperature for October in the mid 40's. So that's a record high and a record low we will have experienced in one trip, you can't say we aren't getting value for money.
We visit Mickey's Philharmagic again before walking through Frontierland and picking up a couple of churros with chocolate dipping sauce – very nice. We then jump on the Walt Disney World Railroad for a leisurely ride back to Main Street where we exit the park.
Back to the villa for 5.00pm where Deb and Matt have just returned from shopping. Matt has bought a couple of pairs of jeans to go with the cowboy boots he bought yesterday. Now, given that I am the butt of many a Matt joke about how much older I am than him, I feel it only fitting that I call him Matt the Kid from now on. The meanest gunslinger in the wild town of Gloucester. In fact, the only gunslinger in the wild town of Gloucester. Yee haw!

We leave around 7.00pm to eat at Texas de Brazil. This is a restaurant at the top of I Drive just opposite the Festival Bay shopping mall.
You start the meal here by visiting a buffet style table with salads, cold meats, fish etc., but the real reason to eat here is the meat. It is presented on large sword like skewers and includes Parmesan chicken, roast lamb, fillet mignon, garlic steak, flank of beef and tenderloin of pork.
You have a little disc, which is green on one side and red on the other. When the red side is showing the servers leave you alone, but when the green side is up they offer you meat from the swords. Of course this causes much hilarity between Deb and Tam when the server delivers the tenderloin. Put the words 'pork' and 'sword' together and I think you'll understand what I mean.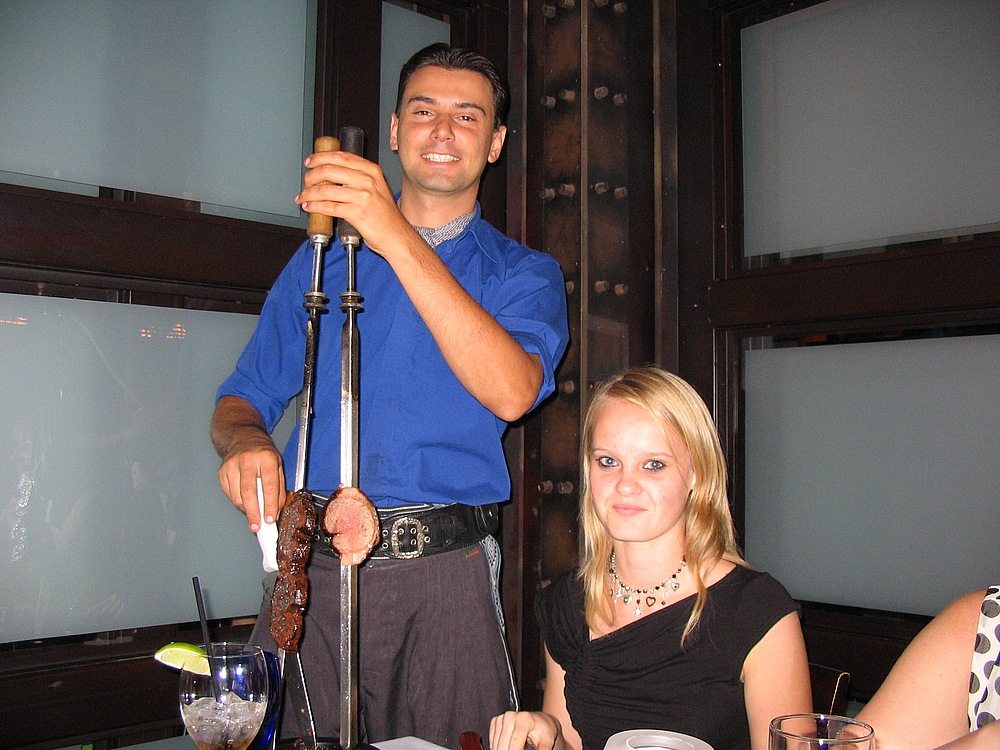 The guy has too much meat on his sword for my liking.
This is not a cheap meal at $42.99 per head and I don't really think it is good value if you have older children as Georgia eats very little but still has to pay full price. Having said that, India does her best to make up for her younger sister with many helpings from the skewers.
It wouldn't be much use coming here if you were a vegetarian; it's meat after meat after meat. The quality of the skewer offerings is generally very good, the flank steak being especially tender, but I don't think we'll be rushing back there, at least not with Georgia.
On returning to the villa a few beers are enjoyed while playing pool. Matt gets his revenge in a big way as I am totally useless tonight (as opposed to mostly useless on other nights) and the final score ends up at Matt 27, me 25.
Tam has been naughty and nicked one of the green/red discs from Texas de Brazil. She sneaks into Deb and Matt's bedroom and leaves the disc on the bed, green side up. Matt goes in later and turns the disc over to red. Bad luck Deb.
Tomorrow we are off to play golf. I'm not sure Reunion is ready for this.
[OCTOBER 2006 REPORT HOME PAGE]