DAY 14 - THURSDAY 16TH AUGUST
I don't sleep all that well due to a particularly insistent itch from an insect bite. So far the bitey things have been pretty good, I've only been properly bitten twice and one of those was in Times Square in New York. Anyway, I do seem to have a more severe reaction to these things than other members of the group.

Up just after 8.00am and we have breakfast in the room before clambering into the car to drive the 10 miles or so to the US Golf shop. This is one of the few forms of shopping I can tolerate, the others being the Disney Store or Victoria's Secret.

There is a sale on (in the golf store, not Victoria's Secret) and we get a bit carried away. We buy golf shoes for both me and Tam, 2 golf shirts, 2 golf gloves, 2 leather belts, some golf tees, 2 golf towels and a pitch mark repairer. The total bill? $138. You'd barely get one pair of golf shoes for that in the UK.

Onwards to North Beach. This seems to be one of the few beaches on the island with public parking. Most of the little side roads that lead to beaches are residential and don't allow parking.
North Beach is very similar to the area around the beach house, a wide expanse of sand with many people on it. It's never too crowded though as it's so large. The sea is a little rougher today, not enough to bother anyone, but there are a few white-topped breakers.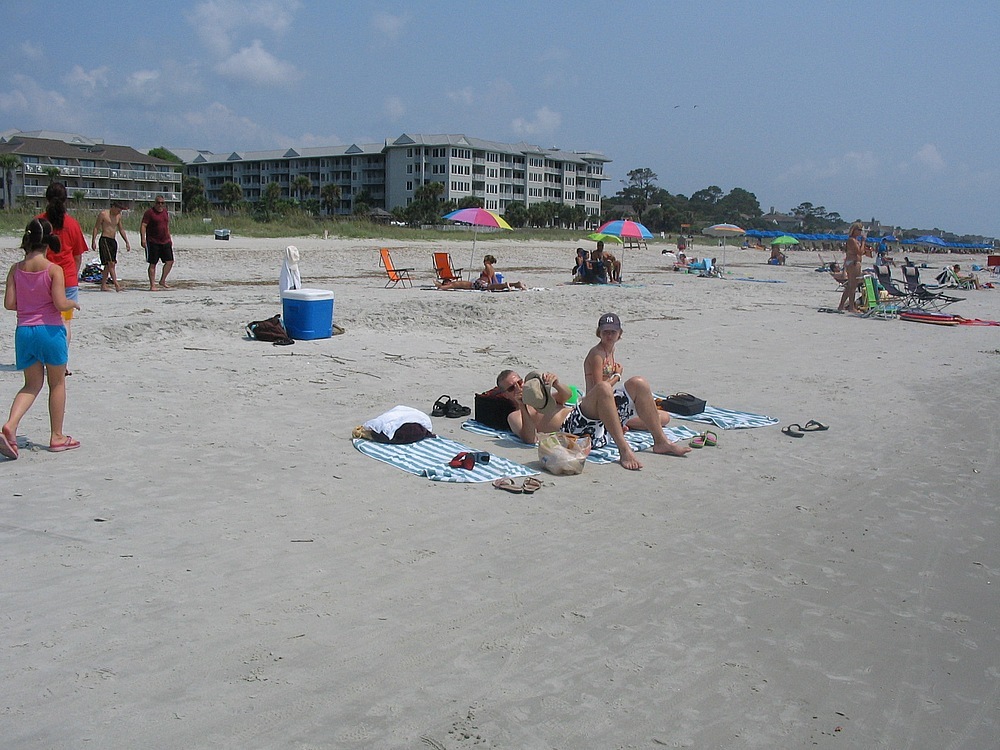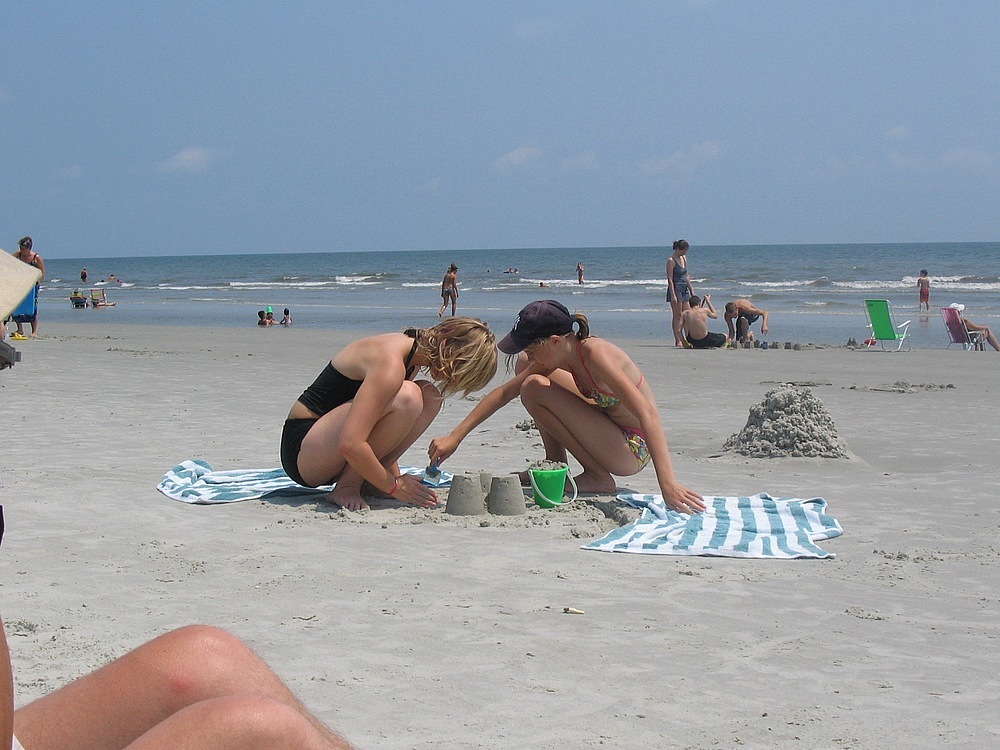 Georgia and I have a swim and as we bob up and down with the waves we discuss the things we want to do in WDW as we drive down to Orlando tomorrow. Deb and Matt are flying in to Miami today and we'll meet up with them tomorrow. Susan and Lu Beth fly in to Orlando tomorrow for us all to get together at Raglan Road at 7.00pm. This is going to take military style planning and a lot of good luck for it to all come together.

It's another scorcher today in the upper 90's, but there is a breeze on the beach that helps to cool things down a little. It's still hot enough to make Beelzebub himself reach out for an ice-cold beer though.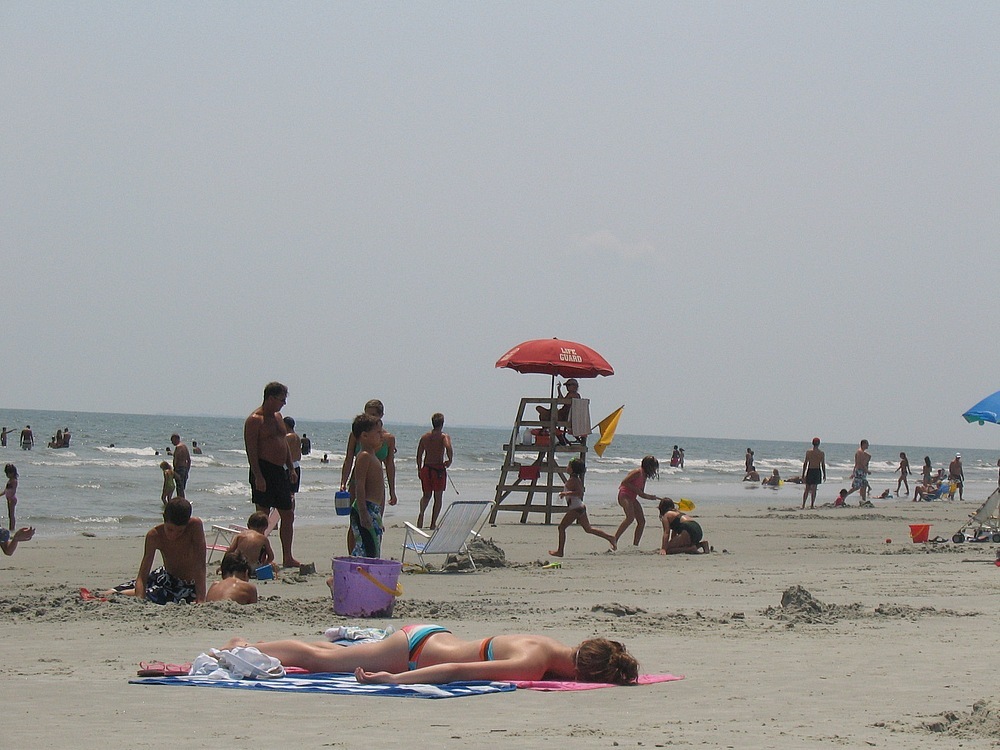 Around 2.30pm we head back to the room to start packing. At least Tam and I do, the other two lazy little ratbags disappear to the swimming pool. I don't really begrudge them this, especially Georgia, as, for reasons I won't go into here, she hasn't been able to go swimming yet on this part of the holiday. She's been sat forlornly watching everyone else splashing about in the water.

Packing nearly complete, I sit on the balcony with a cold beer and think about our stay at Hilton Head. It's been very enjoyable, but I do think the resort lacks a nice lounge and an upscale restaurant. I know you can walk across to Shelter Cove to enjoy these things, but a bar along the lines of The Green Cabin Room at Vero Beach would improve things enormously for me. The other weird thing is when everything shuts down at 10.00pm. I don't mean it begins to close up at 10, they are stacking chairs on the tables and ushering you towards the door. Even in my advancing years, that's a bit early!
Maybe we are used to a more Mediterranean style of dining. In virtually every resort in Europe it is unusual to begin dining before 8.00pm and very often much later than that.
Hey, you know me. Mr Grumpy, I always have to have something to moan about. It's the only thing that makes me happy.

The girls return to the room and Georgia joins me on the balcony to look for Boris. Now Boris is our pet spider (and a large beastie he is too) who has spun a web in the corner of the balcony. We can't see him today and I tell Georgia that he may have gone on vacation to Spiderworld where they have spider-coasters and spider-shows. Georgia thinks this would be a very scary place and doesn't want to go there. I'm not so sure, having 8 appendages to grasp 8 beers while singing along in Spiderrolls sounds good to me.
It's funny, sitting here enjoying a couple of beers is probably the most chilled out I've been all holiday and I thoroughly enjoy it.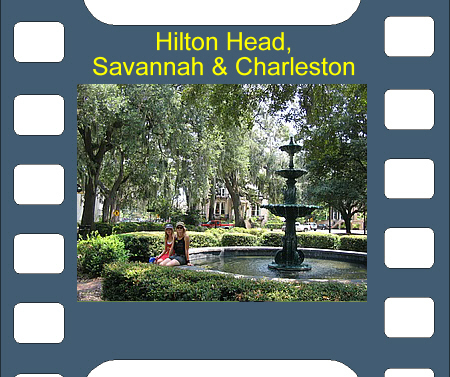 Click the film strip above to see a video of our time in Hilton Head, Savannah and Charleston

Everybody showers and we get ready to get a taxi to the Wreck of the Salty Dog in South Beach marina. As it's our last night we decide we might as well get on Hilton Head time, as such a taxi is ordered for 6.00pm.

We arrive at the marina and go to the restaurant to request a table. They tell us it will be about 45 minutes. That's ok, time for a drink. They give us a beeper and off we go.
Now, things get a bit confusing, as everything seems to have something to do with the Salty Dog. First we go to the Salty Dog shop where Georgia and India buy T shirts. Then we go to the Salty Dog bar for a margarita before visiting the Salty Dog restrooms for a Salty Dog ….. well, never mind what we did in there.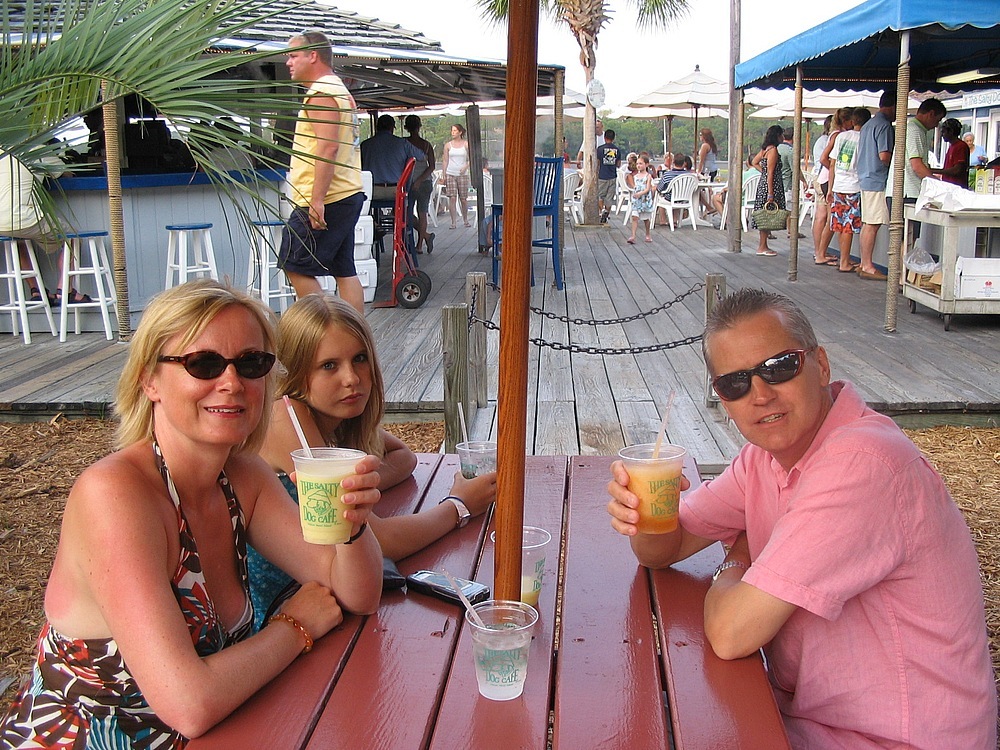 Our beeper goes off to tell us our table is ready so off we go to The Wreck of the Salty Dog restaurant carrying our Salty Dog margaritas with us. I'm not sure who Salty Dog is, but I know one thing, he ain't short of a bob or two.

Our table is outside, which is perfect for us. It overlooks the marina and there is a guy playing a guitar and singing. Cool.
The inside of the restaurant is a lot lighter and not so atmospheric, I would advise an outdoor table here if you can get one.

The food is good. India and I have bruschetta chicken, Georgia has smothered chicken and Tam has the ribs. A bad mistake on Tam's part, the ribs are huge! She can't finish the first of two racks. Me and India have to help out, it's the least we can do.
I wouldn't say the food here is stunning, but the whole experience with the music, the setting and the view make it equally as fun a night as the one we had at the Ocean Grill.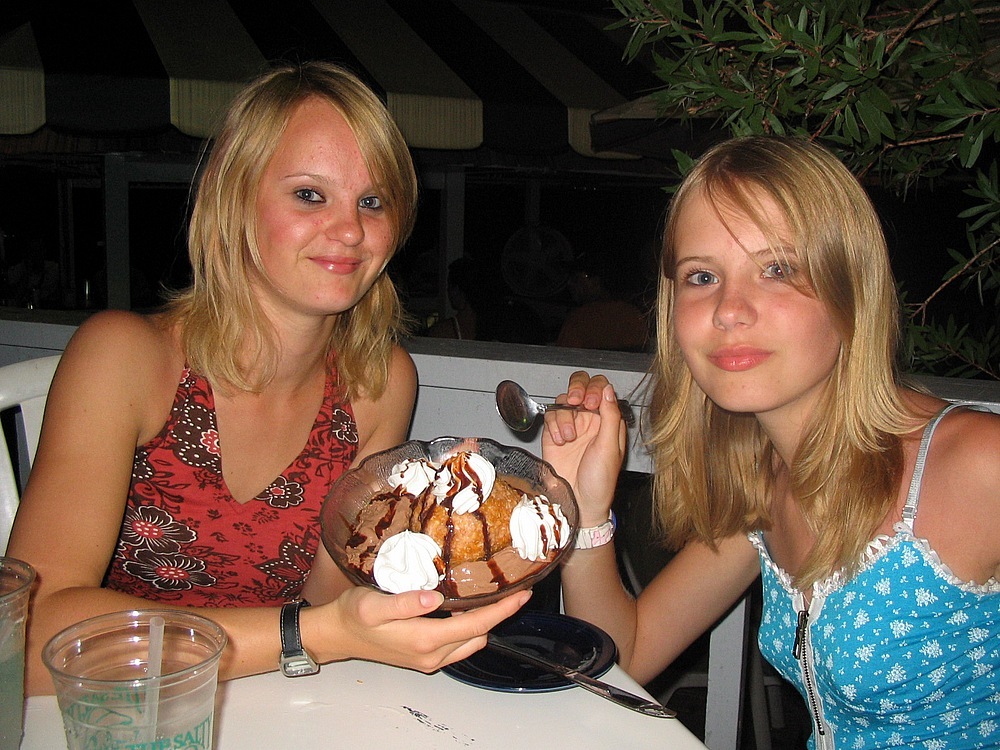 The guy sings a few songs we know like '5 o'clock Somewhere' and 'Ring of Fire' and we all agree that we are looking forward to meeting up with Deb, Matt and the Yankee contingent tomorrow. Georgia even announces that she has not seen Matt for so long that she is missing him. A doctor is called and a large dose of anti-Matt medication is administered.

After the meal we get a taxi back to the resort.
Whilst getting ready to come out this evening we were playing Bob Marley on India's I Pod. I'm not one to boast, but my reggae version of 'the Old Grey Mare' is nothing short of spectacular. I promise a Disney version at 6.15am tomorrow morning. I can tell by the looks on the faces of the women that they can barely wait.

[AUGUST 2007 REPORT HOME PAGE]