DAY 15 - FRIDAY 17TH AUGUST

Right you 'orrible lot, stand by your beds.
Today's military styled transportation plans is as follows:

1. Reveille at 0600 hours on the dot, 0615 for the younger recruits.
2. Breakfast, pack and load up the car.
3. Leave Hilton Head at 0700 hours.
4. Drive for 5 hours to Orlando incorporating stealth tactics to avoid shopping malls.
5. Rendezvous at midday at Walmart Supercentre for provisions (beer, for the drinking of) and purchasing of field communications devices (2 Trac phones).
6. Continue to Port Orleans Riverside arriving at 1.00pm sharp, room to be ready for immediate unloading of cargo.
7. Drive to Grosvenor Resort in Downtown Disney to drop off car.
8. Feed the troops at 2.00pm in Earl of Sandwich.
9. Make use of amphibious craft for journey from Downtown Disney to port Orleans Riverside.
10. Swimming attire to be donned, one hour's relaxation to be taken at swimming pool.

To my absolute amazement and astonishment the whole thing goes sweet as a nut. I, now sat by the quiet pool next to Acadian House writing up my trip report in glorious sunshine. We have travelled 1,700 miles in the last 10 days and spent 37 hours in the car, statistics provided by Buttface's happy computer.
I think I'll take a dip in the pool now, see you later.

That's better. Back to the room where we all shower and try to activate the Trac phones we have bought. Have you ever tried this? If you haven't got 2 weeks of your life to spare and a PHD in advanced electronics, don't bother. I get one of them done, but the other will have to wait until tomorrow morning.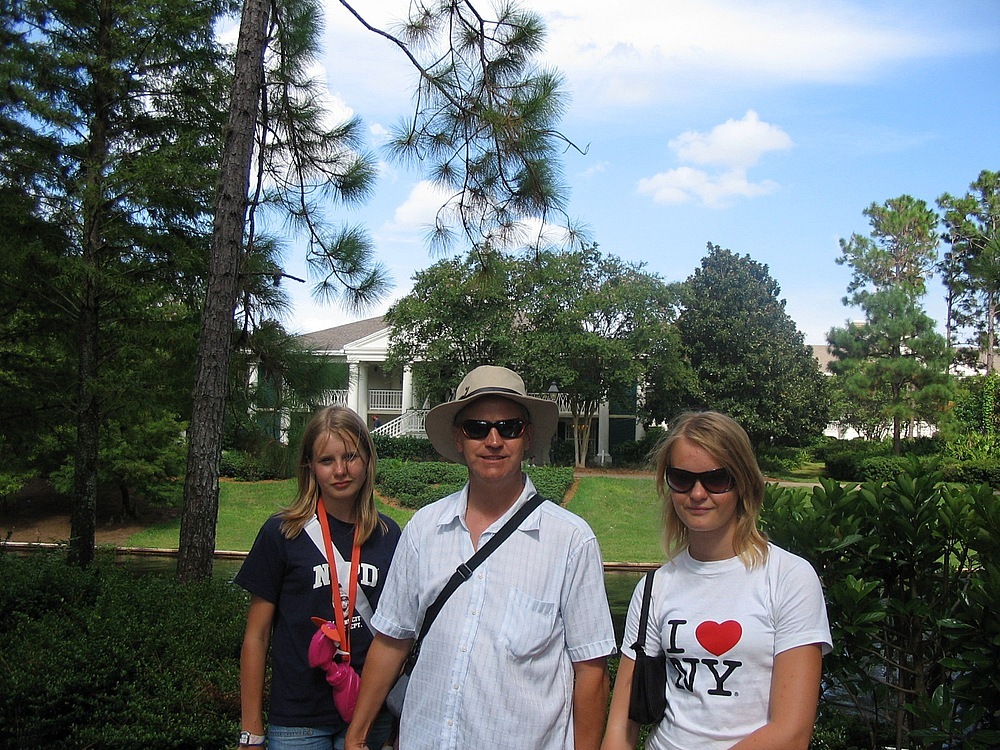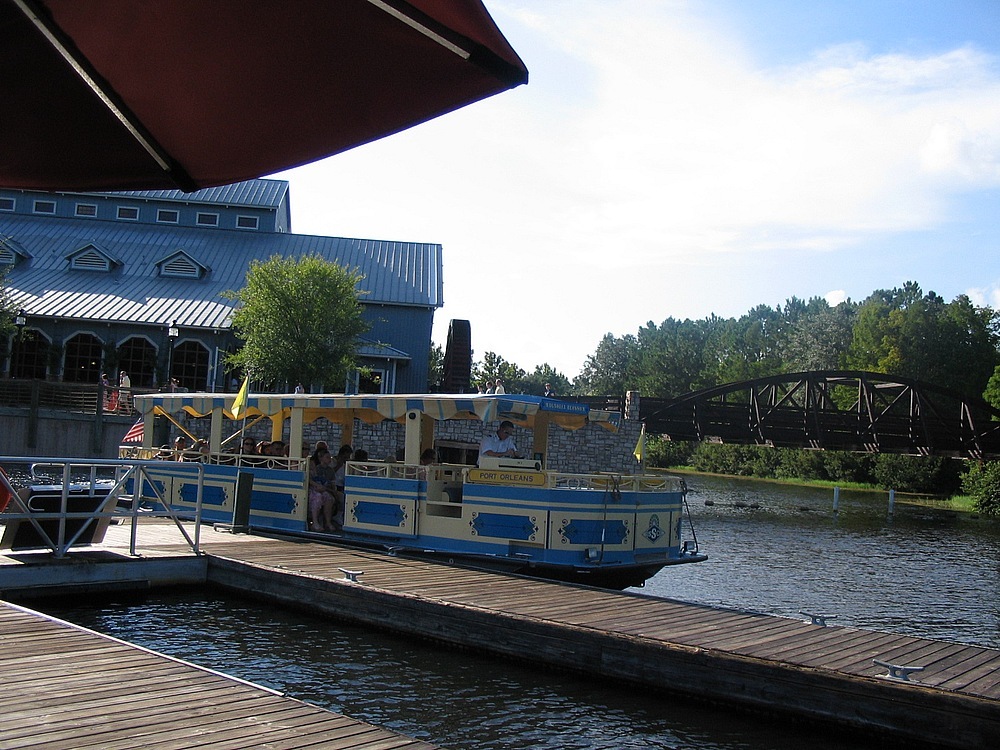 We leave the room at 6.15pm to get the boat to Downtown Disney. It's just such a cool way to travel. As we approach DTD we see a bridge over the river from Saratoga Springs. India shouts out 'That's Deb and Matt'. Sure enough, there they are walking over the bridge. After thousands of miles and a couple of weeks, what are the chances of that?
Strange English people (Tam) are heard shouting 'Deb, Matt' at the top of their voices from the boat. There's much waving from all parties concerned.

From the boat landing in Downtown Disney we walk round to Raglan Road and arrive just about the same time as Deb and Matt. There is much greeting and kissing, although Matt and I make do with a manly handshake as is only appropriate.
For the next hour we catch up on what's been happening in our lives over the last couple of weeks and enjoy a few Guinness's. I would say a few pints of Guinness, but the glasses in Raglan Road leave a lot to be desired in terms of full pint status.

Deb and Matt are staying at Saratoga Springs and are very happy with their accommodation. We'll cast a critical eye over their lodgings when we visit tomorrow.
As we are waiting for our other friends (Susan from Tulsa and Lu Beth from North Carolina) to make an appearance at the appointed time of 8.00pm, Sue and Mark from the DIS Boards have spotted us and come over to chat. We met them here last October; I am of the belief that they actually live in Raglan Road, enjoying beer and food to their heart's content. We chat about their forthcoming Disney cruise.
In the middle of this Susan and Lu Beth arrive. 20 minutes late. If you can remember the last time they joined us in WDW, you may recall that lateness is not uncommon where these two are concerned. To be fair, Susan's flight did not touch down until 5.00pm, so she's done pretty well to attend this early. Pretty well or not, that doesn't stop me from ridiculing the woman's timekeeping.

We are seated at our table and I think it is fair to say that we all enjoy ourselves here. It isn't quiet, so it's not easy to talk between 8 people, but the food is ok (Tam and I have fish and chips) and the entertainment in terms of the band and Irish lady dancer doing the old diddly diddly bit are very good. Matt and I are wondering when the pole and tassels are coming out, but that aside, we have no complaints.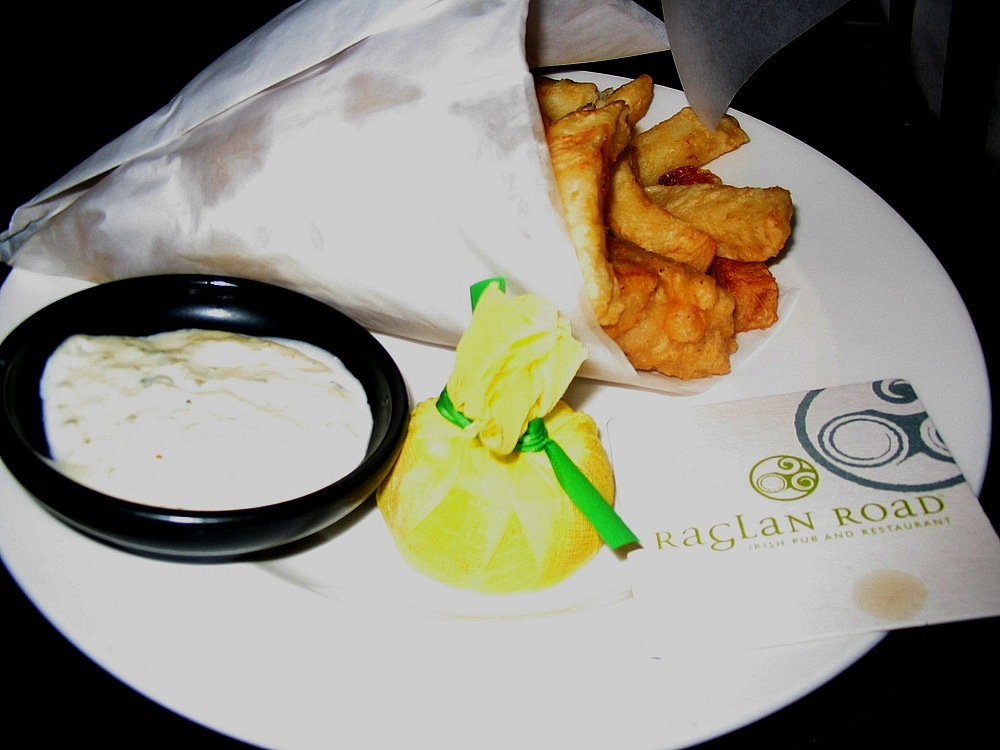 Gifts are exchanged and I gain a couple of lovely T shirts from Susan and a rather spiffy Nascar baseball cap from Lu Beth.
There is much clapping and singing as the night continues, although my offer of an Irish 'Old Grey Mare' is politely declined, probably wisely.

We leave Raglan Road in search of somewhere quieter to chat and happen upon Captain Jack's Margarita Bar, a fine establishment that serves margaritas. I wonder how they came to choose that name?
This is one of those very pleasant times in WDW. The margaritas are good and the company is better as we look out over the twinkling lights of DTD reflecting in the water and I think that things don't get much better than this.

Plans are made to meet in the Magic Kingdom at 9.00am tomorrow morning. That will be a miracle if it occurs.
Susan and Lu Beth go off to get a bus to Wilderness Lodge and the rest of us go to the boat dock. Deb and Matt smugly wave from the Saratoga boat as they board for their short trip while we start our journey to Port Orleans Riverside. What a lovely ride this is at night.
We pass the old tree houses (now used to house foreign students on the exchange programme) and glide along in the warm darkness. When we disembark at Port Orleans Riverside I thank the lady driver for a really enjoyable journey. She smiles and looks at me as if she might want to call security, but my sentiments were honourable.

I really enjoyed tonight. After our many adventures on this holiday it may seem rather pathetic to some to gain such pleasure from returning to a totally manufactured environment such as WDW that I have been to many times before, but I don't care. It's been a great night and I'm looking forward to the next week. I believe there's some fun to be had.

[AUGUST 2007 REPORT HOME PAGE]