DAY 20 - WEDNESDAY 22ND AUGUST
We're up by 7.45am and meet Susan and Lu Beth in the lobby at 8.30am. We all catch the bus to Epcot and go straight to Soarin' to get Fastpasses.
It's time for breakfast and we agree on the food court as it's just outside the entrance to Soarin'. As we are stood around deciding what to get we bump into Joh (Wilma-bride from the DIS Boards) and Gary (not on the DIS Boards, but he has to put up with Joh's addiction and so should be applauded). We are meeting up with them again tonight to go to Jellyrolls, so we have breakfast together and talk about their first Disney cruise, which they start tomorrow.

After saying cheerio to Joh and Gary we decide to ride Listen to the Land. I guess Disney saved a few dollars by having automatic narration in the boats instead of a tour guide.

Next we go to the Living Seas and go on the Nemo ride, which is quite cute if a little short. Some of the effects are very good though.
It's now time for our Fastpasses for Soarin' so back we go to The Land pavilion. We want to ride on the top flight, so we wait for it to be free. While we are standing in line we see Shaun and Alison who we are meeting up with on Friday. This is starting to get slightly spooky now and in a voice reminiscent of the little boy in 'The Sixth Sense', Tam turns to me and says 'I see DIS people'. She actually says this several times until the girls tell her to please stop.

As we come out of Soarin' I comment to Susan that this is one new attraction that Disney has got absolutely right, it's now probably my favourite ride in Epcot as Spaceship Earth is down for rehab.
From something that Disney got right to something they got wrong, Journey Into Your Imagination. I don't think this attraction is awful, it's just that it isn't as good as the ride it replaced.

Over to Test Track now where we all take the single rider line and are on within 10 minutes.
India and Susan then get Fastpasses for Mission Space while the rest of us wimp out. I know lunch is coming up soon and if I were to ride Mission Space, breakfast would be coming up sooner.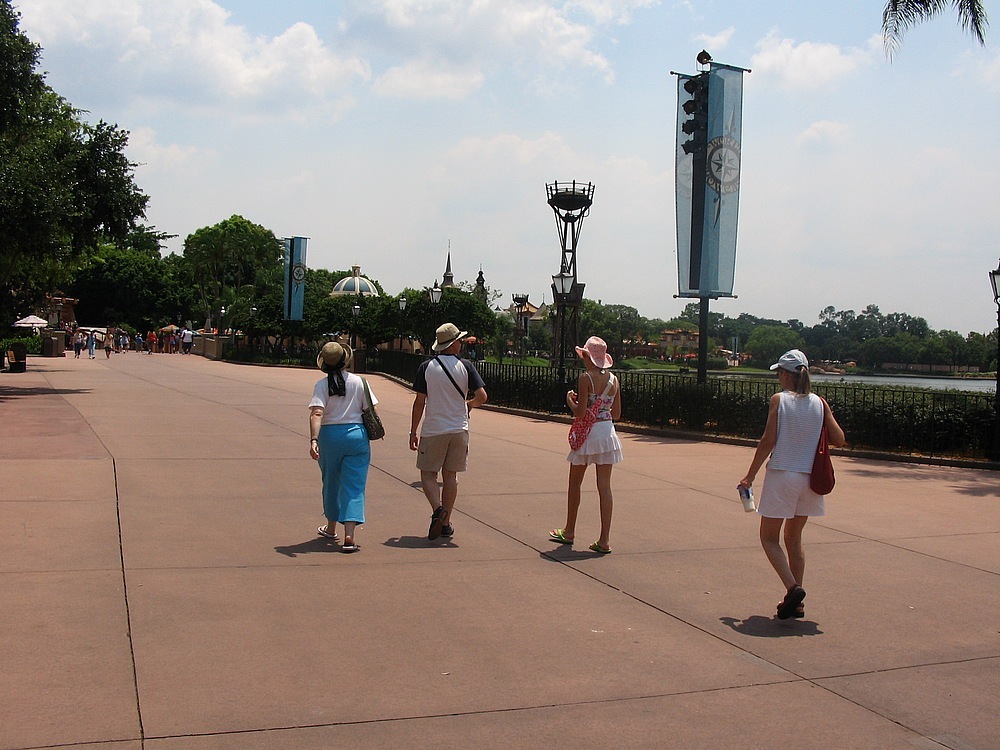 On to World Showcase where we ride the Gran Fiesta Boat Tour in Mexico. This is the first time we've ridden it since the change to the 3 caballeros theme and it's ok. Not great, just ok. The old ride film was cheesy, but that was part of it's charm.
India is not best pleased as they have done away with the old 'la, la, la, la, la' ride music and replaced it with the 3 caballeros theme. I guess they had to do something to bring it up to date, but this is another upgrade that could have been better in my book.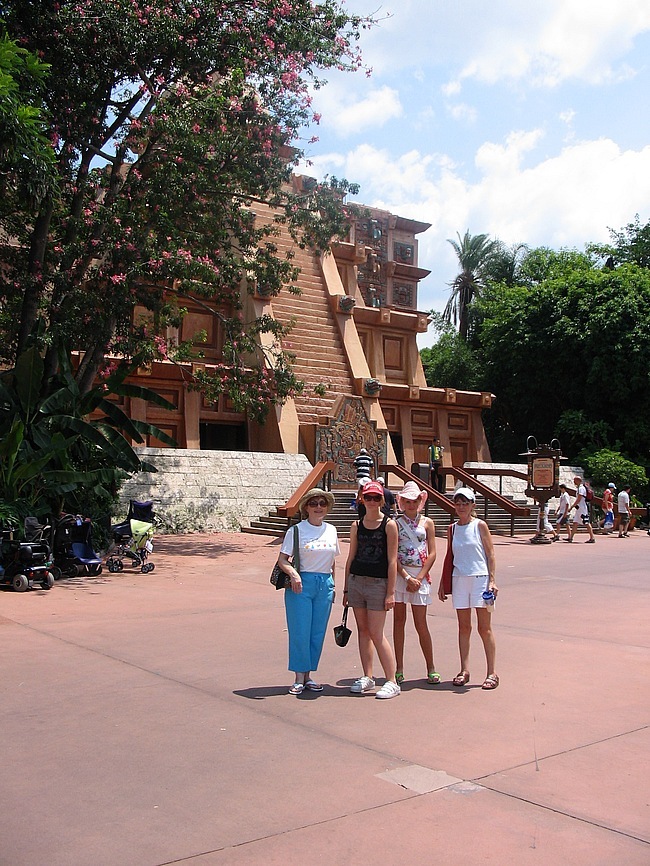 Lunch is next and we use our counter service credits in the bakery in Norway. This is very good value as we get an open faced sandwich, cheese soup, almond pretzel and soft drink each. It should have cost $52. The soup is especially nice.
The little Norwegian band is playing as we sit and eat. All I really want now is for a rather nice Norwegian lady to sit down next to me and feed me a beer and I'll be perfectly content.

It's amazingly quiet around World Showcase as is proven when we walk straight on to Maelstrom next.
We are now leaving the park to swim and relax before tonight's activities, but not before Susan and India use Fastpasses for Mission Space. Stomachs of iron these women. The rest of us go to Mousegear as Tam has to buy a couple of presents and I don't mind, as it's nice and cold inside.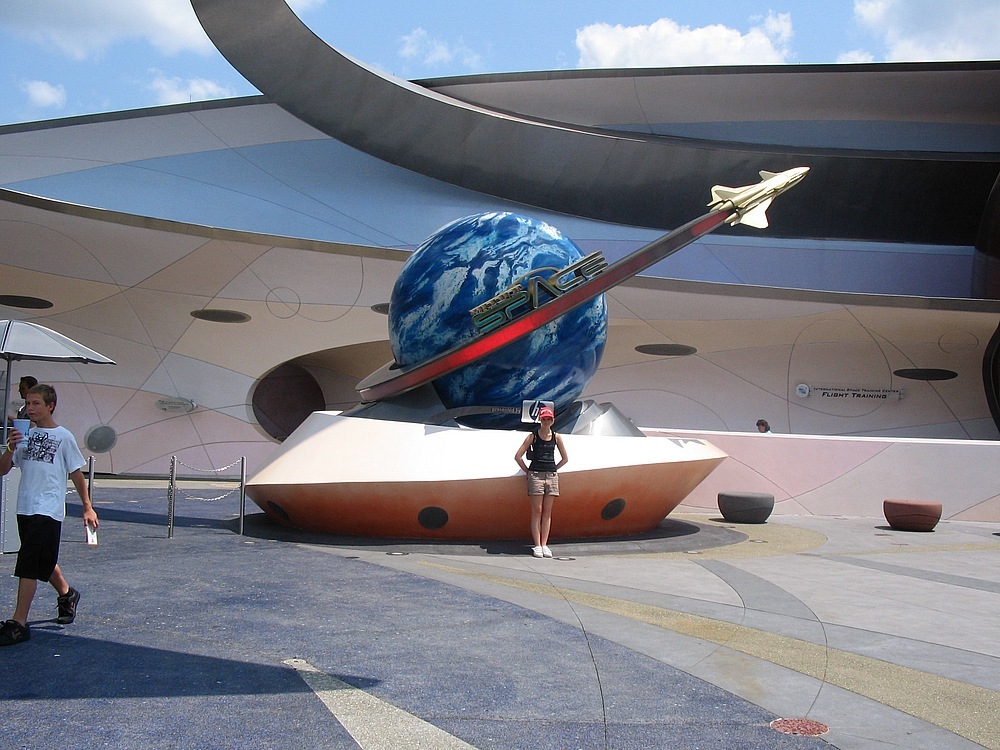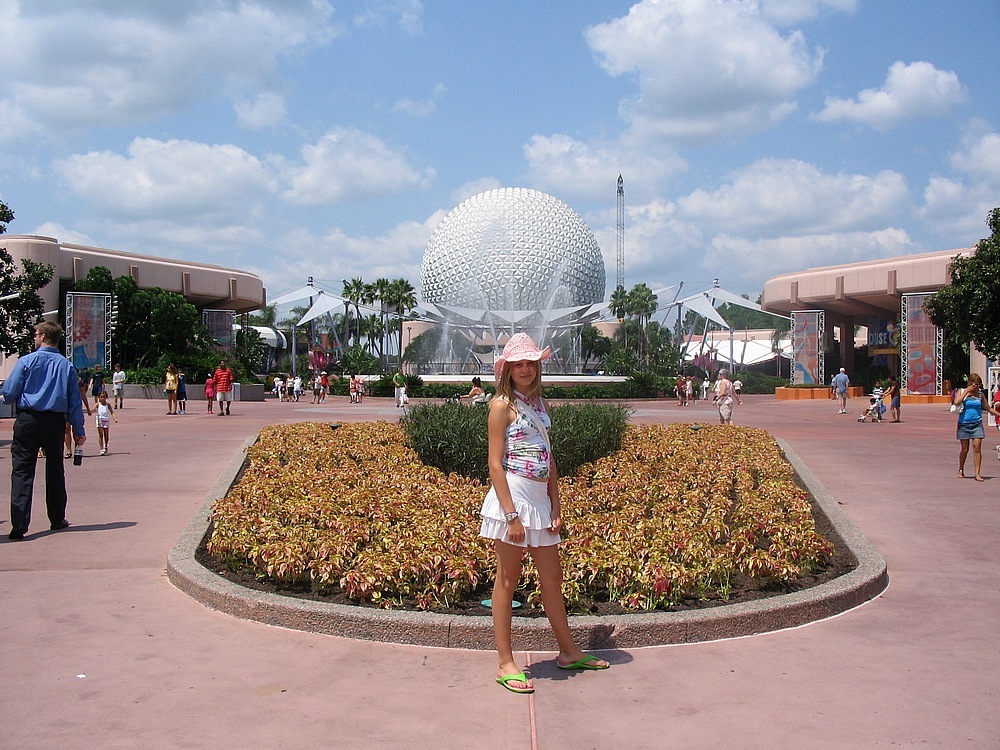 We catch the bus back to Wilderness Lodge and then spend an hour swimming and relaxing before it's time to get ready for the evening.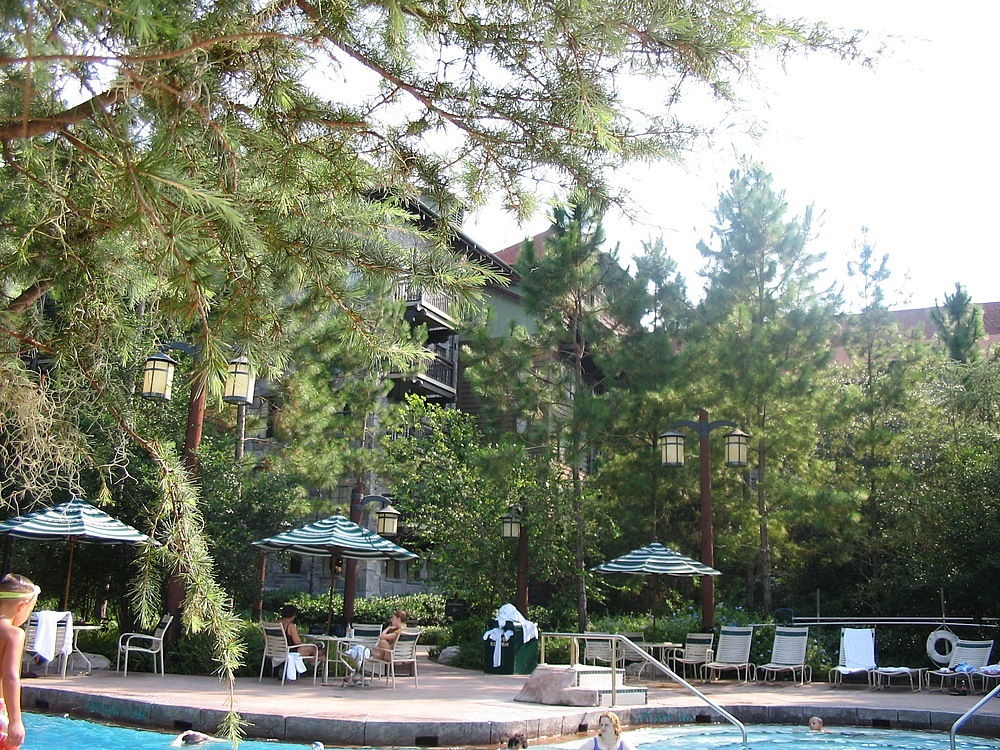 Me, Tam, Susan and Lu Beth are going to the Belle Vu Lounge where we will meet up with Deb, Matt, Joh and Gary before going to Jellyrolls. India and Georgia plan to spend the night at the Magic Kingdom.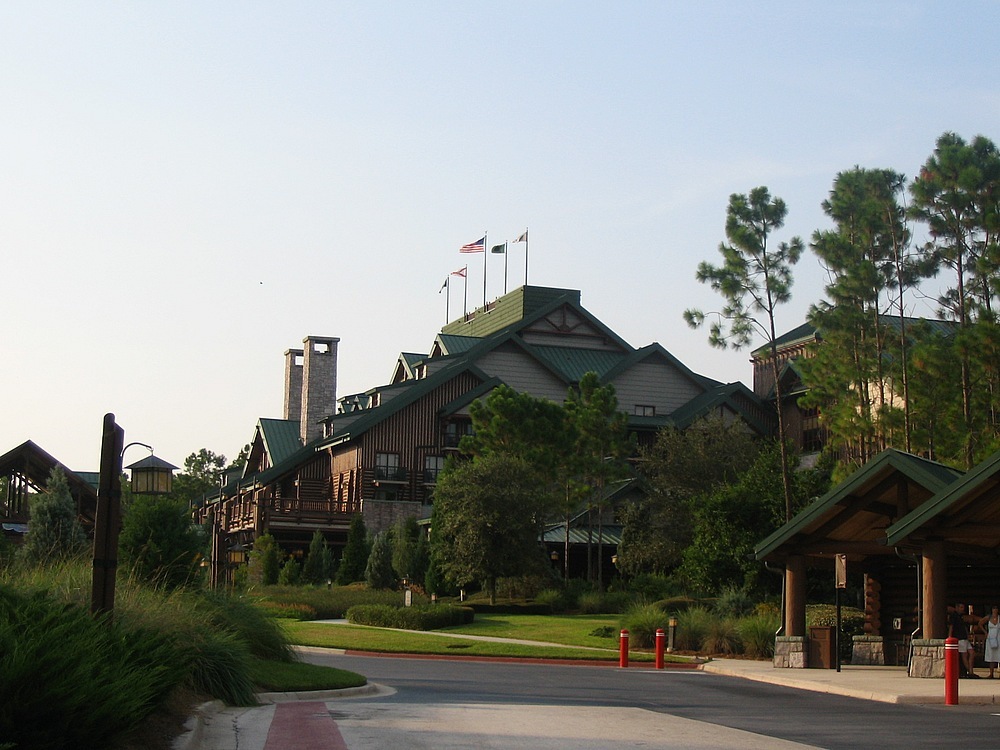 Tam and I meet up with Susan and Lu Beth in the lobby at 6.15pm and get the bus to MGM Studios. Susan chats away to strangers on the bus as she always does. She has the ability to strike up a conversation with anyone at anytime. I mention to her that it is just as well that she never went into espionage for a living, if captured by the enemy she definitely couldn't confine it to name, rank and number. The poor interrogator's would be at their wits end after a while.
'Vee haff vays of making you stop talking'.
I'm only kidding, Susan is such a kind, outgoing person that everybody feels at ease with her.

We've just missed a Boardwalk boat; so decide to walk along the river. It's a beautiful evening and this is a very pleasant stroll.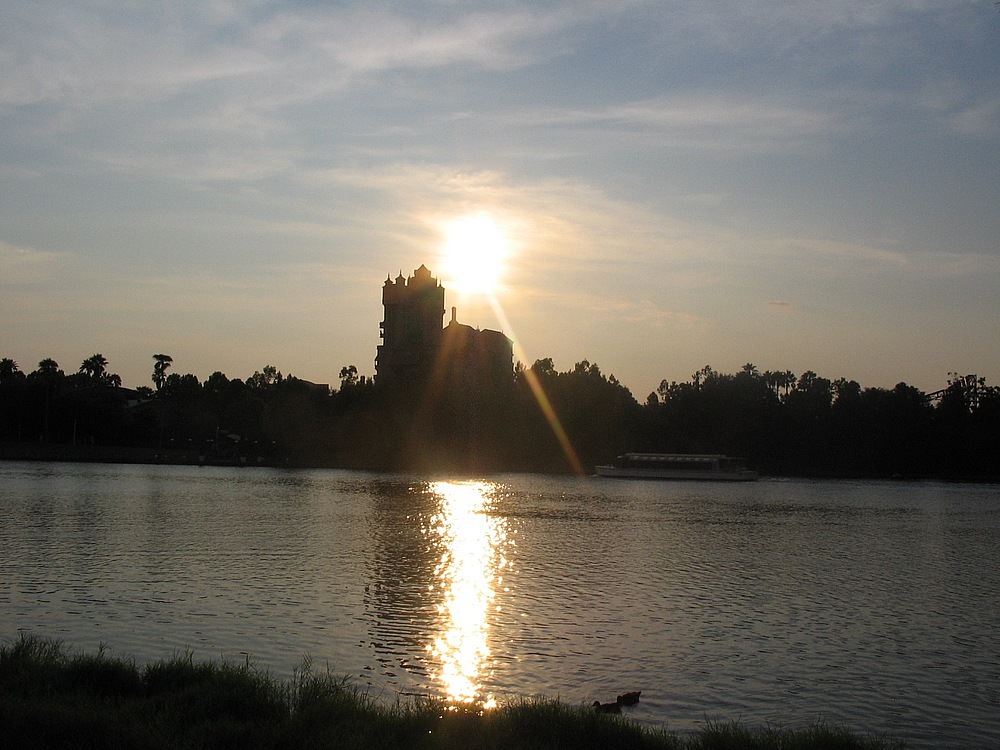 We arrive at the Belle Vu Lounge at 7.20pm and Deb, Matt, Joh and Gary are already there. We spend an hour or so chatting and drinking before moving to Jellyrolls, which has a cover charge of $10.

Now, you'll have to forgive me if things get a little vague here. There was rather a lot of alcohol consumed and some moments such as the incident with the porcupine and the pineapple are probably best forgotten.
Being the middle of the week the club is not packed, but it's still great fun and the 4 pianists (they rotate in pairs hourly) are as skilful as ever.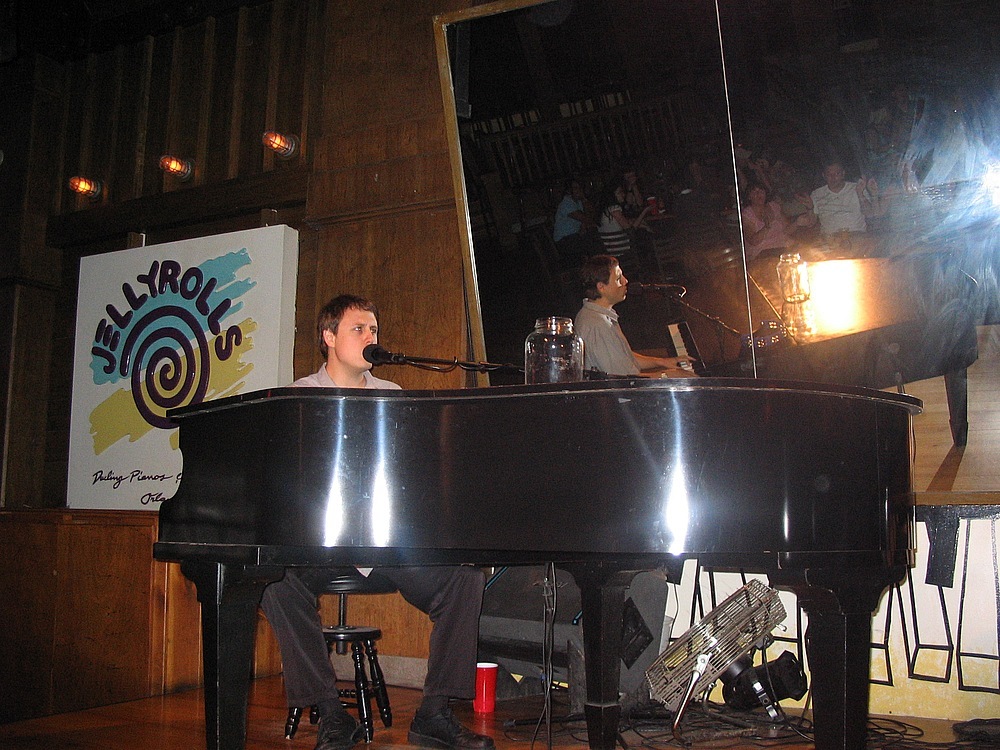 You have to write requests on napkins and put them on one of the pianos along with a dollar or two. Matt tries to get them to play Convoy, which is suitably rejected by the guy scrunching up the napkin and throwing it back at Matt, along with his dollar. In fact Matt has so many requests rejected the floor around us is becoming littered.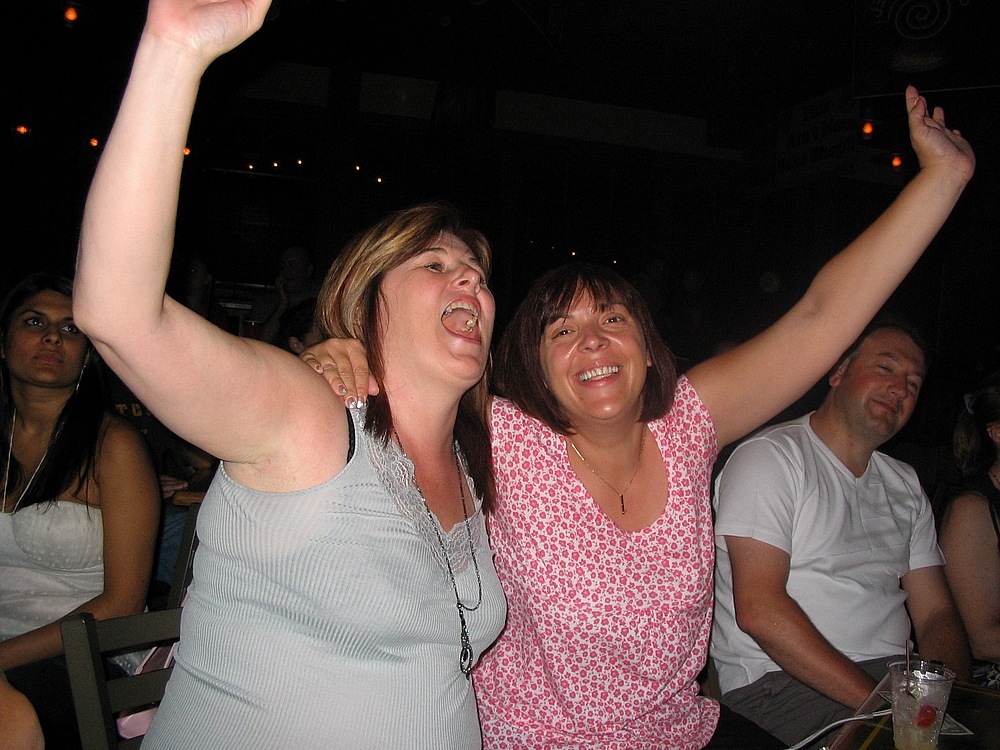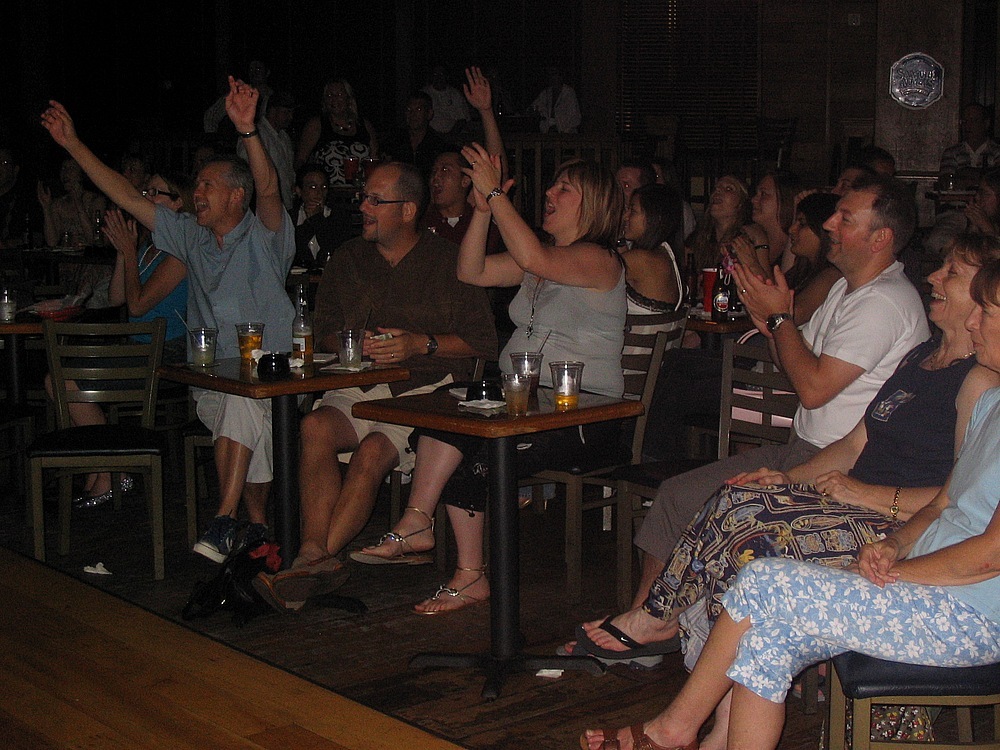 One of the pianists refers to Matt as Elvis Costello. I can see the resemblance. Elvis Costello is better looking of course, but there is a definite likeness. They play 'Alison' by Mr Costello and Tam and I have a slow dance.

They ask Susan and Lu Beth where they are from and then play a strange piece with the work 'Okie' in the title. The ladies enjoy it though.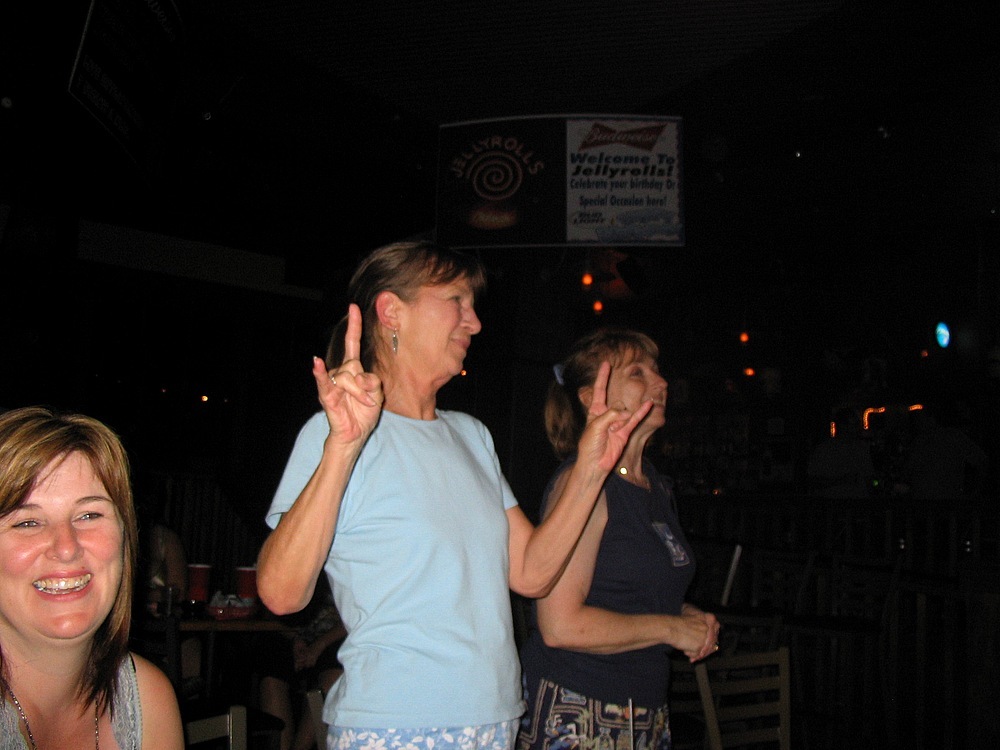 The place closes at 1.45am and I have a vague recollection of walking back to the Boardwalk and getting a taxi back to the Lodge, Susan chattering away to the taxi driver obviously.

I think I get to bed around 2.30am. I'm not too sure whose bed it is though; I'll worry about that in the morning.

[AUGUST 2007 REPORT HOME PAGE]