DAY 21 - THURSDAY 23RD AUGUST

We all lie in until 9.30am given our previous late night. At this point the phone rings and Susan asks sweetly what we are doing. The woman has boundless energy.

The girls watched Wishes last night before moving to MGM Studios where they did a couple of rides, arriving home at midnight.
WE all get up, some more tentatively than others, as one of us is feeling a little delicate this morning. I can't think why, perhaps the popcorn in Jellyrolls was passed its sell by date.

We meet in the lobby at 10.30am where India is going to MGM Studios with Susan and Lu Beth, while me, Tam and Georgia are going to the Magic Kingdom.
We get the boat over and take a slow stroll up Main Street.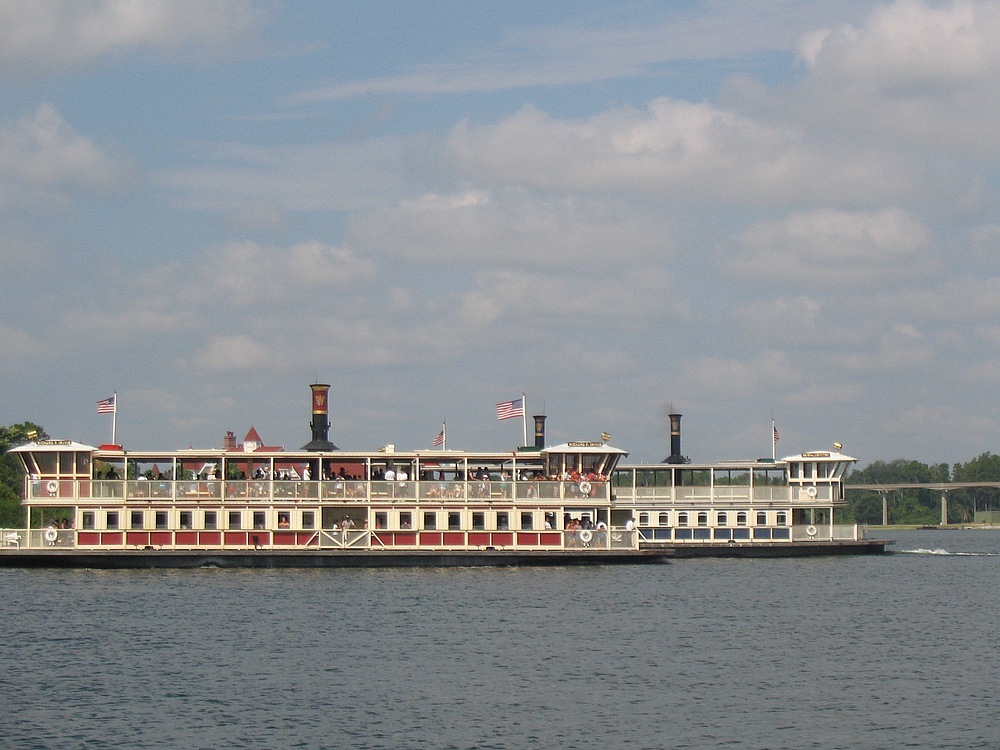 There are some streetmosphere characters out and I recognise one of them as the guy that played Fletcher Hodges the curator of the Adventurers Club, he's a pretty imposing gentleman and hard to miss.
The dancers are also out entertaining the crowd. It's this sort of entertainment that Disney is so good at; it adds character and atmosphere to Main Street.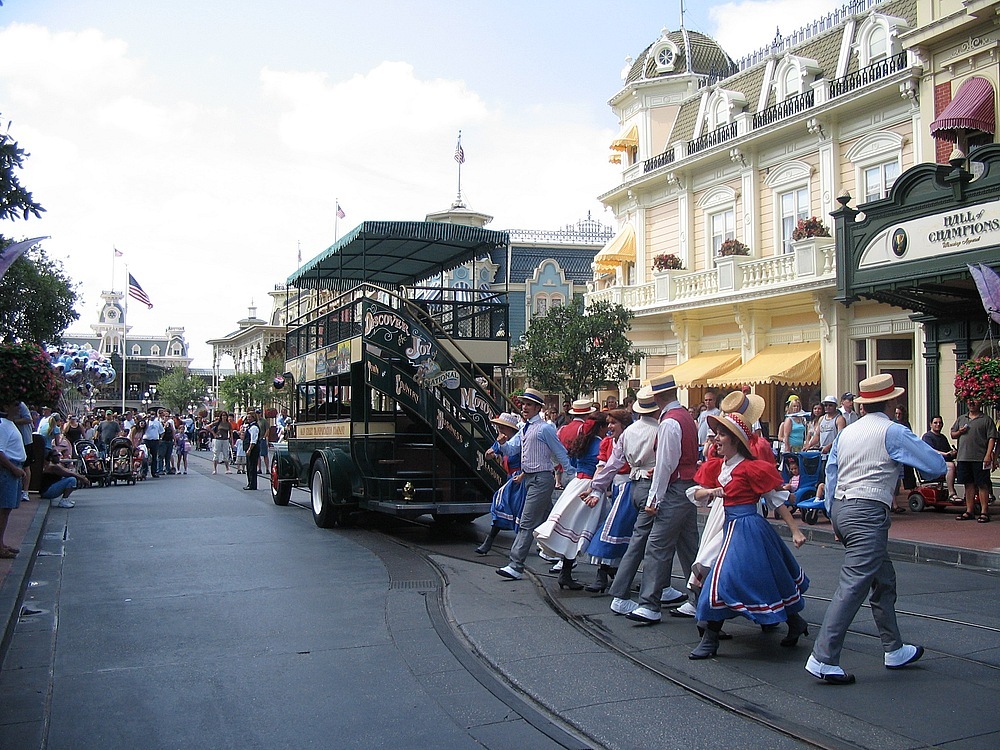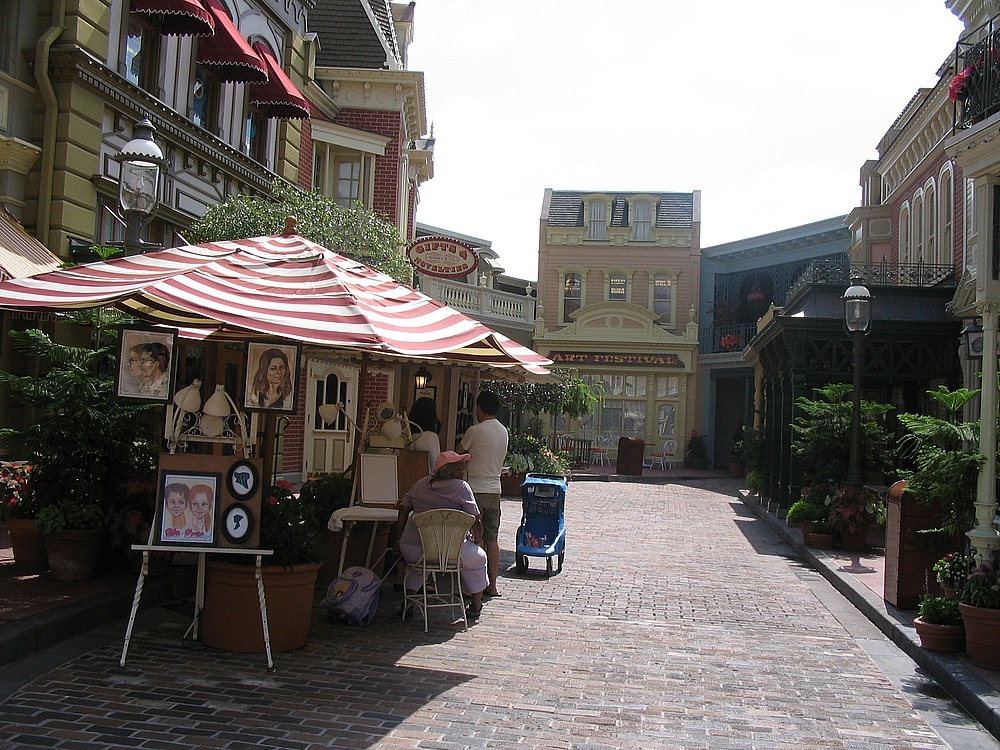 We wander over to Big Thunder Mountain and get Fastpasses. I get one, although I'm not sure if I'll ride, the effects of the Jellyrolls popcorn haven't fully worn off yet.
The park seems quite full so we walk back to Mickey's Philarmagic. After this it's time for lunch and we go to Pinocchio's House thingy next to Small World. We use our counter service credits to get smoked turkey panninis (sp?), which are very good, along with chocolate cake and drinks.

Another slow walk and we are back at Big Thunder. Even with Fastpasses the queue is back outside the entrance so it takes 15 minutes to get on. I think the popcorn is slowly starting to wear off as I manage to ride without lunch making reappearance.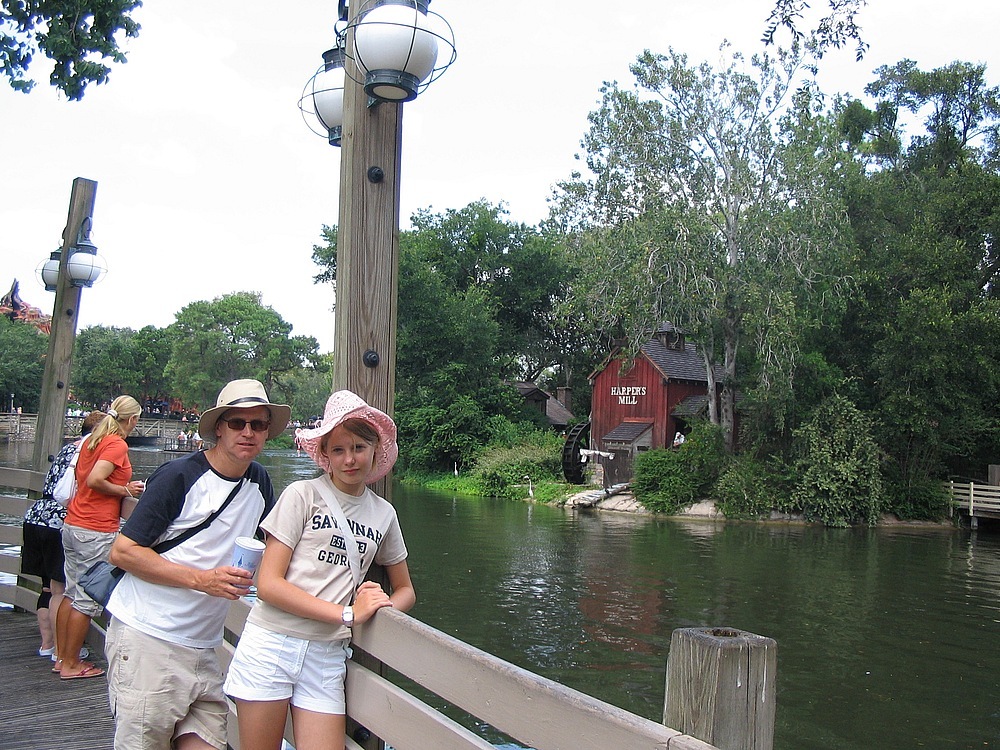 Tam gets 3 more Fastpasses and hides them near the entrance for Susan, India and Lu Beth to use as they are on their way over from the Studios while we are leaving the park for a rest by the pool.

On the way out we pass a shop in Adventureland selling clothes. Or maybe that's the trouble, had we actually passed it, I would be richer than I am now. Tam spots a top she likes and we strike a bargain. She can have her top as long as I can have a rather attractive T shirt with Jessica Rabbit on it. It's showing Jessica's Island Tours and an invitation to check out the scenery. A sophisticated garment to be sure. The deal is done and Tam and I both get what we want, even Georgia gets a new skirt.

We get the boat back to the Wilderness Lodge, this method of transport sometimes takes a little time as it can go via Fort Wilderness, but it's just a pleasant way to travel.

We spend a couple of hours down by the pool swimming and lying in the shade snoozing. India returns from MGM Studios and the Magic Kingdom, she has bought a handbag from the Rock 'n Roller Coaster shop that is shaped like a guitar.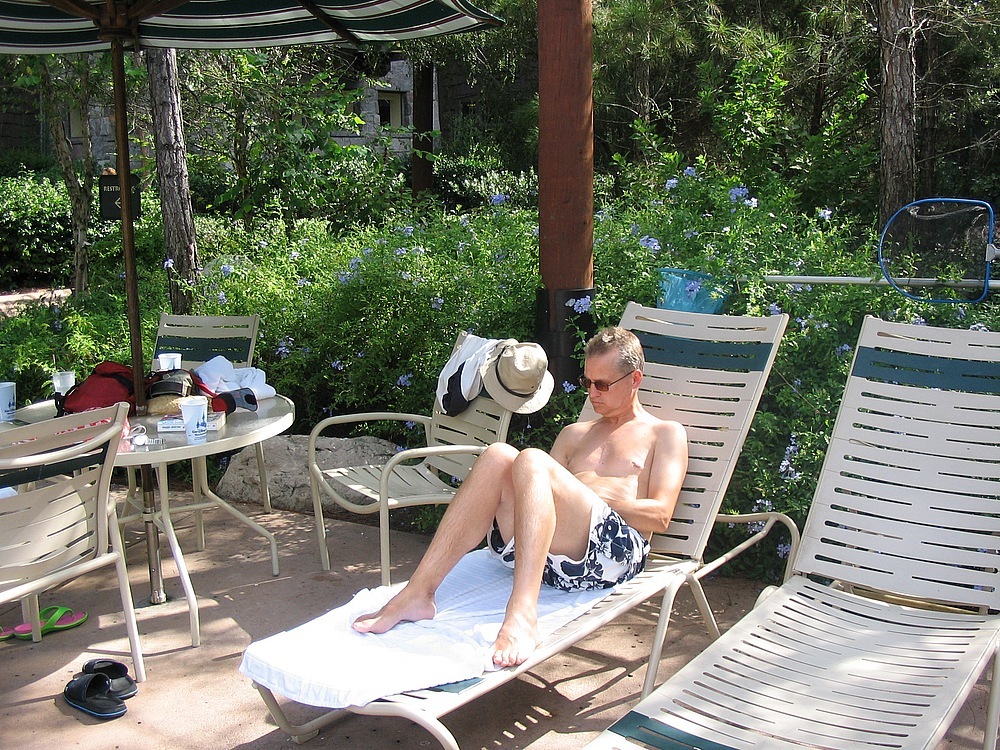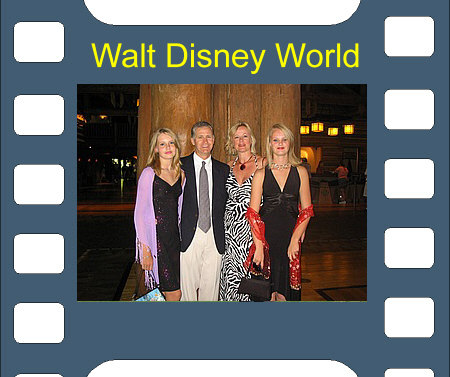 Click the film strip above to see a video of our time in Walt Disney World

We are going to the Yachtsman's Steakhouse this evening so we all get ready and meet Susan and Lu Beth in the lobby at 6.30pm. As we are all dressed up we get a taxi to the Yacht Club where we head for the Crews Cup Lounge to enjoy a pre-dinner cocktail. I try a Limbo and Long Island Iced Tea.
Deb and Matt arrive and I go to the podium to check us in. The lady has no record of a PS for us. After a bit of messing about she finds a record of a PS for 6 of us under my name for tonight that was cancelled. The penny drops. When Susan and Lu Beth decided to join us, Susan rang Disney Dining to get added to our group for this meal. So they cancelled the old booking and replaced it with a new booking for 8. Or rather they should have done. This definitely must have happened as they gave Susan a new confirmation number, unfortunately none of us thought to bring it with us.
The manager (Raul) is called and he shakes my hand and I explain the problem to him. He listens closely and asks us to wait in the lounge while he goes off to see what he can work out. A short while later he comes over to tell us they are preparing a table and it will be ready in 10 or 15 minutes, will this be ok? It certainly will be Mr Raul, sir, thanks very much.

We enter the restaurant less than 30 minutes after our original PS and Raul greets us on the way in, apologises for the error and hopes we all enjoy our meal.
I was really impressed with the way he dealt with the whole situation, I guess that's why he is a manager.

The Yachtsman's Steakhouse primarily serves steak, I'll bet you'd never had guessed that from the name.
As Deb points out, it's quite nicely laid out with smaller sections, some of the Disney restaurants can be a little cavernous.

I try the scallops to start, which are very good, while many of the others have the Ahi Tuna, again very good. I go for the greedy option of the 24oz Porterhouse steak for my entrée. This isn't quite as bad as it sounds, as this is really a T Bone steak so there is quite a lot of bone in it. That's my excuse anyway.
Georgia has the New York Strip Steak and this looks very good and Tam says the Filet Mignon is nice.

During the meal Susan and I strike up a conversation regarding dogs. Her favourite columnist (Dave Berry) wrote a piece theorising that dogs are always thinking about food – when they come running up to you looking excited to see you it is because they want you to give them food. I disagree and Susan asks if I can think of a time when they-re not thinking of food. I tell her that when a dog runs up to you, grabs hold of your leg and makes rather vigorous movements, I don't think he's thinking about his next bowl of Pedigree Chum. Susan then asks 'But how do you know he's not hoping you'll take him out for dinner afterwards?'
I have to point out that the dog cannot know me very well if he expects me to pay for dinner.

For dessert I have something, but I can't remember what the heck it was called. Anyway, it was 3 little sample things and pretty good.
Georgia has the children's dessert, which is a Mickey and Minnie puzzle. This is a white chocolate jigsaw served on a plate similar to an artists palate with colours that you use to paint the puzzle before eating.
Don't ask me why (my children are strange) but India ends up with a small moustache and goatee painted on her face.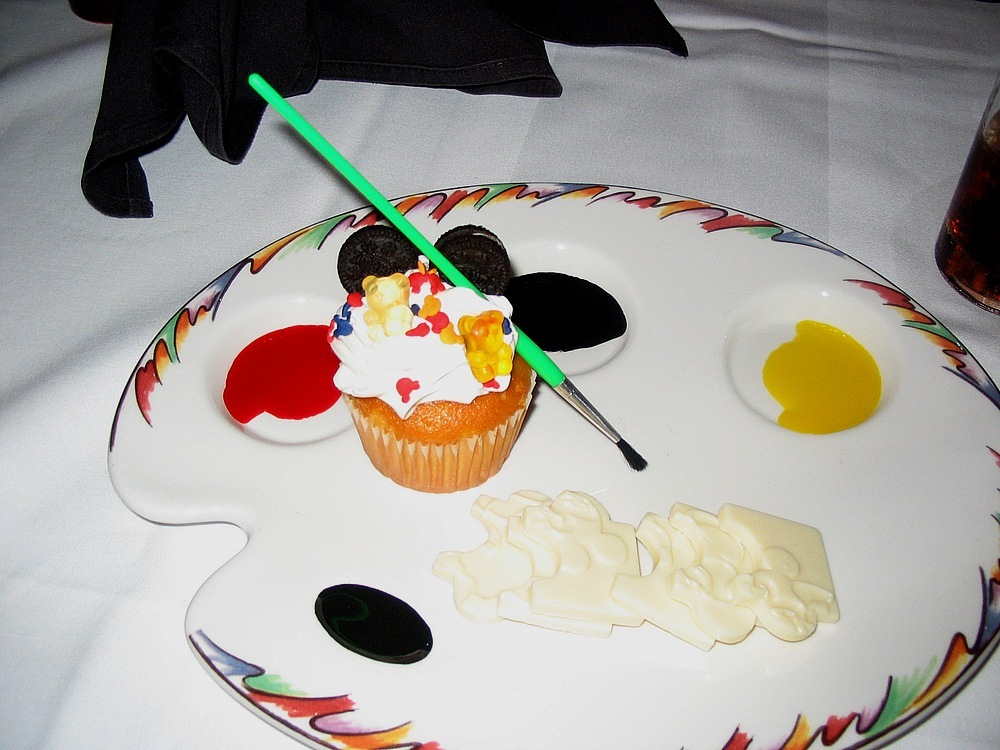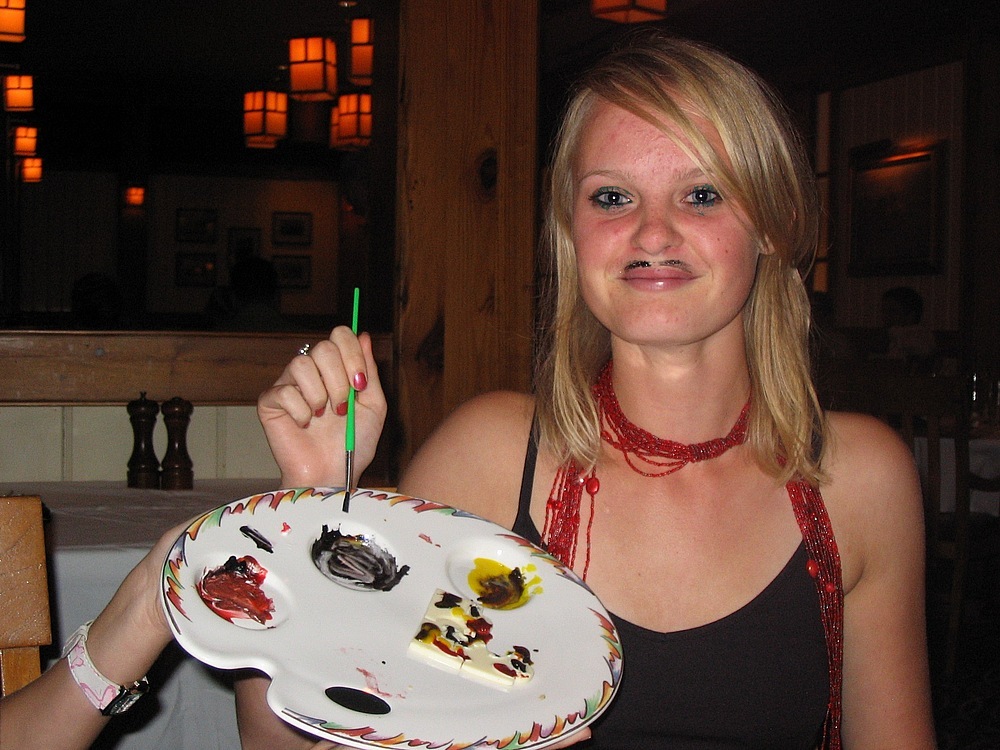 This restaurant is not cheap, our bill comes to over $300 for the 4 of us, but the dining plan covers it.
We get a taxi back to the Wilderness Lodge and stand in the lobby for a while talking about plans for tomorrow. Security guard Mike decides we are a dodgy looking group and comes over for some fun with us.
He makes India a Junior Security Officer and takes her to one side to discuss potential misdemeanours committed by Georgia.
He writes her up a ticket for:
Impersonating a Disney character (Bashful).
Having more fun than the law allows.
Talking too much.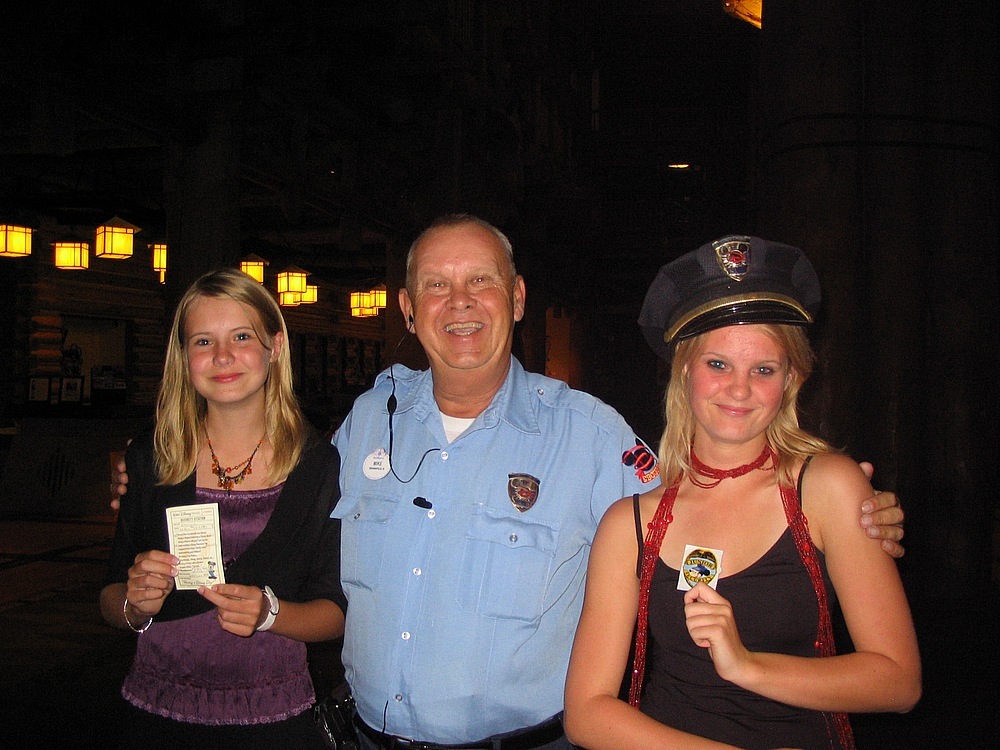 It's just one of those little fun things that CM's do from time to time that make you feel like they really enjoy what they do and take pleasure in making your stay more enjoyable.

We are back in the room and in bed at midnight.

[AUGUST 2007 REPORT HOME PAGE]