DAY 22 - FRIDAY 24TH AUGUST
It had to come. It's our last full day. Still, no need to become morose just yet, there's too much fun still to be had.
We get out of bed around 9.30am and get ready for a day at Epcot.

We still have a few counter service credits left so we use 4 of these up in Roaring Forks with the usual combination of scrambled eggs, bacon, pancakes and syrup etc.
Susan and Lu Beth have gone to the Magic Kingdom this morning and will meet up with us later. Me, Tam, India and Georgia head off to Epcot where we have arranged to meet up with Shaun and Alison (who we know through the DIS Boards) along with their daughters, Alex and Laura.

Before we enter Epcot we go to guest services to get passes for the private viewing area for Reflections of Earth. It's a long story, but we had a PS for the Teppanyaki restaurant in Japan for tonight, but because the refurbishment is not complete we have been told we will get these passes by way of compensation.
As often happens with big companies, things don't go quite that smoothly. We are first told to pick up the passes from the restaurant we made alternative PS's with, but we didn't make them, Deb and Matt did. After much discussion, all of which is good-natured, the manager is called and he tells us to go to Guest Services inside the park and he will call them to ensure the passes are waiting for us.

We enter the park and go to Guest Services where the passes are waiting for us along with 8 Fastpasses for any ride we like. Of course, this whole process has made us 30 minutes late for our midday meeting with Shaun and Alison. Luckily Deb and Matt are on time and they are already enjoying a drink together at the San Angel Cantina.
We chat together for a while (2 beers actually) and Alison tells us that they are probably going to do the DVC tour later in the week. More business for Big Vern. Shaun turns slightly pale (which is hard to do in this heat) at the prospect of spending all that money.

It's incredibly humid today and we are all very hot and sticky. Shaun is wearing his customary bright shirt, but as it gets even hotter he removes it to reveal a sleeveless T shirt. He tells us that his daughters warned him against wearing this shirt. Shaun, you really need to listen to your daughters more!

We say farewell to Shaun and Alison who are off to Mission Space, brave man after a couple of drinks.
The rest of us walk around to the Rose and Crown. This venue has been chosen, as it is the only totally indoor bar that we can think of. We need to cool off. We meet Susan and Lu Beth on the way round.
As it turns out, this proves to be a very wise move as we manage to grab a table just as it starts to rain outside. This isn't Florida rain, it's miserable, steady British rain, although it's still hot.

Guinness and Boddingtons are the drink of choice here and we enjoy some time just drinking and talking. Susan has got a card and present for Dirk and Jim who are getting married in New York and are honeymooning in WDW. We all know them through the wonders of the internet. Given the amount of alcohol that has been consumed, there is some heavy censorship required when it comes to writing messages of good wishes in the card, especially from Matt. I think my message is coming along ok until I can't think of anything to rhyme with Nantucket.

The beer is definitely starting to take effect. I complain that Disney haven't built a really expensive dark ride, such as The Haunted Mansion, for ages, all the new stuff appeals to the thrill ride crowd. After much consideration amongst the male contingent of the group, it's decided that a Haunted Hooters attraction would go down a storm.
Talking of storms, it's still raining a little, but we have to make our way round to Mexico for our 5.00pm PS. It stops long enough for the ladies to dance along briefly to the British Invasion.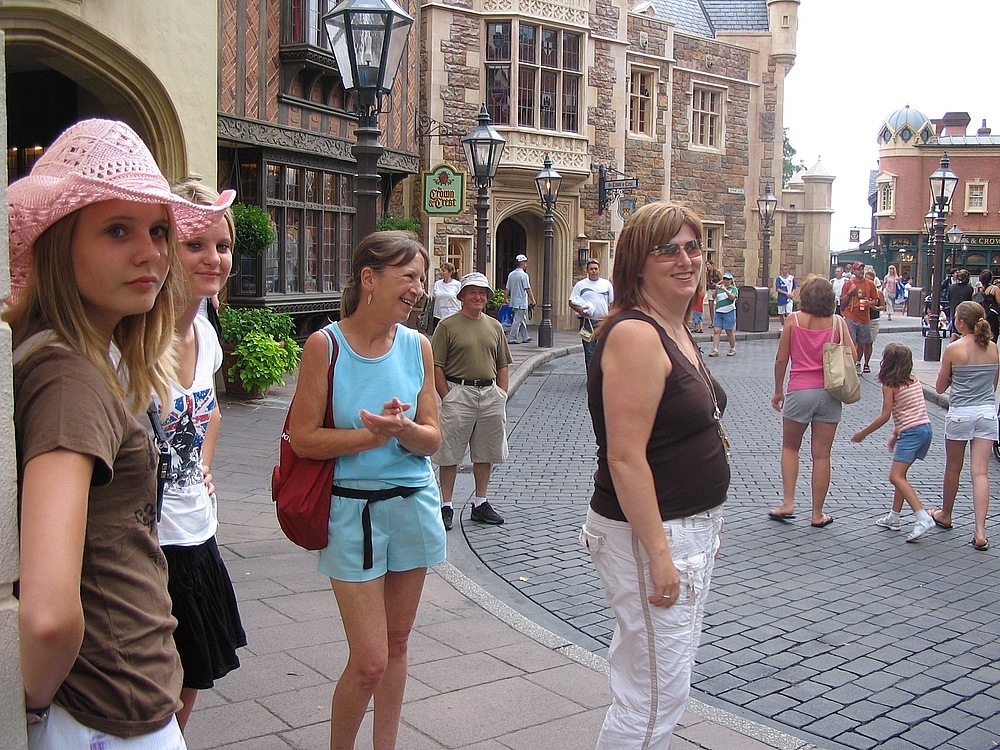 In Mexico we are seated at a big table along the left hand side of the restaurant. I don't know about anyone else, but this meal exceeded my expectations. I've eaten here before and not been impressed with the food, this time the food was pretty good, the service charming and the margaritas very nice.
The corn chowder appetizer is lovely and I follow this with the combination meal, a bit of everything really. The white chocolate bread pudding is also better than expected.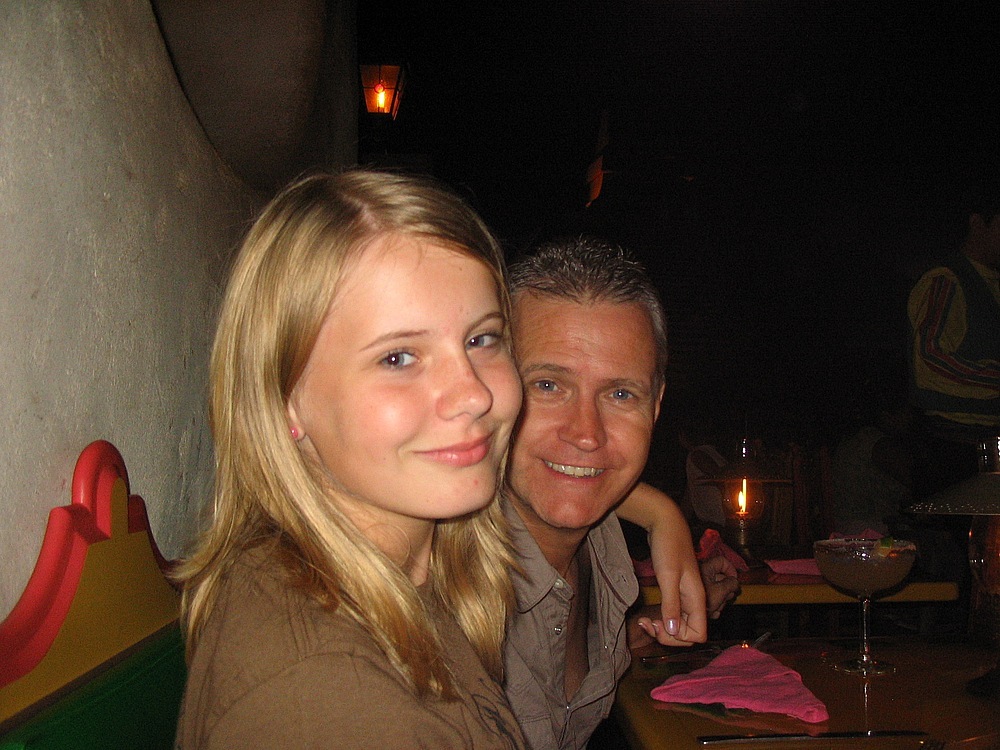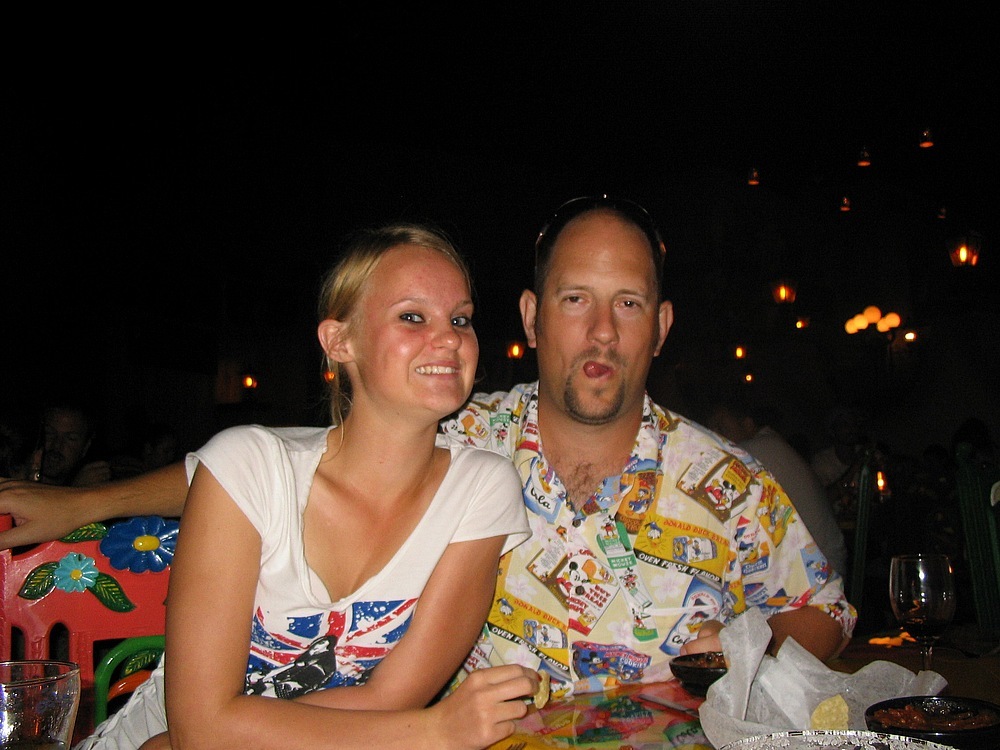 It's no good, raining or not we have to move ourselves. We trek over to Soarin' to use our free Fastpasses and then across to The Living Seas for the Nemo ride. Of course, it's an absolute walk-on due to the rain. We spend a little while watching the manatees before going to Turtle Talk With Crush.

It's getting close to Reflections of Earth time, so Tam asks a CM where the private viewing area is and he shows us the entrance right in front of the walkway between Future World and World Showcase. In effect you are looking directly at the American pavilion.

The clouds are low and there is a little light drizzle so the smoke hangs around a lot, but we all agree that this is the view that Reflections of Earth was designed for. As Deb says, everything is framed and symmetrical, you are very close to the globe. The only problem is, I have no idea how you can get into this area in the future unless something has gone wrong and Disney are trying to make up for it.

Shopping in Mousegear is next although I must admit to being pretty tired by this time. A bus takes us back to the Lodge and we are in bed around 11.30pm.

[AUGUST 2007 REPORT HOME PAGE]