DAY 6 - WEDNESDAY 8TH AUGUST
The alarm goes off at 7.15am and we all get up and begin packing. India asks if we heard the rain in the night. Nope, never heard a thing. By 8.00am we are checked out and trying to get a taxi to La Guardia.

It's a bit of a job getting a taxi, but we are eventually on our way at 8.30am for the supposedly 30 minute trip to la Guardia. With our flight to Charlotte at 10.05am, this should give us plenty of time. I'm glad I said 'should'. All goes reasonably well until we reach the Triboro bridge and the traffic slows to a crawl.
For what seems like ages we move so slowly it makes Mr Snails attempt on the world record for slow sliming look positively rapid. The driver says it is due to the huge storm they had last night and that the underground is flooded in many areas making the roads incredibly busy.

We eventually arrive at 9.35am and rush to the US Airways check-in area. There is a bit of a queue so Tam goes to the e-ticket machines to try and use that. Apparently these things close 30 minutes before departure and we are now 28 minutes away! Doh! We have missed our flight and now have no alternative but to wait in the queue and throw ourselves on the mercy of the US Airways staff.
While in the queue we chat to a few people and hear many horror stories of delays and missed departures. It seems there was horrendous rain last night and one lady says her trip from Brooklyn, that should take 40 minutes, took 3 ˝ hours.

The queue at check-in is now growing much longer and moving very slowly. We are lucky that we are fairly near the front; there are some people in for a very long wait. It's taking a long time because US Airways are having to re-book everyone on to alternative flights. Eventually it is our turn and the lady taps away at her little computer terminal. Be kind please madam. She tells us we can go on standby for the 11.55am flight or book confirmed seats on the 255pm. We can't take the risk of not getting on together, so we go for the confirmed flight. Tap, tap, tap….. computer says no. The confirmed seats have now gone. Sigh, we're not having the best of luck with flights on this holiday.
We are put on standby for the 11.55am. Being British and intrinsically ignorant in the ways of standby, we are told to report to the gate and our name will be called if there is a seat for us.

Through security we go where me, Tam and Georgia are pulled aside for additional screening. Sweet, innocent India gets away with it. It's a little alarming when the lady snaps on a pair of latex gloves! As it turns out, it's just a quick search and they wipe our stuff with a little tissue that they then analyse in a machine. I guess they are looking for traces of explosive or maybe is measures foot odour. Unlikely, or it would have gone off the scale on Tam's turn.

At the gate we sit and wait to see if we will get on the flight. A TV is on and there are warnings of severe hot weather in many parts of the mid-west and east. Guess what, Charlotte is due for temperatures of 104°. It never rains but it pours. Perhaps not the best metaphor in this case.

The plane arrives and they start calling names. Hugh, Pugh, Barney McGrew, Cuthbert, Dibble, Stringer. Woohoo and Woohoo again! We're on!
I have to give US Airways credit, there were so many delayed and missed departures, it cannot have been easy sorting out the mess, but they managed it and at no cost as well. A big thumbs up for them.

Due to the queues of aircraft waiting to take off we eventually get airborne at 12.55pm. I'm certainly not going to be complaining about it being late, we're just very thankful to be on our way.

The flight lands at 2.20pm and it all goes pretty swiftly from there and we pick up our car from Dollar and are on our way by 3.30pm.
We have a Nissan Murano, which is a reasonable size for us but would be too small for 5 people.

We leave the airport and are soon heading west towards Boone. It's just a smidge warm as the temperature display reads 108°. I know these things tend to read a bit on the high side, but that's hot by anyone's standards.

As we drive further west the countryside keeps getting prettier with forested hills surrounding farms and small towns. I'm amazed by how many pretty little churches we pass by, the folks round these parts must be of the religious persuasion.

I knew we would need to stock up on provisions, so I did some research before we left home and found that there is a Walmart in Boone. Now this is the strangest supermarket I've ever been in. As usual with these things it seems to sell just about everything under the sun, but there is no fruit and veg section, no fresh meat section and no (and this is possibly the greatest sin known to man) beer! Oh, they do sell guns, so should you want to blast the hell out of someone or something, no problem at all, should you want to create a nice salad, get the hell out of this supermarket.

At the checkout we ask the lad if there is anywhere we can buy beer. I think he takes one look at me with a small tear in my eye and my upper lip quivering ever so slightly and takes pity on me. There is a Food Lion just across the car park. Lord knows what a Food Lion is, but they sell beer and that's good enough for me. As it turns out this is much more the sort of place we are looking for and we leave fully stocked with foodstuffs and booze.

We cross the Tennessee border and the countryside just keeps getting prettier and prettier. Eventually we reach Lake Watauga and drive down increasingly narrow roads until we end up on a gravel path to Majestic Manor.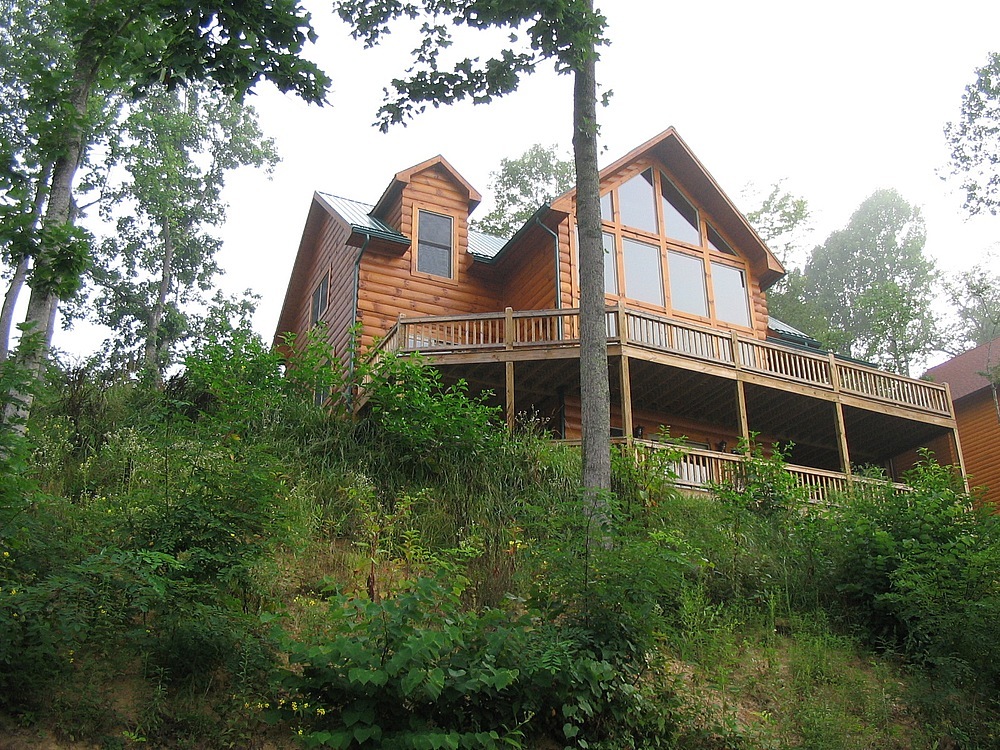 As we enter the property our jaws drop. The living room has an enormous picture window looking out onto the lake below. The décor is rustic with wood and stone everywhere.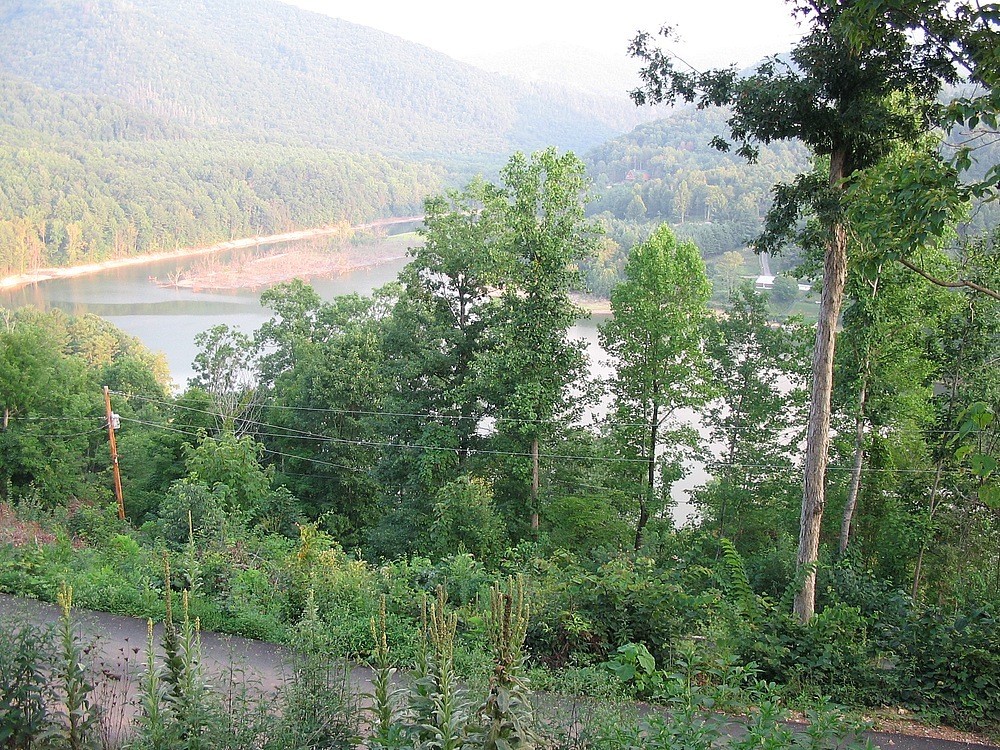 The view from the balcony and out the picture window.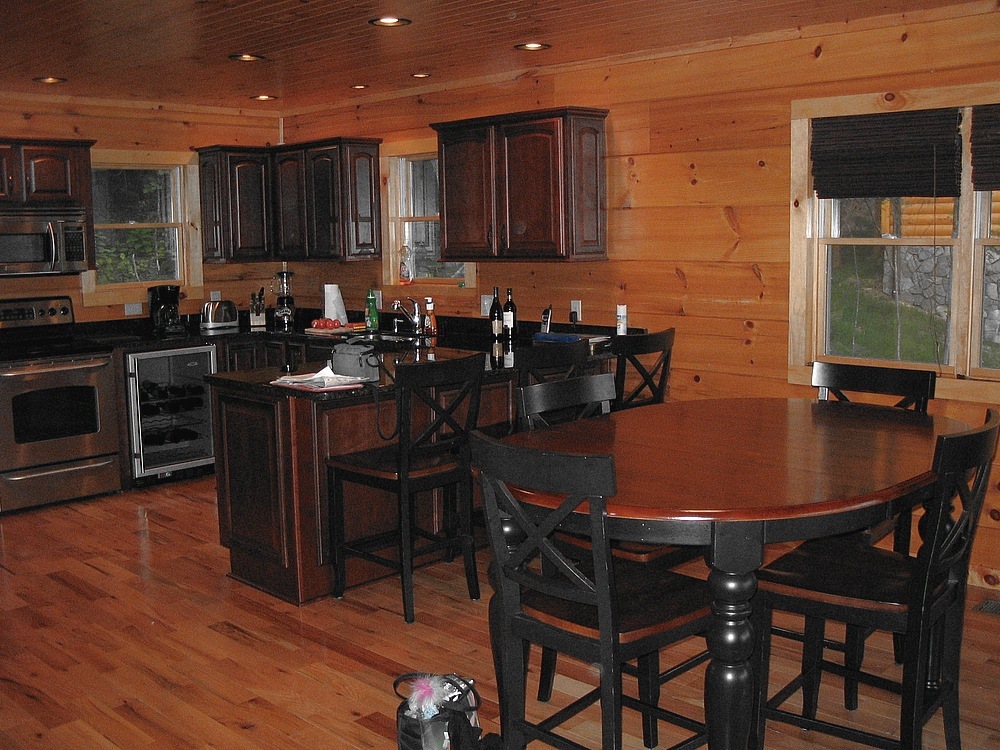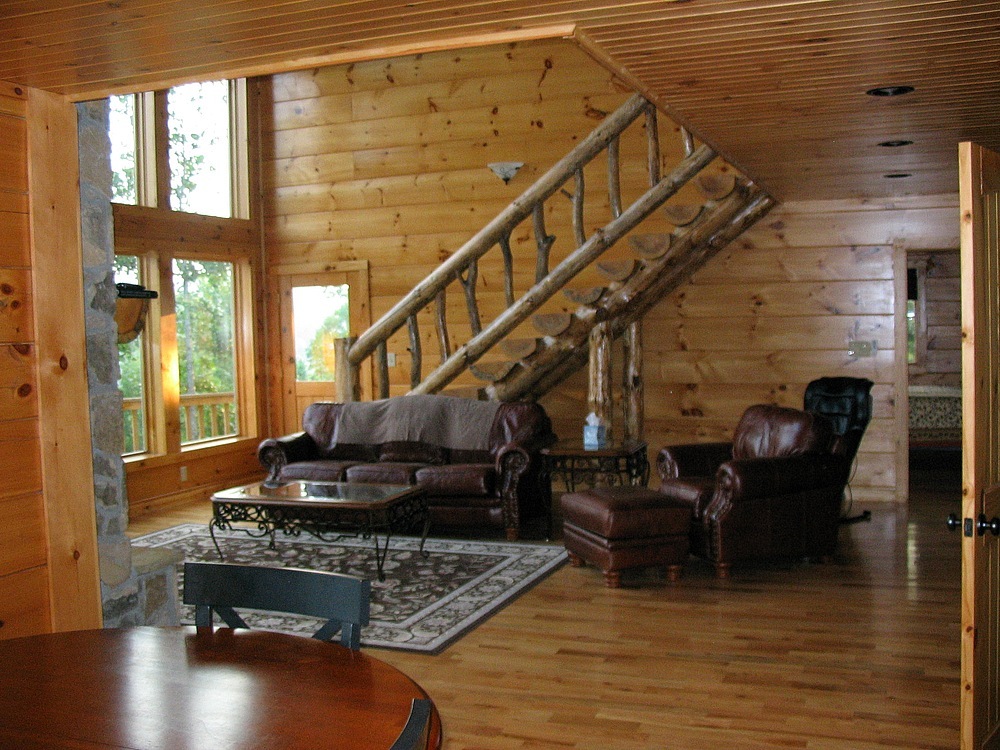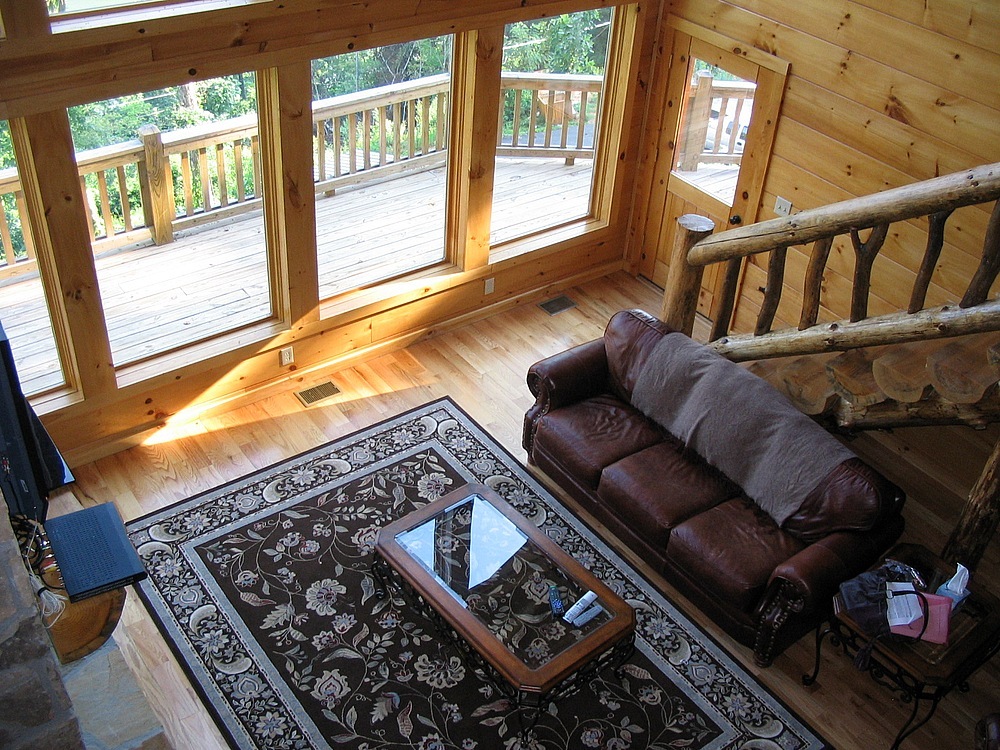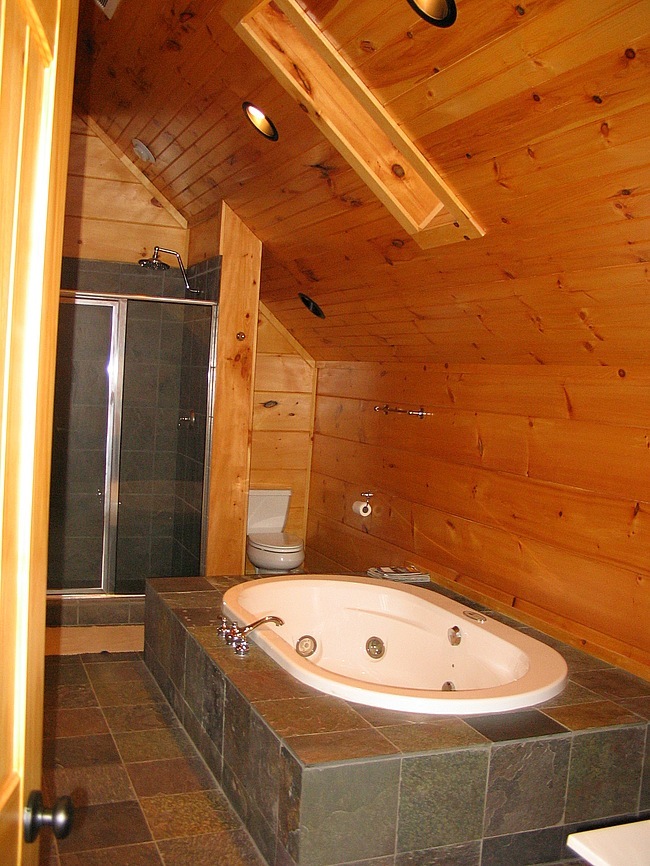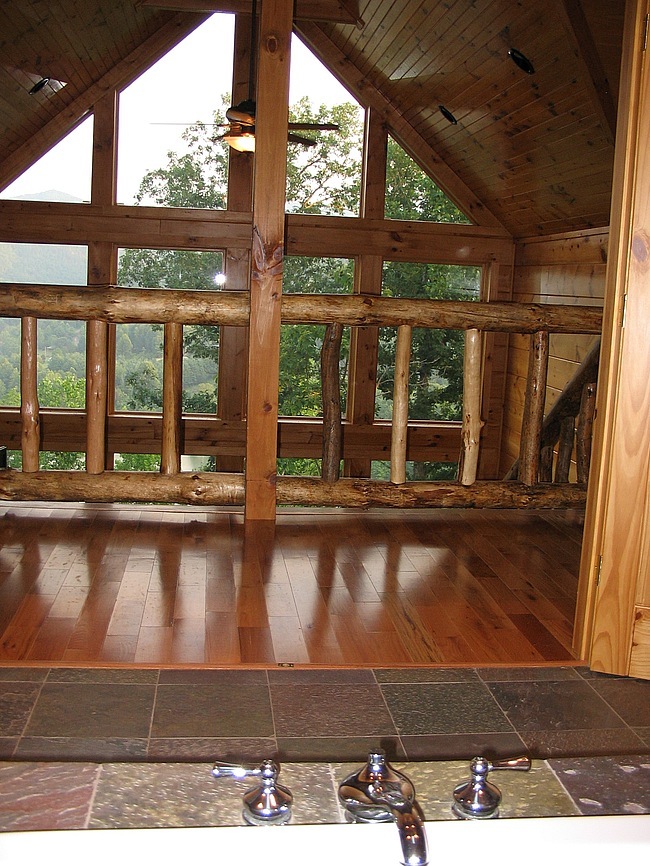 This is the view you get while soaking in the whirlpool bath

This place is just huge for the 4 of us with 4 bedrooms, two balconies on different levels and a hot tub. I think it's the most amazing place we've ever stayed.
The ladies are particularly taken with the massage chair in the living room.

There are 3 levels with the lowest having a large games room with pool table and the most humungous TV I've ever seen.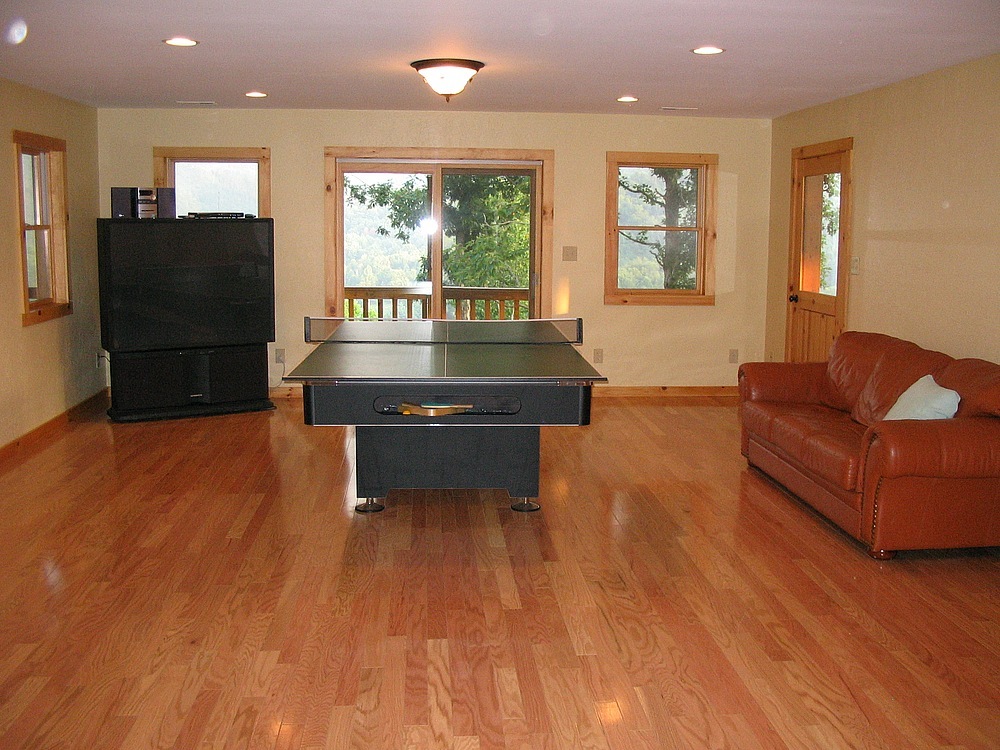 We soon unpack and shower and are ready for something to eat. It's cooled down to a chilly 80° at 8.00pm, just right to fire up the BBQ. We've bought some Big Bubba's Burgers, which amuses Tam for some reason, but they are very tasty. Twinkies and cookies and a few beers complete a fine repast.

We have a discussion about what the car should be called on this holiday. The ladies are coming up with silly names like Muriel (Murano), so I have to take the opposite view and suggest Buttface. This amuses Georgia who looks forward to telling us all to clamber into Buttface.

I thought the crickets we heard in Short Hills were loud, but those boys were just amateurs compared with Lake Watauga posse. They might even drown out my snoring tonight.

[AUGUST 2007 REPORT HOME PAGE]