DAY 7 - THURSDAY 9TH AUGUST
Tam and I are both up and around by 6.30am. This may be partly to do with the fact that there are no curtains in the front windows of the house. I assume this is because there isn't exactly anybody to see in as our view across the lake and mountains is as far as the eye can see.

It's quite eerie this early in the morning with the mist hanging over the lake and shrouding the mountains. It's going to be hot, hot, hot again today.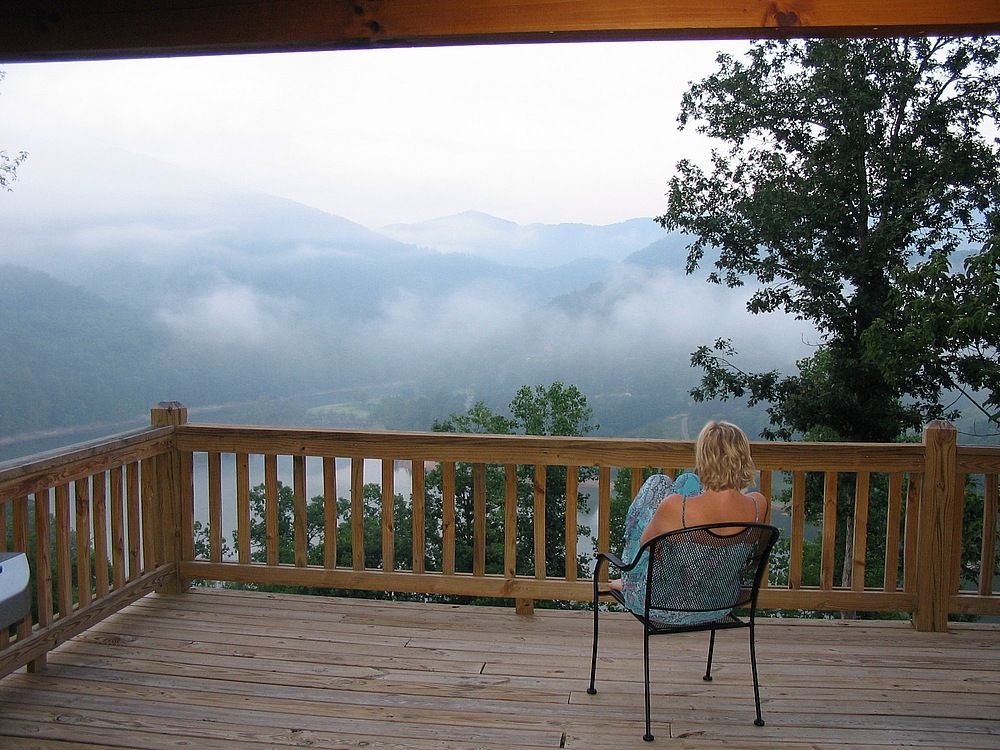 The girls are still in bed so, after a cup of coffee, Tam and I walk down the very steep track to the lake where there is a boat dock with kayaks and canoes for use by the people staying in the lodges.
It's very peaceful this early in the morning and our plan is to return later to go canoeing up the river. The walk back up the hill is a darn sight harder than the walk down was!

The girls are slowly getting up when we return, at least India is. Georgia takes some gentle persuasion. My boot is very gentle.
We have cereal for breakfast and then drive down to the lake. Tam and India are going in one canoe, while George and I take another.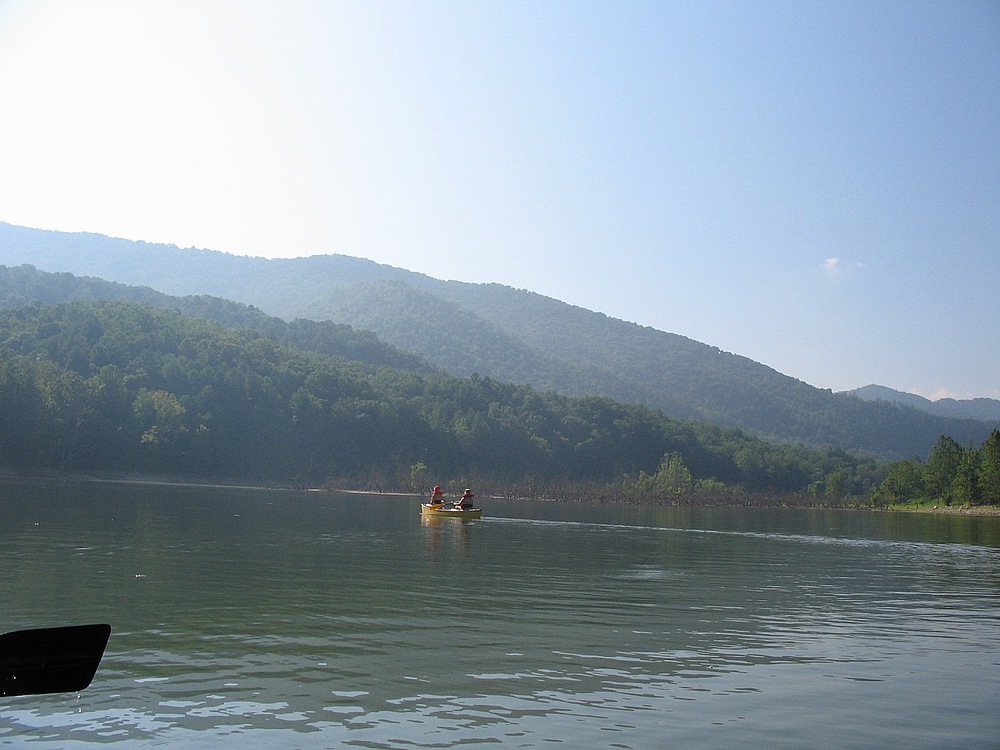 We set off across the lake and then head upstream as far as we can before the water cascades down over boulders and rocks. Here we beach the canoes and have a paddle. You have to be careful where you tread, as the rocks are quite slippery, but there is one area that is just about deep enough to swim. The water is surprisingly warm given that it is a wide stream in full flow.


We've made sandwiches and so partake of an early lunch. When I say 'sandwiches' this is perhaps overstating the sophistication of the repast. It's actually two bits of bread smeared with peanut butter. I did try to improve mine by slapping in a piece of processed cheese, much to the disgust of the women.

We canoe back down to the lake. It's beautifully quiet, the only other people we see are a couple of good old boys enjoying a spot of fishing and doing rather well at it from what I can see of the 5 or 6 sizeable fish they have on a line.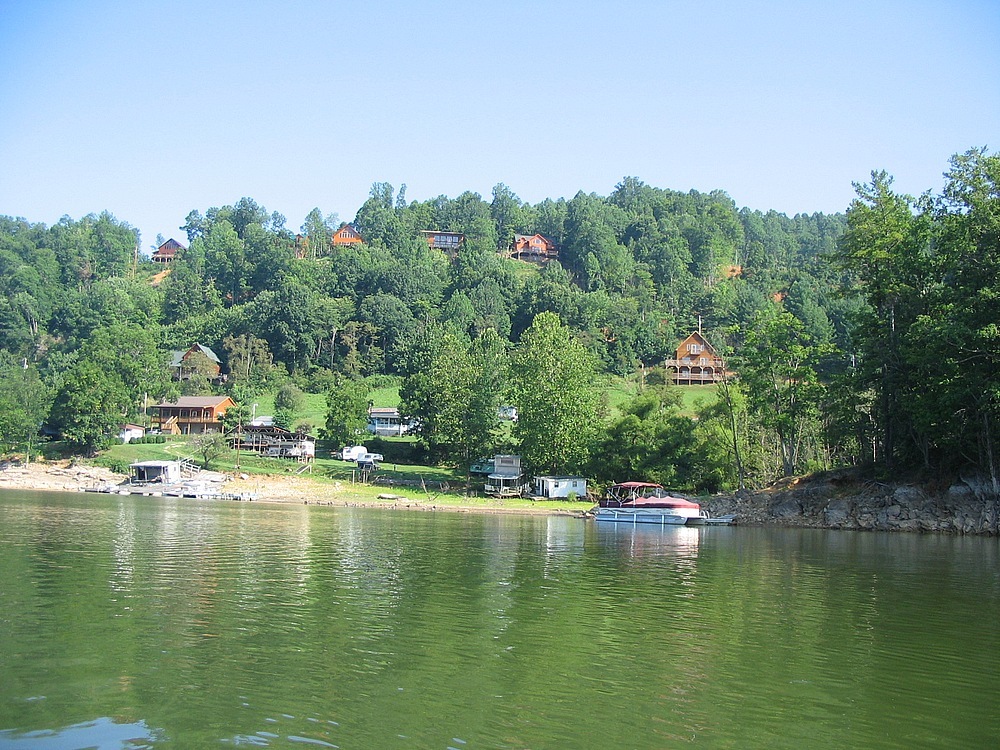 As we turn out of the stream and into the lake Georgia decides we should race back. Tam and Ind set off as fast as they can, they are nothing if not competitive. Georgia and I still beat them back by some distance even though the others have a head start and we stop a couple of times to take some video. To be fair, they probably have to travel twice as far as us because their navigational skills leave a lot to be desired. By this I mean that they slalom across the lake like a drunken sea captain returning from a night out at Mrs Cuthbert's Rum House. At one point India can be heard faintly in the distance berating Tam 'You're going the wrong way. Jesus Schmesus'.

Back on dry land we jump in Buttface (the car remember?) and head back through Boone before picking up the Blue Ridge parkway for a scenic drive of 10 miles or so. It's very beautiful and remarkably pristine, looking as if the verges are mown all the time. There are rolling hills covered in tress interspersed with barns and small farms and plenty of places to stop and admire the view.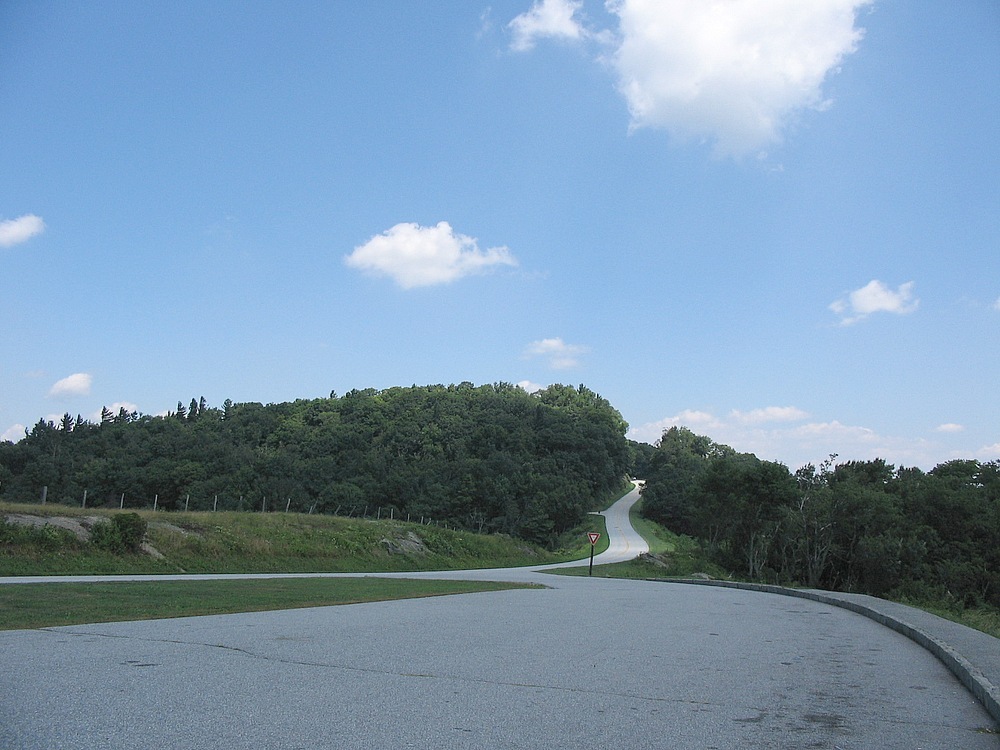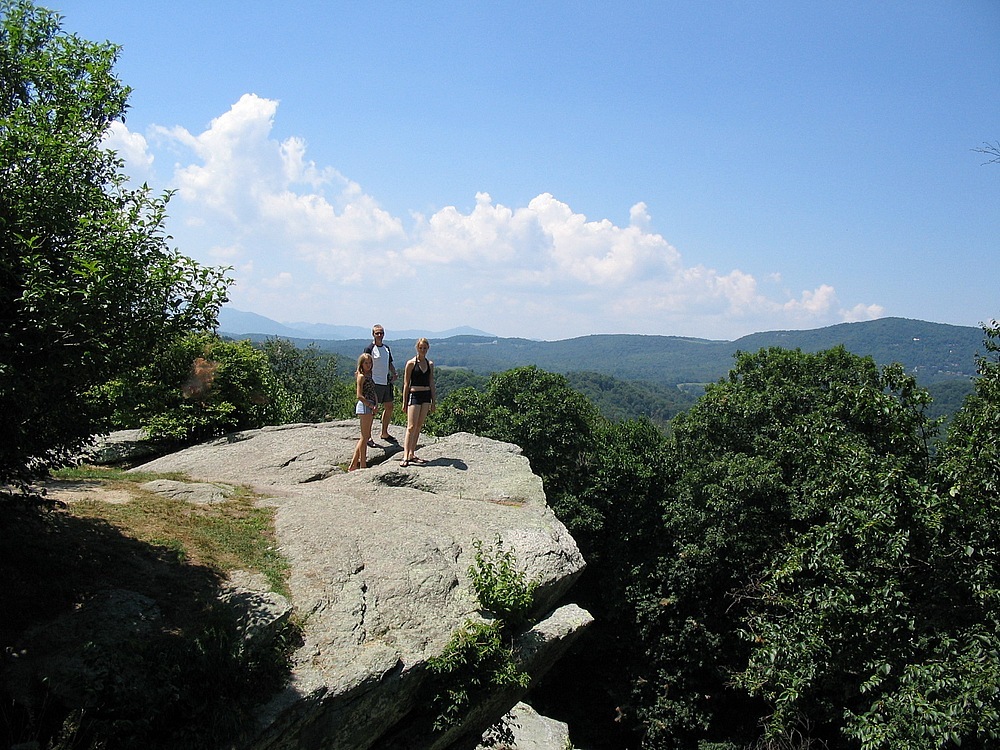 We can't help but compare it to the drive we took into Kings Canyon in California a couple of years ago. I think the parkway is probably prettier, but the canyon was more rugged and awe inspiring.

Ever since we arrived in North Carolina we've been seeing what looks like giant cobwebs festooning certain trees. We stop for a closer inspection. There are tiny little spiders in them but also lots of small caterpillars. I'm going to have to find out what they are after the holiday.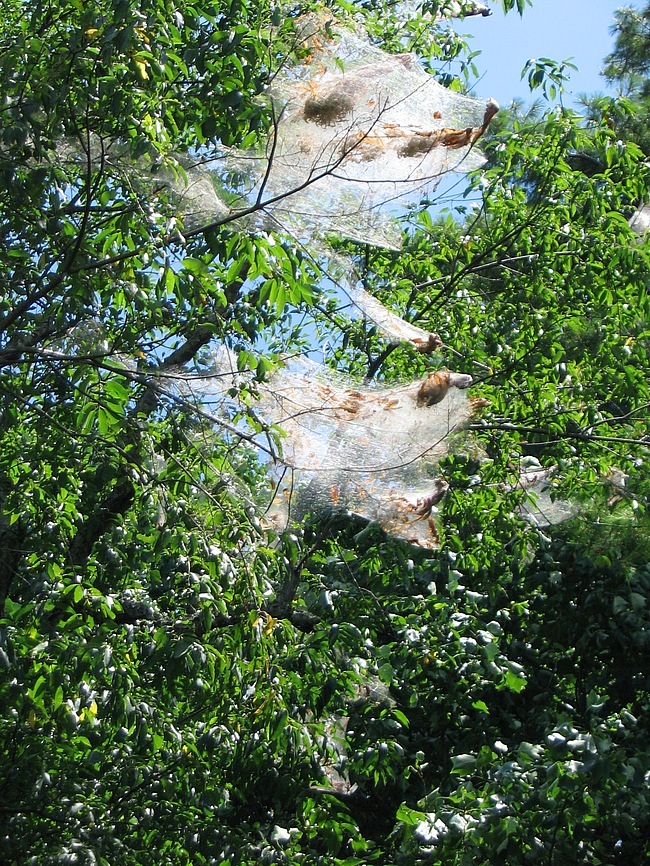 Back to the normal road and we drive through Blowing Rock. This is a very pretty little place with many nice looking small hotels.
We stop for a drink at the Canyon Restaurant where they are serving pints of draft beer for $2.50! Due to the driving duties I cannot make full use of this. Shame.

On the way back through Boone we stop at the Food Lion for a few provisions and then head back to Majestic Manor, pausing only to sneer at the beerless Walmart.
It's still over 90°, with the heat index over 100°, whatever a heat index is.
Given this information you may find it slightly strange that Tam wants to try the hot tub. She's a weird woman. Just before she gets in the tub the phone rings. It's the Debster ringing from the UK to make sure we arrived safely as she's heard about the storms in New York. She's a good girl is Deb. Tam and Deb chat for a bit and I can just imagine Matt stood in the background tapping his watch as the cost of a trans-atlantic phone call racks up. It's a shame they can't be here enjoying this place with us, but we'll be seeing them in Orlando in just over a week.

It's time to christen the pool table and we play a few games while listening to music and enjoying beer.
Showers and baths are next. The master bathroom has huge double doors that can be opened onto the landing above the living room. Tam has a soak in the whirlpool bath (that has underwater lights that change colour) while enjoying a beer and gazing out through the huge panoramic window overlooking the lake. It's difficult to imagine greater luxury.

We are having steak cooked on the BBQ tonight and problem number one arises. We have a bottle of red wine but cannot find a corkscrew. This house has just about every gadget under the sun and I push aside the automatic nose hair trimmer and the matching his and hers button polishers in my frantic search, but to no avail. We have to walk up the track to ask the couple in the cabin there if we can borrow a corkscrew.
They are a very nice family from Pittsburgh who are just off to build a campfire and make smores.

Bottle opened and BBQ fired up we cook our rib eye steak and sit around the table in the dining room to eat the repast, which includes baked potatoes, garlic mushrooms, salad and bread. This is followed by cookie dough ice cream.

After the meal the girls disappear into the basement to play more pool. Georgia wants it to be known that she is improving and even manages to beat India once.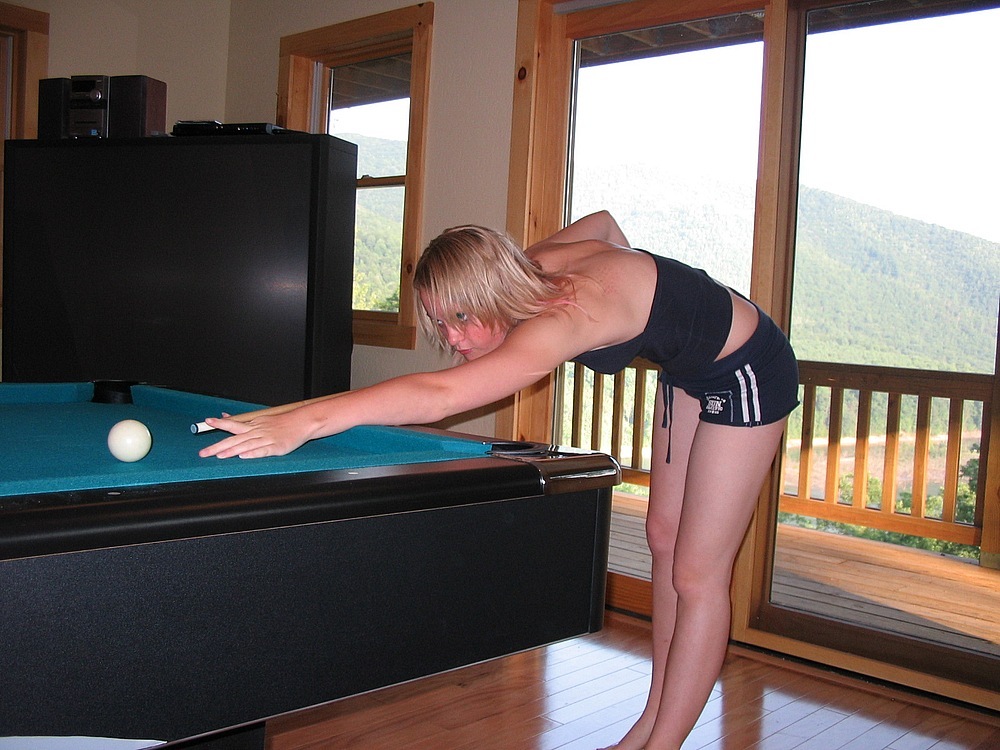 Tam and I turn off all the lights in the living room and sit in the warm darkness on the balcony staring up at the plethora of stars on display. Tam fetches a blanket and lies down while I slump back in my chair and rest my feet on the balcony rail.
It's 10.00pm and the temperature is perfect. I guess it's in the mid 70's, not a breath of wind and the perfect silence is only broken by the loud chirping of the crickets. It's a wonderfully relaxing time and I think we both fall asleep for a short while.

It's time for bed for the ladies as they are all tired and we have an early start tomorrow as we are going white water rafting. I manage one more beer while I write up my trip report, then it's off to bed for me too. It's been a long day.
[AUGUST 2007 REPORT HOME PAGE]