DAY 12 - SUNDAY AUGUST 14TH 2005
Everyone seems to finally sleep properly, except Tam who is still struggling.
Around 7.14am there is a scream from downstairs. India has flushed the loo and it's blocked. There is wastewater overflowing all over the floor. Tam rushes downstairs and takes the top off the toilet to hold up the valve and stop it from filling.
What is it with American toilets? This happened to us once before at the Boardwalk. I blame it on the sub-standard American plumbing. When we see Susan later she says that if Matt were here he would say it's because we're full of it. What the 'it' is, I'm not quite sure and I don't think I want to know.
So, Tam is stood there in the nude holding up the valve while I ring the front desk. I'm tempted to leave Tam to her predicament, but in the end I don't think it's fair to submit the maintenance man to such a sight first thing in the morning. He may only have just had his breakfast.
He turns up quickly, but needs a part to fix it and says he'll return later, which he does and fixes everything up.
We go for the free continental breakfast provided by the hotel. It's basic stuff, but pleasant enough.
After breakfast we have a wander round Solvang. It's a lovely place for a stroll. There are lots of side streets and all the buildings are in Danish style here as well. Everything is clean and beautifully neat. The shops are a mixture of classier gift shops, toyshops, restaurants etc. The ladies are in their element as there are many, many bakeries selling all sorts of lovely looking cakes and pastries.
At one of these we stop and have Aebelskiver, which are 3 round balls of dough (think Yorkshire Pudding type mix) fried, covered in raspberry sauce and then dusted with sugar. I can't help thinking of Chef from South Park only these aren't salty.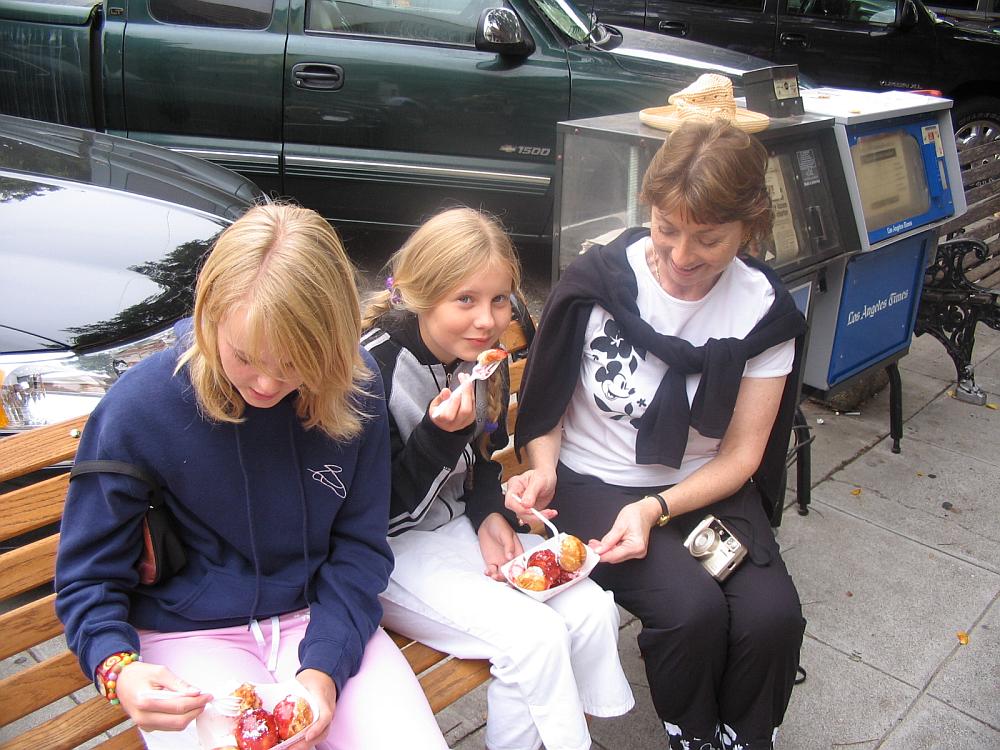 Hey! leave some for me.
I really think Solvang is a lovely place. I know it is considered twee and contrived by many visitors, but I really enjoy it. Perhaps it's because it's a bit like a complete Disney town. It's almost like stepping into a fairytale.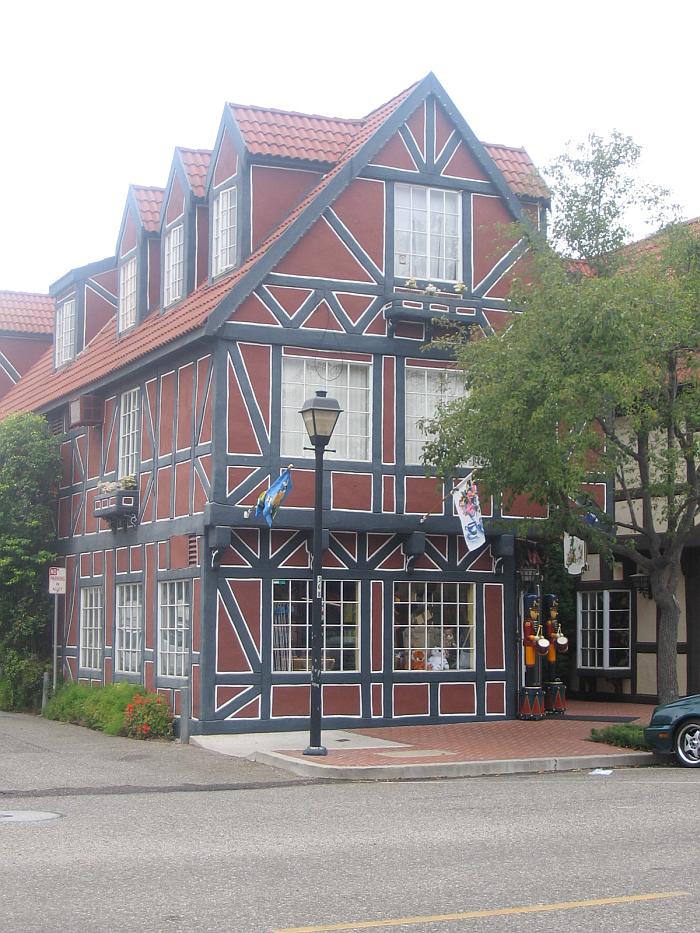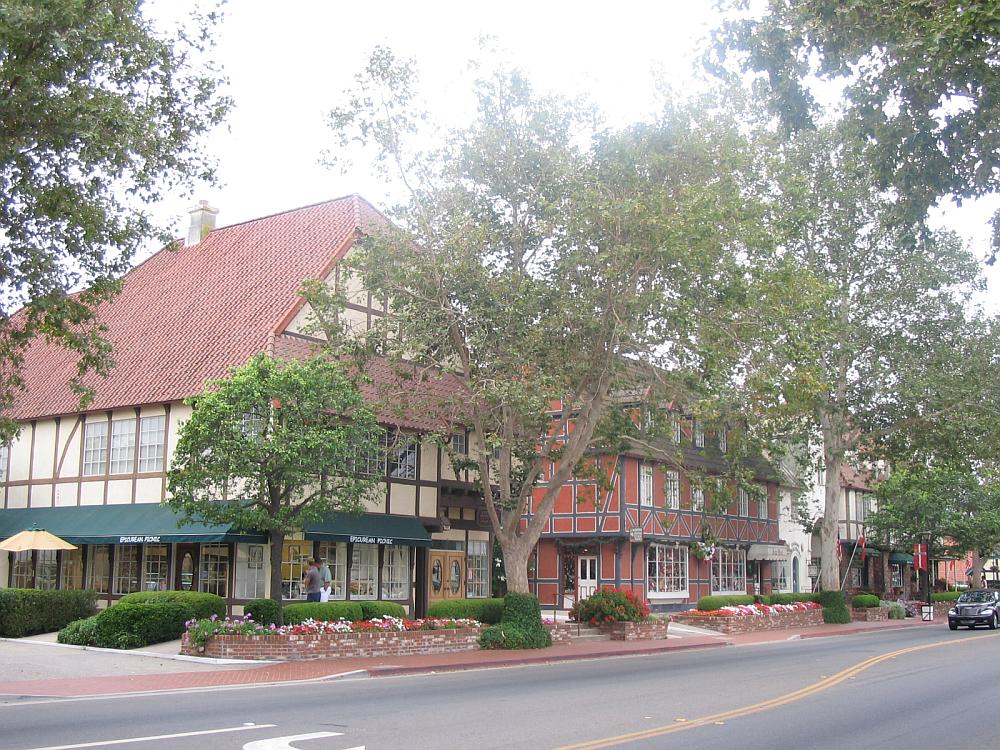 Strolling finished, we return to the hotel to pick up Susan's car as she is acting as chauffeur for our wine tasting tour. Solvang is in the Santa Ynez valley and there are many vineyards around.
We stop first at the Sanford Winery. Being completely ignorant of how things work, I ask the girl what we do. You pay $5 and are given a glass. This entitles you to try 5 different wines. If you buy a bottle, it's discounted off the price.
We try 3 white and 2 red wines while muttering things like 'I'm getting vanilla' and 'it has a long oakey finish' in an effort to appear knowledgeable. This strategy comes unstuck when we bolt back the wine at lightening speed and then wonder where the cheese is.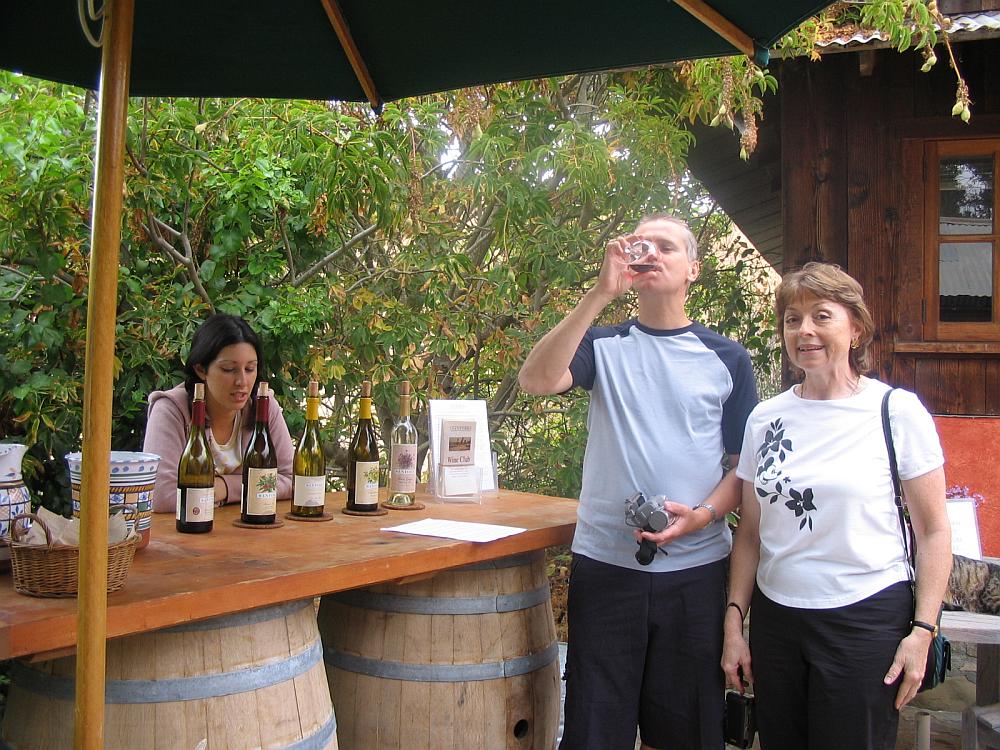 Never mind that sniffing, let's swig it!
Our second stop is at The Moseby Winery where we have a voucher from a local advertising leaflet that allows us 2 glasses sampling another 5 wines. All the wines are excellent and we chat away to the chap pouring for a while.
Back in Solvang we drop the car off and go for lunch of sandwiches and soup. The ladies now require to satisfy their craving for sugar. The fudge kitchen is attacked and large wedges of fudge purchased. Even the women have to admit defeat and have to save some big chunks for later.
On to further wine tasting. In Solvang itself they have many shops where you can buy and taste wine. Now, I'm the first to admit I know very little about wine. I drink it and enjoy it, but if it costs more than £5 in Tesco then it usually doesn't get past my lips.
If you want to try the tastings you can get a destination guide from the visitor centre in Solvang that enables you to try 2 wines in each shop or you can pay between $5 and $6 to sample 6 to 8 wines and you get to keep the glass. Obviously the samples are quite small, but after 3 or 4 tasting rooms you soon start to feel a bit squiffy in the warm afternoon sunshine.
We try the Mandolino tasting room first. I'm not really sure what to expect, but rather than being stuffy and pretentious, it's actually good fun. The lady is very friendly and tells us a little about each wine. We use the voucher here so only try 2 wines.
Stoplman is next and we pay $6 for 8 wines. Again the woman serving is very friendly and we don't feel out of place at all.
Our only poor experience is in Lions Park tasting room where we get the impression the children are not really welcome and they say they have discontinued the voucher scheme. It also costs $10 for a tasting. We pass.
Our best experience is at the Royal Oaks tasting room where it costs $5 for 6 wines. The chap that serves us has a large beard and wears a cowboy hat. He is very knowledgeable and you can tell he enjoys telling people about wine. He also says that wine is supposed to be fun and he certainly tries to make it so.
It's a shame that we can't buy a case of wine, but I don't think it would be too easy to get on the plane! Costs vary, but start at $10 per bottle.
It's strange because I usually only drink red wine, but I've probably enjoyed many of the white wines today more than the reds. One thing's for sure, all the wines we have tasted are very good and I have made a decision to drink more Merlot and Syrah in the future rather than the standard Cabernet Sauvignon. I might even risk spending £6 on a bottle at Tesco.
I return to the Wine Valley Inn and sit in the little garden enjoying a beer in the late afternoon sunshine while the ladies do a little additional shopping. Tam returns only to tell that I have missed a wine tasting room from my report, Lucas and Lewellen, where we tried a Pinot Grigio 2004, a Toccata 2002, a Rosato 2003 and a Sangiovese.
Pinot Grigio reminds me of a Mexican bandit. 'Hey Grigio! We don't need no steenkin' badges'.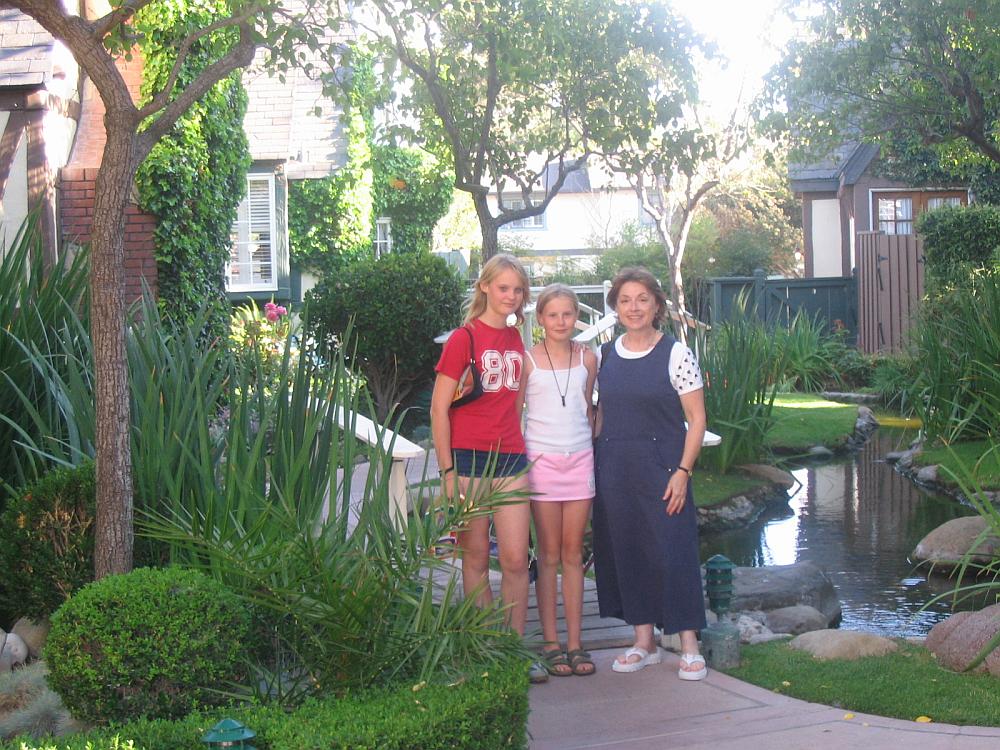 And it was so pretty until those women jumped into the picture.
Showers are taken and at 7.00pm it's time to go out and eat. We are going to the Hitching Post 2 in Buellton. This restaurant was made famous by the film Sideways as was much of the Santa Ynez valley.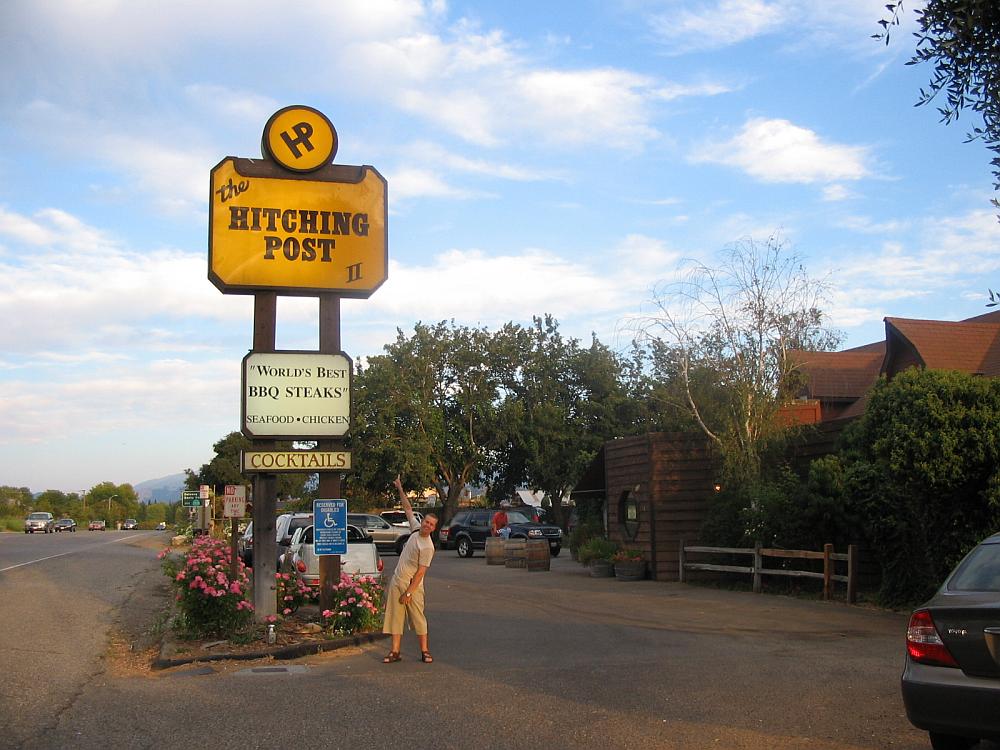 We have reservations for 8.00pm, but arrive at 7.05pm to enjoy a drink. Just after we get our pre-dinner drinks we are told our table is ready. They have had a cancellation and have booked us in early.
The whole meal is a joy as we have great food and good company. Meals are varied, but I have a really good 10oz steak, which must be 1 ½ inches thick and perfectly cooked. The Hitching Post house Syrah is also very good at $22 a bottle.
The conversation covers many topics, but inevitably gets around to what we will be doing in Disneyland. Tam (the unbeliever) is now outnumbered 4 to 1 and so has to give in and starts to get enthusiastic about the whole Disney part of the trip.
Wine, beer, good food and fun company. An ideal dining experience.
We ring for the taxi for the return journey and he turns up bang on time. A punctual taxi driver who is friendly, an unusual experience for a Brit.
Back to the room where Susan arrives with flip-flops and bits of material. All the ladies sit around on the floor ripping bits of fabric and making decorated flip-flops. They all seem to enjoy it immensely. Strange the things that keep women happy.
I briefly consider joining in and decorating a pair with bottle tops, but I'm too lazy, so I lie on the couch watching all the strenuous activity and generally making a nuisance of myself with unhelpful comments.
Off to bed at 11.00pm.
In case you're wondering about temperature lady, we gave her the day off. She's had a hard week.