DAY 13 - MONDAY AUGUST 15TH 2005
Tam and I wake around 7.30am. Packing is started as we are moving to West Hollywood today. It's been quite a pain staying no more than 3 days in any one place. You never really get to unpack properly, but I suppose that's the price you pay for moving around so much. On the plus side, you see much more of the state than you would with just a 2-centre holiday.
It's overcast outside so I try to ask temperature lady how warm it is, but she's in a huff and refuses to talk about the weather until the sun comes out.
It's at this point that our second minor disaster occurs. The spare camcorder battery has been charging and I go to put it back in the camcorder carrying case. Now where did I put it? Nowhere apparently. We definitely had it at the Hitching Post last night and now it cannot be found. Not only does it contain the camcorder, it also has all of the tape we have taken to date.
We MUST have left it at the Hitching Post. When I say 'we' read 'me' as I'm usually in charge of carrying the thing around. Tam has the sort of look on her face that suggests she would like to introduce certain dangly parts of my anatomy to some sort of clamping device at the earliest possible opportunity.
We meet Susan for breakfast and she has kindly talked to the front desk and found out that the Hitching Post does not open until 5.00pm, but there might be somebody there this morning. I ring and talk to a lady doing the baking. She doesn't know where the lost and found is, but says that the secretary is due in around 9.30am.
We finish breakfast, pack up the car and head off up the road the couple of miles it takes to reach the Hitching Post. The secretary is not there so we wait for a while. At 9.45am she arrives and we explain the situation. She goes to look for us and Tam and I wait on tenterhooks. She returns triumphant, camcorder in hand.
Tam, me and my dangly bits breath a huge sigh of relief.
By the way, if you are ever in a sticky predicament, Susan is the woman to have in your corner. She is so calm when I'm running around waving my arms about and shouting 'Don't panic! Don't panic!'
The plan now is to drive to L.A. airport to drop off Susan's car, as she will be joining us for the rest of the trip.
On the way we stop off in Santa Barbara and have a walk along the pier. I can imagine this must be a very pretty place when the sun's shining; unfortunately it's still dull.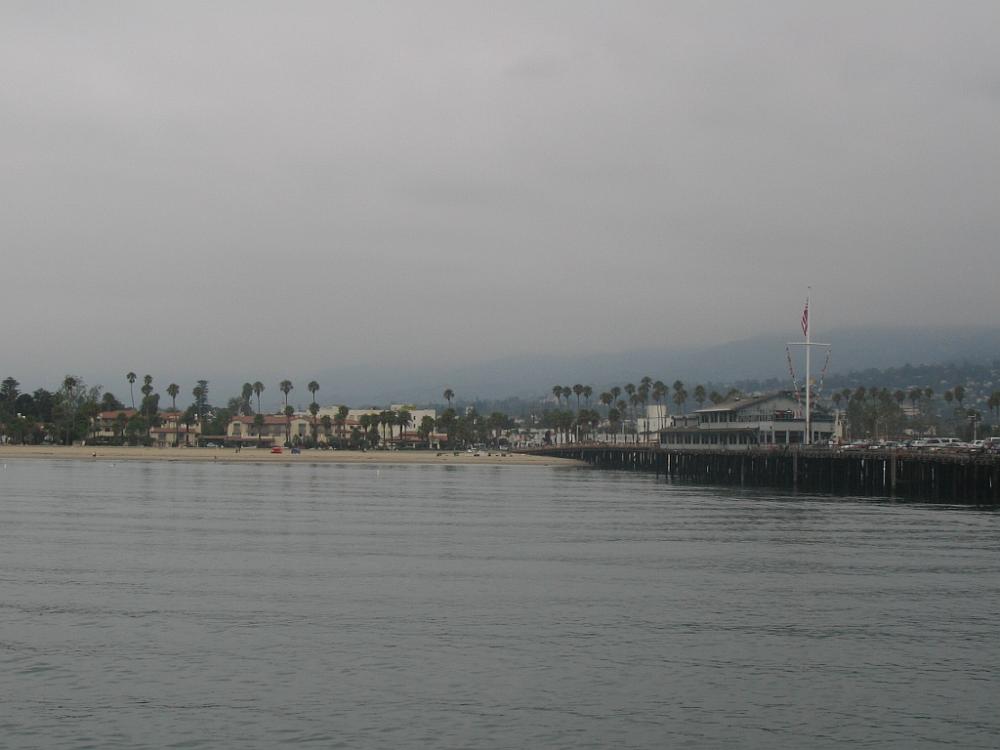 We continue along Highway 1 through Malibu, me in front with Tam and Susan following womanfully behind. She has the girls in the car with her and Tam and I are tempted to floor it and leave them with her. Sadly she also has the Disney tickets, so we have to abandon this plan.
We arrive at the National car hire return at LAX and Susan drops off her car. We then go straight to the Encounter restaurant, which is situated right on the airport. This is a space age style restaurant, which Susan tells us they called in Disney imagineers to help re-design. It's a weird round building supported on a centre pillar and 3 legs. You go up in an elevator, which plays spacey music and reminds me a bit of the elevators in Disney Quest.
The main restaurant is round with huge glass windows overlooking the airport. It's a very unusual design and a great place to eat. Even the toilets are spectacular with work surfaces inlaid with many different colours and bright red and blue lights set into the walls. I want to take a photo, but I think the sight of me exiting the loo with a camera and a big smile on my face is not an image I want to portray to the world. I send Tam instead.
The lunch here is mostly sandwiches, soups, salads etc. and is ok. Not wonderful, but ok. It was great to see the restaurant and Susan says it's lit in different colours at night.
Back in the car we head for Le Parc in West Hollywood, which is going to be our home for the next 3 nights. Susan's directions sound like they are straight out of a film. Drive up La Cienaga, turn left on Melrose.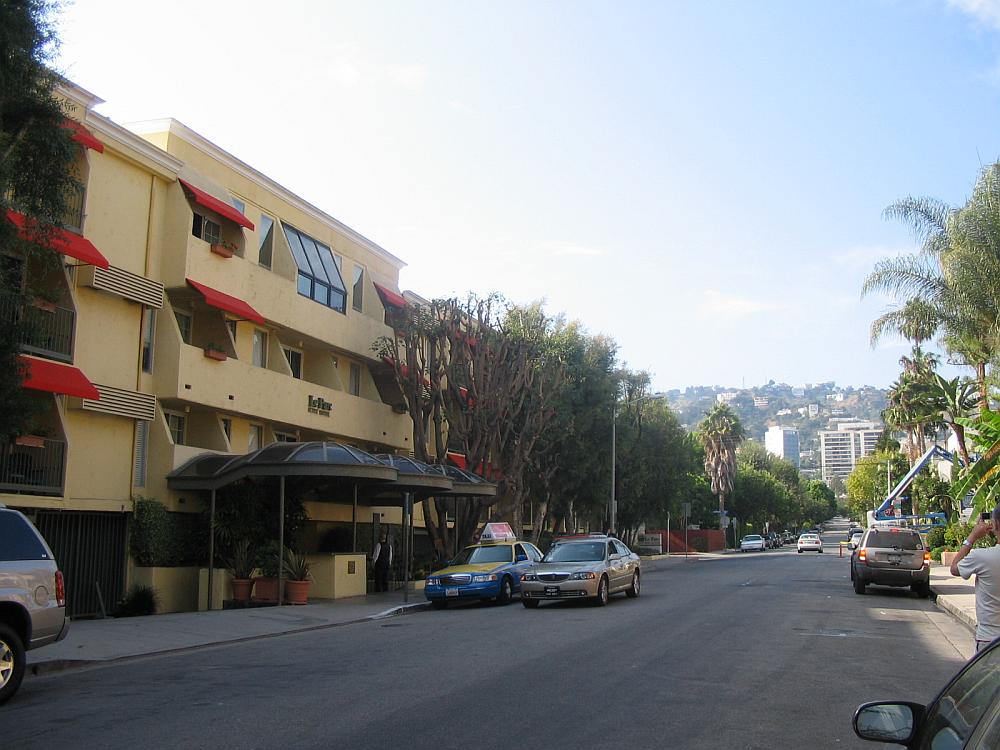 Susan has stayed at Le Parc many times before and recommended it. We check-in about 4.30pm and go to look at our rooms. They are excellent with a kitchen and living area with a step up to the bedroom and bathroom. There is a TV in the living area and a huge plasma screen on the wall in the bedroom. It's very nicely decorated.
The girls are going to stay in Susan's room and they aren't so lucky as their room doesn't have the plasma TV.
We need provisions so go looking for a supermarket. Down Santa Monica Boulevard, Wilshire, Le Brea etc. We can't find anything so head back to Le Parc to lug the suitcases up to the room while Susan asks where the nearest store is.
Tam wants to get the girls some trainers so we walk the half a mile or so to the Beverley Centre. On the way we pass a shop called Trashy Lingerie and Susan takes a picture as she's sure this is the sort of establishment that would appeal to Matt. She's right.
In the Centre we eventually find some trainers for the girls in the Skechers store. Kev is not a happy bunny both with the shopping trip and the bill in the Skechers store, which comes to $120. I'm told this is less than would be paid in the UK. Oh yeah, a real bargain.
Back to Le Parc where Tam and India stay to unpack while the rest of us go to get provisions. On the way we pass the Le Brea Tar Pits. Hmmmm….. if Tam goes on any more spending sprees I'll know just where to dispose of the body.
It's now 8.00pm and we walk up the road to a fast food place called Koo Koo Roo, which mostly serves chicken.
We share a family chicken meal with mashed potatoes, corn and Caesar salad. It's good enough to fill us all up and cheap at $22.
Back to Le Parc and the ladies want to use the hot tub. We go up to the roof pool where it is now dark. It's very pretty with candles in large glass lanterns set around the pool and hot tub. You can look out across the Hollywood Hills and it's a great view. The pool area is really lovely.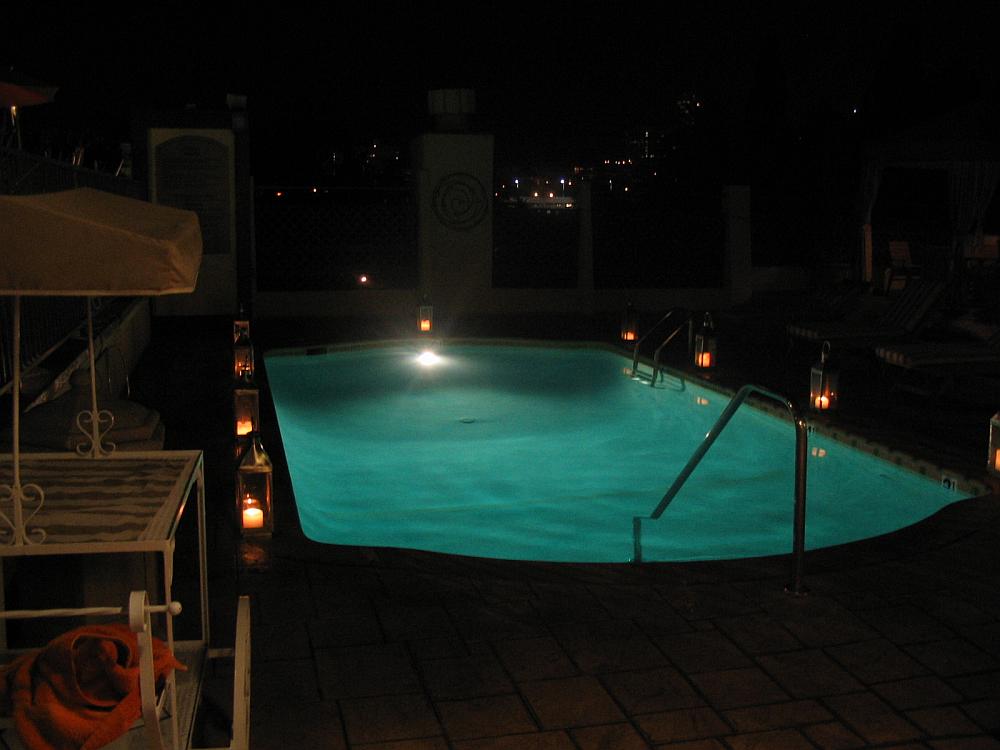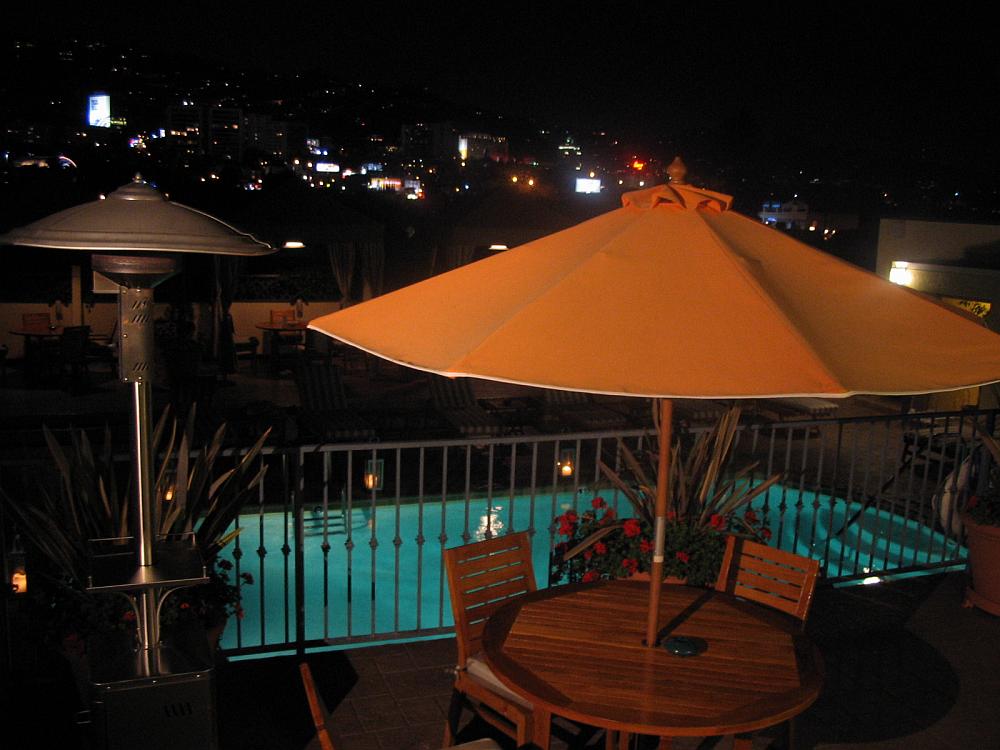 In the hot tub (which is really only warm) we chat away for a while. On the way in we passed all sorts of weird places including somewhere offering colonic irrigation. Tam says she has always wanted to try this. Told you she's strange. I suggest that if she were to sit closer to one of the hot tub water jets she could get one for free.
The Le Parc ladies synchronised jacuzzi team.
Back to the room where I write up my trip report and watch a little TV. Did I mention our massive plasma TV?