DAY 14 - TUESDAY AUGUST 16TH 2005
The alarm goes off at 7.15am. I could stay in bed quite easily today even Tam has slept well. We are finally on California time.
The ladies from next door join us for a breakfast of cereal and fresh strawberries. By 8.15am we are in the car and on our way to Universal Studios. We are using the hotels instructions and turn left onto Santa Monica Boulevard. About 15 minutes later map reader Tam declares we are going in the wrong direction!
We eventually manage to get onto the 405 and then the 101, arriving at Universal 30 minutes after opening at 9.30am.
Parking costs $10 and we go through City Walk to the park.
Getting into the park is very easy as we bought electronic tickets on-line and you just have to show them at the gate.
At Universal Studios Hollywood the theme park is split into 2 parts, the upper and lower lots, which are joined together by a series of 4 escalators called Starways. We head straight to the lower lot because we want to ride Revenge of the Mummy. It doesn't open until 9.30am so we haven't really missed much despite our detour.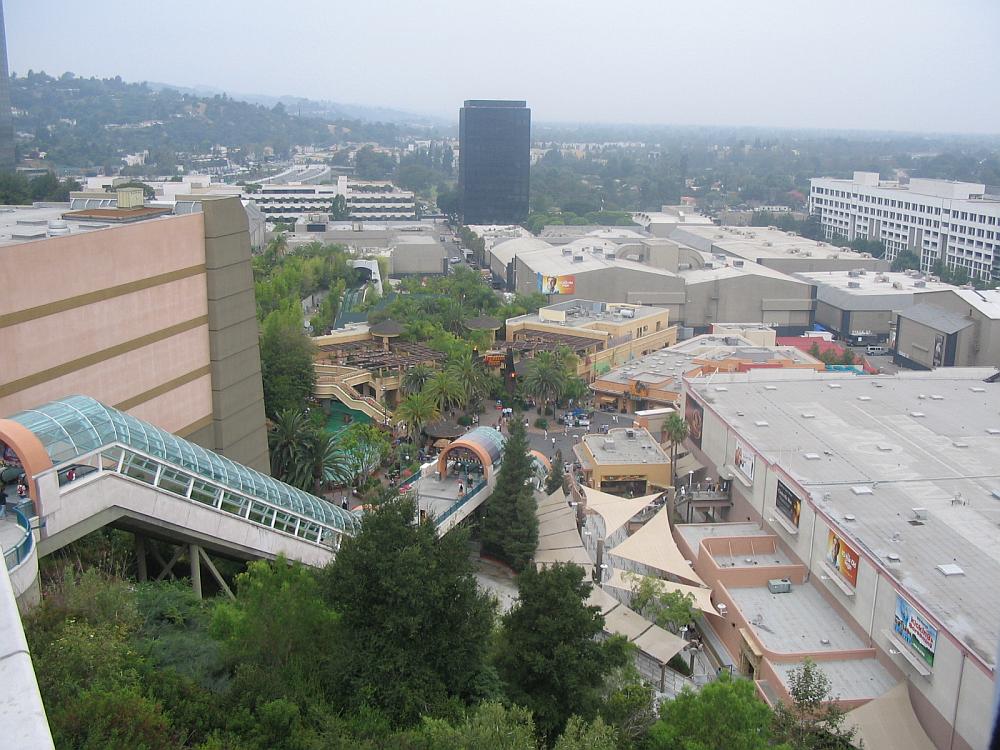 Georgia doesn't want to ride, so I stay outside with her while the rest go in. They return within 10 minutes so I go in with Tam and India. We walk straight on. This is the first time I've ever ridden the Mummy. It's a very well put together ride, although I have to say that I don't find it the stunning experience I expected to. It's not that I don't enjoy it, I do, but I have read and been told so much about it that I expected more. I thought there would be more stuff going on around you as you ride. It's still a cool coaster though.
I ride again with India and Susan, as it's still a walk-on.
Soon after this mini-disasters 3 and 4 occur within a short time of each other. Georgia wants a churro, but when Tam goes to get her purse from the rucksack, it's gone. She remembers going to the loo with it, but now it's missing. It contains $200 in traveller's cheques, 2 credit cards, our hotel room keys and some money. At this point you would think that I would be entitled to a small smug grin after the hard time I got yesterday over the missing camcorder, but no, being practically perfect in every way I bite my tongue as we set out in pursuit of the missing purse.
Tam and India go to search the loo while the rest of us go to the security office close by. The nice chap there has the offending item in his possession. We thank him enormously and return to Tam with the good news. I think she got off a bit too lightly after the grilling I got yesterday.
Moving swiftly along to mini-disaster 4 …… Tam checks the purse and finds that a $100 traveller's cheque is missing. Now we don't think that the missing cheque is related to the purse being lost. Why take a single traveller's cheque and leave the currency and credit cards? It's more likely that it fell out while Tam was getting something else out of her purse. Oh well, we will deal with it later.
On to Backdraft. I suppose this is getting a little long in the tooth now, but I've never seen it before and quite enjoy it.
We then visit the Special Effects Stages, which tell you how they create effects in films. This is done in 3 separate shows linked together by the same presenters. It's all done in a jokey way, similar to the monster makeup show in Florida.
Nobody particularly wants to do the Jurassic Park ride so we have finished everything on the lower lot.
Back up the Starway (where you have some great views over Hollywood) to the upper lot where we go to Shrek 4D. This is another first for us. I have mixed feelings about this. I love the pre-show and the film, but I think they could do without all the seat movement. It's entertaining for the first few minutes, but then just distracts from what's happening on-screen. I also don't get most of the 3D effects, but that's probably just me, I don't seem to be able to see the same things as other people.
After Shrek we walk past a shop that has enormous toffee apples in the window. We have to buy some as otherwise you would be able to follow our path by the drool that Georgia is emitting. We have 3 between us, a Snickers covered one, a plain one and one that is covered in marshmallows and layers of chocolate. We play musical apples as we take a bite and then pass it on.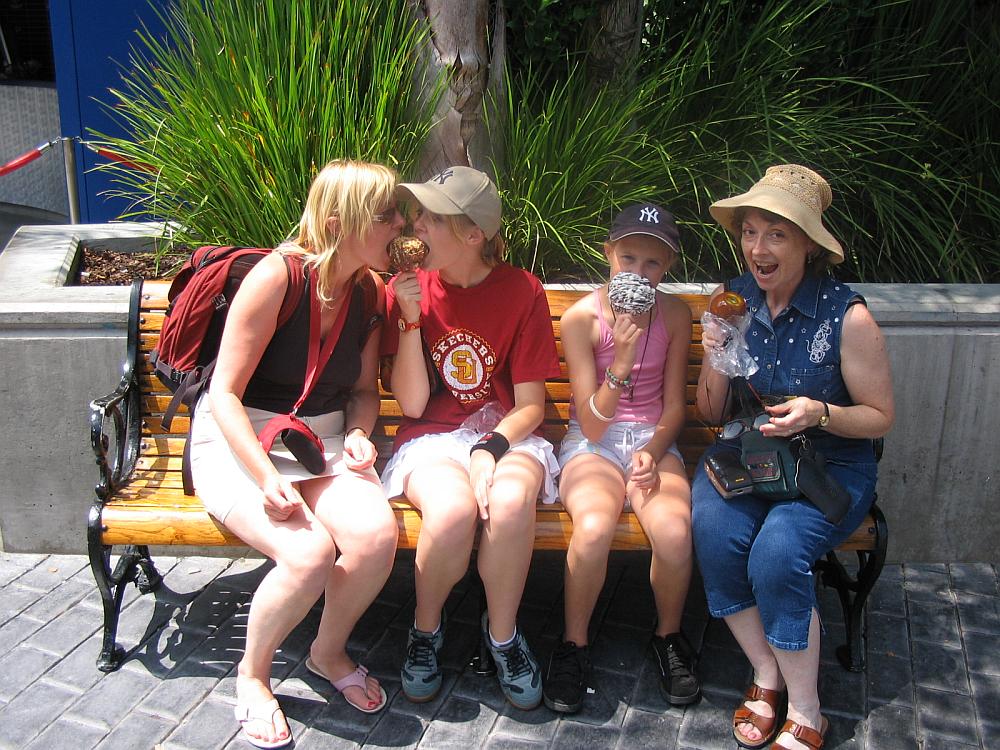 The Studio Tour is next. This is much longer than the tour in Florida and encompasses some of the separate attractions such as Earthquake, King Kong, Jaws etc.
Universal Studios Hollywood also varies from it's Florida brother in that it is the oldest film studio in the world and so film and TV making is still it's primary aim. The theme park came along much later, so the tour is part entertainment and part education as you ride through the back lot where many, many historic movies have been made.
The best part for me was the set from War Of The Worlds where a whole street has been devastated by a crashed Jumbo Jet. They took a real 747 and ripped it apart to create a scene of destruction that is truly impressive.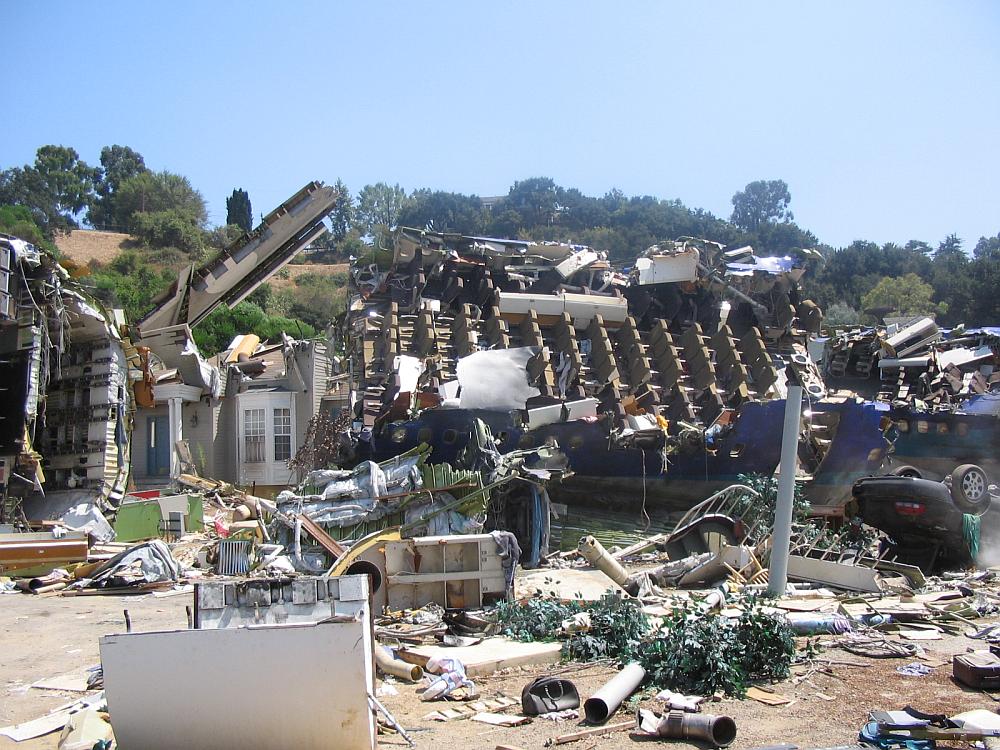 I told Tam not to drive on the Freeway.
After the tour we need to get something to eat, so we all have hotdogs from a stand, which are a bit overpriced at $4.99 each.
At this point temperature lady decides that it is warm enough to make an appearance and haughtily informs us that it is now 32°C.
The girls now go to the Blast Zone, which is a water play area. Me, Tam and Susan try Van Helsing Fortress Dracula – a walkthrough featuring sets from the film. It's pretty dark in places and they have dressed up employees jumping out and trying to grab you at various points. I imagine that Halloween Horror Nights must be like this, but a lot worse. Tam and I take the brave approach and push Susan to the front, Tam is next and I gallantly bring up the rear. It's not nice hearing a grown man scream.
My last words to the girls before leaving them at the play area was 'try not to get too wet'. My fatherly advice has been completely ignored, as they are soaked from head to foot. That's not going to be comfortable until it dries out.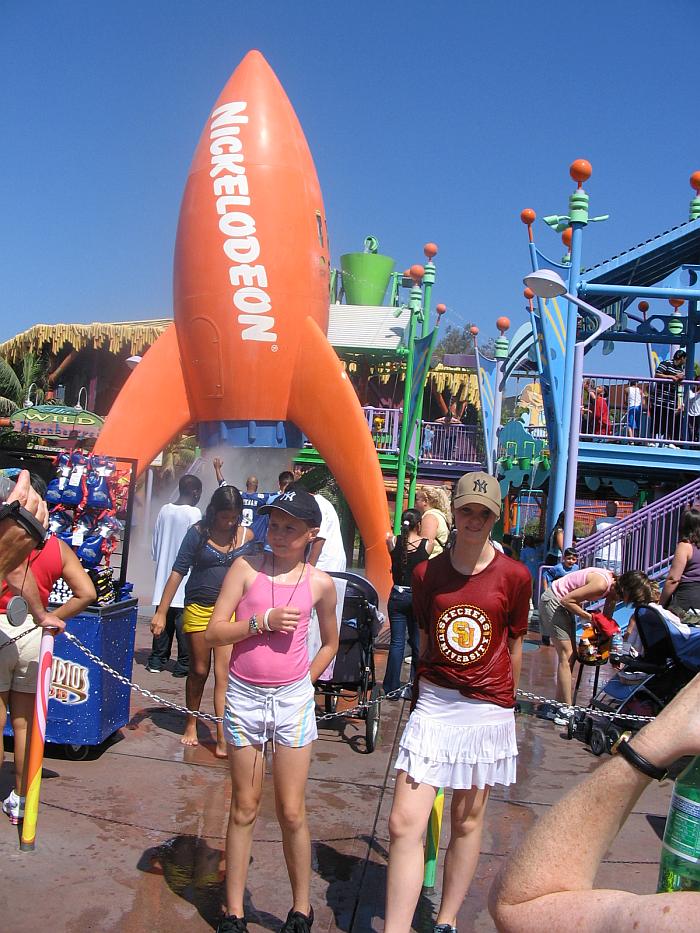 Georgia has a 'chaffing' problem.
Tam has decided she wants to try a Cinnabon as she has read so much about them. We have 3 between the 5 of us, all with extra topping. These things are a warm cinnamon bun on steroids, covered in a sweet cream topping. Even I have to admit they're very good.
We go across to the Waterworld show at 4.10pm. This is one of the highlights of the day for us. A high energy special effects show that is truly impressive. Water, fire, loud explosions and a plane crashing in the lagoon – what more could you want? Free beer served by Hooters girls would be a start, but I guess I'm just hard to please.
It's been a long time since any of us has seen Terminator 3D, so that's next. It's much better than I remember. Even Georgia manages to watch and enjoy most of it without hiding her face too much.
The pre-show features a hassled girl called Kimberley Duncan who finds everything 'just super'. From then on whenever anything isn't quite right on the holiday, one of the ladies declares 'Well, that's just super'.
We've now done just about as much as we want to do and decide to leave the park. It's a very different place to Universal Studios in Florida. Some parts seem to be packed with people although the wait times have never been that long. We haven't waited more than 15 minutes all day. I suppose they just do not have the luxury of space as in Florida.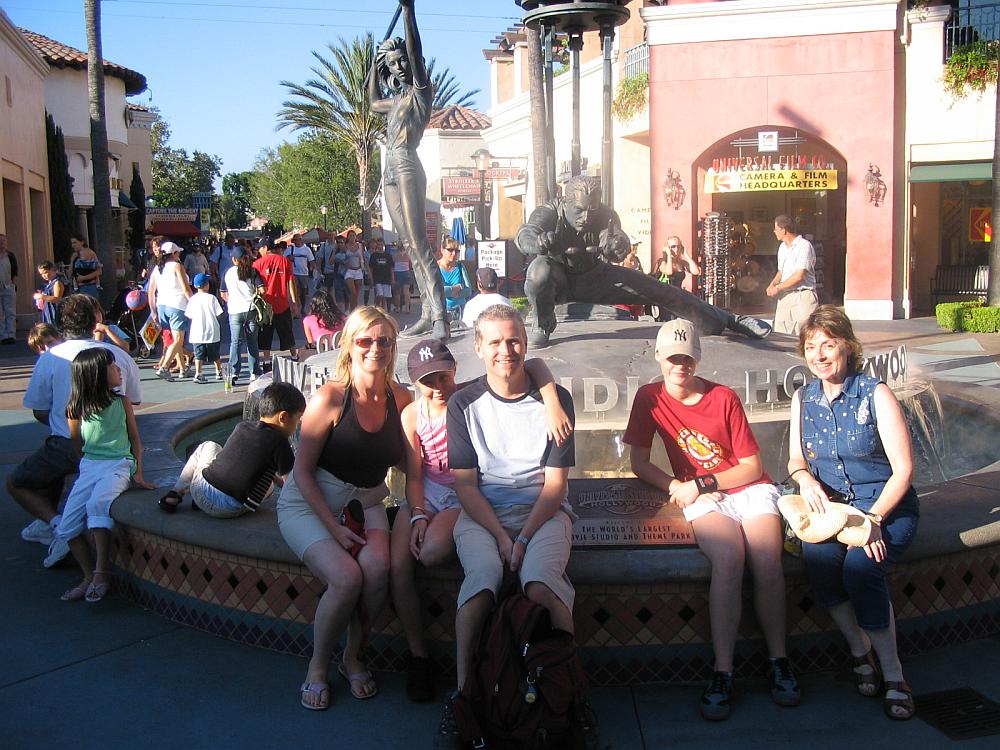 The male statue exaggerates his true proportions.
On the way out we stop at Guest Services to see if anyone has handed in our traveller's cheque. No such luck, but the man there is very helpful and tries all he can to find it, ringing different offices in the park to see if it's turned up there. He fills in a form and promises to ring us should they find it.
Back through City Walk where we stop at Wolfgang Puck's. This is one of Susan's favourite places. We share a pizza, chicken fettuccini, butternut squash soup and onion rings. With drinks and tip the total is $65, not bad at all to serve 5 people.
We now leave Universal Studios having first looked in the car for the offending traveller's cheque. Nope, the little devil is still hiding.
On our way back to Le Parc we stop off in Burbank to have a look at the Disney Animation Building. Obviously you can only see the outside, but it's quite a nice structure with a large Sorcerer Mickey's hat outside similar to the one in Disney MGM Studios in Florida. It was nice to see the site where many of the classic Disney films have been produced.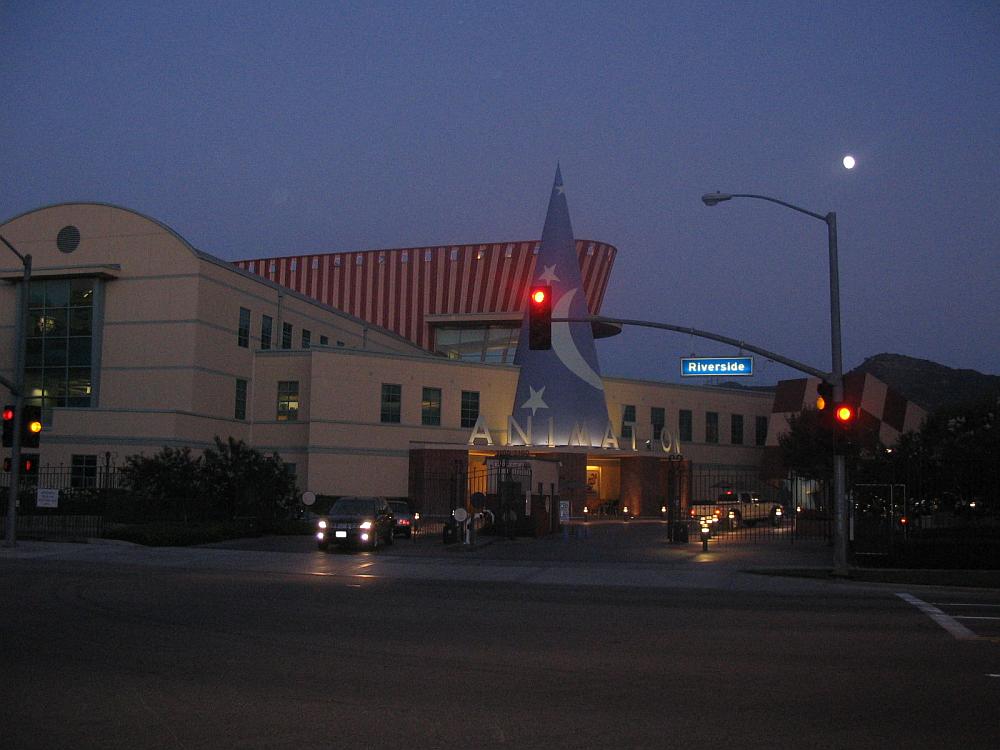 We arrive back at the hotel around 8.30pm. Tam rings American Express to report the missing cheque. After considerable detail gathering we finally get it sorted and can pick up a replacement from their Beverley Hills office tomorrow morning. Swanky eh? Bed around 11.00pm.