DAY 15 - WENESDAY AUGUST 17TH 2005
Today is going to be a less fast paced day. Well, that's the theory. We are going to have a look around a few of the sights of L.A.
While a lie-in had been planned, both Tam and I are awake by 8.00am. I don't envy Susan and India trying to rouse Georgia. A stick of dynamite and a crowbar will probably be required.
Breakfast in the room is served by my good self at 9.00am. Les Puffs de Sucre avec lait and an infusion of the finest leaves of the tea bush. What more could you want?
In the car we go straight to Beverley Hills to sort out the traveller's cheque. A bit of form filling later and the man hands over $100 in cash. I suppose this is the reason for taking traveller's cheques. Had it been a $100 note or a credit card that had gone missing, you are in trouble.
Next we park up on Rodeo Drive and take a little walk among the shops of the stars. It's just as flashy as you think with all the designer labels and jewellery stores. There are a couple of pretty courtyard areas here too. The only fault I can find is that none of the stores has laid out the red carpet for us. They couldn't have heard we were coming.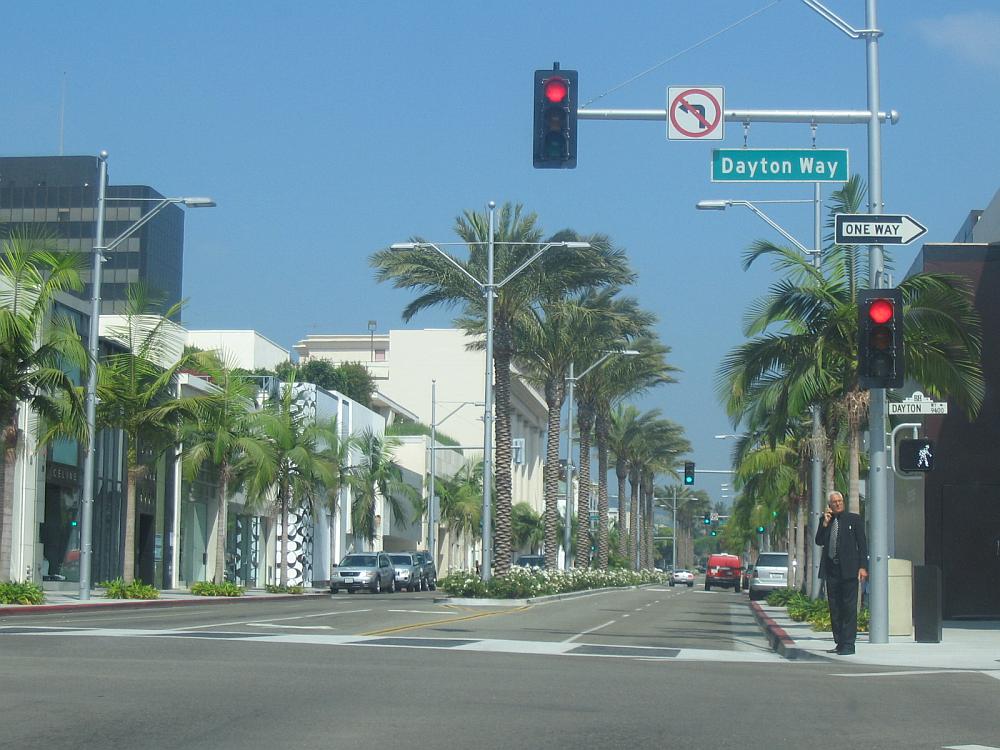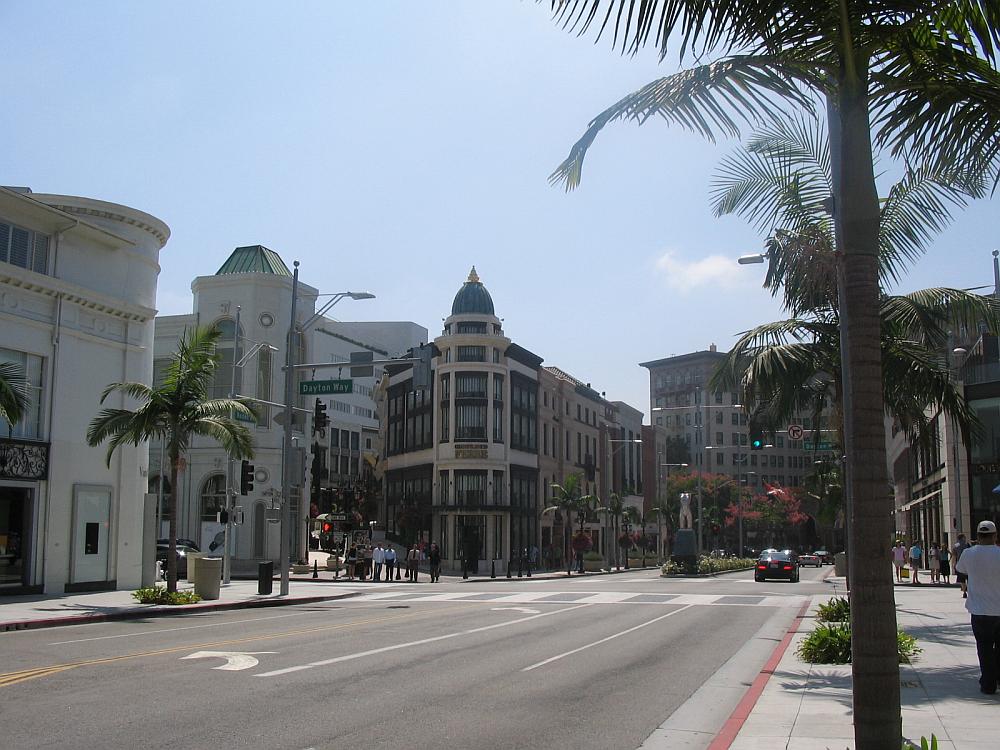 We drive up through the residential area of Beverley Hills and look at some of the swish properties there. One of the houses we drive past belongs to Gene Kelly. Here's another gem of information we learned on the tram tour at Universal – rain does not show up well on film, so they mix it with milk. Gene was actually 'Singin' In The Milk'. I bet he lost friends very easily on a hot day. If left too long it could become 'Warblin' In The Cheese'.
Our next stop is at Hollywood Boulevard where we park at the underground car park at Hollywood and Highland, which only costs $2 if you get your ticket validated from any of the nearby shops. The car park is beneath a shopping complex and the Kodak Theatre, which is where they hold the Oscars each year.
As we exit onto Hollywood Boulevard the first thing we see in front of us is Disney's El Capitan Theatre. Susan tells us that this used to be quite a run down part of town until Disney bought the El Capitan and spent a fortune renovating it. This sparked off a rejuvenation programme for the area and it's now an awful lot less seedy than it used to be.
Of course, the other big attractions in the area are Grauman's Chinese Theatre and the Walk Of Stars. Grauman's is even larger and grander than I imagined. It's a very impressive building and the courtyard is thronged with people looking at both it and the hand and footprints the stars have left in the cement. It's quite strange walking all over the prints of people such as Marilyn Monroe, James Stewart and Judy Garland. As India says, it's a little like you're trampling on someone's grave.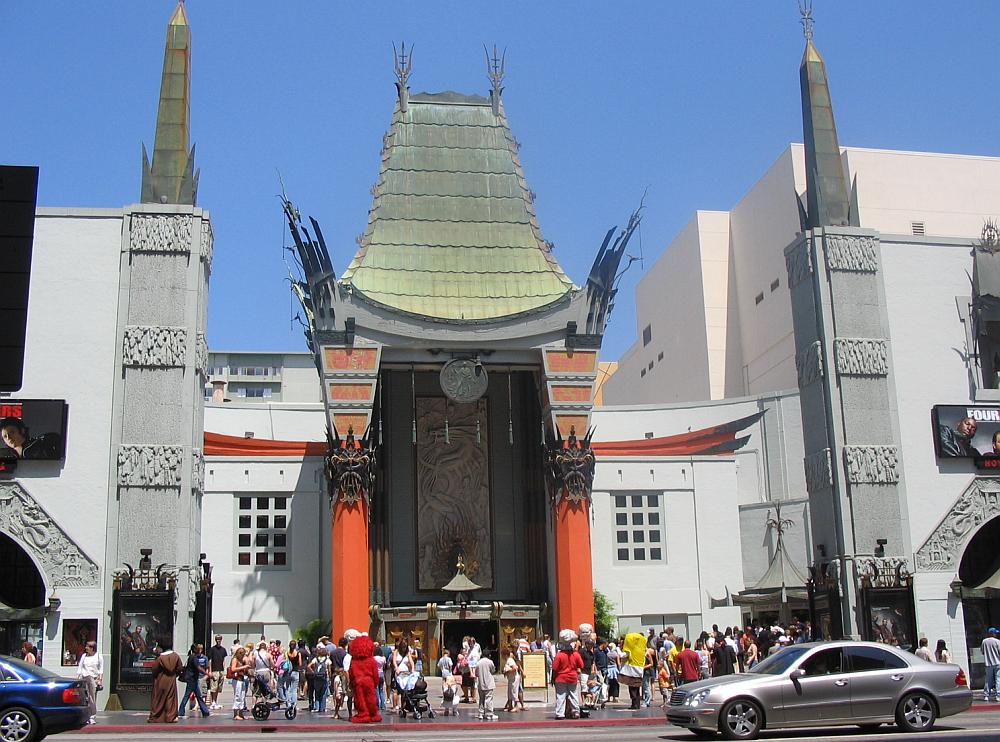 On the Walk Of Stars we find and photograph the main Disney stars – Roy O. Disney, Snow White, Mickey Mouse and Walt Disney. The girls are much more impressed with Johnny Depp's star.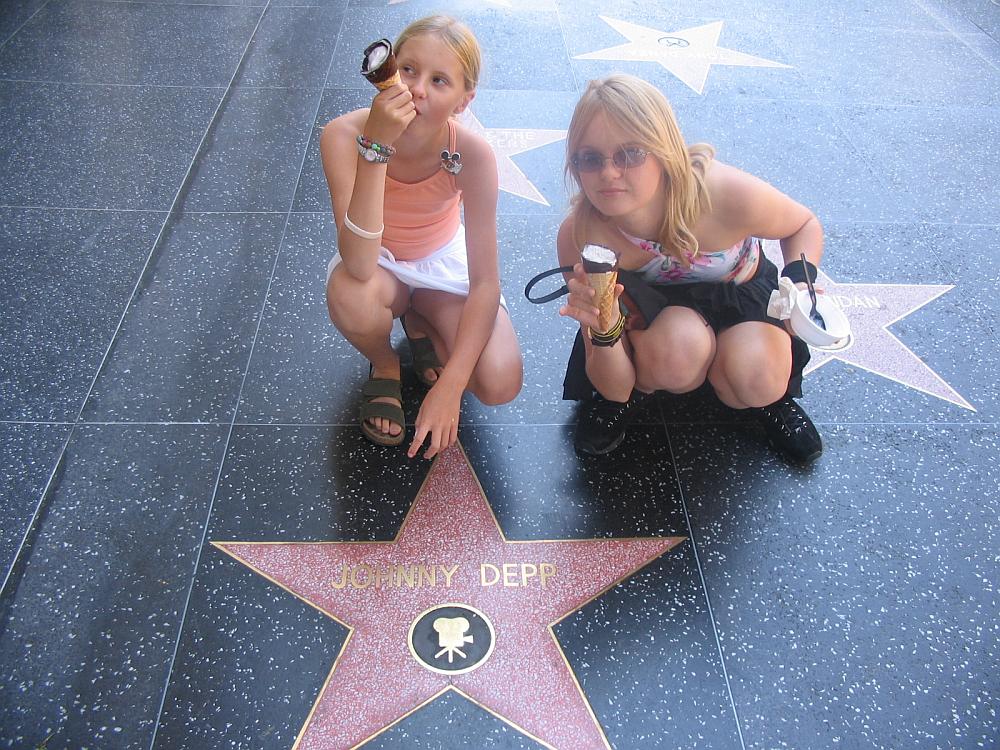 Seconds later India dripped her ice cream all over poor Johnny.
It's nearly time for lunch and we pass a Mexican fast food place called Baja Fresh. They are giving away samples of things that look like quesadillas and taste great. The ladies want to eat here, so it shows that this sort of promotion works.
I sulk a little, as I want to eat at the finest dining establishment in the area – Hooters of Hollywood. I have to content myself with going in the merchandising shop where we buy a very elegant Hooters pin for Matt.
This sparks off a conversation between Susan and I about a possible market Disney is missing out on – Disney Hooters. Aimed at the adult male, it could unearth a whole world of adventure. A Hooters in every park staffed by the Princesses. Think of it, Hooters Belle, Hooters Ariel (complete with orange tail), Hooters Pochahontas. Wouldn't this make the world a happier place?
I also think that Hooters should have a credit card. You could collect Hooters Points.
The mist burned off early today and it's a beautiful cloudless afternoon. I would like to tell you how hot, but due to temperature ladies increasingly moody attitude we have left her back in the room at Le Parc. That will teach her a lesson.
Back at Baja Fresh we have some very nice Mexican food, although I haven't a clue what it's all called.
Another walk around Hollywood Boulevard and we find ourselves at the Disney Soda Shop next to El Capitan. Well, we don't so much find ourselves there as rush there to prevent the constant whining from the women who have not had any sugar for a few hours and withdrawal symptoms are beginning to manifest themselves.
They all have single cones. If this is a single scoop, what the heck does a double look like? It's a veritable mountain of ice cream.
Back to the car and we head up Highland until we find Mulholland Drive. This road is single lane in each direction and is a pleasant relief from the 6 lane monsters.
We drive up into the hills and come across a vista point where we stop to appreciate the view.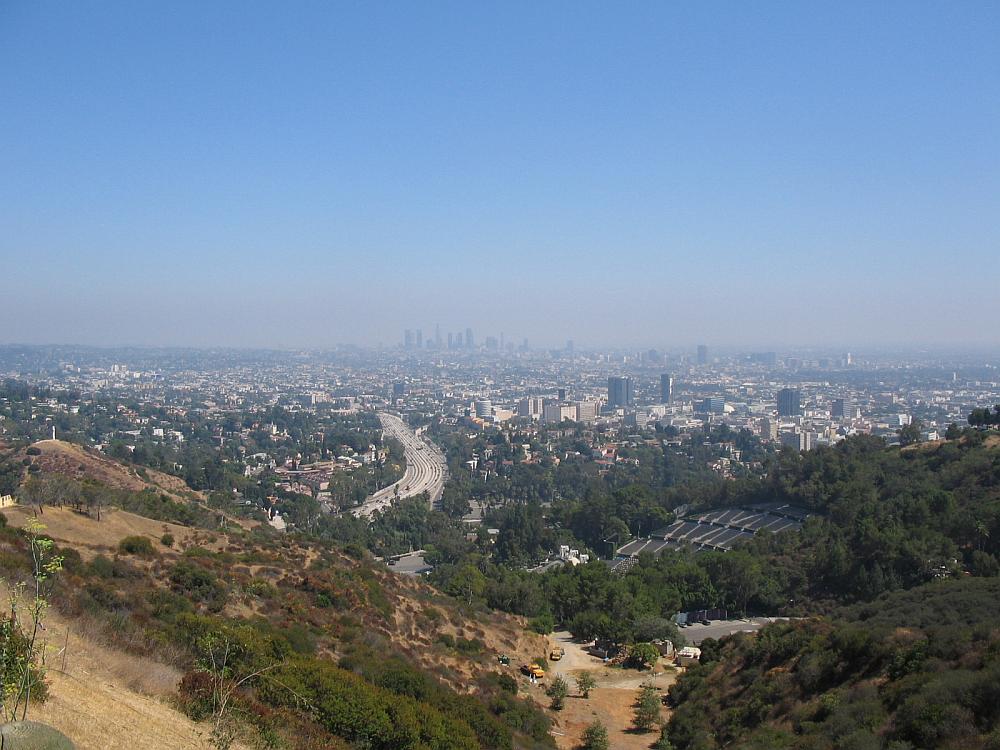 From here you can see the Hollywood sign and have a wonderful view for miles across L.A. After driving down quite a few narrow and winding roads past some very expensive houses we get back on the main route and head for Downtown L.A.
Here we go to see the Walt Disney Concert Hall, which is a magnificent structure made of many curving faces that shine in the afternoon sunshine. I suspect it's made from aluminium because of the weight, but it could be stainless steel. If it is stainless, I wouldn't want to have had that steel bill.
Either way it's a striking piece of architecture.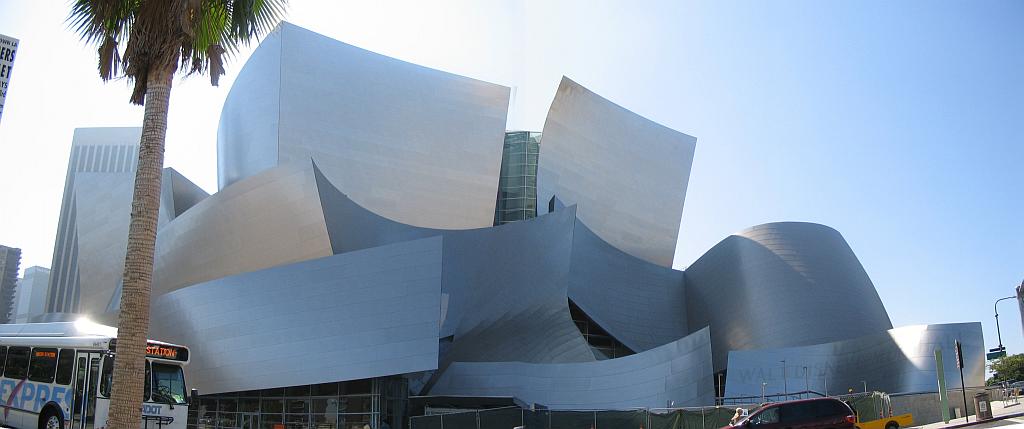 It's back to Le Parc now for an hour or so to relax by the pool before showering and packing. We are starting very early tomorrow morning and moving to Paradise Pier. We also want to fit in a full day at the parks.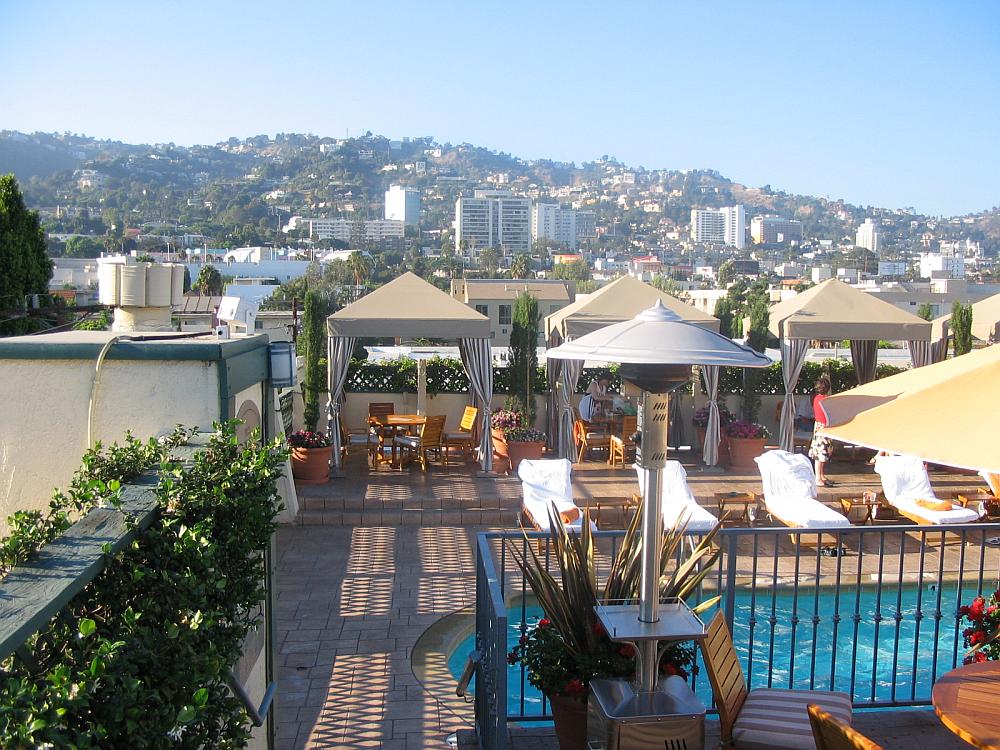 Tonight we are going to eat at Lowry's (another of Susan's recommendations), which is a renowned steak house. It's about a mile walk down La Cienaga, but on the plus side we get to walk past Trashy Lingerie again.
We arrive bang on 8.30pm for our reservation and there are a lot of people milling around. We check-in at the desk and barely wait more than 2 minutes before our names are called.
This is obviously quite a popular place as there are many tables and nearly all of them are full. We are shown to our table and introduced to our server, Miss Boren. Why we have to call her 'Miss' I have no idea. If she were married would we have to call her 'Mrs'? 'I'll have a beer please Mrs'.
She seems very friendly and happy and we all order steak. It's all prime rib and how much you pay determines the thickness of the cut. Tam and I have the Lowry cut and the girls split the same.
First we have the house spinning salad. It's called this because Miss Boren spins a large bowl of salad on a bed of ice and pours on the dressing very theatrically from a great height.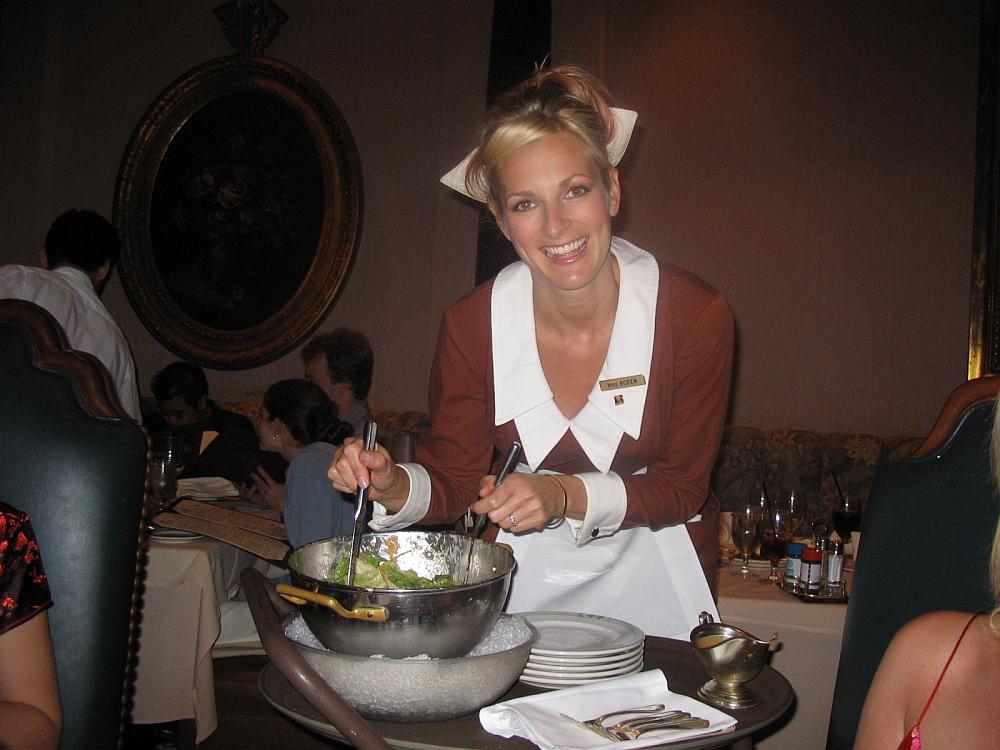 A smiling Miss Boren. I do believe the slightly red eyes reveal the true demon beneath.
A nice bottle of Merlot is ordered and we are ready for the steak. Tam comes up trumps with a large boneless slab of meat while the girls have something that is more bone than beef. Susan takes charge and calls Miss Boren to tell her that there is not much meat on this particular cut.
Miss Boren allows her friendly mask to slip for just a second to snarl 'Well, I can't helpit if you split it up unfairly'. We look at each other stunned for a few seconds before Miss Boring realises her mistake and offers to get some more meat for the girls.
The steaks are very good, cooked to perfection.
The dessert menu is produced and Tam and I make the mistake of ordering the sampler. Not that there is anything wrong with the food, just that there is a large sample of 5 desserts. I'd have a job to eat this as a main course.
Including a couple of beers the bill for the 5 of us comes to $220 without tip. Not cheap, but a very nice meal.
A taxi is called to take us back to the hotel and we are all tucked up in bed by 11.00pm.