DAY 16 - THURSDAY AUGUST 18TH 2005
The alarm goes off at 5.45am. This may seem like an ungodly hour (and it is), but we are off to Disneyland for the last 3 days of our holiday and we want to be there early to beat the crowds.
The ladies appear from next door with bleary eyes. Poor Tam has not slept well again and is absolutely knackered.
We check out of Le Parc, pack up the car and are on our way by 6.45am.
The traffic to Anaheim is pretty good at this time of the morning and we pull up to Paradise Pier by 7.45am. The outside of the hotel is not typical Disney, not surprising as Disney did not build it, but bought it quite recently.
As soon as we step through the doors the magic begins. Everything is neat and clean and the check-in staff are friendly.
We leave our luggage at Bell Services and are off to the Magic Kingdom. We walk through the Grand Californian Hotel, which is very much like the Wilderness Lodge, but with an even more impressive lobby and fireplace.
We enter the Magic Kingdom at 8.30am. Susan has warned us about the relative size of the MK as opposed to Florida. Everything is slightly smaller on Main Street, but they have many pretty little shop fronts.
The castle may not be as impressive as it's larger sister in Florida, but it's really rather cute and is looking rather fetching in it's 50th anniversary finery.
We go straight to Indiana Jones as this is a priority for us. The wait time says 15 minutes and we make our way through the wonderful queuing area. It takes less than 10 minutes to get into the vehicle and we are on our way. What can I say? Wow! This is a great ride. Think of the Dinosaur ride system only 10 times better. We all love it. As Tam says, this is how the Mummy should be. More rides of this style and imagination please Disney.
Through to Fantasyland where we ride Pinocchio, Casey Jnr and Mr Toad in quick succession. They are all good fun and better for us as they do not exist in Florida.
Our next stop is the Matterhorn where we are on in 10 minutes. It's a little bumpy and not fast by today's standards, but still enjoyable and a part of history as the first ever steel coaster.
We go to Tomorrowland next and pick up Fast Passes for Space Mountain. As we leave, Honey I Shrunk The Audience is just about to start, so we take advantage. One thing that is apparent is that they have made use of every inch here in California to put in as many attractions as possible into the small (relatively) space that is available to them.
On to Buzz where we have our longest wait to date, it says 25 minutes , but is less than 15. Buzz is better than in Florida as you can remove the guns and point them all around you. After being beaten by the women on the last time we rode Buzz in Florida, I re-assert my male dominance over my pack with a rather special 104,000 points. They gaze at me lovingly and in awe.
We decide food is next so we walk to New Orleans Square to see what is available. I love this area, it's so pretty. Beads are hanging from the wrought iron balconies; we must have just missed Mardi Gras! It's far more intimate than Florida, I suppose this might be a problem when it gets very crowded, but at this time of the day it's lovely.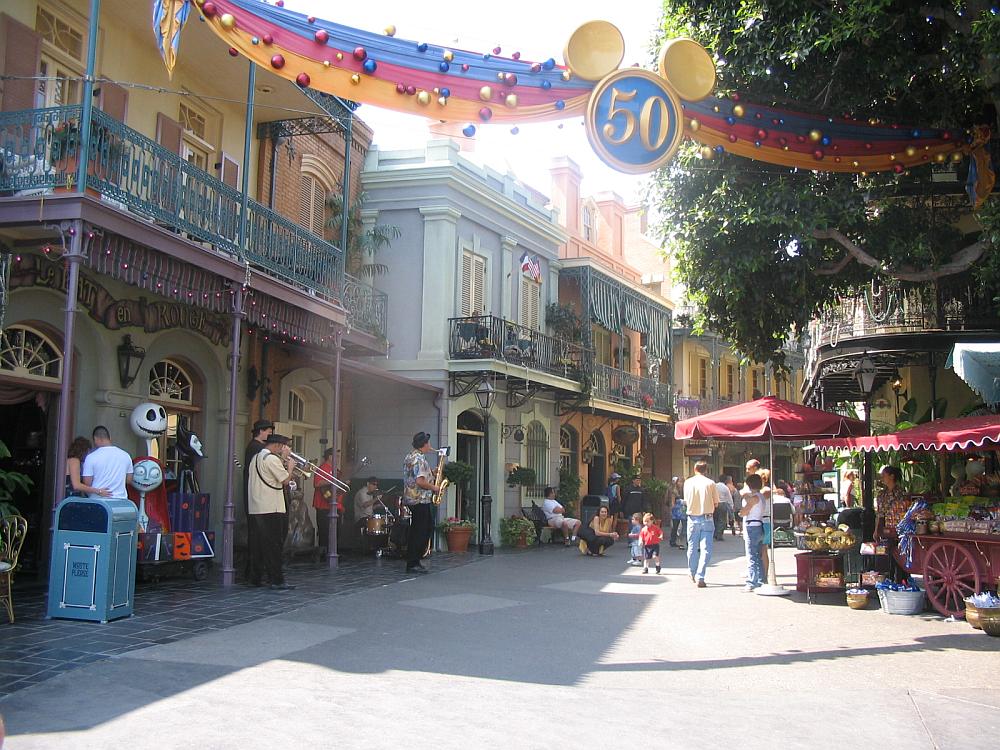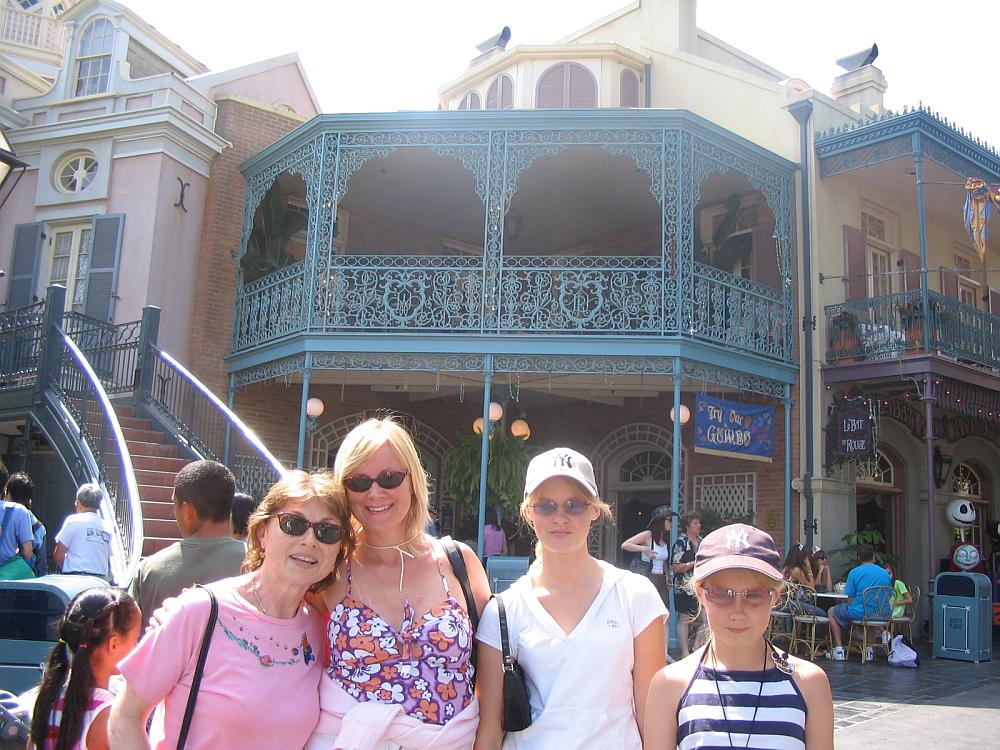 Behind the ladies is the balcony where you sit for the Fantasmic Dessert Buffet.
We have lunch at the Royal Street Veranda, which is a counter service restaurant. It's just chicken, BBQ sandwich etc. but it's fine.
Next is the Haunted Mansion. The outside is very different, but the inside is broadly the same. The stretch room is better here and the exit from the room into the ride is nice with pictures along the walls, which change when lightening flashes. The other major change is that Madam Leota floats. A nice touch.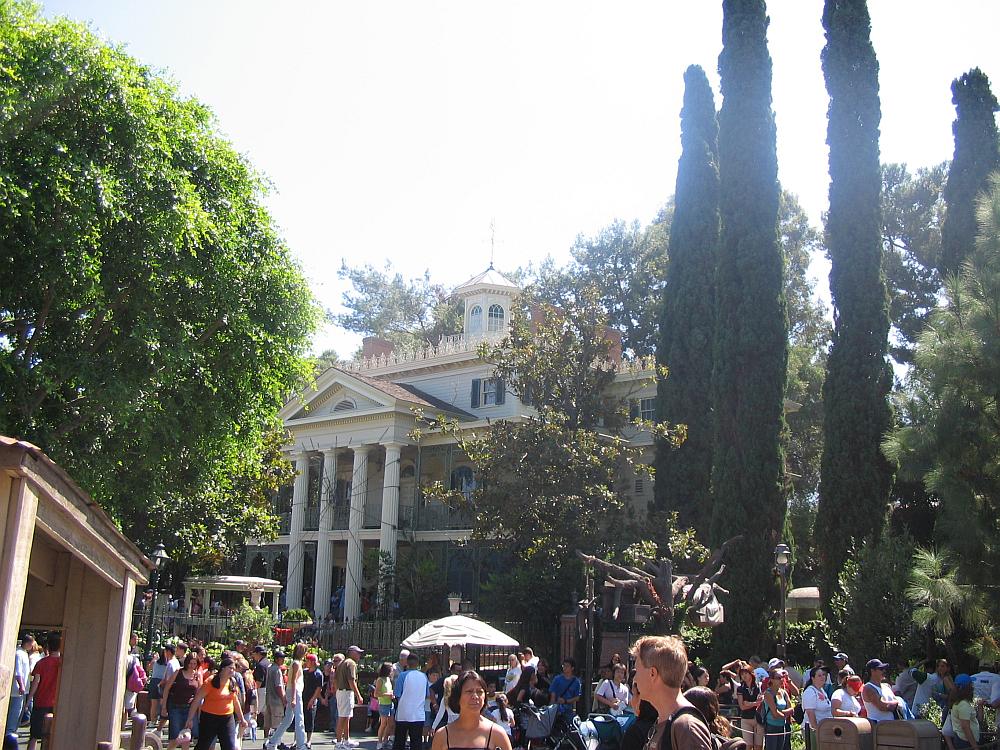 Not quite as creepy as the WDW Mansion.
Pirates is next. The queue area is mostly outside. The part inside is short and we are soon on the ride. There is no doubt that this is far superior in Disneyland. It goes past the Blue Bayou restaurant and has many more set pieces of skeleton pirates in watery grottos before the main scenes in the captured town. There are also 2 slightly larger drops.
We go to Space Mountain next to use our Fast Passes. Another big thumbs up for the Disneyland version. It has just opened after a major rehab and it shows. You ride 2 abreast and there is a great sound system in the cars. The ride is smoother, faster and darker than in Florida and really zips along. We are all very impressed.
Temperature lady has been given a reprieve and told to buck her ideas up. When asked the temperature today she tells us it's 28°C in a very sweet and refined way. I think she's learned her lesson.
We decide to leave the park now and return to Paradise Pier and see if the rooms are ready so we can unpack and relax a little before returning for the fireworks and Fantasmic.
Unfortunately the rooms are still not ready so we sit by the pool for a while. Here we encounter mini-disaster number 5. Ind and I go to the pool bar to get drinks. As we walk back I am carrying a beer for me and one for Tam. India says it's a shame that the rooms don't have balconies. I look up at the hotel and start to answer her. I continue walking while doing so. Unfortunately the surface beneath my feet does not as there are a couple of steps down. I stumble forward and manage to retain my feet, but nearly half a pint of beer is spilled! I think you'll agree that this is the worst of all the disasters we have encountered to date. Shame it was Tam's beer that got spilled.
The rooms are finally ready at 3.20pm and we go in to unpack and shower. There is now no time to do things at a leisurely pace as we have 5.10pm PS's for the Blue Bayou.
More frantic rushing around and we leave the rooms at 4.45pm. We are destined just not to have a moment's downtime on this holiday.
We reach the Blue Bayou just in time and decide to ask for a waterfront table. We are told the wait will be 45 minutes to one hour, but are seated 30 minutes later.
This is a lovely restaurant in the same mould as the one inside Mexico at Epcot, only this time you watch the boats from Pirates of the Caribbean drifting past. The food is not bad; I'd read that a lot of people don't like it. The salad we have to start is excellent and the clam chowder not bad either. The main courses of salmon and crab cakes are not quite as good, but still ok. The food is really secondary in this restaurant; the main reason for eating here is the Bayou setting, which is lovely.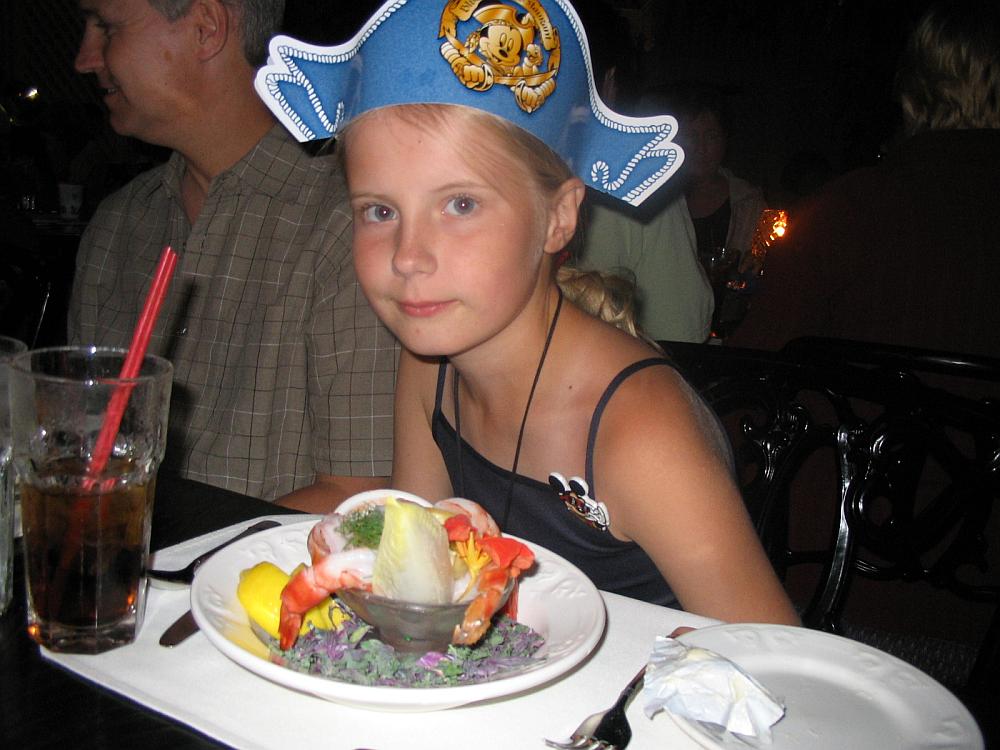 A big prawn and several smaller prawns at the Blue Bayou.
After the meal we go to Fantasyland and ride Alice. It's a little like Pinocchio in that you ride in a caterpillar (not a normal occurrence for me) past scenes from the film. I enjoy this type of ride just as much as any thrill ride.
We wander into Toontown, but the wait for Roger Rabbit is too long and we want to get a good place for the fireworks, so we walk back to the hub.
It's now 8.25pm, an hour before the fireworks are due to start and many people have already staked out their places. We find a spot just behind the hub and sit and wait.
The time goes quickly (when doesn't it at Disney?) and the show starts at 9.25pm. This is simply the finest fireworks show I have ever seen (with the possible exception of the Millennium Eve fireworks in Epcot). It is practically the whole of Wishes interspersed with sections of music and accompanying fireworks from various rides around the park.
It also includes lasers, fire and projected elements. I'm not sure how long it lasts, but it's somewhere between 15 and 20 minutes. The fireworks go off not only in front of you, but all around you. It's Wishes++. Stunning.
Many people now start to leave the park, but many more are heading over to watch the second showing of Fantasmic. It's like two tides meeting.
We eventually battle our way through and make our way to the Disney Gallery where we have seating for the Fantasmic Dessert Buffet. The tickets for this cost $56 each with no reduction for children. This allows you to sit on the wrought iron balcony to watch Fantasmic and enjoy a buffet of cakes, pastries and soft drinks, coffee etc.
We give our tickets to the lady and are shown to a little courtyard to wait while they prepare the area. 20 minutes before the show we are shown through to the balcony and are thrilled to have front seats right by the railing. The whole area only holds 20 or so people so you get a good view from wherever you are sat.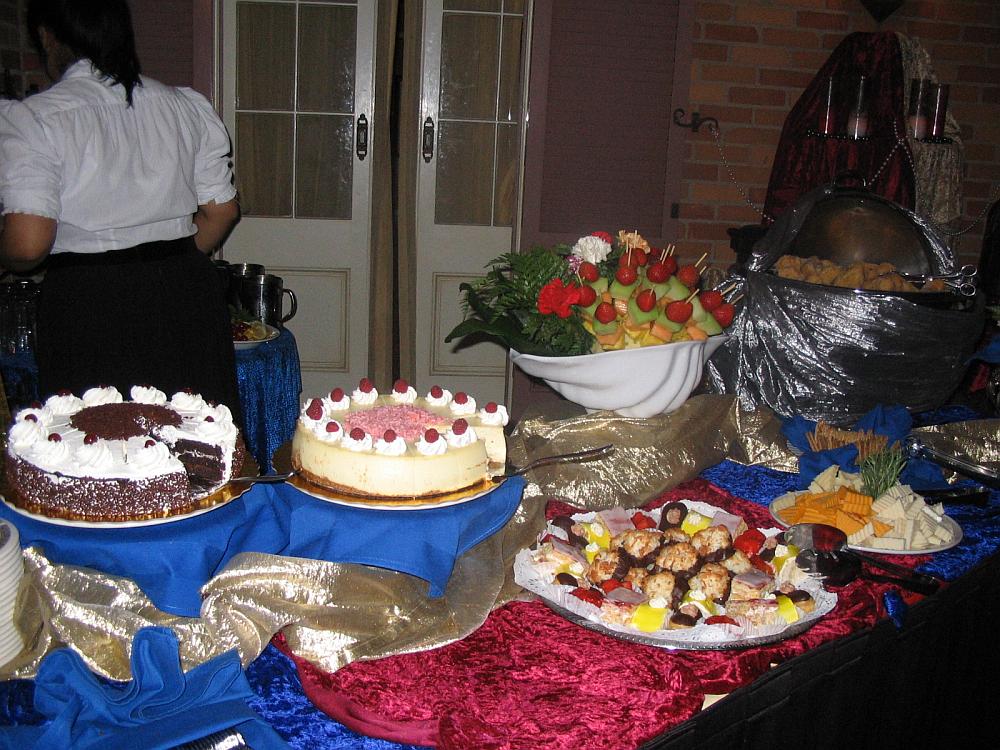 Now, if only they had beer........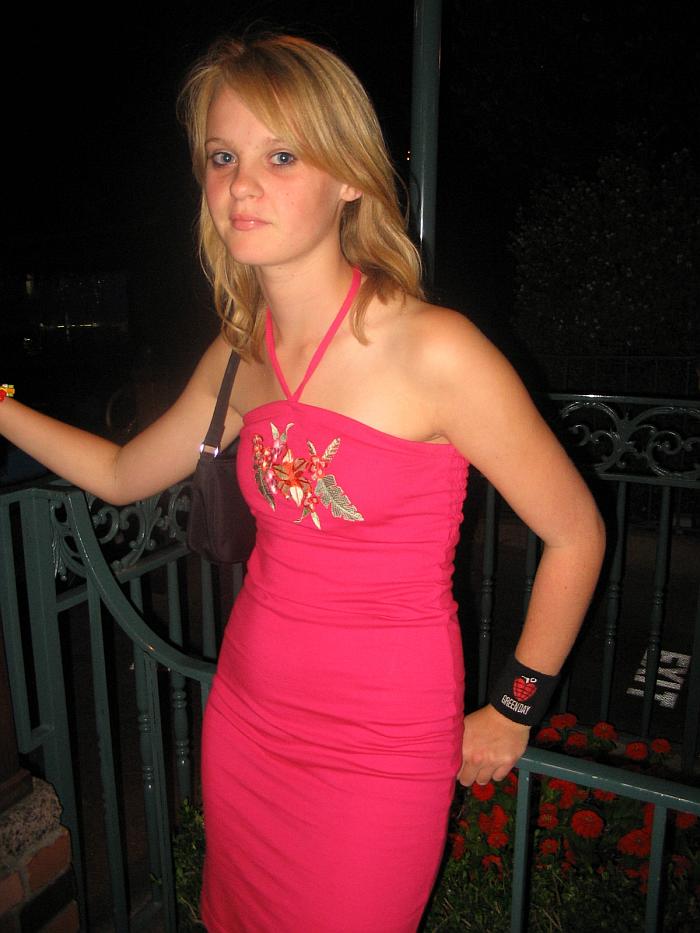 She's not a little girl anymore (sniff)
Fully caked up we wait for the show to begin. The view from the balcony is magnificent as you look directly across to Tom Sawyer Island and the Rivers of America where all the action takes place.
The show is similar to the one in Florida, but with a couple of big differences. There is a wonderful section where the sailing ship Columbia drifts past and a full-scale battle rages between Peter Pan and Captain Hook and his dastardly pirates.
Also the full size Mark Twain paddle steamer is used for the farewell with all the Disney characters aboard.
Another amazing show and I thoroughly recommend the Dessert Buffet. It's expensive, but you get to watch Fantasmic in comfort and with an unparalleled view.
I remark to Susan afterwards that you would pay a lot of money to see either of the shows we have just seen and we have watched both within one hour and all for the price of the admission ticket. Is Disney expensive? Yes, of course it is, but the quality of the product is first rate and the value for money excellent.
I'm thinking now that the ladies will be tired after our exceptionally long day, but think again young Stringer me lad. They want to do more rides.
We head off to Fantasyland to finish the things we have not yet done there. The reasoning is that it will be quiet here at 11.00pm. Well, there are still quite a lot of people around, but we manage to do Snow White with a 10-minute wait. This is the same as the Florida version, but with a slightly better queue area.
Onto the Storybook Land Canal Boats where we float past miniatures of the castles and villages from Disney films. The illusion is somewhat spoiled by a duck the relative size of the Empire State Building sitting in the middle of Peter Pan's London.
It's now nearly midnight and the park is about to close so we get the monorail back to Downtown Disney and then walk back to Paradise Pier. A long but very happy day ends.
I've found Disneyland to be a joy. Smaller than its Florida cousin, it can get very crowded, but they have been incredibly creative in use of space. It has a charm that is unique.