DAY 17 - FRIDAY AUGUST 19TH 2005
We are off to Disney's California Adventure today and the park does not open until 10.00am. I forget this and attempt to wake Tam up at 8.15am. She mutters something about 'moron' and 'half wit' before going back to sleep.
Susan and India, the next-door neighbours, knock around 9.00am. Susan has already been down to the shop for milk, so we have cereal. Unfortunately we have no spoons or bowls, so we put cereal and milk into plastic Disney cups and attempt to eat/drink the resulting mixture. Maybe not the ideal breakfast, but at least it gets us going for the day.
We walk across to the Grand Californian Hotel and into Disney's Californian Adventure through the gate in the hotel at opening time. Straight to Soarin' Over California, but there is already a 45 minute wait posted, so we get Fast Passes.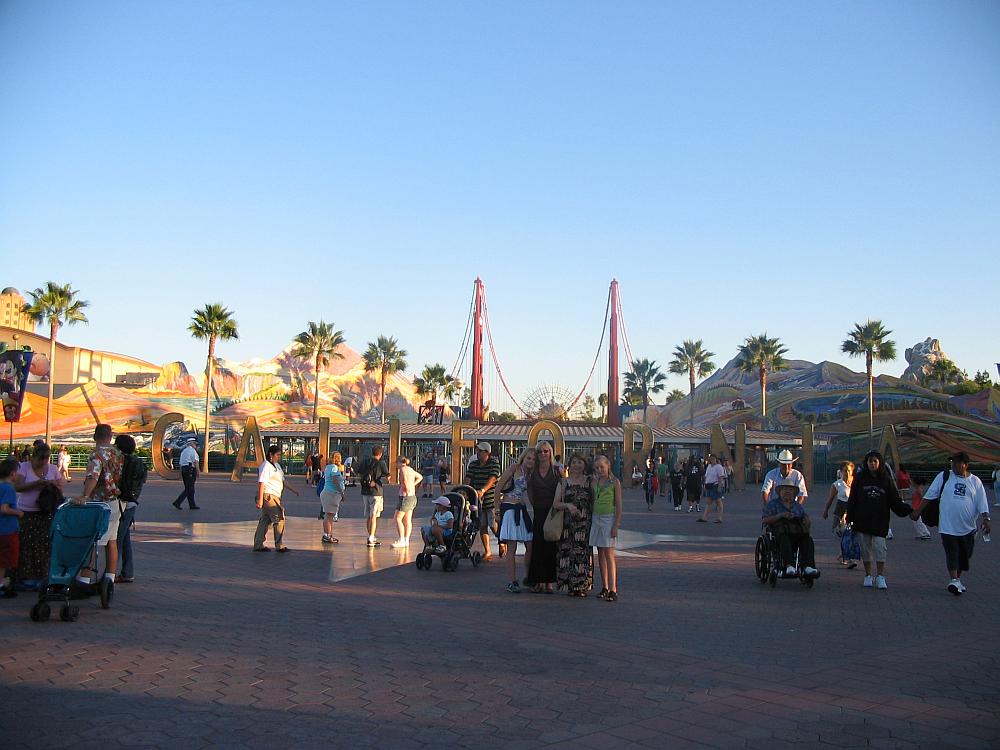 DCA main entrance
We wander over to Paradise Pier where the attractions are just coming on-line and the place is empty. Our first ride is Mulholland Madness. This is an ok ride, but nothing special although Tam does not like it at all. The combination of height and the feeling that you are going off the edge of the rail does not make her happy.
We walk on round and Susan and India decide to try the Maliboomer, which is the Tower of Terror in reverse, straight up 180 feet. I can imagine my minimal breakfast spreading itself over a wide area from 180 feet, so decline the kind invitation to participate. India's face as the thing prepares to launch suggests that she has made a mistake, but she comes off smiling.
The Sun Wheel is next and everyone but Tammy rides. This is basically a Ferris Wheel with the addition of cars, which run down rails and rock back and forward in a rather alarming fashion. We all survive the ride with only a modicum of girly screaming from me.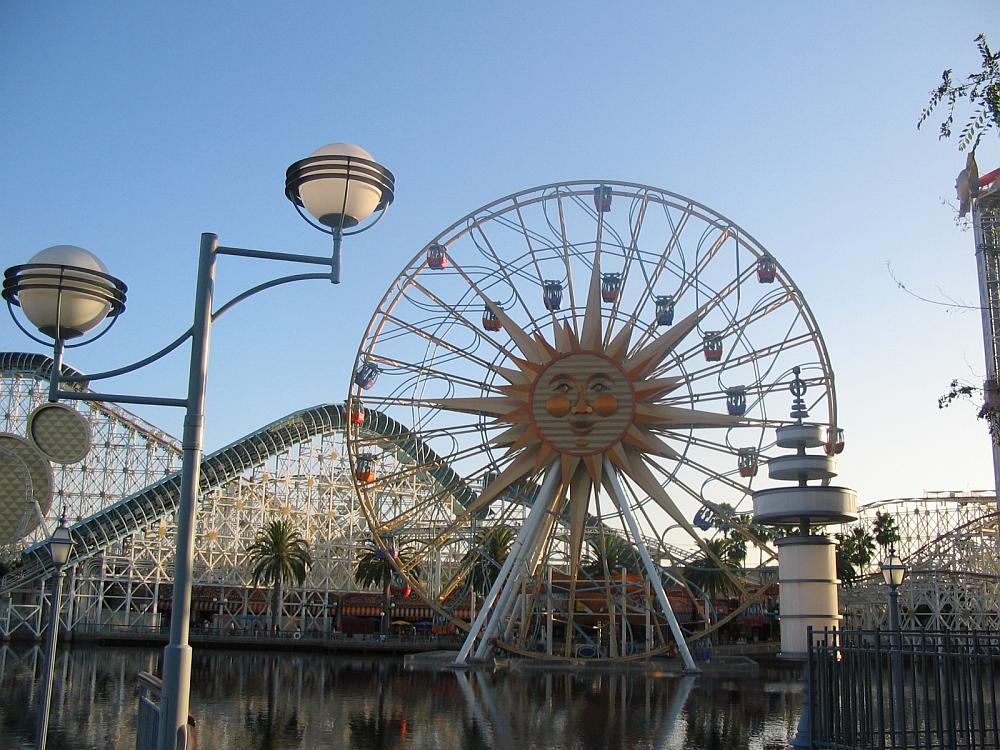 California Screamin' is shut for testing today. Whether this is related to the recent accident or not I don't know, but India is very disappointed. Kevin breathes a huge sigh of relief.
Our Fast Passes are now ready for Soarin'. We are in row 3, which is the bottom row of flight vehicles. This ride lives up to its reputation. Some fantastic scenery, much of which we have recently seen for real and you can't help lifting your feet up in places for fear of touching mountain tops or trees.
Grizzly River Run is next. The wait is less than 10 minutes. This is a fun ride, better than Kali, but not as good as Popeye in Islands of Adventure.
Lunch is at the Taste Pilot's Grill and is the standard burger, chicken, ribs and sandwich fare.
After lunch we walk over to the Hollywood Pictures Backlot where India and Susan ride the Tower of Terror. It's far too soon after lunch for me to consider this ride and Susan and I have a discussion as to how long the vomit would actually remain suspended during the drop had I actually ridden.
Next we watch Aladdin at the Hyperion Theatre. This is a huge indoor theatre with stalls and 2 balconies. The show lasts 45 minutes and is excellent. There is some major stagecraft at work here especially when Aladdin and Jasmine fly above the audience on the magic carpet during A Whole New World. The only thing that annoys me is the Genie making constant modern references (Brittany Spears etc.). I know I'm in the minority as everyone else in the theatre seems to love it, but it annoys the heck out of me. Anyone that has seen Pain and Panic in the Hercules show on the Disney cruise will understand what I mean.
This minor quibble aside, this is a 'don't miss' show.
Wandering back up the street we find ourselves in the Disney Animation Building. You walk into a large area with huge screens showing artwork and scenes from some of Disney's most famous films. I could spend ages just watching this. Just off this area there is a section showing some Disney characters and how they developed into the final creation you see on film. For instance there is a lot of artwork for Ursula, some of which shows her as a thin attractive woman. It's fascinating and you get a feeling for all the hard work and ideas that are rejected before the character is finalised.
We also visit the Sorcerer's Workshop, which is a series on themed rooms with interactive exhibits. In one section you can dub your voice onto parts of Disney films. I was very impressed with the whole area, it would be easy to spend a lot of time in here.
Also in the Animation Building is Turtle Talk With Crush. I guess you all know what this is by now, Crush comes out and interacts with the audience. Incredibly clever, it's another of those 'how do they do that?' attractions. Totally awesome Dude. Char.
A Bugs Land is next where Susan and I watch It's Tough To Be A Bug (the same as Florida) while the rest do a couple of small rides.
I'm starting to get a little thirsty so we go to the Golden Vine Winery for the tasting. This costs $10 and you get 3 rather small samples of different wines. Not good value, especially when compared to the stuff we did in Solvang recently.
We then do the Bakery Tour, which shows you how they make sourdough bread. Tam, Susan and me find it interesting, but the girls are itching to do some rides, so off they go with Susan while Tam and I do the Tortilla Factory tour and then sit and chill out with a couple of beers in a large courtyard area where a band are playing salsa music.
There are very few people about and I wonder how long it will be before they rip out this entire area and replace it with a thrill ride. I hope it's a long time because both Tam and I have enjoyed both the tours and sitting in the sunshine enjoying a beer and listening to the band.
Susan and the girls return having ridden Jumpin' Jellyfish, Golden Zephyr and Orange Stinger.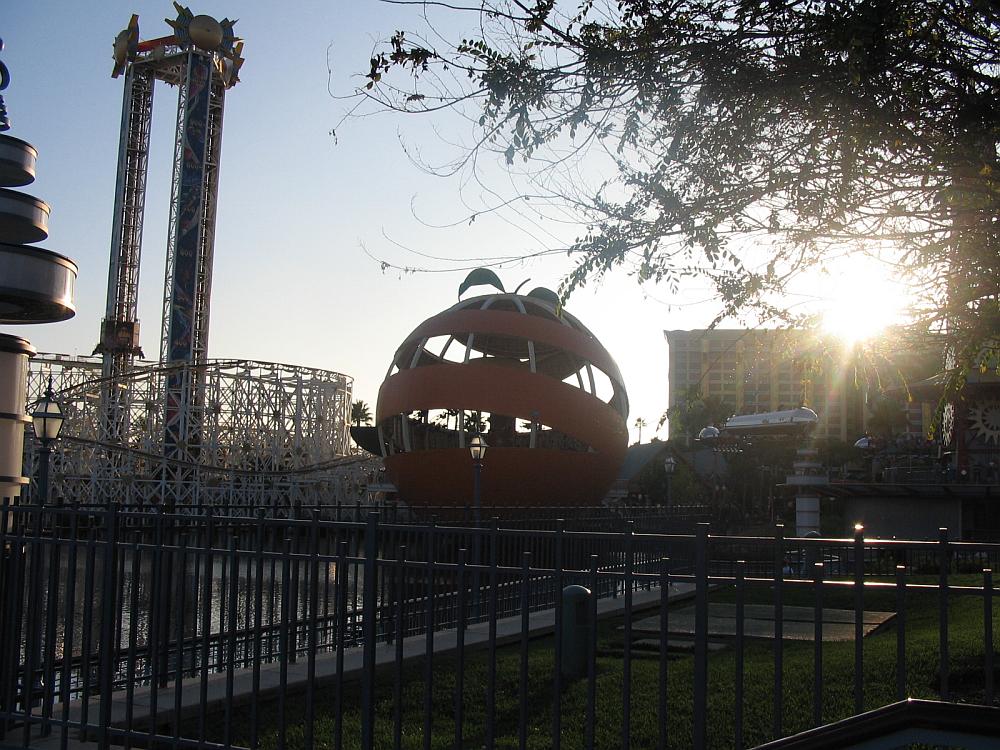 We are now heading out of the park, but stop off in Golden Dreams to watch a film on the history of California narrated by Whoopi Goldberg. It's quite interesting, but a little saccharine and of the 'you can achieve anything if you set your mind to it' variety. Well I wanted to be CEO of Disney, but I'm not. Lack of ambition I guess.
It's time to leave DCA. We've all enjoyed our day here. It's no Epcot, but we've had a full day and still not seen everything there is to see. I agree that they could do with a little less of the 'off the shelf' fairground rides, but they've done a great job in many sections of the park. If you like to wander around and enjoy places merely for the atmosphere and the sights like I do, then I think you'll have a good time in this park.
Back at Paradise Pier we shower and get ready for the evening.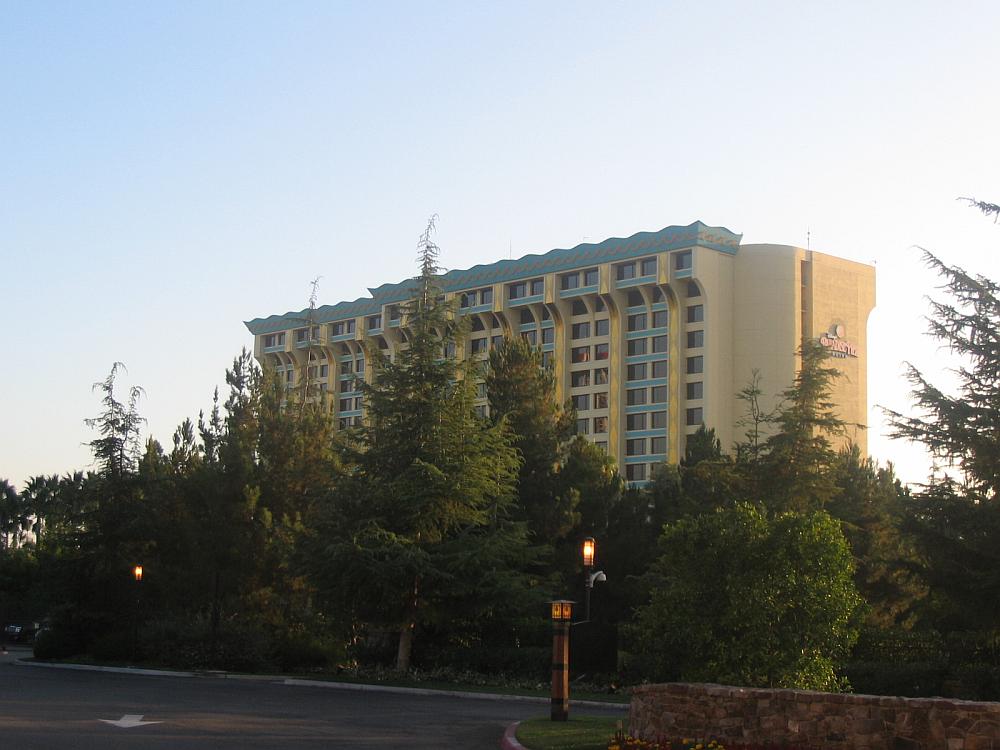 We are off to Napa Rose at the Grand Californian Hotel, which is a top class restaurant and Susan has managed to book us seats at the chef's table. It isn't really a table, but a counter in front of the kitchen. You sit in high seats and watch the chefs preparing the food in the open kitchen.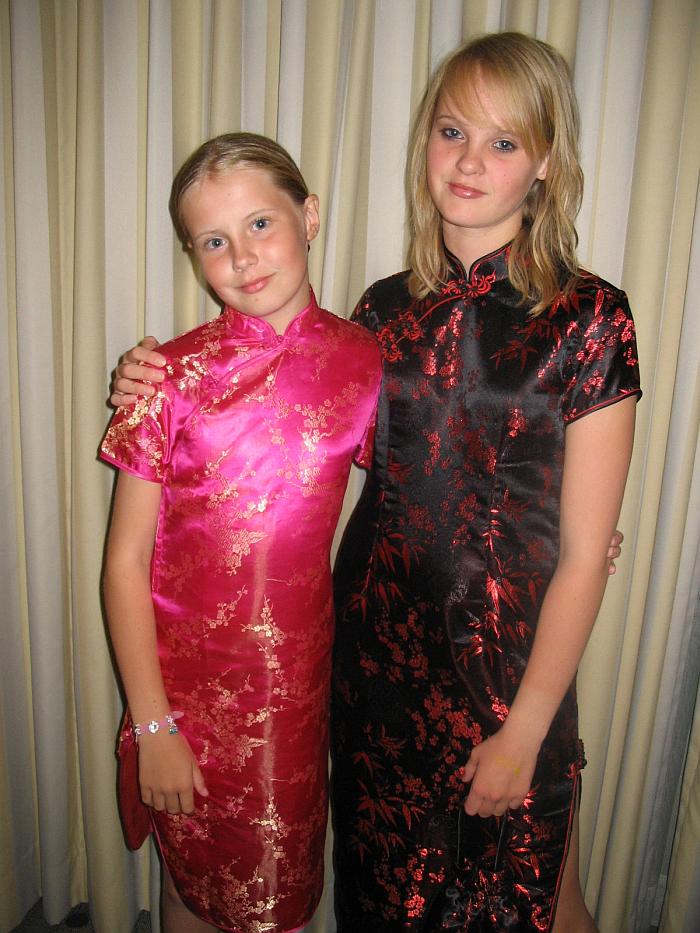 Sweet and sour pork with fried rice please.
We arrive for our 8.15pm reservation and meet up with Jennifer and Dan who are friends of Susan and attending the University of Southern California.
Tam and I sit with Jennifer and Dan while Susan, India and Georgia are seated a few feet away. We talk to our dinner companions about the differences between the UK and the US and what they are going to do when they finish their courses at Uni, but it's very hard to talk when you are watching the show before you.
There are people rushing around cooking and the head chef is barking out orders. We get to see all the food being prepared and it really gets interesting when they have to cater for a party of 60 as well as the other restaurant diners. You have to remember that this is a very good quality restaurant and it's certainly an experience to see them all at work.
The food – Tam and I split a starter.
Sauteed hand harvested diver scallops with a sauce of lemon and lobster accented with fresh vanilla. ($16) It tastes even better than it sounds.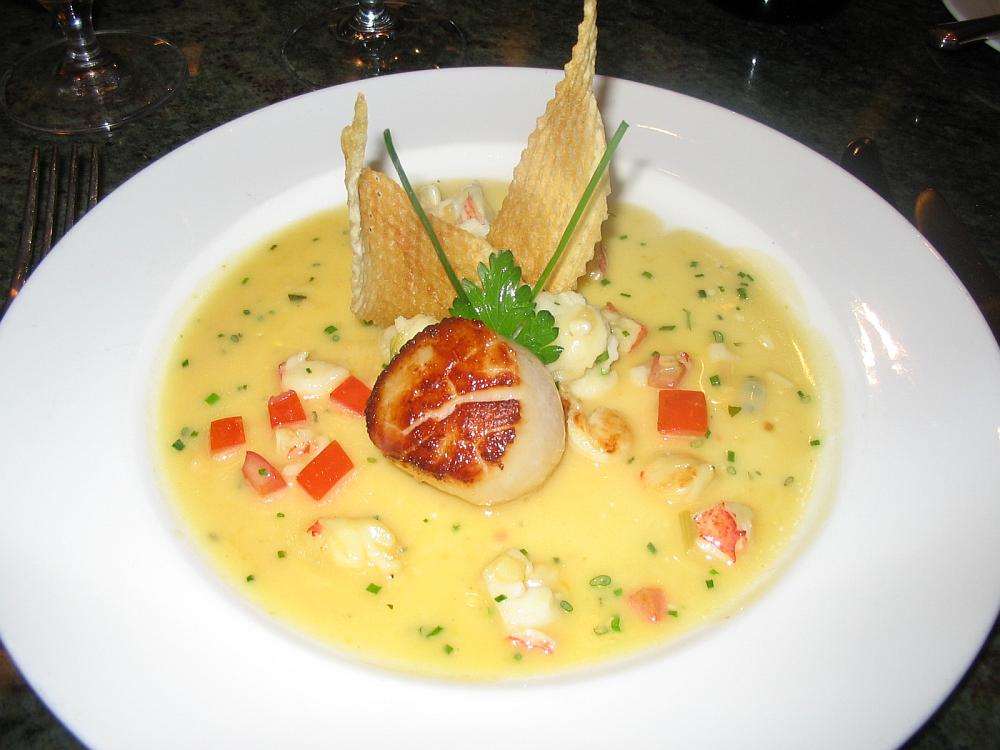 Tam's main course – Grilled Colorado lamb T-bones on a warm salad of heirloom tomatoes, lemon basil, red crescent potatoes. ($36)
My main course – Mustard grilled 16oz Porterhouse pork chop with summer onion ragu. ($27)
All the food is lovely, made better with the bottle of Napa Valley Merlot for $34. I am VERY careful when I order from the extremely extensive wine list, as the next one down from our wine is a $1,250 bottle! That would be an embarrassing mistake when it came to the bill. I'd have to leave one of the children to do the washing up for a month to pay it off.
Tam has the crème brulee for dessert along with coffee. Not a cheap night at $220 without tip for the 4 of us, but an experience not to be missed.
We say goodbye to Jennifer and Dan and make our way back to Paradise Pier. We are in bed by 11.30pm. Tomorrow is our last full day and it's going to be action packed to fit in all we want to do.