DAY 18 - SATURDAY AUGUST 20TH 2005
Our last full day. No time for lazing around in bed, we have lots to fit in. Up at 7.15am and we are at the entrance to the Magic kingdom for opening at 8.00am.
We aim straight for Indiana Jones and virtually walk on. When we rode the first time a man sitting next to Susan told her there are 160,000 different permutations to this ride, so you are unlikely to get exactly the same experience twice. Whether there are any track changes or it's just vehicle programming differences, I don't know.
On round to Big Thunder. There are differences in the queue area and the ride, though not much. I think the WDW version just about gets the nod here.
We all want to do Splash except Tam who stays to do Big Thunder again. Splash Mountain is definitely smaller here. The mountain seems shorter and you ride one behind the other as opposed to 2 abreast. The drop certainly seems less intense. India is in the front and gets wet.
As we exit Splash we see no wait for Winnie The Pooh. The ride vehicles are beehives and don't bounce along with Tigger, otherwise much the same as WDW.
We walk back to Big Thunder where Tam is waiting. There is still no line so we all ride again. It's still only 9.30am and we've done so much already. That's one good thing about Disneyland; the rides are much closer together. Splash, the Haunted Mansion and Pirates are all within a few yards of each other. I guess this tends to spoil the theming a little, but it sure makes it easy to jump from one ride to the next.
On to Toontown, which is much better than the equivalent area in WDW. Roger Rabbit's Car Toon Spin is a walk on. Susan says she's never experienced this before, lines for this attraction are usually long. The queue area here is an attraction in it's own right. There are lots of neat little touches such as the door to the nightclub. If you knock on it a small window slides back and a big gorilla asks 'Hey! Who do you think you are? Mickey Mouse?' I beg to be let in to see Jessica rabbit, but get no joy even when I promise to look and not touch.
The ride itself is really good; you pass lots of scenes from the movie while you spin the vehicle yourself via a wheel in the car. We ride once spinning and with no queue, ride again just to look at everything. I finally get to see my beloved Jessica, but she ignores me totally. What she sees in that fop Roger I'll never know.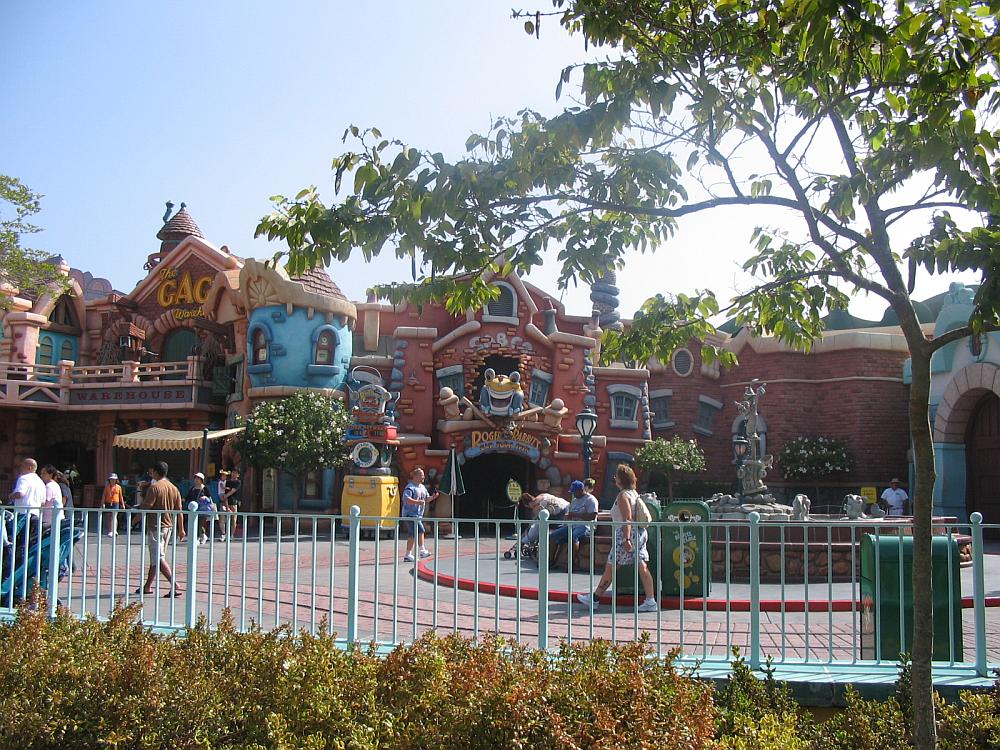 Over to Space Mountain where we collect Fast Passes. As we walk back from the FP machine I pass a man who says to his friend 'Let's ride. It's only a 75 minute wait'. Now there's a man who isn't going to achieve much today.
It's now 11.00am and we're all starting to feel rather hungry. Over to the Carnation Café where we are seated after a wait of 20 minutes or so. This is a lovely little courtyard off Main Street with tables covered by umbrellas. We eat waffles, croissant benedict and sticky buns. This is a very pleasant little meal and the servers are dressed in Victorian dresses. Tam thinks they are 50's dresses. Not much difference of opinion there then. She's obviously stark raving mad.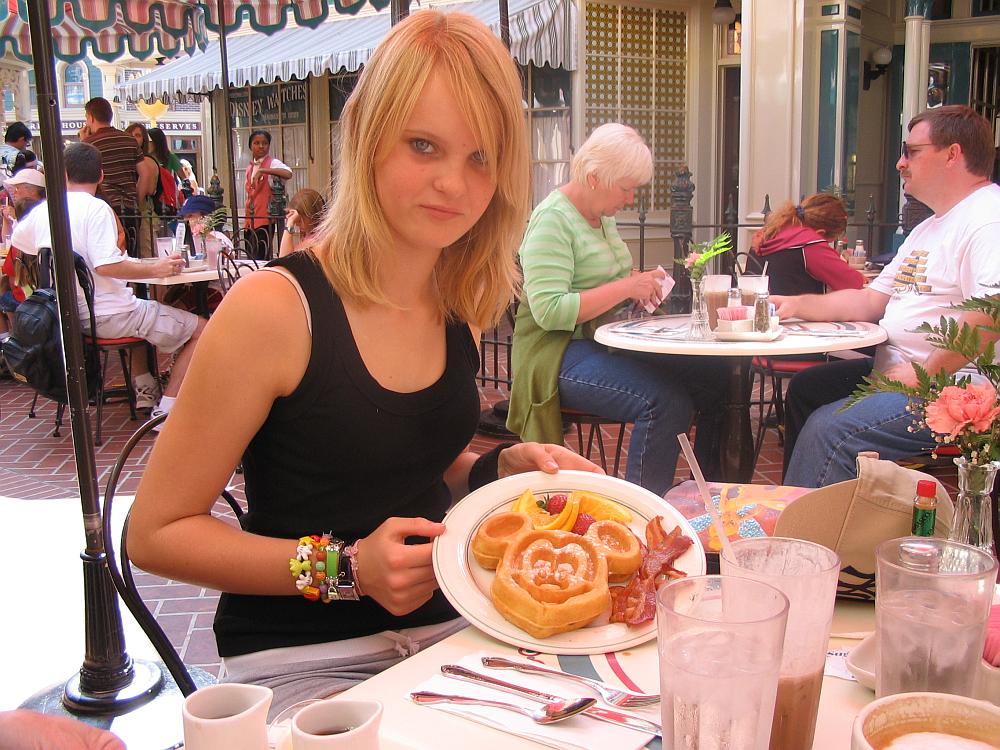 As we near the end of the meal a huge bug comes flying along, buzzes around us for a while and lands on the table. The ladies look towards me to deal with the situation, which I do amply by waving my arms in an alarming fashion and shouting 'Aaargh! It's a large bug'.
It's actually quite a pretty creature, a beetle with a shimmering blue/green back. It finally gets fed up with frightening us and flies off. I'm sure I hear the faint sound of beetle laughter.
We go to see the Snow White show next, which is held in a similar outdoor theatre to Tarzan Rocks. It's a pleasant show spoiled only by the people who decide to leave a few seconds before the end to steal a march on the rest of the audience. Not only do they spoil the view for the rest of us, but they don't even have the good grace to applaud the efforts of the actors and actresses. Rude jerks. I mean that in a kind and loving way obviously. Wait a minute, no I don't. Rude jerks.
Over to Space Mountain to use our Fast Passes. Our opinion on the ride doesn't change after a second go. It really zips along and is such good fun. They should upgrade the Florida version along these lines.
Next we get on the train in Tomorrowland and do a lap and a half of the park. It helps to give a perspective on the size of the park. It really is quite small and it's amazing the job they've done to pack so much into the available space.
We disembark from the train in New Orleans Square and walk to Tarzan's Treehouse. This is fun, but it's not as big or interesting as the Swiss Family Treehouse in WDW.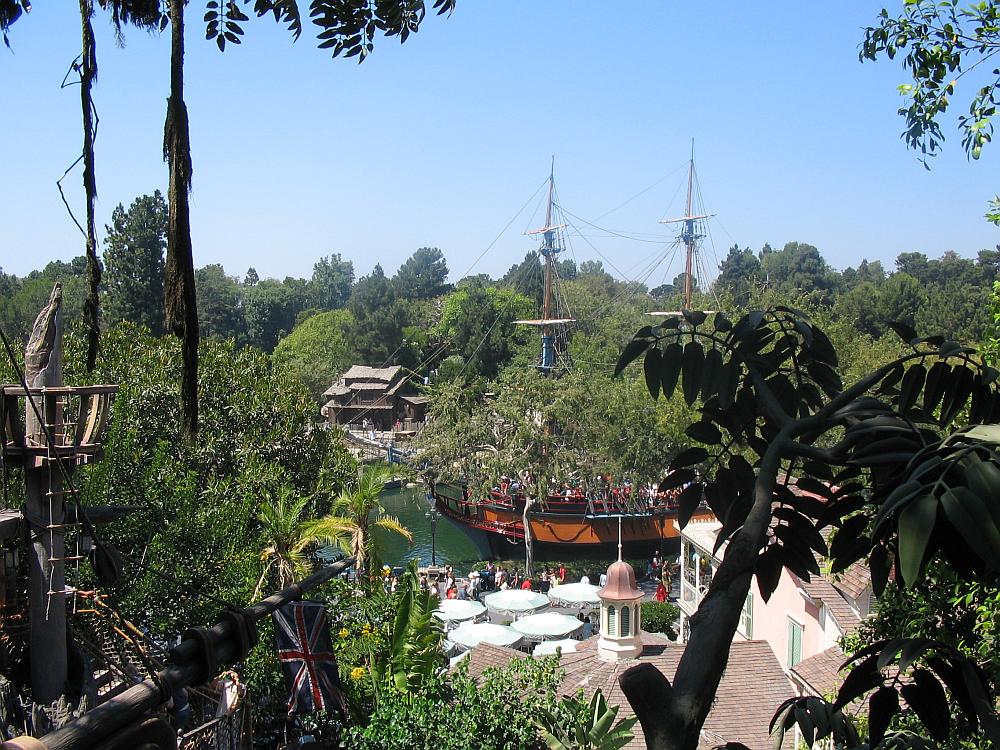 View from the treehouse
Tam wants to ride Davy Crockett's Explorer Canoes. This must have the highest CM to guest ratio of any attraction I've ever seen. As well as people loading/unloading there are 2 CM's in every canoe and they only hold 20 guests each. It's an unusual and fun experience as we get to paddle around the Rivers of America. At a couple of points we get very close to the Mark Twain paddle steamer, which is really cool. The CM at the front of our canoe doesn't give you the impression of being totally focussed on his work. But he does come up with one good joke. He tells us we've got to work in unison and shouts 'Stroke. Stroke. Stroke. Heart attack. Stroke'. Still, Susan forgives him as she thinks he's good looking. This isn't anything new; she's being eyeing up the fit men all holiday. She'll love me for that.
It's now 4.00pm and we are going to leave the MK for a while. On the way out we grab Fast Passes to ride Indiana Jones again later. I return to the hotel to get a beer, sit by the pool and write up my trip report while the ladies go shopping in Downtown Disney.
It's a lovely sunny afternoon, but I can't tell how hot as temperature lady has stayed home with her sunglasses on. I've been too good to her.
The girls return and I give them a choice. We can spend a couple of hours relaxing around the pool or shower straight away and get back to the MK in time to use our Fast Passes for Indiana Jones.
The women are on a mission, no relaxation time. Straight into the shower and out to the MK by 6.45pm. We just about make it to Indy in time to ride for the third time this holiday. Me and Indiana are well acquainted now, I get to call him IJ. This ride certainly doesn't lose anything with repetition. It has to be in my top 5 rides ever.
The main reason for being in the park tonight is to watch the fireworks from a prime viewing spot in front of the castle. It's still a couple of hours before the 9.25pm start, but we walk round to the hub and sit on the ground along with many others. This spot is much closer to the castle than the first time we watched and this should help in seeing the projected effects.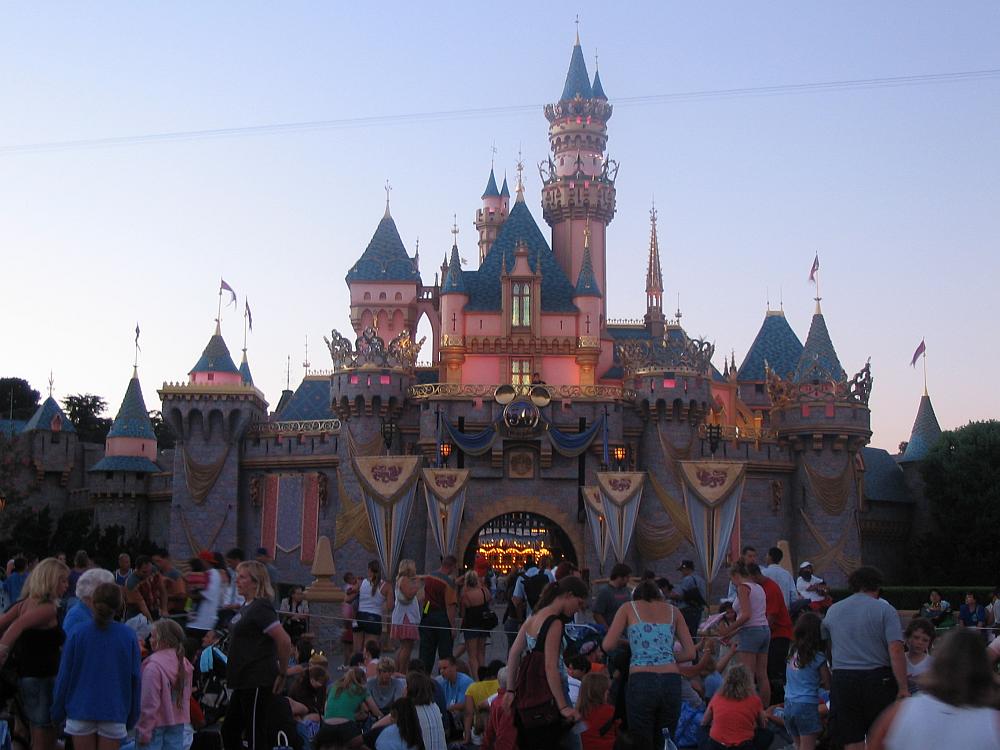 Susan, Georgia and I go off to get something to eat while Tam and Ind hold the fort. It's really packed in the MK this evening and the queues for all the food outlets are horrendous. Our food choice this evening is governed purely by line length. Fish and chips and chicken tenders is the end result, even then it takes an hour to get back to Tam and India. We scoff the food and wait for the fireworks.
The countdown announcements come quite quickly and it's soon underway. I'm surprised that everyone remains seated except for a few who are shouted at until they also sit. We are all blown away again by this show. It's even better close up. The projections on the castle are more obvious and it becomes a shooting gallery in the Frontierland section with ducks being 'shot' at as small fireworks explode on the castle walls to replicate ricocheting bullets.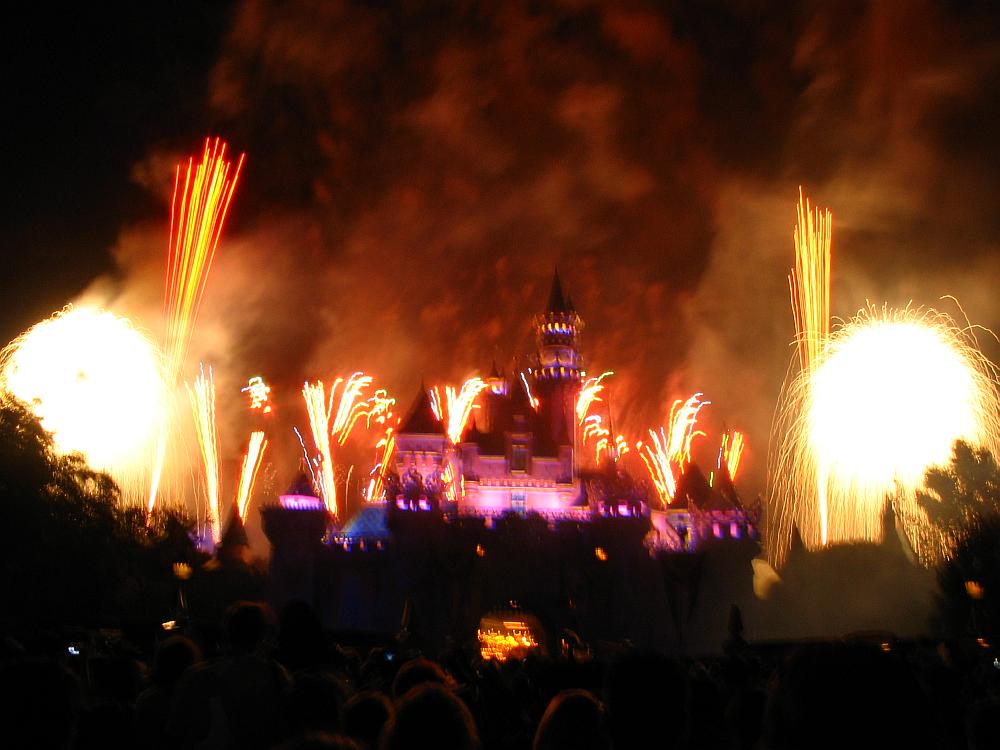 Not much of a photo I'm afraid, but it gives some idea of the fireworks.
I can't give any greater praise than to say that this show comes close to being as good as the greatest Disney show of all time, Reflections of Earth.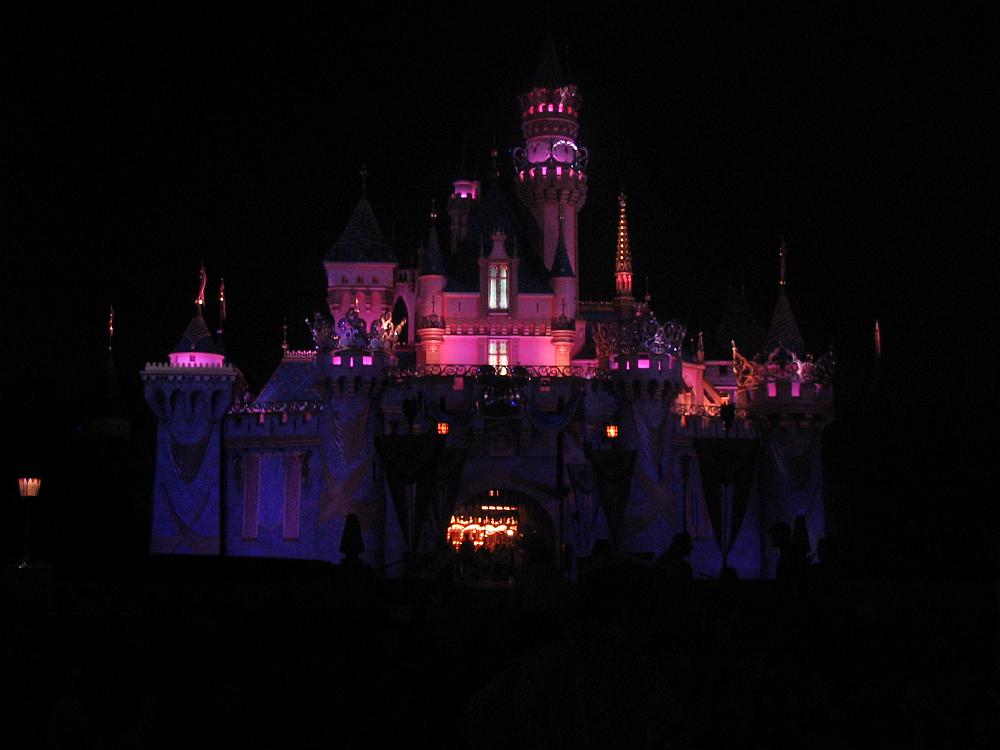 Sort of before, during and after shots of the castle.
After the show we fight our way through the crowds to try and get a view of the second Fantasmic show. In the end we have a reasonable spot only spoiled by a tree blocking our view of some of Tom Sawyer Island. At least we get to see the Columbia and Mark Twain close up.
It's now close to 11.00pm, but there's no thought of leaving yet. Georgia suggests the Haunted Mansion. This proves to be a good idea as there is very little wait and everyone in the stretch room obviously knows the ride very well as we all recite along with the creepy narration and scream when the lights go out.
Pirates is next, another walk on.
We are now set to leave the park, but we can't resist dropping into the Jungle Cruise as we walk by. I'm not sure I've ever ridden in the dark before and it's more atmospheric, the guide is excellent and this helps as well. He asks where we're from, when we tell him he says that we speak very good English for people from a foreign country.
One thing I've never seen before on this ride is an attack by a shoal of piranha. There's always something new to unearth.
It's now midnight and the attractions are closing, but there's nothing to stop us dropping into the bakery to enjoy cookies and coffee before we leave though. Sitting in the same little courtyard that we ate in earlier today we chat away for a while. Sitting and talking on Main Street at night, the perfect end to a perfect day.
Everything has fallen into place superbly. We managed to fit in loads of rides thanks to our early arrival in the park and the evening's activities have been wonderful. The crowds have been large, but manageable.
One of those days you never forget.