DAY 1 - THURSDAY 2nd DEC 2004
OK. How do I start to explain this one? Twice in one year!
It all began after we had returned from Florida in June. Tam had plans for a week away with just her and I (children to be left at home) on a Greek island in September. This seemed all well and good until we went to some friends house for a meal at the end of July. These friends (Deb and Matt) are big Florida fans and had just returned from a couple of weeks in the sunshine state.
Over much good food and drink I happened to mention that I had seen an amazing price for the 4 night Disney cruise in December. At this point Deb's eyes spring open in anticipation and she is hooked! With Tam semi-comatose on the sofa after too much sangria, Deb, Matt and I hatched a cunning plan with the aid of some surreptitious use of the internet, and the dirty deed was done.
By the time Tam came to in the morning, it's a foregone conclusion, 8 nights in Florida in December including a 4 night Disney cruise. A week in Skiathos is a distant memory, who needs all that moussaka and ouzo anyway? Of course, this still meant the children staying at home, but Granny and Grandma would provide them with a loving environment, while the promise of presents on return sweetened the pill.
So we posted our plans on the DIS boards and another couple of friends (Mandy and Mark) decided that they would like to join us on the cruise as well. Now Tam and I had met Mandy and Mark when we joined them on their honeymoon for a 7 night cruise in 2003. This was purely coincidental; I do not make a habit of spying on people on their honeymoon. Although there was that time when I hid in their stateroom and watched as they ……. er.. well perhaps I better not go into detail. Let's just say I have the evidence on videotape and I shall be revealing all to the world unless I receive a crate of Boddingtons in the post within the next week.
Anyway, they decided that they would like to join the party and so the 4 became 6.
The planning then began in earnest. Mandy and Mark invited us to share their villa for a couple of nights before we all leave for the cruise.
Back in WDW, Deb, Matt, Tam and me will then spend one night at the Boardwalk Villas in a 2 bedroom unit before moving to the Contemporary for the last 2 nights. Why the Contemporary? Well, this part of the planning was left to me and I was supposed to be booking the Wilderness Lodge, but when I rang up there was no room left at the special rate we were after. The nice lady suggested I book the Contemporary using Matt and Deb's Annual Pass rate, so I did. Now, considering both Deb and Tam had told me on several occasions that this is the one place on site that they wouldn't want to stay, this was perhaps not the wisest decision I have ever made. Still, what's done is done and everybody got used to the idea of spending some time in the giant concrete air raid shelter.
So, four and half months later we are ready to go.
A word about the people involved:
You should know all about me and Tam by now.
Deb and Matt are Disney friends who live about 25 miles away and we meet up every now and again to discuss our past holidays and future plans. At a guess I would say that Deb is about 33 years old and Matt looks rather ancient in his mid 40's. It's all lies of course, but it will antagonise Matt, so that's a good enough reason for making it all up.
As I mentioned, we met Mandy and Mark on their honeymoon and have got together at several DIS Meets since.
If I am being honest about ages, it would be fair to say that none of us are in the first flush of youth, but neither are we geriatric yet. I retain my youthful good looks by a steady diet of beer and raw lambs testicles every morning. The beer is better.
The morning of the start of the holiday arrives and we set off for work where I have a meeting to attend before finishing at midday. Tam is due in to work at 9.00am, but I get a call from her at 9.10am to tell me she popped into Tesco to get a few things, jumped back in the car and the key won't go in the ignition! As we are driving up to Gatwick in this vehicle, this is not the best of news. I show true pressure under fire by shouting such things as 'How the hell are we going to get there now?' and crying like a girlie, before Tam rings our local garage who manage to fit a new ignition for us in double quick time.
Deb and Matt arrive at 2.00pm; we pile the suitcases into the car and are off. The journey up to Gatwick is pretty uneventful and we arrive at the airport around 4.15pm. Matt and I drop the ladies off at the South terminal and then park the car.
We are using Virgin's twilight check-in where we once again fail to get our pre-booked seats. What a complete waste of time this system is.
Over to the Travelex desk to pick up our currency that we have ordered. Now Mark and Mandy are already in Florida and had posted about a problem they had with Travelex. You have to produce the same credit card that you used to book with in order to get your money. Mark had left that particular card at home and had to return all the way to Reading to get it.
Chuckling to ourselves as we approach the Travelex desk, we are asking each other how anyone can be so daft that they don't bring the right card with them? I hand over my details along with my passport and credit card. 'I'm sorry Sir, but this is not the card you booked with.' DOH! Luckily, the nice lady lets us cancel and have the money refunded to our account.
Over to Le Meridien where we are spending the night. A quick trip to the room to drop off the hand luggage and then straight to the bar. They have a sign up telling us it is happy hour. Matt gets the drinks in, a pint of Caffrey's, a pint of Guinness, a red wine and a white wine comes to £11. Lord knows what it would be if it wasn't happy hour.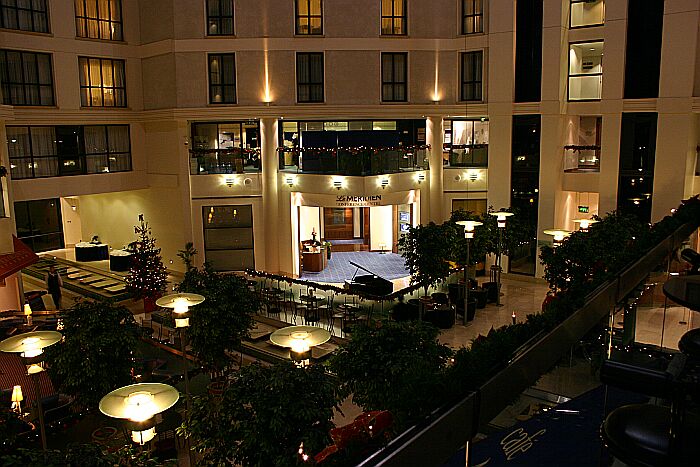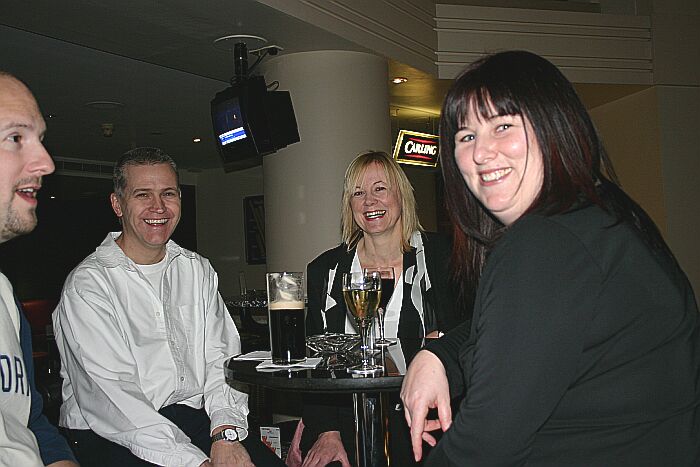 We're only drinking to be sociable. Honest!
Matt and I have a few games of pool. Modesty forbids me from telling you who wins. Oh, to heck with modesty – I win 3-0.
We start chatting to a guy from Oklahoma called Bobby, who tells us he is on his way to work in the oilfields in Algeria. Being ignorant of these things, I didn't even know Algeria had oilfields. Bobby is very generous and insists on buying 2 rounds of drinks. He's my best mate, Bobby.
Saying a sad farewell to Bobby (it's always sad to leave a man that's buying you booze) we wobble down to the brasserie style restaurant for something to eat. Both Tam and I have the Chicken Caesar Salad, which is nice if a little overpriced at £12.
A nightcap is now called for, so we move next door to the bar. The alcohol is now starting to take effect and the conversation deteriorates alarmingly. I won't go into details, but at one point the topic of discussion involves a hosepipe, a funnel and Matt's ability to pass wind. Work the rest out for yourselves.
Drunk? How dare you!
At this point it seems to be prudent to call it a night before things get really out of hand so we all traipse off to bed around 11.00pm.