DAY 2 - FRIDAY 3rd DEC 2004
I wake at 5.00am. Tam says she's been awake since 2.30am. I express my sympathy by rolling over and going back to sleep. At 6.30am we both get up. Truth is we both have slightly bad heads thanks to Bobby's oil dollars the night before.
Just after 7.00am we head down to the health club for a swim and to sample the sauna and steam room. The pool is small, but pleasant enough and the steam room is … er …. steamy.
We meet up with Deb and Matt at 8.30am and check out of the hotel. Breakfast is taken at Frankie and Benny's in the South terminal. Properly nourished, although still nursing sore heads, we go through to the departure lounge.
We all split up and wander round and I take a seat and catch up on my trip report. Strangely, Tam doesn't buy anything. She really must be off colour. I get some aftershave and it is soon time to head off to the departure gate.
We sit and wait to board and have a communal whinge about the people who block up the entranceway to the plane as they stand around waiting their turn to board.
We clamber aboard the flight on time and settle in only to be greeted by the dreaded flight delay announcement due to fog and heavy traffic.
We eventually take off 1.5 hours late.
The first film I watch is The Manchurian Candidate. I thought this was an excellent film, if a little far fetched. Denzel Washington is always watchable.
During the films we have lunch, which is an instantly forgettable beef pie.
The second film is Shark Tale. Enjoyable enough, but not a patch on Finding Nemo. It tries a bit too hard to be trendy and I don't like the way they just throw big names in to do all the voices. I really don't think this adds much to an animated film.
The last film is Sky Captain and the World of Tomorrow. Now this is just strange. Set around the late 30's it features Jude Law and Gwyneth Paltrow battling robots and flying machines. The whole tone is quite 'arty' with sepia tones and greys abounding.
We land at 4.30pm, around an hour behind schedule. Getting through the airport is a breeze; even the finger printing and photo taking at immigration go smoothly. 45 minutes after getting off the plane we are in the car and on the way to the villa Mark and Mandy are staying in.
Just after 6.00pm we arrive and are greeted by Mark who has the beers chilling nicely.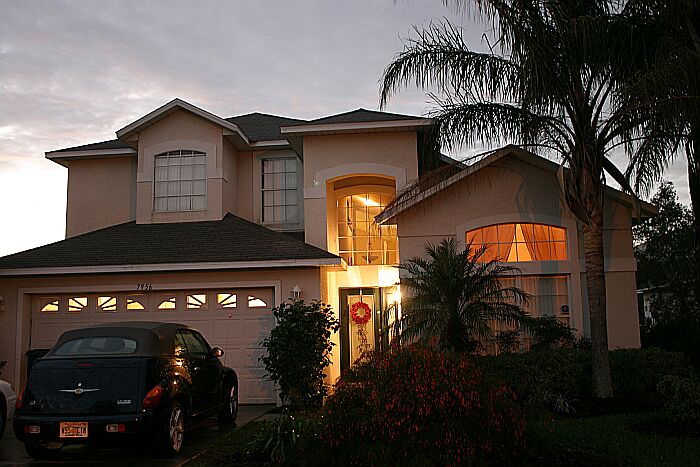 We are given the grand tour of the villa (which is lovely) and Deb and Matt graciously allow me and Tam to have the spare en-suite master bedroom. Actually Deb graciously allows us to have it, Matt grumbles, but is told to shut it by Deb.
Take out is called for, so Mark, Matt and I drive down the road to the Outback Steakhouse where Mark places the order then joins us in the liquor store and supermarket to satisfy the drink requirements. Matt is keen to buy a bucketful of margarita mix. When I say 'a bucketful' I mean it! It is literally a bucket. Matt is sadly disappointed when he reads the instructions and finds that you have to refrigerate for 8 hours before drinking. 8 hours? It will be lucky to last 8 minutes when this lot get stuck into it.
Beer, tequila and food safely aboard, we return to the villa.
Tam has pork chops and the rest of us have steak in various forms. My meal is fine if a little basic, but Tam enjoys her chops and seems to gain an almost erotic pleasure from the garlic mashed potatoes. Beats the normal routine of chocolates, flowers and an expensive meal, just gift-wrap some garlic mashed potatoes.
A couple of beers later and it's time for Matt and I to re-new our sporting challenge with a few games of pool. Truth be known, neither of us could be put in the 'expert' category, more the 'by heck, they're flippin' useless' category, but we have fun and Matt gains his revenge from last night by trouncing me. I'll be back!
Everyone drifts off to bed and Mark and I are left on our own to chat until 10.15pm when I finally turn in.