DAY 3 - SATURDAY 4th DEC 2004
I wake at 3.30am and then doze on and off until 6.00am. Tam has disappeared off to one of the spare bedrooms as she has been tossing and turning and doesn't want to disturb me. I go off to see where she is, but it's still dark as I open the door to the room I think she's in. All I can see is a rounded shape in the bed. At this point I decide to proceed no further as a rather nasty thought has occurred to me. What if one of the other ladies has had the same idea as Tam? I can't be sure, but I don't think that clambering into bed and snuggling up to either Deb or Mandy would be conducive to engendering a happy living environment this early in the holiday. Still, it could be worse. If Matt or Mark were the shape in bed…. that could be misconstrued entirely!
Everyone is up and about around 6.00am and we arrange the day's activities. Mark and Mandy are going shopping and the rest of us are going to the Animal Kingdom.
By 7.30am we are out of the door and heading for Walmart. Tam wants to get some Christmas presents for the girls and other gifts to make up for the fact that they are left behind while their horrible parents are enjoying sunny Florida. Except it isn't. Sunny that is. The forecast today is for 68°F and cloudy. That doesn't stop us from wearing shorts though.
Shopping done we are at the Animal Kingdom entrance for 9.00am opening.
We head for Kilimanjaro Safaris where the wait time says 5 minutes, but people are queuing out to the entrance. We get Fastpasses and go to Tusker House for breakfast instead. Scrambled eggs, potato and bacon are very welcome along with large coffees.
Kilimanjaro Safaris follows where we see lots of hippos wallowing around, but no animals on the plain area. Just goes to show that every ride is different.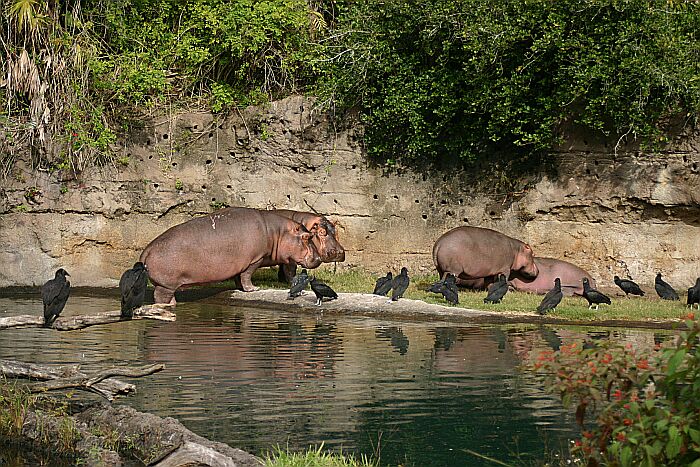 Next is Tough to be a Bug where we sit in the back row and this gives a different view to normal. I didn't know there were so many spiders!
Over to Dinosaur. As we wait for the ride vehicle I notice that I am on the outside of the row. When I mention this, Deb calls me a chicken and goes there instead. Tam then says she doesn't want to be on the outside, so I end up going from the front right to the front left! That's ok, I'll be a brave little soldier (whimper).
Having survived Dinosaur with only a small amount of crying, we walk around to Tarzan Rocks, which is just about to start. This is a good show, but as Tam points out, the original music is much better than the rock version they perform.
We walk past Expedition Everest, which is growing rapidly. It looks like there is going to be at least one very steep and fast drop.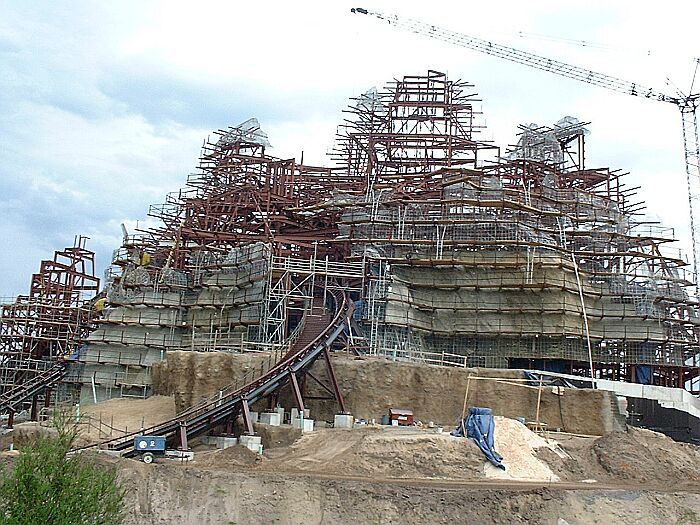 It's not getting any warmer, Tam has had goose bumps all day and now her hands are starting to turn purple. Matt shows his customary concern and tact by calling her a wimp.
The Festival of the Lion King is next and we just make it in before the doors close. We hear one CM say that they have let too many in as there people stood all around the outside.
It is now 1.30pm and time to leave the Animal Kingdom as the ladies want to go to the Mall at Millenia. You may have noticed that there is far too much shopping related activity for my liking! My spirits are briefly lifted when I'm told they have a Victoria's Secret and then dashed when Matt points out that the attire here is not actually modelled by real women. Oh the inhumanity of it.
Everyone goes off to enjoy the dubious delights of shopping, so I grab my trusty notebook and spend an hour writing up my trip report.
As I sit and write, there is a lady playing the piano. Christmas music of course. I've only been here 2 days and I'm fed up with Christmas music already. I wish I had the courage to go up and slam the piano lid down on her fingers. Now will you stop playing Jingle Flippin' Bells!
We meet up with the rest of the gang at 4.00pm in front of the Cheesecake Factory. Mark has already booked in and we have 40 minutes or so to wait.
We pass the time chatting and watching the world go by. Deb catches me watching a particularly attractive part of the world go by and looks at me accusingly. I tell her that I'm looking at the young ladies shoes. She doesn't believe me and with good reason. Some of these ladies seem to have very big shoes.
Into the Cheesecake Factory we go. The food here is very good with a huge menu. Tam has an enormous burger and I have the Chicken Madeira, which is chicken in a Madeira sauce, covered in cheese and mushrooms. Very nice. I am driving today, so Mark and Matt enjoy 22oz beers while I stare forlornly at my Coke.
Cheesecake is ordered to go and the bill for the 2 of us comes to $50 including a good tip for an excellent server.
Back at the villa Deb and Matt open a bottle of champagne they've bought and the beer and margarita's flow.
Many games of pool and table football follow. I'm not sure if there is any clear winner, but, to my eternal shame, I am beaten at 9 ball pool by both Tam and Deb. Matt chuckles quietly to himself.
As the evening wears on everyone gets rather merry. That's the subtle way of saying we are all completely plastered! Things really start to go downhill when a picture of a little white pussy catches the ladies eye. The men look on disapprovingly as the ladies proceed to get smuttier by the minute with sexual innuendo to match any Carry On film. And they call them the fair sex?
Deb's prowess at pool is particularly impressive. The ladylike way she sprawls across the table to attempt a long pot will live in my memory for a very long time.
We all stagger off to bed at 11.00pm.