DAY 4 - SUNDAY 5th DEC 2004
I wake at 2.45am, but manage to go back to sleep until 6.00am. We are off to the cruise today, so Tam and I are showered and packed by 7.15am.
A quick coffee and we are leaving the villa by 8.00am. We stop at the supermarket to pick up bagels and cream cheese for breakfast and then we are on our way. The drive to Port Canaveral is reasonably short and goes quickly as the weather is beautiful, sunny skies and a forecast for temperatures in the mid 70's today. In fact the forecast for the next few days is excellent with mostly clear skies and temperatures into the 80's. They are saying on TV that it is close to October weather.
At the port we meet up with Mandy and Mark. We are there quite early, about 9.45am and the routine for getting into the drop off zone is a little confusing. We have to park in the day parking zone and wait for the terminal to open before dropping off the luggage. We then park in the long term car park before walking across and entering the terminal.
We all check-in at separate desks, but our lady is the most efficient (bless her little cotton socks) and Tam and I walk through the queue area right to the very front. We are first in line! Deb, Matt, Mandy and Mark are close behind and Deb is really excited that we will be first on the ship. She is seen skipping along the queue line. You gotta love this woman.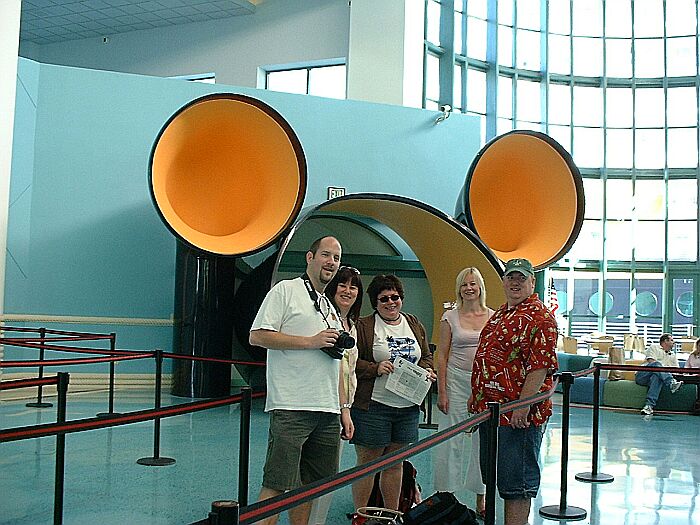 There are many Mousefest people around and we have already met Ray Sharpton who has been posting a countdown to the cruise on the DIS boards.
The Wonder is looking beautiful, but is dwarfed by the Mariner of the Seas that is moored alongside. Proof positive that size is not everything. She may be a little smaller, but she's far more impressive than the huge white creation next to her.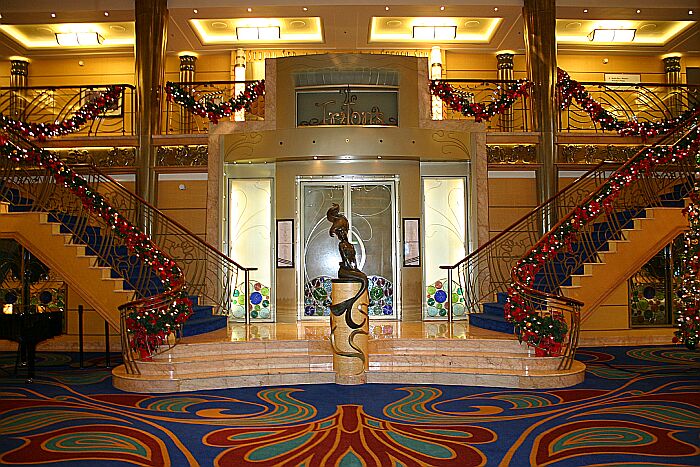 Atrium
We board just after midday and are told that Palo reservations open at 1.00pm, so we head to Parrot Cay for lunch. The buffet is Italian themed and is very good. The food ranges from salads and cold meats, through hot foods such as ham and beef stew, ending with copious desserts. I finally admit defeat with the White Chocolate Mousse. A beer accompanies and the cruise has started on a high note.
Ressies for Palo are made next before going to our stateroom on deck 2 at 1.30pm where our luggage is just arriving. We are in room 2101, a category 10. The room seems no different in size to the one on our last cruise, except no verandah of course.
We quickly unpack and it's up to the adult pool to enjoy the hot tub and a cold beer. It's here that Matt hatches a cunning plan to drink the Wonder dry. He may not succeed, but he'll have fun trying.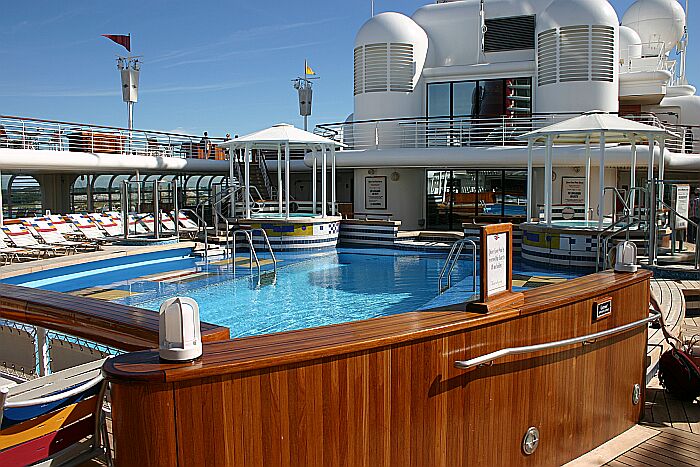 That's how we like it. None of those annoying people around.
Mark has surprised Mandy with champagne in their stateroom and the gift of an eternity ring. This has let the side down considerably as Matt and I now have to suffer the accusing glances from Deb and Tam as we have not had the forethought to provide such a lovely gift. I try to placate Tam by offering a night of hot passion with yours truly instead. Strangely, this does little to improve her mood. Woman are a constant puzzle to me.
The life boat drill is at 4.00pm and Tam and I go to our muster station on deck 4. it doesn't take too long and we are soon heading off to deck 10 to meet up with the rest of the gang for the sail away party. We stay away from the rowdy goings-on by the family pool and instead settle for a couple of Bahama Mama's each as we slip away from the port.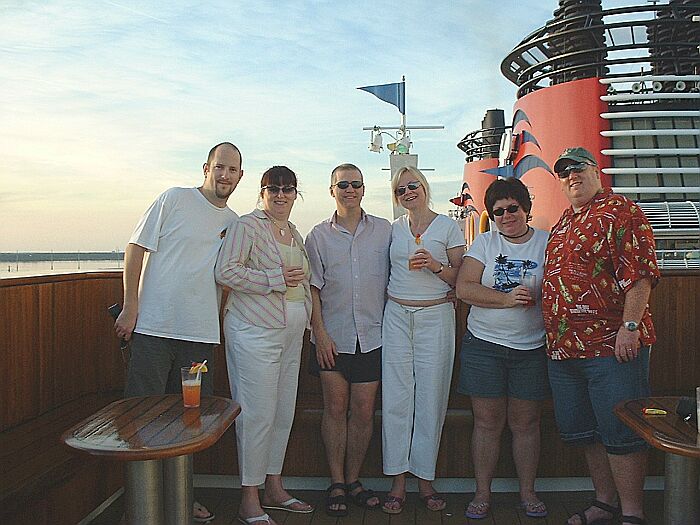 The sun is going down and it's getting much cooler so we go back to the room for swift showers before the Hercules show at 6.30pm.
A beer is grabbed on the way into the Walt Disney Theatre and we get an introduction from the cruise director (a strange, over the top lady) before the show. We are all suitably under-whelmed by Hercules. I remember not enjoying it much on our last cruise, but it's worse this time. I dislike all the modern 'in' jokes, while Pain and Panic are a real pain and the only panic is the thought that it might never finish. I don't think we are the only ones that feel this way as the audience reaction is fairly flat.
After the show Mark and Mandy invite us back to their stateroom where they crack open the champagne and we toast to a happy cruise.
It's now time for dinner and tonight is Animators Palate. We are shown to our table (34) and are disappointed in its position. We are against a wall and directly behind one of the server stations, which means our view of the restaurant is mostly blocked. You do get a lovely view of the rear of the server station with all the cutlery etc.
Our servers are Gede and Thabang. Gede says we can call him anything, so Matt says 'Ok Dave'. Dave it is then.
I have the Duck and Goat Cheese Flat Bread to start and this is excellent. My main course is Parmesan Veal Chop. I was expecting a thin escalope type of thing, but this is an inch thick chop and is very good. A glass of Wolf Blass Cabernet Sauvignon rounds things off nicely. We have desserts, but are too full to eat much of anything. And the bill for that lot? Nothing! (Except the wine). That's one of the great attractions of cruising.
Poor Deb has been struggling to keep her eyes open all meal, she is out on her feet, so we say goodnight after the meal and the 3 couples go their separate ways.
Tam and I go to the Cadillac Lounge where I have a last beer of the night and Tam gets a café latte. The lounge is a very relaxing place with comfy chairs, cool ambient lighting and a lady playing the piano. It's almost too relaxing as Tam's eyes start to slowly close. Time for bed.
I can't help comparing this first day of our cruise with the first day of our last cruise. This has been much more laid back. On our first cruise we were rushing around trying to see the entire ship. Relaxing by the adult pool is a much nicer way to start the cruise.