DAY 1 - THURSDAY MAY 27TH 2004
Now, in my report the last time 'the mothers' came with us I referred to Grandma (Dorothy) and Granny (Julia) which caused some confusion. Therefore I propose to change that this time round with Grandma to be called 'Grandma' and Julia to be called …… er…. Julia. Genius eh!
So, after seemingly endless waiting the first day of our holiday is here. Both Tam and I have to work until midday, but there is plenty to do to get things in order and the time passes quickly.
Back home there is time for a shower before the last few things are thrown in the suitcase. I collect Grandma and Julia and we are ready to go.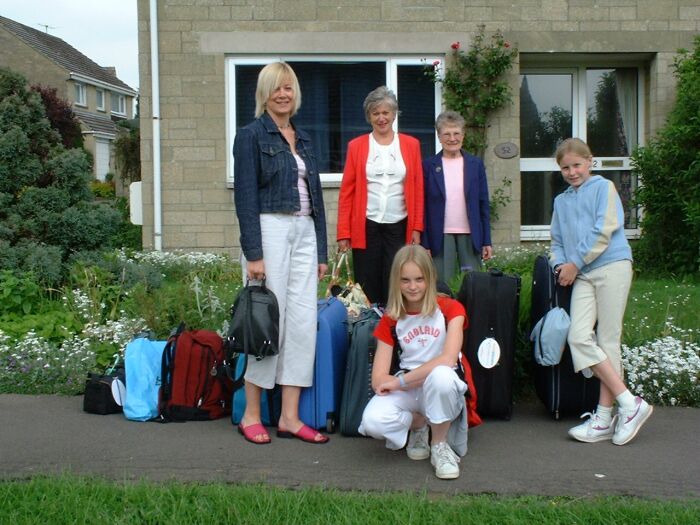 A friend of ours runs a mini-bus service and he is giving us a lift to Cirencester where we are catching the National Express coach to Gatwick via Heathrow.
Mike (my friend, despite being a Bristol City fan and therefore having no more right to walk upon Gods green earth than a weasel) turns up on time and the long journey begins.
A quick 15 minute ride to Cirencester and we wait for the coach. Now Cirencester is the last pick up point before Heathrow, which is good in that we have no further stops to make, but bad as the bus is packed. We cannot sit together and are dotted around like so many lost souls.
The last time I took a coach to the airport was 18 years ago when we flew out to Tunisia on our honeymoon. In those days we had a film and a lady coming around with beverages. All that seems to have gone, a victim of cost cutting I guess.
So, I'm sat here wondering how to pass the time and hit upon the brilliant idea of writing up my trip report and sharing my boredom with the world! 'If you can't beat 'em, bore 'em' that's my motto.
To be fair, everything runs to time and we arrive in Heathrow for our change of coach at 4:40pm.
We now get a bit of luck as a link coach to Gatwick pulls up just as we arrive at the bus stop. Straight on and we are off. Talk about a contrast! From a packed coach we are now the only ones aboard apart from a chap snoozing away right at the back.
The traffic is pretty heavy around the M25 and it takes a while to get to Gatwick, but we aren't in any hurry. I've quite enjoyed the coach journey overall. It certainly is quite easy when moving luggage around.
We arrive in Gatwick just after 6:00pm and head off to the Virgin twilight check-in. This is practically empty and we are soon in front of the lady who reviews our tickets and promptly tells us 'Sorry, we don't have your pre-booked seats'. What's new? To be fair, she is very nice and we discuss the situation with her. She arranges for us to have two rows of three behind each other and I am happy with this. I know I've complained about this before, but they really should scrap the pre-booked seats scheme, it just does not work.
Next is a stop at the Travelex desk to pick up our travellers cheques and currency. Whoever has gone before us has spilled wine all over the counter. Tam thinks it smells quite nice and it takes 3 of us to hold her back from lapping it up off the floor.
Check-in at the Hilton is next and this goes smoothly. If you read last years report you will know my views on this place. It is fine and the location is wonderful, but I still prefer Le Meridien.
Overnight stuff dropped off in the rooms we head off to Frankie and Benny's for supper.
This is a very reasonable meal. Food stuffs include pizza, spaghetti, pasta, Scilian something or other and chicken thing-a-me-jig. You may feel this to be a little vague, but I do remember the couple of pints of Stella Artois being very nice.
The walls of Frankie and Benny's are adorned with old black and white photographs. One is of a boxer with rather skimpy shorts. Tam looks at it and asks 'What is that poking out of his underpants, a Gremlin?' Now at first this may seem a slightly strange question. To be fair, even at second. I can't see what the heck she is on about. I must admit that I have never had the pleasure of seeing a boxer in skimpy shorts with a Gremlin stuck down them, so she may be anatomically correct. But it still looks like a tattoo to me.
Moving swiftly on …. Meal over we head back to the Hilton where we I enjoy a beer. The ladies all decide to retire at the ungodly hour of 9:30pm!
The one bright spot is that there is a piano in the reception area and the ladies have been wishing that they could hear it being played. 2 minutes after they disappear to bed a gentleman appears and starts to produce some very pleasant background music for me to listen to. With a faintly satisfied smug grin I write up my trip report before heading to bed at 10:45pm.