DAY 2 - FRIDAY MAY 28TH 2004
The night in the Hilton passes relatively uneventfully except for a rather loud gentleman who sees fit to stand outside our door talking at 4:00am. Sometimes I wish I had a God like power. Bzzzztttt …. You're gone. Obviously I would use this power sparingly, but loud obnoxious people, Bristol City fans and those that worship the false God Universal could well find themselves on the receiving end.
We get up at 6:45am and head off for a dip in the pool, hot tub and sauna. We decide to eat breakfast in the airport as the Hilton want £18 for a cooked breakfast. You must be joking. I'd want it served by a topless waitress for that. Mind you, that could cause a nasty accident with all that hot cooking oil around.
We first try Pizza Express, but they seem to be out of nearly everything we want, so end up back in Frankie and Benny's again. The breakfast here is fine and costs £20 for the 4 of us, although the girls only have Danish pastries. It also gives Tam the opportunity to have another look at Gremlin pants. I hope the claws aren't sharp.
Back to the hotel where we check out and then meet up with some old friends of Julia's. A pleasant hour is spent chatting before heading back to the airport.
I then park myself (along with the hand luggage) on a seat while the ladies disappear off to the shops with a hungry look in their eyes.
This is obviously grossly unfair, but as I am viciously outnumbered by women I feel it prudent to keep my big mouth shut and allow them their head.
It's like watching a well oiled military unit in action as they yomp from one store to another. Monsoon, check. Accessorize, check. Boots, check. All present and correct, Sir!
Through to the departure lounge we go for the duty free shopping. Tam is as indecisive as usual when it comes to the choice of perfume. She really ought to just stick a pin in a list. I plump for Burberry London and Burberry Touch. Hey, if I'm going to look good I might as well smell good too!
The flight boards on time and we are very happy with our seats, just 3 rows back from the door by the galley and stairs to upper class. Probably the closest I'll ever get to it.
Georgia has taken a travel sickness tablet and this knocks her out for the first couple of hours. This is both good and bad. Good for Georgia, but bad for my legs as she is resting her head on me. For some reason Georgia has taken it upon herself to be very cuddly with me at the moment, definitely a Daddies girl. This will probably last until the next time she gets told off.
The first film is School of Rock and it certainly does. Not subtle and hardly original (off the wall teacher inspires bored children) but very entertaining and absolutely my sort of music. Shallow is my middle name.
The food is pretty unremarkable, but the time goes reasonably fast with the second film being Peter Pan and finally Against the Ropes.
I seem to find these flights easier than I used to. I time them by the number of films. After the third film I know there is not long until we land. The flight touches down at 5:45pm and from there things do not go quite to plan.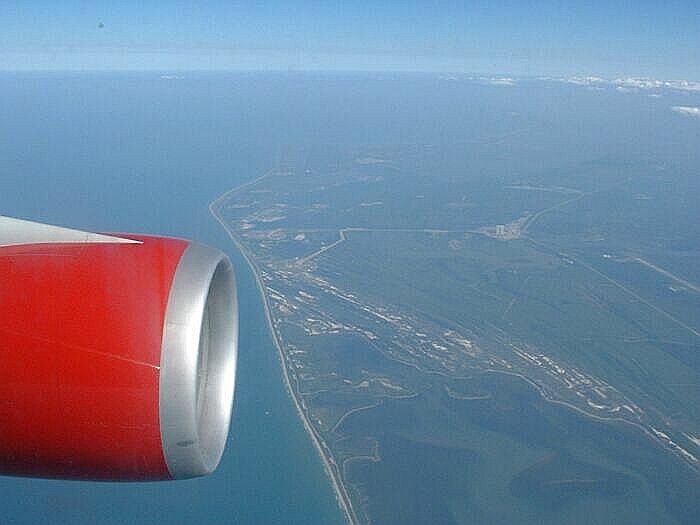 See that little blocky thing? That's the vehicle assembly building at the Space Centre
Firstly there is a plane still at our gate and we have to sit on the tarmac for 20 minutes while the other plane clears. This is no big deal as we clear immigration quickly and then wait for our first baggage pick up. The luggage eventually comes, but just as we are ready to move to customs Grandma announces that she can't find the required form. She had it when she came through immigration, but now it is missing. Hand luggage is rifled through, pockets searched and many a dark glance is directed at poor Grandma. Eventually we decide to cut our losses and throw ourselves on the mercy of the customs man.
We approach him and I start to explain about the lost form. He asks me for the name on the form and when I tell him he says 'Yeah, I got it here. I figured someone would come looking for it eventually'. Doh! Grandma is reprieved and the knuckledusters are put away.
The second baggage collection and the paperwork at the Alamo desk are dispensed with in reasonable time.
The next hold up is in the collection of our 8 seater mini van. We are told to go over to the garage and take our pick. Yeah right! Chance would be a fine thing. There are none left. Another 30 minute wait for one to turn up and when it does it is rather disappointing. It is nice enough, but considerably smaller than the one we had with Dollar a couple of years back. It is a squeeze to get 3 suitcases in the back and this means the other 2 and all the hand luggage has to ride with the passengers. Just as well we got an 8 seater for the 6 of us.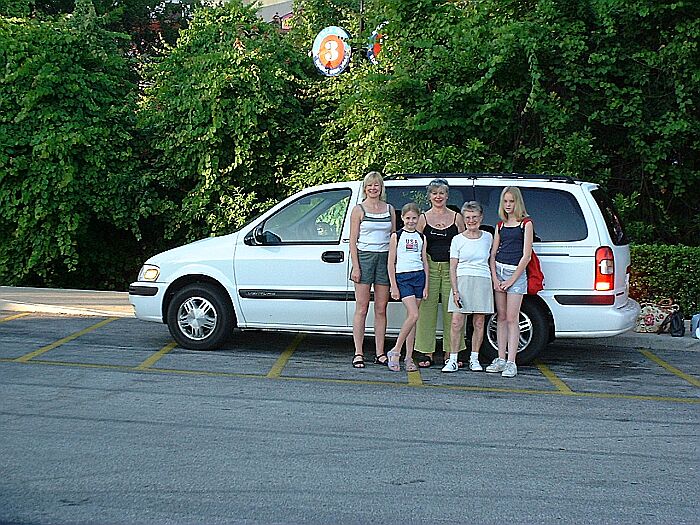 Eventually we set off and after a couple of wrong turns we end up at the All Star Music.
It is now 8:45pm and the check-in queue is quite long. 20 minutes later we reach the front of the queue. We have booked (and paid for) two preferred view rooms. At first we are told that we can have 2 rooms in the same block, but not adjoining. No problem with that. Then, after a looonnnggg phone call, we are told that there are no preferred rooms available. I ask the girl why this is so when we have booked (and paid for) the rooms months ago. Shouldn't they be reserved in the system? This is met with a shrug of the shoulders. We are then offered 2 rooms in Rock, non-preferred.
By this time we are tired and fed up and just want a room, so we agree. I even have to ask for the difference to be credited back. At no time are we offered an apology or explanation. Not at all Disney service.
By this time the ladies are in favour of :
1) Asking for the manager
and
2) Punching Jazmin's lights out.
Fortunately I manage to dissuade them and we head off to the rooms, which are perfectly adequate as we are only staying one night.
All I really wanted was an apology. Just explain why and say sorry and I'm a happy bunny. As it is I will see the manager in the morning if we have time, if not I will be writing Disney a letter.
From touching down in Orlando airport to arriving in our hotel room has taken 4 hours. A record for us and one I hope we will never break.
We finally get something to eat at the food court, the girls get a swim and I get a couple of beers.
Not the relaxing start we had planned for the holiday. Tam and I thought we would book the first night at the All Stars as everything we could want would be there and the girls could swim while we relaxed to recover from the long trip.
Oh well, stuff this negativity. I'm on holiday in Florida and it's all going to be wonderful from here on.