DAY 3 - SATURDAY MAY 29TH 2004
The usual Florida first night ensues.
Wake up at 1:30am. Fall asleep. Wake up at 3:00am. Doze on and off until 4:30am when Tam and I get up and shower as quietly as possible.
The girls stir around 6:00am and we can already hear the mothers next door. We gather all our things together, load up the car and are ready to hit the road by 7:30am.
First a stop at Guest Services is required where we attempt to complain about the previous evenings problems with the rooms. I say 'attempt' because the woman doesn't want to listen any more than the last one. When we explain what happened all she says is ' Well, we were very busy last night'. Once again, no explanation or apology.
By this time I am fed up with the whole of the staff at the All Star Music and just want to get the hell out of there. The whole episode has really shaken my confidence in Disney's ability to provide excellent customer service. It may be unfair, but I expect Disney to not just match everyone else, but to exceed them. Hopefully I won't be too lazy to fire off a letter to the manager of the All Star Music when I get home.
We set off for the Crossroads and go to Perkins for breakfast. At last our faith in the standard of American service is restored when Pat turns out to be an efficient and friendly waitress. We've never eaten at Perkins before, but find the breakfast very good. I have an omelette while Tam has Eggs Benedict and the girls devour French toast and strawberry pancakes. With coffee and orange juice the bill comes to $38 including a hefty tip as we are pathetically grateful that Pat didn't throw the food at us from a great distance.
We are heading towards Captiva by 8:45am. We have decided to drive about ¾ of the way across country rather than down the interstate. This proves to be a good decision as the roads are better than I thought they would be with most of the speed limits at 50mph or above. It isn't the prettiest drive, but it's quite interesting as we pass through lots of little Florida towns.
We have chosen to check out Naples as we haven't been there before and arrive around lunchtime. I must say I really like this place. The beach is as stunning as many Gulf Coast beaches, but it is really the town that catches the eye. It is fashionable yet quaint with a slightly 'arty' feel due to a large number of antique shops, art galleries and upmarket boutiques.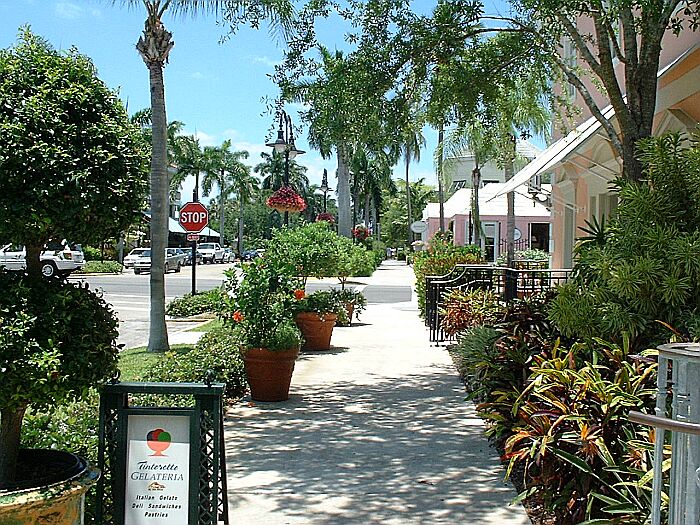 It's remarkably quiet for a Saturday afternoon and a gentle stroll is the perfect tonic to a long drive. We get subs and a coke from an Italian deli and sit down in a little courtyard to enjoy them. They certainly enjoy their fountains in Naples as you seem to come upon one every few yards.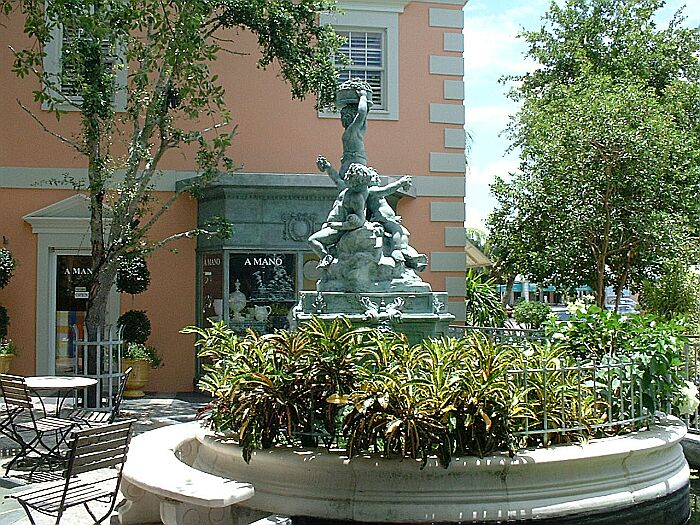 Back to the car and we drive through Bonita Beach and Fort Myers Beach before stopping at a Publix to stock up for the week ahead. By the time we have added the pile of provisions to the luggage and pile of bodies in the car there ain't much room left!
By the way, I thought Fort Myers and Bonita Beach were fairly typical Florida resorts. Wonderful beaches fronted by large high rise hotels interspersed with areas of very expensive beach front housing. Nice enough in their way, but a real contrast to what we have ahead on Sanibel and Captiva.
As we cross the causeway and enter Sanibel I am once again struck by its beauty and lack of pretension. It certainly isn't quiet driving up Periwinkle Way as there is a lot of traffic about, but the pace has changed. 35 mph is the maximum anywhere on the islands and we have already mentally (as well as literally) changed down a gear to fit in with the relaxed pace of life here.
Something like 12 miles later we turn into Wightman Lane and catch our first glimpse of the Sun and Moon House that is to be our home for the next week. Wow! It is built on 3 storeys with the bottom level housing the car park, pool and amenities room.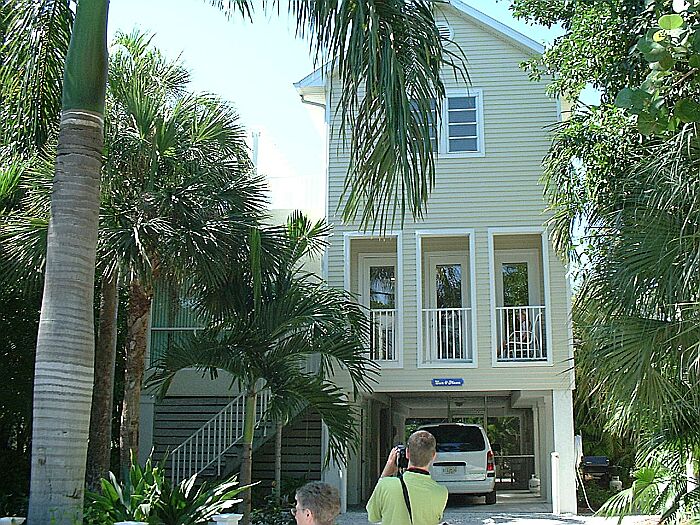 Up stairs to the main door where we enter the living room. Everything is decorated in pastel shades and there is gentle jazz music playing quietly in the background.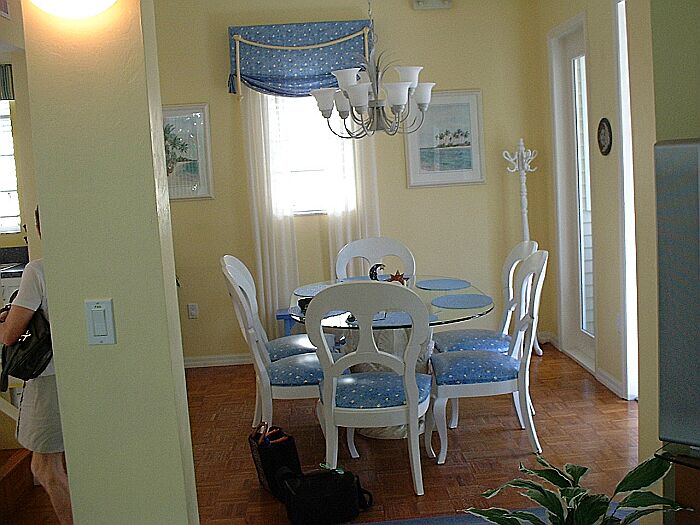 Dining room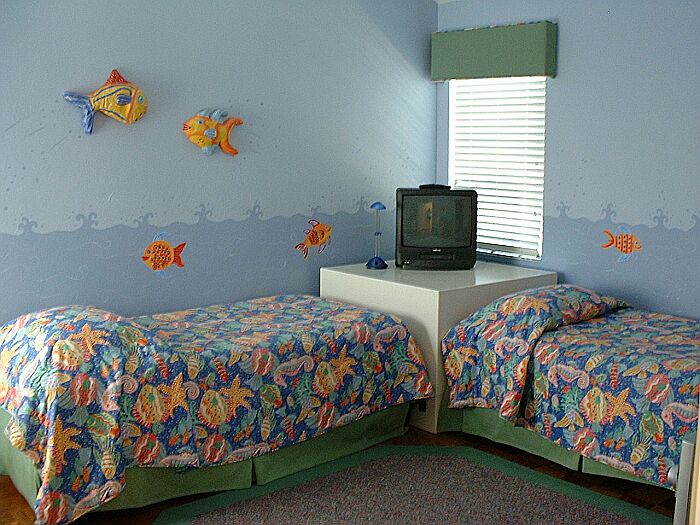 There is a twin bedded room for the mothers along with a double room for the girls.
Tam and I get the master (I know, I'm worth it) and this leads out on to the sun deck.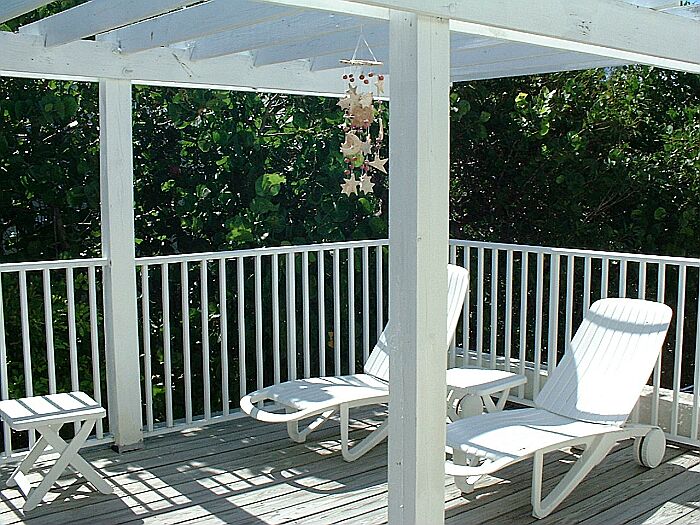 Everything we could possibly want is provided including beach towels, a comprehensive collection of beach and pool equipment and a couple of bikes.
It is really everything we hoped for and more. The only painful part is dragging the luggage up several flights of stairs, but the women leave that to me, of course. I don't know what Grandma is thinking, I offered to load one up on her back for her.
We quickly unpack and the girls head straight for the pool and I head straight to the fridge to fetch a beer. Purely for its reviving and recuperating powers you understand.
Georgia has discovered a children's charades game and persuades the ladies to play while I watch on. Things are not going her way at one point and I don't think I help by jumping in and guessing 'whinging'. To be fair, she is excellent at this particular charade.
Time for showers and getting ready for the evening. I then sit in the living room, write up my trip report and enjoy a beer while listening to Bob Marley on the excellent sound system. There is an extensive and eclectic library of CD's to choose from.
Around 8:15pm we stroll the 100 metres or so to the beach. The sun has already set and there are many people packing up to leave.
We stroll up the beach to the Mucky Duck and then up the road looking at eating houses as we go. There are a few very nice but slightly expensive restaurants that we may well try during the forthcoming week, but tonight we choose R.C.Otter's. I think I can best describe this place by telling you that the sauces are kept in old cardboard beer cartons and that there are no napkins, just a roll of kitchen paper on the table. This makes it sound terrible, but it is far from that. The décor is bright and breezy and the food is good and excellent value for money.
I have prime rib in French bread, Tam has a fajita combination, India has a sizzling steak salad and Georgia has the kids BBQ chicken sandwich. With a couple of beers and cokes the bill comes to $50, this includes a tip for 18% that is added automatically. I forgot to say that the menu is enormous, as are the portions.
At the bottom of the bill it says that, if you take the receipt to the shop next door, they will give you a free toy or trinket. Well, that's got Georgia hooked straight away. They really only sell T shirts and knick-knacks from a few of the restaurants on the island, but they also sell ice cream. I like the sound of the butter pecan and ask India if she wants to share one with me. Of course, Georgia then decides she wants one. At this point India states that it is unfair if Georgia has a whole one and she has to share. Gordon Bennett, I only wanted a bit of ice cream, not set up a major diplomatic incident.
In the end Georgia gets a strawberry ice cream, India a mango and Kev gets nothing! Typical.
By the way, this is proof that marketing works. For the price of a toy worth a few cents they have sold 3 ice creams (Julia has one as well) at $3 each.
A stroll back to the Sun and Moon and the ladies disappear to bed at 10:30pm. A creditable effort. I sit up to finish a beer and write up my report.