DAY 4 - SUNDAY MAY 30TH 2004
A minor miracle occurs this morning. I wake and look at the clock. 7:00am. Second day in Florida and I am already on local time!
The others seem to have had more of a problem as they have all been up since 5:30am. They have been to watch the sun rise.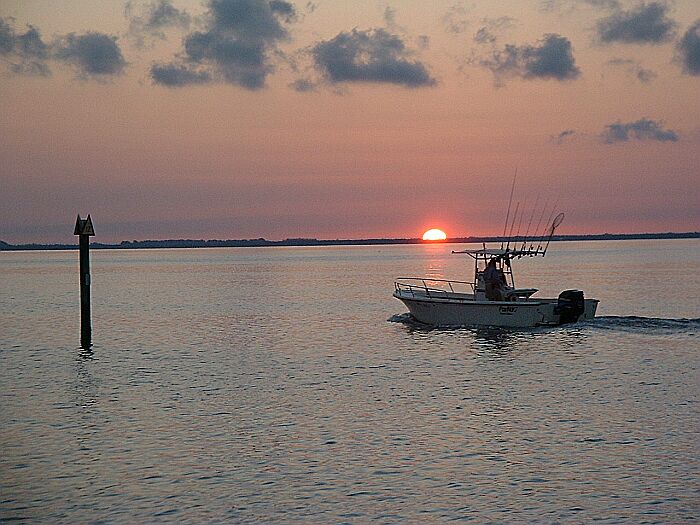 We have breakfast and then I go for a little walk around. At 8:00am there are no cars and very few people. There are some totally amazing houses on Captiva. I don't even think a lottery win would provide enough money to buy one of these places. I'll have to wait for a double rollover.
We have decided to have a lazy day today, just relaxing by the beach and around the pool.
The house has just about every piece of beach equipment you could want. This is sort of a mixed blessing as you then have to carry it all. Kev hits on the bright idea of loading up the car and driving it the 100 yards to the beach, unloading and then taking the car back. I'm not just here for my looks you know.
So beach chairs, a sun bed, beach umbrellas, lilos, buckets and spades, beach balls, towels and all the other paraphernalia are loaded then unloaded.
The beach is lovely. The sand is quite coarse and is mixed in with small pieces of ground up shell. It is backed by trees and grasses which screen the aforementioned two a penny houses. At 9:30am it is very sparsely populated and we have our part of the beach practically to ourselves.
We all relax except Georgia and Grandma who leap into the highly skilled task of sandcastle construction. The sand is not really ideal for this, but by mixing it with water they manage a very decent effort.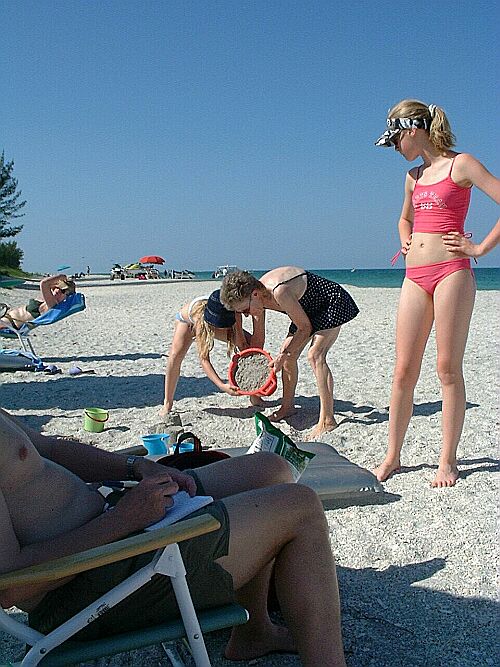 I have just realised a very serious error on my part. This is our second day in Florida and not once have I mentioned the weather. I should be ashamed to call myself an Englishman. Well, it's HOT! The forecast for today is that it will be the hottest day of the year so far with temperatures in the mid 90's. The forecast for the next 5 days is for similar with no rain in sight.
The news crew have been debating when the heavy afternoon showers will start. A pox on you Sir! May your grapes wither on the vine. You keep the rain until I leave.
There follows a couple of hours of splashing in the sea and laying semi-comatose in the sun. At one point India and I are playing ball in the sea when we notice an osprey circling overhead. He makes a couple of abortive dives before grabbing a fish and soaring off serenely into the distance.
A little later Georgia starts crying and I go to see what's wrong. She has stepped on some sort of grass that has sharp points and it is stuck in her foot. We wash it off and then I have to pull it out. She is screaming the place down. Georgia does not take pain well.
We pack everything up and return to the house. When we get back Julia discovers a small 2 wheeled cart which is obviously supposed to carry all the beach stuff. Doh!
The plan is now to drive the 7 or 8 miles to the supermarket on Sanibel to stock up for lunch and buy the steak for the BBQ we are going to have this evening.
Tam, Julia and me head out while Grandma stays to watch over the girls. The supermarket provides the usual temptations and we come back $100 lighter. Now this may seem a little excessive, but we fancied tuna for lunch, so we got 6 pieces alongside 3 huge slabs of steak, 12 beers (you never can have enough beer), a coconut cream pie, a tub of cookie dough ice cream, a tub of caramel praline ice cream, salad stuff (for the health conscious) sweeties and various other bits and pieces. This should feed the 6 of us two very full meals today, quite a bargain when you compare it to the cost of eating out.
Back at the house I crack open a beer and spark up the barbie. (No, not the doll). Sounds energetic, but it is one of those smart gas ones, so it involves turning a knob and pressing a button. The tuna steaks are slapped on and are soon cooked to perfection. Maybe 'perfection' is taking it a little too far, but they aren't burnt to a crisp so that's an improvement on my normal BBQ technique.
A few beers are consumed as we eat in the shaded area of the lanai next to the pool. At one point Grandma starts talking about when she was young and the American soldiers that were stationed near to here in the UK during the war. She tells us how one GI used to give her stockings etc. She says she especially liked his dinky dunkers. We finally work out that she is talking about tiny doughnuts, but by this time the ladies are in tears of laughter. Memo to self: don't allow the women alcohol during the day, it's worse than feeding a Mogwai after midnight.
The girls spend most of the afternoon in the pool while the ladies retire for a snooze to recover from their early start this morning and to sleep off the beer.
I spend some time with the girls honing my skills in the fine art of throwing a ball from one end of the pool to another. It's not as easy as it looks you know.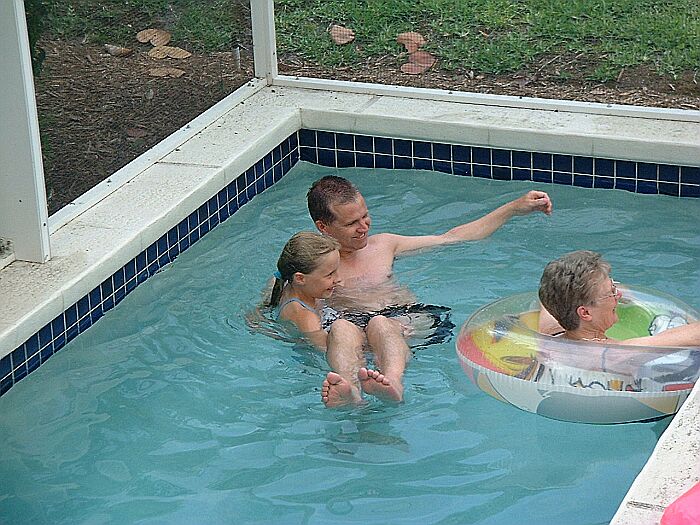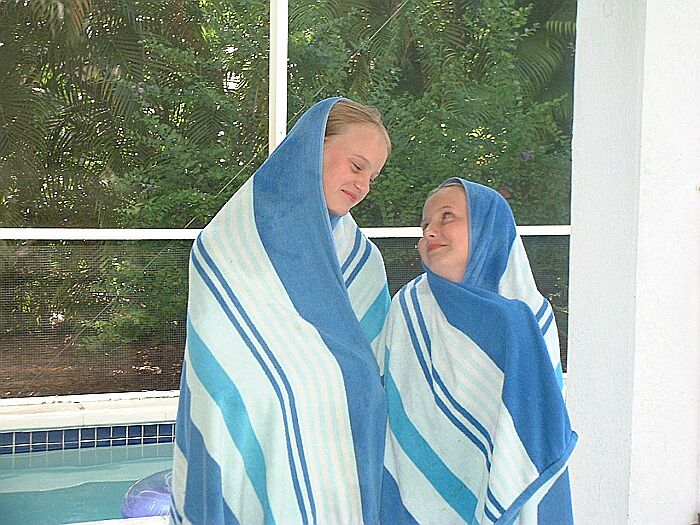 The girls perfect their 'Mary' impression.
I then decide to take a bike ride into the South Seas Plantation. This is a fairly dull affair as one of the few areas where Captiva is inferior to Sanibel is the lack of bike paths. One bright spot is when a racoon crosses my path. He stops to look at me approaching, thinks better of it and wanders back into the trees. As I pass slowly by we look at each other. I am thinking how wonderful to see such creatures in their natural habitat and he's thinking who's that prat on the bike?
Now I know that a racoon is hardly an inspiring site to most Americans, but to us Brits it's pretty exotic. Tell you what my American friends, when you come to the UK I'll show you our dragons. They're ten a penny over here.
Back at the house I shower and change and we all wander down to the beach to watch the sun set. It isn't as special as some that I have seen as there is a little light cloud. See how blasť I've become about these things?
After our rather large and slightly late lunch no one can really face a huge BBQ tonight so the steak is put off until tomorrow. Instead we walk to the South Seas Plantation and then get the trolley bus down to the marina where we stare with envious eyes at the magnificent yachts moored there.
The South Seas Plantation is a huge resort that covers all of the Northern tip of Captiva. It is a combination of private housing and rental properties. Very pretty, but quite sprawling.
We go into the bar and order 3 draft beers, 2 cokes and an orange juice. I ask the barman how much and he says $19.08. The sun is obviously starting to affect my hearing as I could have sworn he said $19.08 for a minute. How much are the drinks again please barman? $19.08.
The ladies help me off the floor and I pay the man with all the good grace I can muster in such circumstances. By heck, you must be wealthy to stay here.
We are all feeling a little peckish by now, but if we were to eat here I would need a bank loan. We get the trolley to the entrance of the resort and then pick up pizza from the takeaway across the road.
Back at the house the pizza is despatched along with a good quantity of wine and beer. The conversation deteriorates from serious subjects such as the media treatment of celebrities to a discussion on the size of the eyebrows of a former vicar of our home town. To be fair, they were impressively bushy. He would have won hands down in any 'Bushiest Vicar's Eyebrows' competitions he cared to enter.
The ladies are in fine form and break the midnight barrier! In fact I have to leave them talking around the dining room table in order to write up my trip report on the living room sofa. What I mean is, I write my report while sat on the living room sofa, not that I actually scrawl on it with biro. I would have a problem getting THAT through in my hand luggage.