DAY 5 - MONDAY MAY 31st 2004
I get woken at 6:30am. At first I'm not sure what it is and then I realise it's that Tam is tossing and turning like someone has put 240 volts up her bottom. Any more mornings like this and they might!
We eat breakfast and then clamber into the van to drive down to the lighthouse in Sanibel. I clock the drive to see how far it is. 15 miles. This is from the northern most point in Captiva (except the South Seas Plantation) to the southern most point in Sanibel.
The lighthouse beach is beautiful. There are quite a few people around as it is Memorial Day, but not really crowded. The rusty old lighthouse is not, at first glance, beautiful, but somehow it seems to fit in perfectly with the surroundings as it is silhouetted against a crystal clear blue sky.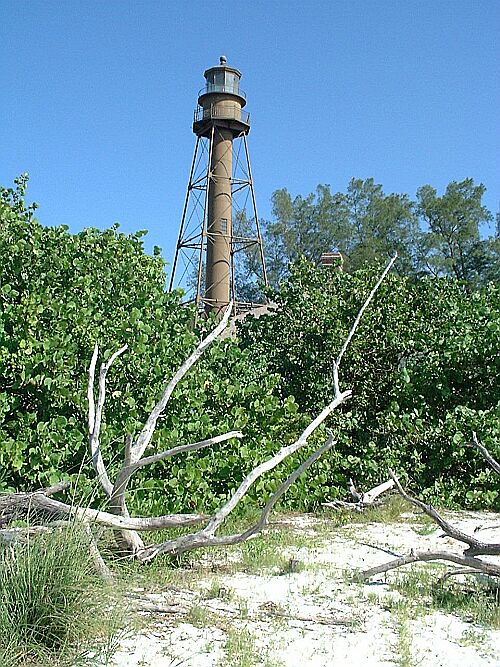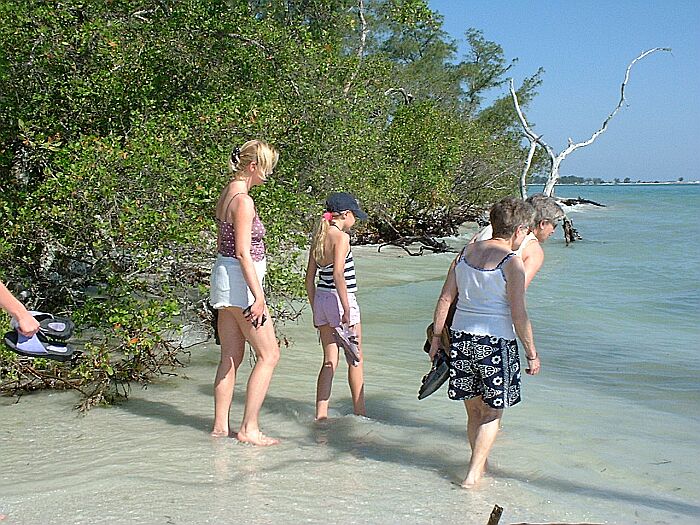 Quick! Someone dropped a penny in the water!
On up the road we stop at the Sanibel Marina to once again tease ourselves by looking at the gleaming boats moored there. This is a very pretty area, the pristine vessels bobbing gently in front of a backdrop of neat waterfront condos.
Next stop is the Ding Darling Wildlife Refuge where we intend to take a tram tour through the park. Unfortunately the 11:30am tour is full so we have to wait for the 1:00pm.
It costs $10 per adult and is well worth it. You can drive a car through for $5, but the tour guide is so knowledgeable that you get a far greater understanding for the unique ecosystem at work here than you ever could on your own.
The tram stops at various points along the way and you can get out to take photos and listen to the guide as he explains about the vegetation and wildlife. We see so many different sorts of birds and are also lucky enough to spot an alligator, it's so hot they are usually hiding under the water at this time of the day.
The tour takes between 1 ½ and 2 hours (ours was closer to 2) and is excellent value for money. Mr Darling (a political cartoonist) certainly was a forward thinking man who could see the terrible things man was (and is) doing to the planet and helped to secure funding for the refuge, which covers half the land area of Sanibel. Without him it could well have become just another high rise, highly populated Florida waterfront district. Thank you Mr Darling for preserving a little bit of paradise.
Back at the house around 3:30pm for a light lunch of cheese and biscuits along with last nights left over pizza. It has to be light as we are determined to have our blow out BBQ tonight.
The rest of the afternoon is spent splashing/snoozing/reading/writing/watching TV dependant upon which member of the family you are.
Around 6:00pm Tam and I go for a walk and end up at the Mucky Duck. This is a pub right next to the beach. We enjoy a beer sitting in the late afternoon sunshine, watching the waves breaking on the shore and listening to the man playing the guitar and singing. This one moment sums up Captiva to a T. If it were any more laid back it would fall over.
A brief walk along the beach and we are back in Wightman Lane and the Sun and Moon House.
Showers are taken (and whoever took them, we want them back please) and we prepare for our BBQ. It consists of salad, jacket potatoes, mushrooms, onions, garlic bread and vast slabs of steak.
I'm in charge of cooking the meat and don't really have a clue about cooking time, so it's a bit hit and miss. I am really impressed with the gas BBQ, it's very easy to use and the hood helps to cook the food through without burning it to a crisp.
It's heated up and ready to go, so the crane moves into position to hoist on the half a cow we have purchased.
12 minutes later and 6 near perfect steaks are ready. A success even if I do say so myself.
We eat our meal out by the pool and Tam has brought some floating candles, so they are launched upon the still waters. To be fair, it does look quite pretty as we sit and plough our way through our beef mountain. Even after everyone is stuffed there is still a fair bit left over.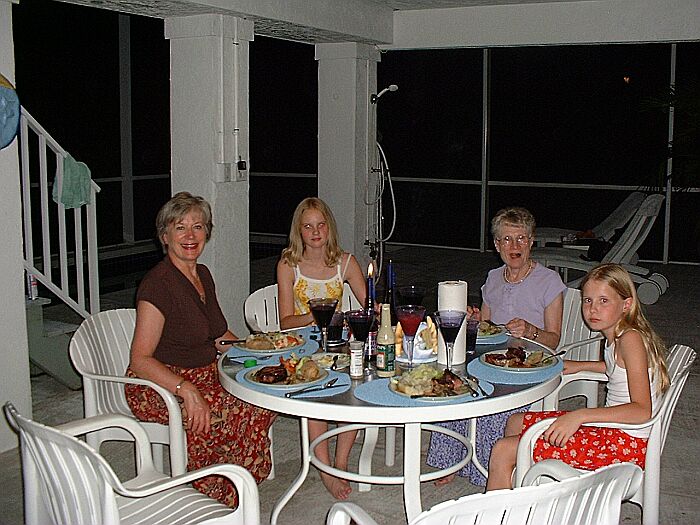 It is really quite hot and sticky tonight. The thermometer hanging out by the pool reads 80° at 10:00pm. We decide to move inside to cool down and eat our dessert, coconut cream pie.
Talk turns to what we should do tomorrow and Tam thinks we should all go kayaking in Tarpon Bay. The mothers are up for it, the only dissenting voice coming from India. She loves the swimming pool, but is frightened of water where she can't see the bottom. Nothing to do with a fear of drowning, she thinks something is lurking down there ready to grab her. It hasn't been helped by today's trip into Ding Darling where they talked about a 12 foot crocodile that has resided in the park for the last 20 years.
Apparently this female croc lays eggs every year, but they are always infertile as she is the only known croc in the area, they are normally found further south. Tam's eyes nearly fill with tears at this tale of unfulfilled motherhood. I feel sorry for the croc because she ain't getting any. Mind you, if a male did turn up, she'd probably have a headache.
Anyway, India is concerned about the proposed kayaking trip. I put on my best fatherly act and tell her that there is nothing to worry about with the crocodile. It's the man-eating panthers she should be frightened of. I don't know why, but this doesn't seem to placate her fears.
Everyone lurches off to bed at 11:30pm except me as I finish off a beer and write up my report.
I must admit that it becomes harder to write these reports with every trip. Partly because it takes a long time to do, but also because I am worried that I may be going over old ground again and again.
Still, if you're daft enough to read them, I'm daft enough to write them.