DAY 6 - TUESDAY JUNE 1st 2004
I'm enormously pleased to report that I failed to see another sunrise today, getting out of bed at 7:30am.
Breakfast is taken and we are off to Tarpon Bay by 9:00am. Tam and I did this kayaking tour the last time we were in the area so we know that all in the party will enjoy it. We hire 3 double kayaks at a cost of $30 per boat for 2 hours.
Julia and India go together while I have Georgia with me and Tam and Grandma are the last pair.
We set off into the great unknown and paddle across to the start of the trail. Julia and India get the idea pretty quickly and have no trouble navigating through the twisty mangroves. Tam and Grandma are not quite so proficient. Now when I say 'not quite so proficient' what I mean is that they veer from one side of the narrow waterway to the other, crashing into anyone and anything that gets in their way. Birds screech in terror and alligators move to Siberia to avoid their path.
From in front all we can hear is 'Left, left, left' 'No, right, right, right' CRASH!
Tam claims they are deliberately getting closer to the mangroves to see the wildlife better. Yeah right.
By some miracle we do all find our way through in one piece. Once again we enjoy the experience immensely. It is just so peaceful gliding along with no sound apart from the wildlife and the paddles slipping into the water.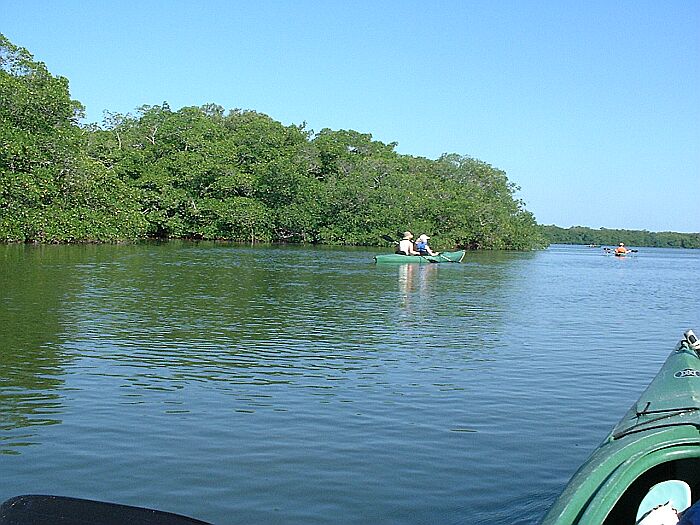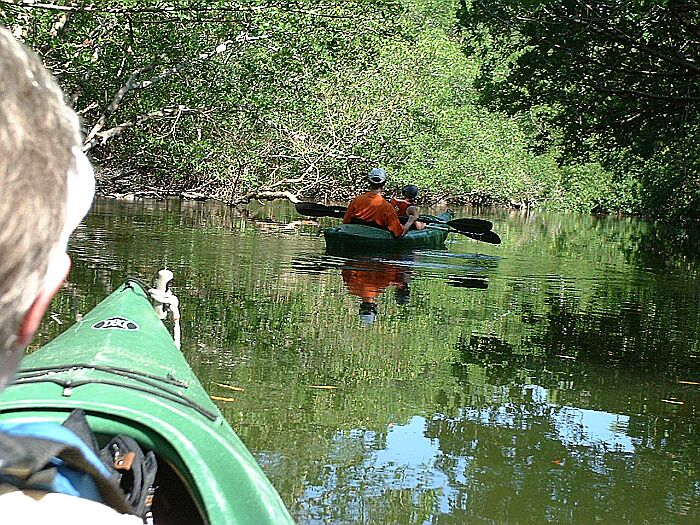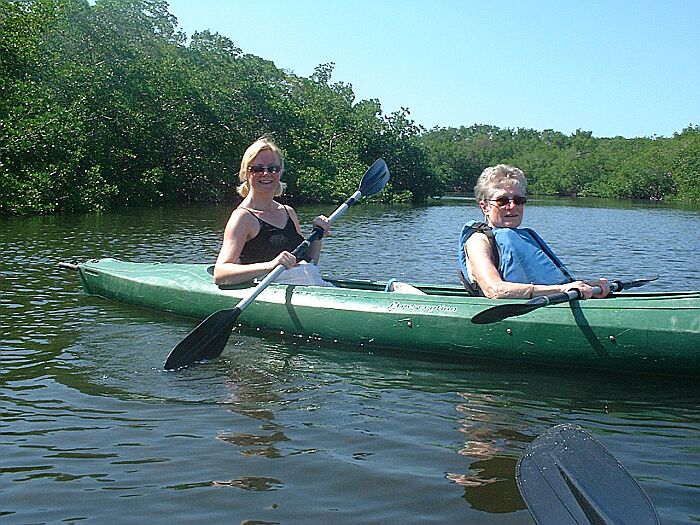 The last run back to base is across open water and India and Georgia want to race. Georgia is desperate to win. 'Faster daddy, we're only just ahead'. Of course, there is never any real doubt as the all-powerful Stringer father and daughter combination crush the opposition with a display of power kayaking seldom seen before on Floridian waters. Did I say Crush? Dude!
Georgia takes the opportunity to gloat, as every good winner should. To be fair, Julia and India gave us a good run for our money. Now where's Tam and Grandma? Let's just get out the binoculars. Oh yes, there they are, that speck on the horizon.
In Tam's defence, Grandma has a bad arm and has done wonderfully well just to help out at all, so the majority of work was done by Tam. Believe me, it does take it out of your arms when you paddle the return journey against the current.
All agree it was a wonderful experience and India managed to survive the various lurking monsters eager to have her for lunch.
Talking of lunch, we return to the house for just that very thing. There is still a good portion of steak left over from last night, so steak sandwiches with salad are the order of the day.
Various relaxing activities are undertaken for the next hour or so before Tam and I wander down to the beach with a couple of chairs and park ourselves by the waters edge. It is beautiful down here with a cooling breeze taking the edge off the heat. Tam returns to see if the rest want to come down and they load up the little cart with chairs, towels and a kite for Georgia. (Told you they had everything at the house). India decides to remain behind in the shade to read her book.
Georgia and I have fun in the sea, bobbing up and down in the waves. The temperature of the water is amazing. You usually get that 'brrrr' feeling when you enter the sea, but this is so warm it is like stepping into lukewarm bath water.
If you get into the sea in the UK you often wonder if your equipment below the waist is ever going to function again. It does, but only after some serious massaging. I keep a maid for just such occasions.
There is a guy fishing just along the beach from us and alongside him stands a large heron like bird. It must be nearly 3 feet tall and it doesn't move a muscle. It is obviously used to the fisherman, as he must be to it. After a while he goes to his bait box and throws a juicy morsel to the bird, which gobbles it swiftly and then returns to it's former statue-like position.
I have to mention that there are fewer birds around at this time of the year than the last time we were here in October. Apparently the migrant birds have all returned north for the summer. There are still plenty to see though.
Back at the house I splash around with Georgia in the pool for a while before enjoying a beer on the sun deck.
After a shower we all walk along to the Green Flash for dinner. This restaurant has one complete glass wall with glorious views across Pine Island Sound. As we eat our meal we watch it getting dark and the moon glinting and glistening on the calm waters.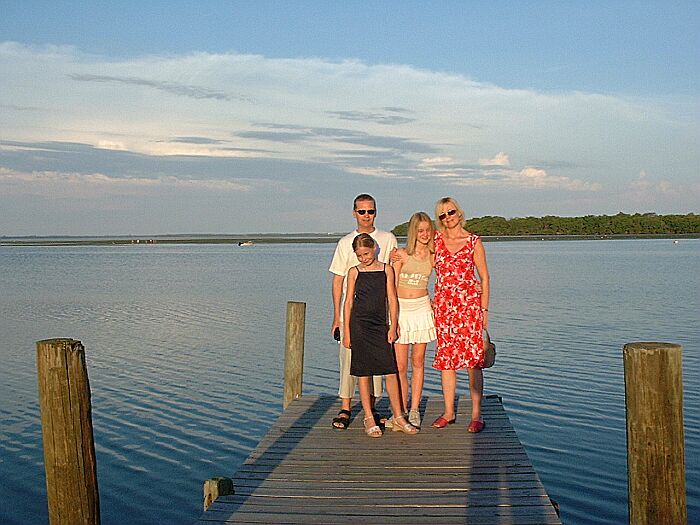 This is the boat dock in front of the Green Flash. It's so pretty, it even makes the Stringer family look fairly pleasant.
India tries the lobster from the children's menu, which is $12.95 and very small, but she enjoys it. Tam has scallops in a marsala, garlic and gratin sauce, while I try the Pork Tenderloin Wellington. The pork itself is very nice, but I don't much care for the sauce. Georgia enjoys breaded scampi. With a couple of beers, 2 cocktails for Tam and 2 desserts for the girls, the bill comes to $102 including tip. A decent enough meal in a very picturesque setting.
Back to the house for the usual nightcap. We dip into the CD collection again and come up with the soundtrack to the film The Mambo Kings. Tam suddenly starts gyrating round the room in a rather alarming fashion. At first I think she is trying to scratch a particularly nasty mosquito bite, but it turns out she is dancing. Frightens me enough to make me down my beer and disappear to bed at 11:00pm.