DAY 7 - WEDNESDAY JUNE 2nd 2004
7:30am is the rising time for me this morning. Tam has already disappeared for a bike ride and everyone else is still in bed.
The plan was to go to on a cruise to Useppa Island today, but when we ring up it is already full. So, we book to go tomorrow instead and, after breakfast, load up the van and head for Bowman's Beach.
If you read my report from our last Sanibel trip you will know that I really like this beach. If you want powder white fine sand, perfectly manicured beaches with loads of amenities and water sport facilities, then you are better off sticking to the beaches of Fort Myers, Clearwater etc. What Sanibel and Captiva are all about is nature. Here on Bowman's Beach you will not find any hot dog stands, tiki bars or high rise hotels. The beach is backed by vegetation and the gritty sand is full of shells. It stretches as far as the eye can see in both directions, so there is plenty of room for the few of us that have made the journey here. You have to pay $2 per hour to park your car, but it really is worth it.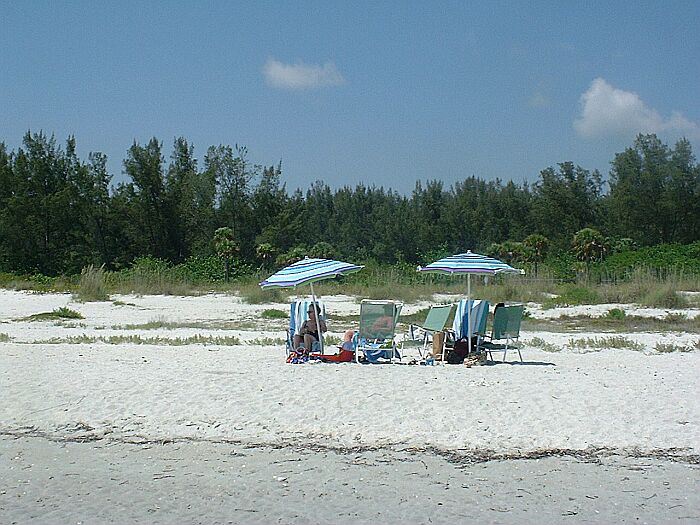 Tammy's BO problem seems to work in keeping the beach clear of other pesky tourists.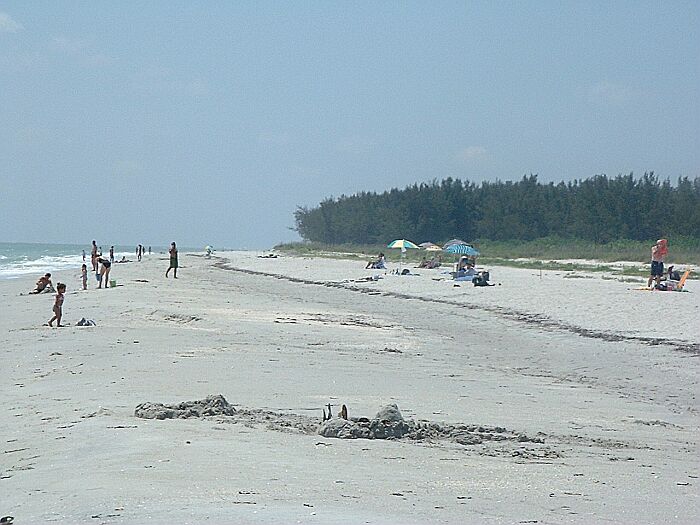 A word about the crowds – since Memorial Day weekend finished we have definitely noticed less people around. When we were on the tram tour through the Ding Darling Wildlife Refuge on Monday the guide told us that the population of the islands is something like 15,000 during the winter, dropping to 8,000 in the hot summer months. As the islands are over 15 miles long, this shows why the place always seems so quiet.
A fair amount of wandering up and down the beach collecting shells takes place, along with the highly taxing pastimes of bobbing up and down in the waves and sitting doing nothing.
For lunch Tam, Julia and I drive down to the supermarket leaving the rest on the beach. On our return we enjoy a feast of subs and cookies. Very pleasant, but then again, just about anything would be pleasant in these surroundings.
The girls and I jump into the sea again, India overcoming her fear of underwater nasties and crabs that nip your toes.
While bobbing up and down we discuss the funniest parts in Finding Nemo. The girls love Dory, but for some reason I keep thinking of the initiation ceremony in the fish tank where Gill names Nemo 'Sharkbait'. All the other fish chant 'Sharkbait. Oohaha'. This amuses us no end and every time I say 'Sharkbait' the girls have to reply 'Sharkbait. Oohaha' in unison.
Look, we can discuss Dostoevsky if you want, but 'Sharkbait. Oohaha' does it for me every time.
Around 4:00pm we pack everything up and trek back to the car. You have to park the car in a wooded area and walk about 100 yards to the beach, but this just adds to the 'away from it all' feel to the place.
Back at the house it is straight in the pool where the girls are trying to recreate WDW rides. Georgia gets spun round in a rubber ring for the tea cups, then pushes India up and down the pool for the fast bit in Test Track. I assist by covering their eyes before ducking them under the water, this is Space Mountain. Finally we have the Tower of Terror where I drop them into the pool. It might not be quite as good as the real thing, but we enjoy it.
It is lovely around the pool area in the late afternoon. The surrounding vegetation shades the whole area from the sun. With the temperature still well into the 90's and little breeze, this is definitely a good thing.
Laying here with just my swimming shorts on (I can practically here the rustle of a thousand fans as females the world over have just suddenly felt rather flushed) it seems a million miles from the normality of working life. How many people have found themselves in a similar situation thinking 'if only' ……..
If only I could win the lottery. If only I had done more at school than pick my nose and ponder what lay beneath Andrea Jones blouse. (I believe it was actually an industrial strength bra and a tattoo of the east coast of Africa, but this is only hearsay).
Still, I'm not complaining, at least I get to explore these wonderful places for 2 weeks of the year, many never get to see them.
We shower and get ready to go out. Georgia insists I put 'Teenage Dirtbag' by Wheatus on the CD. (One of mine, not from the collection). I try to teach the child to headbang, but she just ain't got it. Another of life's small disappointments, not only can the child not headbang, but she's useless at air guitar, surely she cannot have sprung from my loins.
Down to the Mucky Duck where we enjoy a beer and watch the sun go down. There is some low level cloud so we don't actually get to see it sink into the sea.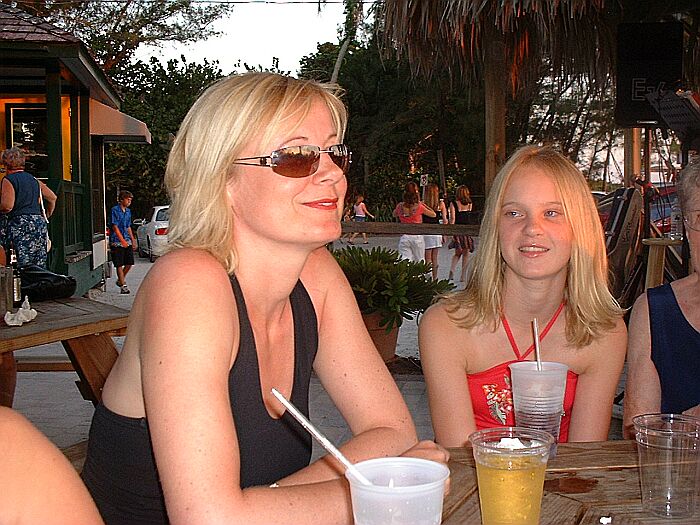 Is that a film star? No, wait.... it's only Tam.
Next comes our evening meal at the Keylime Bistro. We dine outside to the sound of a man playing the guitar. Jimmy Buffet sure is popular in these parts.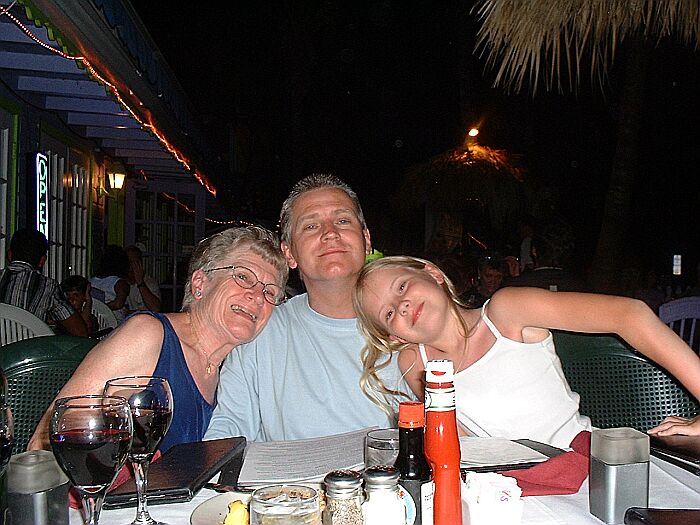 I have yellowtail snapper while Tam has grouper stuffed with lobster. India has mozzarella sticks ands Georgia has tempura battered shrimp.
All are very good, especially the sauces that accompany both my and Tam's meals. Julia's risotto and Grandma's marsala chicken are also professed to be fine.
Dessert follows for those greedy beggars ….. I mean, those with room. The girls share an oreo mudpie, tam has macadamia nut fudge brownie (oh, I confess I had the odd mouthful) while Julia plumps for the keylime pie. Most are finished with only some minor doggie baggage required.
This meal follows the oft spouted Stringer rule 'Yer gets what yer pays for'. The bill for the 4 of us, including automatic 18% tip, is $130. Obviously there are some exceptions to this rule. For example, I don't charge much, but in general quality is related to price.
As we leave the Keylime Bistro there is an unusual sight in the skies. To one side of us is a full moon in a cloudless sky and on the other side is a large, billowing cloud with lightening flashing within it. Sort of a battle between good and evil taking place in the heavens. By the way, no rain is forthcoming.
Back at the house the ladies partake of tea before retiring. Me and my mate India stay up and write the trip report and read respectively. Both of us go to bed at midnight.
Sharkbait. Oohaha!