DAY 8 - THURSDAY JUNE 3rd 2004
Up at 8:00, can't be late for Matthew and Son, they won't wait……
Sorry, we were listening to Cat Stevens last night. Anyway I really did get up at 8:00am. Grandma has been down to the beach for an early morning stroll and has seen a dolphin. Tam is ready to scratch her eyes out in a fit of jealousy. Apparently all dolphins are the private property of T.Stringer esq. And are reserved for her personal delight.
We walk to the South Seas Plantation where we catch the tram to the marina as we are going on the 10:30am cruise to Useppa Island.
It's another beautiful morning as we board the Lady Chadwick and head out into Pine Island Sound. The voyage is with Captiva Cruises, we did the dolphin cruise with them 3 years ago.
As we power along the Sound dolphins pop up at various intervals. At one time there are 7 or 8 of them gliding alongside the boat, leaping and cavorting in the wake. They really are the most graceful of creatures and they clearly enjoy the interaction with the humans and the boat. There are also plenty of birds on view including brown pelicans, osprey and anhingas.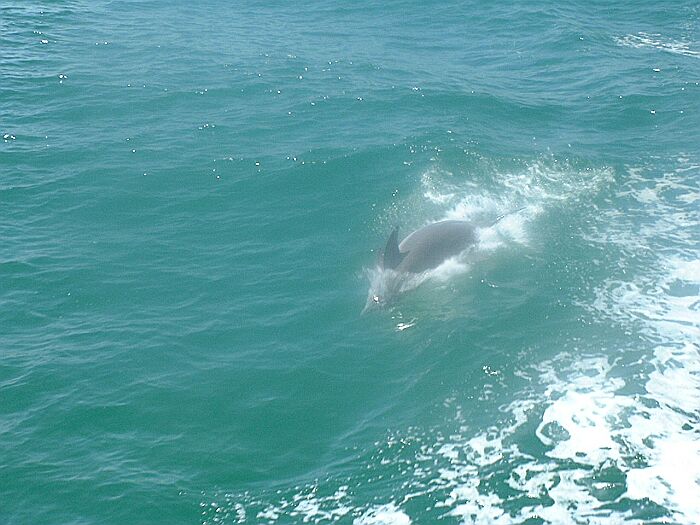 We stop first at Cabbage Key to let people off. You can choose which island you wish to visit, Cabbage Key or Useppa Island.
Cabbage Key is a pretty little place only about a mile long. We notice there are some waterfront properties that you can rent. I'll bet that's a quiet holiday.
On to Useppa Island which is a private club. You cannot land on the island unless you are a member. Captiva Cruises have special permission.
This is rich mans paradise. There are many different types of property here ranging in size and shape, but they all have one thing in common. They are stunningly beautiful. Paths wind between banyan and mango trees and past little coves and beaches. The houses have sun decks looking across open water to the many little islands dotted around and the turquoise water lap gently at the shore.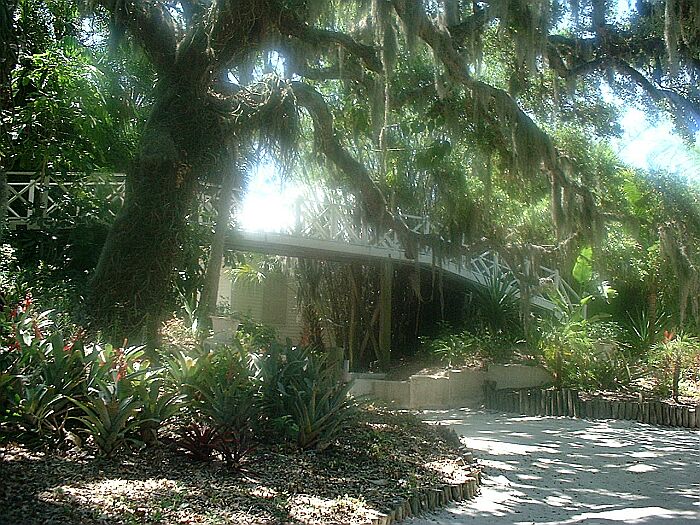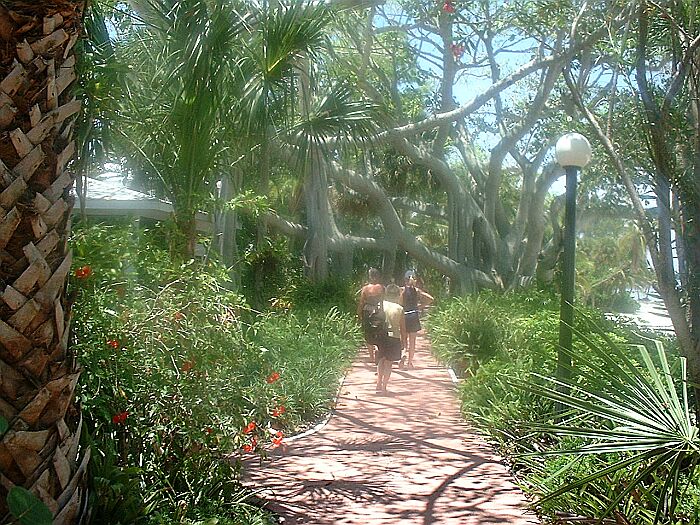 We have a couple of hours to explore and have lunch at the Collier Inn. Unless you have a few million to spare buy a property, this is the only way to stay on the island. It's fairly small and intimate with large viewing windows looking out across the bay.
We have crab cakes, a burger and 2 club sandwiches along with beers and cokes. The total for the 4 of us including tip is $59. Not bad really.
After lunch we stroll around again looking at the wonderful flowers and plants. This must be a very beautiful place at night as there are little lights everywhere.
I'm not sure if you might get bored after a while, there is nothing here at all apart from the inn and another bar down by the marina. Still, if you can afford a few million for a house here, I dare say you can afford a boat to get out and explore the outlying islands.
At 2:30pm we re-board the Lady Chadwick for the one hour journey back to Captiva. Once again the dolphins are following the boat so Grandma is finally forgiven for having the temerity to see a dolphin without Tammy's knowledge.
I would definitely recommend the trip to Useppa. It is probably better to do this than the dolphin cruise as you get to see the dolphins anyway.
Back on shore the ladies spot a row of shops. Now, you all know how I love shopping, so it comes as a real hardship when the girls and I have to return to the house for a swim and a beer while we leave the women perusing the shops on a hot and sticky afternoon.
After showers we wander down to the beach to watch the sunset before returning to the house. We are off to Orlando on Saturday and tomorrow we have booked to eat in the Sunshine Café, so tonight we are dining in with whatever is left in the fridge.
Now, you aren't going to believe this, but you remember the steak? Well, there is still some left! I have taken a very close inspection of the premises to ensure the women aren't slaughtering cattle secretly, but can find no sign of such. This time the remains of the steak have been sliced, marinated in olive oil and garlic, then made into a very large omelette along with tomatoes, cheese, onion and whole garlic cloves.
This is served along with sliced fried potatoes and salad. We also have sweet corn cooked on the BBQ. I have to say that the ladies have done an excellent job and the food is very tasty, all washed down with a huge bottle of red wine and served outside by the pool.
Dessert is keylime pie and ice cream.
Inside the house it's more laid back jazz from the CD collection while the conversation continues. Eventually Grandma and Julia retire to bed.
Around 11:00pm Tam goes to see if she can see the moon. (It is going to be full tonight). Suddenly the girls are laughing and I look out the window onto the darkened pool area. I can't see much, but I can hear splashing. Tam has gone skinny dipping. Oh dear, this is too good an opportunity to miss. The girls and I rush outside where I switch the pool light on and whip out the digital camera. Prints are available at $5 a shot.
If I'm not in the bad books already, I really blow it by suggesting that at first glance I thought a wayward manatee had found it's way into our pool. Tam goes to bed soon after, I can't think why.
India and I stay up until midnight listening to music and writing, my trip report and her diary.
It's been a wonderful day. I must admit that it took me a couple of days to relax into island life, but I've enjoyed every successive day more than the last.
It helps to be staying in a beautiful house and I have very much enjoyed staying up when all have gone to bed (except for my mate Ind), listening to relaxing music and setting down my thoughts for the day we have just had.
The trouble will come when we get to WDW. There is so much planned that it will be difficult to write up my report at the end of every day. It might say 'went to MK, did some rides'. Hey, you would all understand that we had a great time anyway. We all worship at the church of the mouse.