DAY 9 - FRIDAY JUNE 4th 2004
We all get up around 8:00am and have a relaxed breakfast. Relaxed has been the key word all holiday. We haven't rushed to do anything. After all the troubles of our arrival in Florida everything has gone very smoothly.
The ladies want to go shopping for presents. There are some very nice little shops (nice? shops? I must be losing my touch) selling brightly coloured knickknacks such as wind chimes and garden ornaments. Even I manage to buy something, a baseball cap with Captiva Island on the front. I still reckon I look good in a Panama.
Poor Grandma is suffering from a bad back and needs to take some Ibuprofen, unfortunately she is nearly out. So Tam and I jump in the van and drive 10 miles to the supermarket. While there we pick up provisions that will hopefully see us through the week in WDW. Much as I love the Boardwalk, the prices in the shop are a little too steep.
As we drive back Tam reclines her seat and has a snooze. It really makes you feel that way as the roads are so smooth and straight that the 35mph speed limit seems even slower than that. I still always enjoy driving on the islands though; the lush vegetation alone gives so much to see.
On our return we head out for lunch at the Bubble Room. I've mentioned this place before. It's packed with memorabilia, much of it black and white photos of old film stars, but also lots of children's toys and playthings.
Lunch is a combination of a BBQ pork sandwich and beef, cheese and bacon on French bread. Georgia has the fish sticks. You couldn't call the food here memorable, but it is reasonable enough.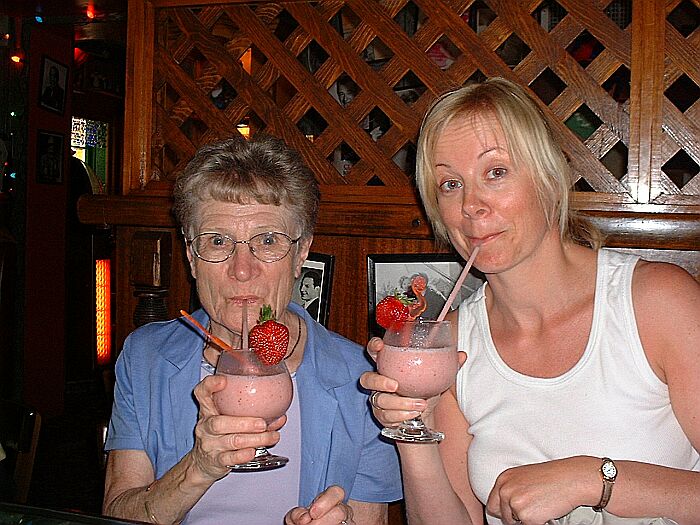 We fancy a bite of dessert, but remember the lessons of the last time we were here. These things are huge! Just the one dessert for us please. We have a chocolate, cream and strawberry concoction that doesn't last long with all 6 of us attacking it.
The bill for me, Tam and the girls is $46, which isn't bad considering Tam had a cocktail and I had a beer.
Back at the house grandma and the girls want a rest, so Tam, Julia and I load up the cart and head for the beach. It is even quieter today.
We sit enjoying the breeze and trying to stop the umbrellas disappearing along the sands.
I mention to Tam that it has been a quiet old day trip report wise. She suggests that I make something up to spice things up a bit, but I tell her I could never stoop to such a low trick. Just as I say this, 3 mermaids swim by pulling a water skiing manatee. I whip out the camera so I can show you proof, but by the time I get it out of the case they have gone. Never mind, I'm sure you'll believe me.
This will be our last time at the beach this holiday, so Tam and I enjoy the sea for one last time. Usually we both prefer the pool, but this beach is so lovely and the breeze is so refreshing that we have had a great time here. The water is warm and seaweed free today. We float around for ages before it is time to pack everything up and return to the house.
The boring bit comes next as we shower and pack ready to leave first thing in the morning.
We make another trip to the Mucky Duck for a beer and to watch the sun go down. This time there is some low cloud, so the sun sinks apologetically over the horizon. More of a whimper than a bang, probably sad to see us go.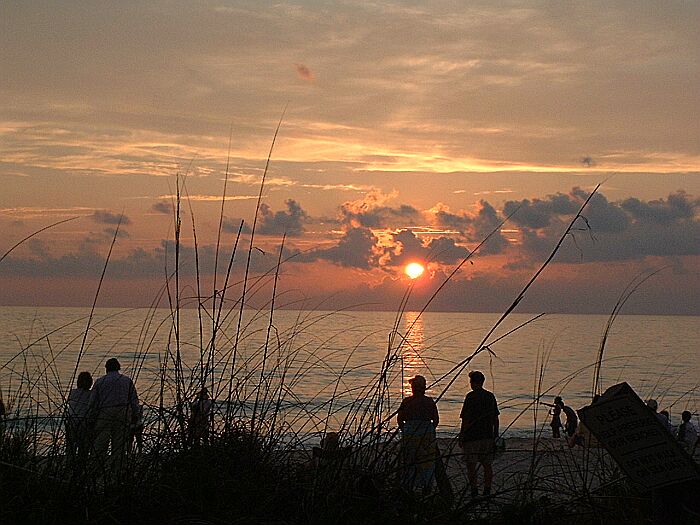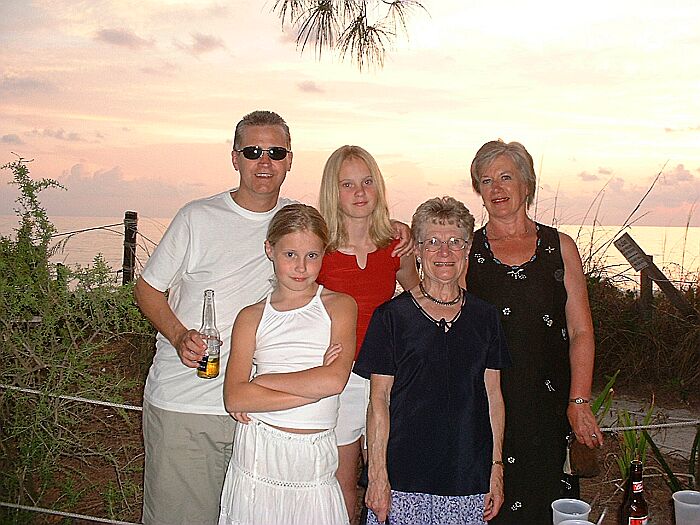 Shame that bloke got in there to spoil the picture of the lovely ladies.
We make our way to the Sunshine Café where we have a table booked for 8:30pm.
From the outside this place does not look like the natural choice for a nice meal. Just a few tables on a balcony. Shows how appearances can be deceptive as this is the best meal we have had in Captiva.
The service is very good, just the right pace for a meal. Sometimes American service can seem a little rushed to us Brits. For example, no self respecting restaurant in the UK would ever think of removing a plate from the table until everybody has finished their meal. In the US the plate has gone before you have finished your last mouthful. This is great when you are in a hurry, but not so good when you want to enjoy a slower paced meal.
Now don't get upset my American buddies, this is not a criticism, just an observation. I daresay the better eating establishments in the US would follow the same decorum as in the UK.
Back at the meal …. We first order drinks. The server sees us looking at the wine menu and tells us that they are in the process of changing the wines. Consequently there are some changes to the prices. One bottle of wine is down from $150 to $110. Oh great, I think we'll give that one a miss. She then tells that a bottle of Merryvale Merlot is down from $90 to $28. Now that's more like it! A couple of crates of that please garcon. Just the smell tells you it is a very nice wine. The flavour is even better.
On to the food. Tam, Julia and Grandma have the lamb shank, while I opt for the salmon with a shrimp risotto. India has a mozzarella salad with grilled chicken and Georgia has the shrimp. All of the meals are very good, Tammy is especially enthusiastic about hers.
For dessert Tam has the espresso crème brulee and Julia goes for the apple crisp with ice cream. Tam puts a spoonful of hers into her mouth and, for a minute, I think I am watching Meg Ryan in When Harry Met Sally. Other diners stop to see who is receiving such erotic pleasure from a form of nourishment. I try a mouthful and it is really good and I don't usually like coffee flavoured desserts!
The bill for the 4 of us comes to $125 including automatically added 18% tip. I understand why they add the tip on for larger groups, but I don't particularly like the practice. In this case it is counter productive as I was going to leave a larger amount, but my slight annoyance means I don't.
Back to the house where a relatively early night is required, so the ladies trot off to bed at 10:30pm. Well, Grandma can't trot because of her bad back, but you get the idea.
India and I stay up listening to 'Great Ladies of Jazz' while I drink beer and write up the report.
We have all had a wonderful time in Captiva. The house and the location were all that we had hoped they would be.
Despite that, I am really looking forward to getting to the Boardwalk tomorrow. India, Georgia and I have been getting each other excited for the last few days.
'I'm going to Disney World on Saturday'.
'That's funny, I'm going to Disney World on Saturday too'. Then we look at each other knowingly and laugh.
I suppose one day I may go there and be disappointed, but that day hasn't arrived yet.