DAY 10 - SATURDAY JUNE 5th 2004
Up at 7:30 am and I'm eager to be on the way to WDW.
Breakfast is taken and everything is made ready. This time it's even tighter trying to squeeze everything into the van. With luggage stuck under seats and piled up everywhere, we get underway at 8:30am.
We take the same route back as when we were coming, up route 17 through Arcadia. As I said before, this isn't exactly pretty, but not as boring as the interstate.
About 5 miles from WDW Tam gets the munchies and we stop at Burger King (oh, the shame) for lunch.
By 1:00pm we are pulling up outside the Boardwalk. Now this is what Disney service is all about. Valet parking, bell services and efficient, very friendly check-in. Our rooms are ready and we can't wait to see our view.
We are in rooms 2007 and 2009, a 2 bedroom with Boardwalk views. It turns out to be just about perfect, on the second floor directly above the old DVC information centre.
I an sitting on the balcony at 2:30pm writing this and gazing out over the Boardwalk lagoon towards the Beach Club with the Friendship boats shuttling back and forward, tooting their horns every so often. I can see Spaceship Earth in the distance and everything is very quiet. I really don't think it could be any better. There are no elevators to deal with as we are at lobby height and Tam can be as nosy as she likes in the evening when watching people come and go on the Boardwalk.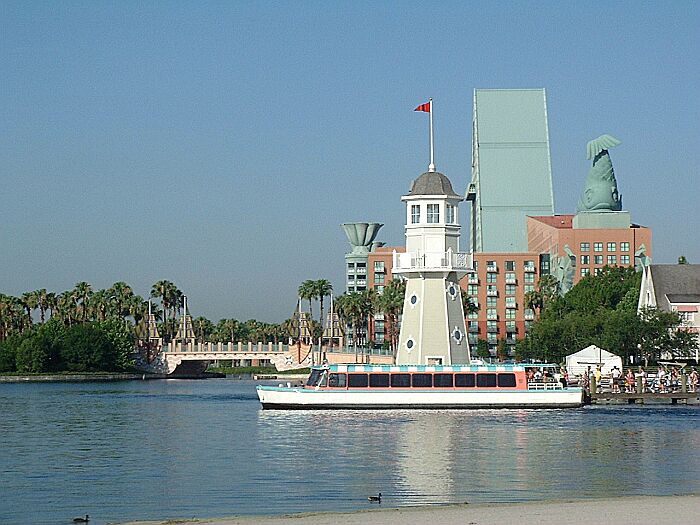 My bedside light is not working, so I ring maintenance and it is fixed within the hour. Now that's service!
We unpack then go for a walk, ending up at the quiet pool by Community Hall. Me, Tam and the girls go in for a dip, it's probably colder than the sea was in Captiva! I actually prefer it this temperature as it's refreshing on a hot day.
Back at the room we get ready to go out. Grandma enjoys a spa bath as we are hoping the water jets will ease her bad back. After she finishes she lets the water out, but the jets are still going. Water is shooting all over the bathroom floor. I quickly put the plug back in and fill the tub with water to cover the jets again. After this stop gap measure I do the only sensible thing in the circumstances, retreat to the shower room and let Tam deal with it. She rings the front desk who say that it is on a timer, but are a little vague as to how long it takes. Half an hour later it is still going and the button is stuck right in. I ring maintenance again and they say they will send somebody up.
I am now showered and looking like a million dollars. Oh, alright, $350,000. How about $78,000? Sigh. I am now showered and looking like $7.43, so I stroll down to the Belle Vu Lounge for a quiet beer while the ladies get ready.
With my trusty beer I sit outside on the balcony in the late afternoon sunshine and have one of those perfect moments.
The birds are singing, a few people stroll past on the Village Green as I sit alone except for my mate Bud and just try to fix this in my memory. This is what I work the rest of the year for. This is what I will think about on a rainy November afternoon.
The flowers are blooming, the grass is immaculate and every now and then a Friendship boat honks a merry greeting. No one is unhappy. People are smiling. This is Disney. This is the DVC. A lady strolls by below and says to her friend 'Do people stay here?' I want to shout 'Yes, they do. And it's great!'
The ladies join me and Tam says that the bath has already been fixed. We catch the bus to the Magic Kingdom and then the resort launch to the Polynesian. I love this little boat. With the sun shining it is by far the most enjoyable way of travelling between the Magic Kingdom and the resorts.
We arrive at 6:45pm and go to the bar next to 'Ohana where we are meeting Susan and Lu Beth. If you read my pre-trip report you will know that I 'met' Susan via e-mail after she read one of my old trip reports.
As we arrive at the bar it is absolutely packed. It seems there is a big horse race going on and lots of people have lined up in front of the TV to watch.
I had also forgotten that it is Gay Day at the Magic Kingdom and the place is teeming with men in red shirts. Some are louder than others, but they are all having a good time and not bothering anyone else. Personally I am happier to see these guys (and gals) hanging out and enjoying themselves than a bunch of obnoxious drunk heterosexuals.
We have PS's for 7:30pm, but as the time approaches there is no sign of Susan or Lu Beth. We are seated at 7:45pm and Georgia and I go looking for the troublesome twosome.
Around 8:00pm I spot shifty looking pair loitering around the entrance to 'Ohana. Must be them. I am all ready to give them the schoolmaster speech about punctuality, but unfortunately they turn out to be even nicer than I had expected. Deflated, we join the rest of the party at the table.
Introductions are made and the meal begins. 'Ohana is a carnivores dream. Steak, pork, turkey, shrimp …. And as much as you want. The time goes very quickly as we chat and Susan produces gifts for all of us. I won't embarrass her by going into detail of all the lovely things she gives us, suffice to say I can tell the time much better now. Perhaps I should have suggested that she could do with a new watch herself! Only kidding Susan, you must have expected it!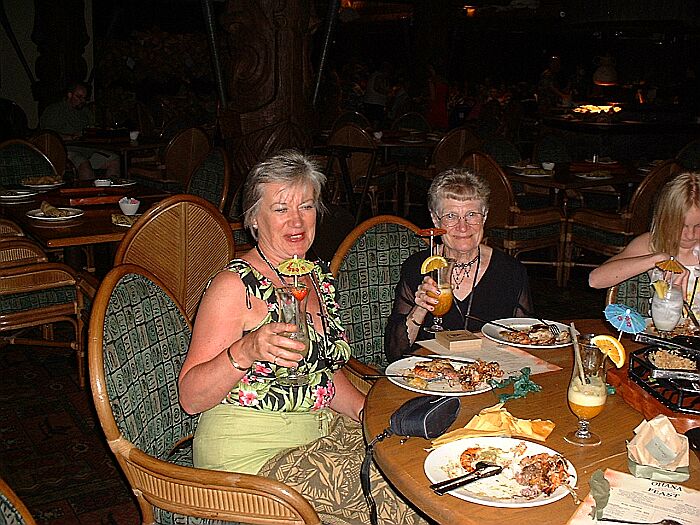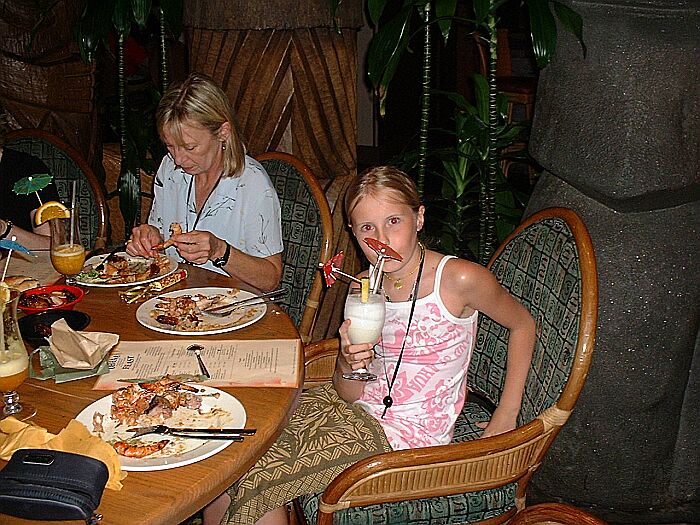 Lu Beth and Georgia
After the meal we go down to the Polynesian beach to watch Wishes, which is due to start at 10:00pm.
Come 10:20pm nothing has happened apart from a little rain falling. I volunteer to go to Guest Services and see if Wishes has been cancelled. This proves to be a fruitless trip as I am first told that it will start at 10:00pm. When I point out that it has already gone 10:00pm he gets out his list of times and says that it was at 9:00pm!
As I walk back with the bad news, Wishes starts in the sky above the Magic Kingdom. So much for the accuracy of information from Guest Services!
Back at the beach the ladies are under the impression that it has begun due to me ordering them to start. I do little to dispel this theory. We all enjoy a small portion of omnipotence from time to time.
There is no music, I'm sure they used to pipe it in for the old show. Whatever, it is still a highly impressive firework display. I will reserve full judgement until we see the show in the Magic Kingdom in all its full glory, but it certainly looks good from here.
We bid goodnight and arrange to meet Susan and Lu Beth in Epcot tomorrow at 9:00ish. So that will be around 10:00am by the time they turn up I guess. I do love to tease. Having met Susan and Lu Beth I feel that I can. You get a pretty good view of someone when you correspond with them for a period of time, so I knew I would get on well with them. But in real life Susan and Lu Beth are lovely. Friendly, kind hearted and very easy to talk to. What they see in my horrible family I will never know.
A taxi back to the Boardwalk and I sit on the balcony and write up my trip report. It is even more beautiful at night. The only thing that spoils it slightly is the loud dance music they are pumping out from the sound system outside the Atlantic Dance Club.