DAY 11 - SUNDAY JUNE 6th 2004
Up at 7:30am as we want to be in Epcot when it opens at 9:00am. Breakfast is rushed through and we are all set and out the door by 8:45am.
It's a beautiful morning as we stroll around the Boardwalk and up to the International Gateway. We walk at a leisurely pace to Test Track passing topiaries and floral displays as we go, as today is the last day of the Flower and Garden Festival. I particularly like the floating pontoons of flowers on the lakes.
We arrive at Test Track where we are supposed to be meeting Susan and Lu Beth. Guess what, they are not there. We get Fastpasses for Mission Space and then ride Test Track using the single rider line (all except Grandma and Julia).
As we exit the ride we see Lu Beth. She says they went to jump in the rental car this morning and the battery was flat! Between using the Disney transportation system and trying to sort out the car problem they are late again! I'm not sure I believe the car story. Tomorrow it will be alien abduction or a traffic jam caused by an overturned elephant.
I forgive the errant pair because I'm good like that and we head off to Mission Space. We find a bench for those not riding and Lu Beth chickens out at the last moment, a wise choice as it turns out.
So the intrepid crew of me, Tam, India and Susan sally forth on our training mission. To be fair, they couldn't warn you more about the potential problems you may encounter on the ride.
Are you sure you want to do this?
Are you really sure?
I mean, are you really, really sure 'cus you are almost certain to vomit?
We enter the ride capsule, the door closes and the screens come down. Blast off! I know within the first 30 seconds that this is a bad idea. I am the commander of this mission, but I don't do a lot of commanding! Trying to keep my breakfast down is my number one priority and stuff the mission. When the time comes to press my button, my hands are flying around and hitting every damn thing that comes into their reach because, one things for sure, my eyes aren't moving from that spot dead in the centre of the screen. I didn't know it was possible to do a 4 minute ride without blinking.
When we get off the legs are somewhat wobbly. Now this is a state that I am perfectly familiar with, but usually after several beers. I'm feeling pretty nauseous and that feeling doesn't really leave me for 3 hours or so.
Mission Space is a good ride if you can take it. The others had very few bad effects.
Lu Beth tells me later that I was looking slightly green. Susan says that at least the colour looked good on me. With this comment I forgive her for her unpunctuality.
Next we ride Spaceship Earth and then split up as the ladies do Flowery Gardeny type things, while Georgia and I ride Listen to the Land and Journey Into Imagination and also enjoy a sit down and a coke.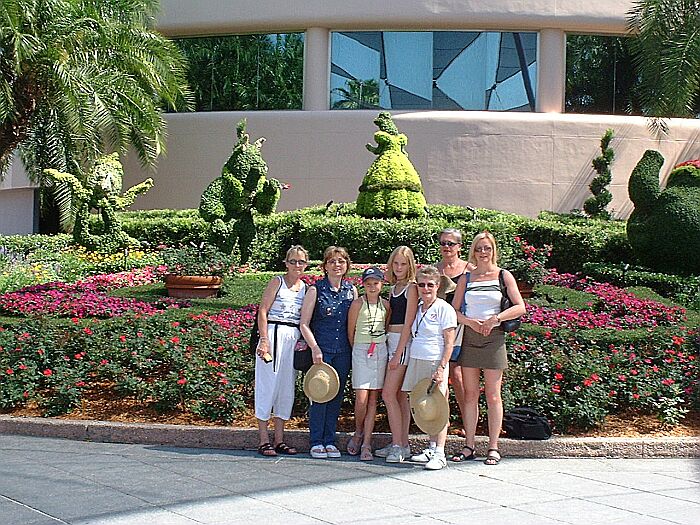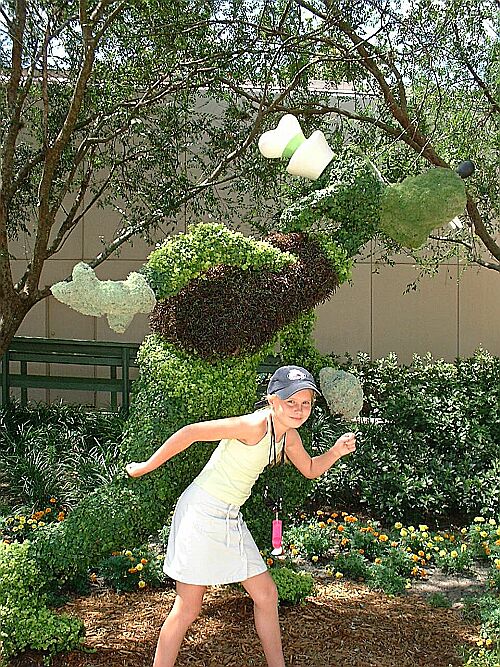 Just as Georgia is getting ready to have her photo taken, Goofy comes along and mimics her stance!
We meet back up at 1:00pm as we are eating in the Coral Reef. This is a first for me and I must say I am very impressed.
Susan and Lu Beth are on the Wishes programme so their meals are paid for if they want to use their Wishes for that. Very generously they say they will share their meals with the rest of us. The girls have their own pizzas, but the rest of us have a couple of appetizers along with Susan and Lu Beth's meals. For the entrée they both order the surf and turf, which normally would be $55! It really is very good and the fact that we are seated right by the aquarium is an added bonus.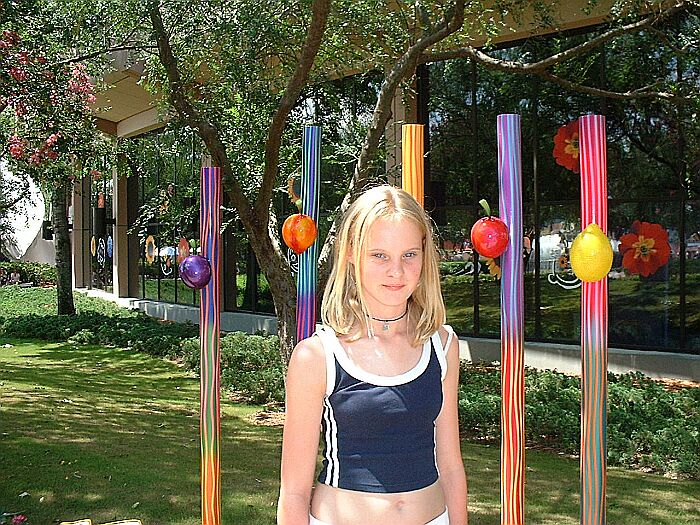 After the meal we walk through both the rose garden and the Doggone Maze before starting off round World Showcase.
Susan and I have some discussion as to what the general wisdom is on the best direction to take around the countries. She thinks that counter clockwise is the way most people do it, so we should do the opposite. We decide this would be counter counter clockwise. Ah, but what if this is a bluff and really the best route is counter counter counter clockwise? At this point we agree it has all got a bit silly and head off to Mexico.
Here we do the ride and then look around the shops. When we come to leave, we have lost Lu Beth. Eventually she is found while I ponder whether these women are worth the trouble. Twice late and once lost. I'm only joking. They are lovely and have really added to the fun of our first day.
We go to ride Maelstrom with Fastpasses I got earlier, but it breaks down while we are in the queue, so we retain our tickets for later use.
It's time to sit down and get a drink. Yep, it's 5.00pm and I'm going to have my first beer in Epcot. That will tell you a lot about how I felt after Mission Space.
We sit in the lounge in Japan and I try the Kirin Light. Not bad.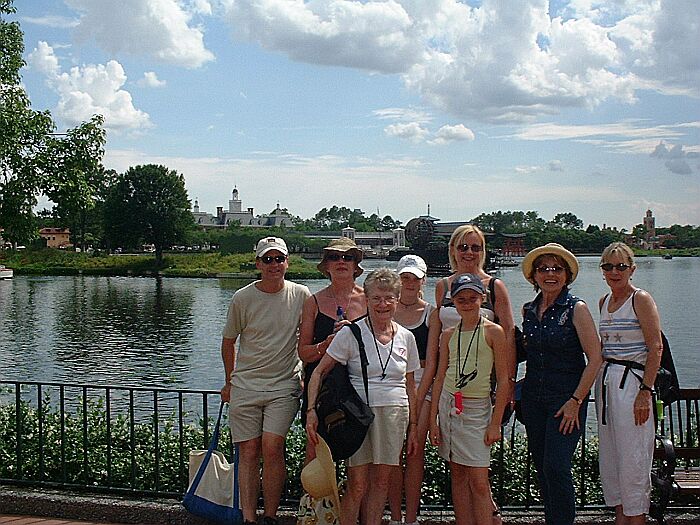 At 5:30pm we all walk to the gondolas in front of Italy to meet our friend Sharon and her family, Gerry, Evan, Gabby and Marissa. Sharon and her son Evan are old friends, but we haven't met Sharon's new husband Gerry or his daughters Gabby and Marissa. When I say 'new' I mean they were married in January, not that she changes her husband regularly.
Introductions over we head to the theatre in front of the American Pavilion to watch The Lovin' Spoonful. They are fun and Lu Beth has one of their albums she wants them to sign. I thought she went a bit far by throwing her knickers on stage though. The guys in the band are knocking on a bit and one of them put his back out bending down to pick them up.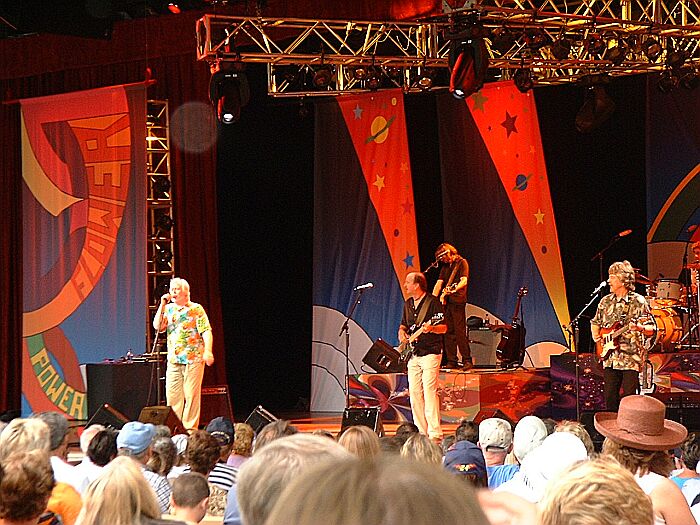 You can practically smell the linament.
After the concert we sit and chat for a while and it's lovely to catch up with old friends.
We decide to ride Maelstrom using our Fastpasses from earlier. Of course we don't have enough for Sharon's gang, so Tammy reveals her devious side. She tells the CM on the door that we were all in line earlier when the ride broke down, but some of us forgot to pick up our Fastpasses on the way out.
And you thought she was such a nice girl too.
After exiting from our semi-illegal ride, I sit by the railings to stake out our place for Reflections of Earth. Everyone goes off to do different things while I sit and mind the bags. I don't mind as it gives me time to write up my trip report. Unfortunately we are having some rain. Not real Florida rain, more your persistent light British rain. Have you ever tried holding an umbrella and writing a trip report? It ain't easy.
People drift back from their various activities and Evan and I shoot off to get a hamburger and a beer from the American Pavilion. On our return Gerry asks what the beer is. When I say Bud Light he says he'll get me a real beer and promptly arrives back with a Dos Equis for me. He's my best mate, Gerry.
Soon it's time for Reflections of Earth and the rain miraculously stops just in time. I never tire of this show and Susan tells me afterwards that she watched me for part of it and I was smiling the whole time. Is there any other way to watch it?
We say our 'goodnights' to all as we will be meeting up again tomorrow.
A slow walk to the International Gateway and we catch a Friendship back to the Boardwalk as Georgia's legs have mysteriously both developed a limp.
Back to the room and the balcony beckons for the report and to stare at the millpond waters of the lagoon. The loud music of last night has gone. I guess it was a Saturday night thing.
Both Tam and I have noticed how quiet the Boardwalk is at this time of the evening.
Beer finished. Trip report finished. Time for bed at 11:00pm.