DAY 12 - MONDAY JUNE 7th 2004
Tam and I get up at 7:15am and sneak out while everyone else is asleep. It's a really beautiful morning and we get coffee and pastries from the bakery before walking slowly around the lagoon.
We stop at a bench in front of the Beach Club to enjoy our breakfast. There are only a handful of people around and it's a very nice way to start our day. We walk on round and take a close up look at the Breathless, the sleek motor launch you can hire for the fireworks cruise. Very nice, all polished mahogany and chrome. I remember our friends Shaun and Alison did the cruise. There isn't much room inside the boat and I wonder how Shaun managed to fit his crate of Sam Adams in.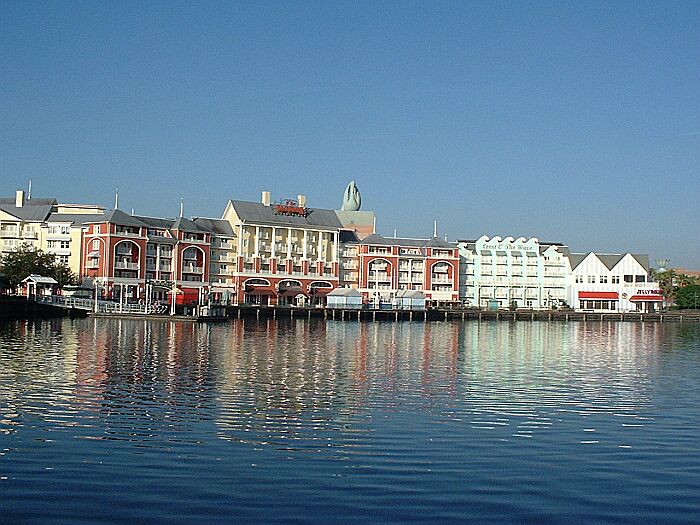 Back at the room Georgia rises in her usual happy manner. You could use that face to sour milk.
Out of the room at 9:00am and we are off to Boggy Creek (east) for the airboat ride. We have a $2 off per adult coupon, but for me Tam and the girls it still costs $67. Not extortionate, but the ride only lasts 25 minutes.
It is quite exhilarating as you skate across the water and through reeds and grasses. We do get to see a small alligator, a turtle and lots of different birds. The driver (is that the right word for an air boat operative?) tells us that the lake is 35 square miles, yet when you look at it on a map of Florida, it is one of the smaller stretches of water.
Overall it's fun, but I'm not sure I'd do it regularly. Once in 10 years maybe. Probably the night time ride when the alligators are more active would be more fun.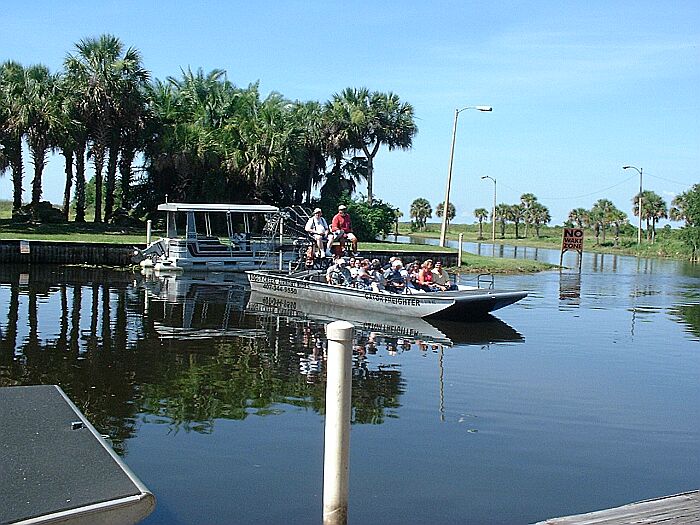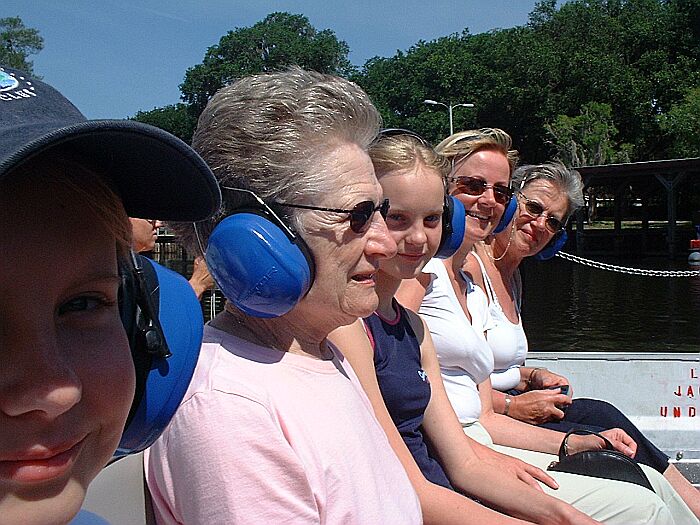 The family take precautions after Kev decides to tell a joke.
On the way to and from the airboat ride we pass through a much more residential area of Florida. Many of the estates look very nice and I bet the prices are a lot more reasonable as it is 14 miles from WDW. One day …..
Next comes the Belz mall and shopping. You may have noticed that my attitude to shopping has mellowed somewhat over the years. Not that I regard it with any more enthusiasm than I ever have before, just that I have come to realise that shopping is to the Stringer women what beer is to me. Fish gotta swim, birds gotta fly, women gotta shop.
I generously allow 2 hours from the busy schedule.
Luggage going back increased and wallet decreased, we drive back to the Boardwalk where we drop off the mothers and the girls as Tam and I are going to have a look at Saratoga Springs the new DVC resort.
We drive to the resort and the first thing we notice is the size of the place, much of it still under construction. We park by the DVC Information Centre and then go for a look around. The pool is nice, but not massive, the slide looks fun though.
The food court is nicely decorated with colourful glass sculptured chandeliers and large murals. The lounge is also very pleasant.
Next we look inside the rooms they have on display. The grand villa is spectacular. Split level, it seems very airy and open. The 2 bedroom unit is very similar to the Boardwalk except it has the toilet in a separate room to the shower.
The rooms are accessed via external doors, a bit like Old Key West.
Overall impressions are that this place is not for me. Sorry if you've just bought into Saratoga Springs, but I would rather stay at any of the other DVC resorts than this one. Of course, this is just my opinion and the place may well mature with time. It does have the advantage of being close to Downtown Disney, but didn't give me the 'wow' factor I usually associate with the DVC.
Back at the room we have time for showers before we set off to Beaches 'n Cream to meet Susan, Lu Beth and Sharon's troop at 5:00pm.
We have the obligatory burgers (which are good as always) and a couple of small sundaes between the 4 of us, which we can't finish. When you are stuffed to the gills with dessert and you see a kitchen sink being delivered to another table, you almost feel sick!
At 6:15pm Tam, me, India and Evan leave to catch our taxi to the Hard Rock Live to see The Darkness. Susan, Lu Beth, Julia and Grandma are going to the Adventurers Club on Pleasure Island.
Our taxi is waiting for us outside the Boardwalk and we are standing outside the venue 45 minutes later.
I've never been inside the Hard Rock Live before and it's a cool place to watch a band. It really is quite small so you get a great view of the band from anywhere on the floor.
The Wildhearts are the first band up and they are very loud and blast along at 100 miles per hour.
The Darkness are due on at 9:00pm and we are told that the gig is being recorded for MTV. This means that Justin (the lead singer) is supposed to tone down his language somewhat. Of course, he doesn't and makes a big thing about it. My hearing must be going by this time as I can't catch everything he says, but it sounds like he is having trouble with his Mothersfeathers. I didn't know she had any.
Justin has definitely based himself on Freddie Mercury, but not quite as good of course, nobody ever could be. He does know how to work a crowd though and they blast through the early songs of the set.
Things are warming up nicely as they hit the opening chords of Growing On Me, but then they stop playing. It seems like the on-stage monitors have packed up. There is a 10 minute break while they try and fix the problem, but when they come back on they still have no monitors. This means they can't hear what they are playing properly and makes it very difficult to get things right.
They soldier on and Growing On Me finally has the whole place jumping. A few songs later they are gone and there is no encore.
I really enjoyed leaping around like a teenager and Evan and me can head bang with the best of them.
As we get out Tam complains that her feet hurt. What a rock chick!
We walk back through City Walk (which seems very quiet) and then get our taxi back at 11:15pm. We have used Tiffany Town Car before and the driver was on time for both journeys.
We ask him to drop Evan at the Wilderness Lodge first and he says that he will have to charge extra. That's fine.
Evan safely back, we are driven to the Boardwalk. I ask how much and he says $65 for the Hard Rock (reasonable) and $15 for the Wilderness Lodge (again reasonable). I say 'That's $80 then' and he says '$93 with 20% gratuity'. Pardon me, I thought it was up to me whether I pay a gratuity and if so, how much.
I can't be bothered to argue over a dollar or two, so I pay up and we are back in the room at midnight.