DAY 14 - WEDNESDAY 28TH MAY 2003
We sleep in until 8:30 am today as we are off to Blizzard Beach and it doesn't open until 10:00 am.
Never mind, today is the first REAL day of our holiday because ……… oh, who am I trying to kid, it's nearly over! (sob.) Only 2 days left!
Tam has taken to hiding my razor blades.
A quick breakfast and we are off to Blizzard Beach, arriving around 10:15 am. There are quite a lot of people around already and we make our way over to the wave pool. It's been quite a while since we've been here, but I don't recall the sunbeds being so close together. We are packed in like sardines.
All lotioned up, we head to the slides. A morning of climbing stairs slowly followed by a much more rapid descent follows. Teamboat Springs (the family raft ride) is the best fun you can have together here. Unless you include those joining the Summit Plummet club. I never knew you could come down 2 at a time, talk about quick!
A float round the lazy river is always relaxing and then it's time for lunch. Nothing surprising here, just chicken sandwiches, hotdogs etc.
An hour of so is spent relaxing and swimming before returning to the slides and another float round the river.
Later in the afternoon a rather unsavoury incident happens. India points out what looks suspiciously like a small lump of child's excrement (at least I hope it was a child's) just above the waterline. I tell her to inform one of the lifeguards, which she does. A few minutes later he comes past and thanks her and that he has rung someone. 20 minutes later we are leaving and the poo is still sitting there. (Mind you, what was I expecting it to do, get up and run around?) Not really the sort of thing I expect from Disney.
You may have noticed a rather flat tone to today's report. I have to admit to already feeling sad at going home the day after tomorrow. This doesn't make a lot of sense, if I go on at this rate I'll be disappointed about the end of the holiday before I leave home! Pull yourself together man, there's still the best part of 2 days left. Take that! *slaps self around face* That's better, I was starting to get hysterical.
It's a lot cloudier today, but still very warm. I don't think we have had one day below 90 degrees so far and very little rain. Now, if that's not tempting fate, I don't know what is.
We are showered and out of the room by 6:00 pm and walk past the Dolphin to play mini-golf in Fantasia Gardens.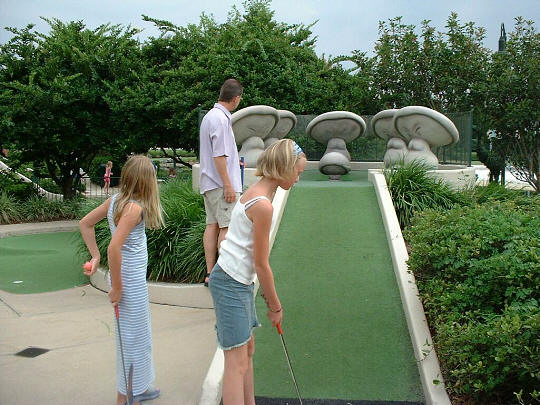 It's a bit expensive at just over $30 for the 4 of us (this includes a 15% DVC discount) but is good fun. One of those 'glad I did it but won't rush back to do it again' sort of things. Suffice to say I whopped the female butts again by a judicious combination of skill and cheating.
Dinner tonight is at the Big River Grille on the Boardwalk. I have Hazelnut Crusted Chicken with garlic mashed potatoes and Tam has the meatloaf. Ind has a chicken Caesar salad while Georgia is saving herself for a pizza from the Spoodles window. $65 includes the drinks and gratuity, so not unreasonable value.
A look around the Boardwalk follows with a little souvenir shopping. We also walk around the Boardwalk Villas. I am desperately trying to talk myself into liking it more than the BCV as it's our home resort. It's a tough job at the moment.
As we walk back to the BCV there is a dull 'whomp' from the Epcot direction and the sky glows red.
Thanks to our chat with the friendly CM last night we know what this is. At the end of Reflections of Earth every evening there is a considerable amount of fuel left that creates the fire at the start of every show. They release all of this in one go and ignite it. He says it's a spectacular.
Back to bed at 11:00 pm.