DAY 15 - THURSDAY 29TH MAY 2003
Mickey wakes us up at 6:45 am. The last full day of our holiday and we intend to make it a FULL day.
On the bus to the Magic Kingdom at 7:30 am and it's packed. Once again there are many men seated while women and small children have to stand. Yeah, that makes you really rough and tough putting your comfort before the safety of others. Rough, tough and ignorant. I don't know why I even let it bother me these days, I've seen it so many times before.
I hear a funny thing on the bus as we pass the Contemporary Resort. A young girl turns to her father and says 'That's Space Mountain in there'.
Also in Epcot the other day I heard a woman talking about visiting Turkey in World Showcase. I think she meant Morocco. Two very different countries actually madam.
At 8:00 am the gates open and we go straight to Space Mountain where Georgia has decided to ride for the first time. We wait for about 20 minutes and Georgia really enjoys it.
Buzz Lightyear is next where a total disaster occurs. Georgia and I are in the same car and at the end of the ride I am feeling rather smug with my score of 98,000 until I glance across to see Georgia has got 220,000! And so it begins. My children are starting to beat me at games of skill (?) I may as well order the drool bib now.
I forgot to tell you, we picked up a Pal Mickey on the way to the park as we get him free for one day with the DVC. I assume it uses some sort of RF device to receive a signal, which triggers his reaction at various points.
He also tells the worst jokes you have ever heard. For example: 'Why did Goofy bang his head on the piano?' 'Because he was trying to play by ear'.
Better than my jokes admittedly, but still awful.
We are at the far end of Fantasyland for the rope drop at 9:00 am when George suddenly declares that she wants to try Splash Mountain. You may recall that the only time she tried this in the past was not a success. Tam won't do it anymore, so I head off with the girls.
We are on within 5 minutes and it's as much fun as ever. Georgia loves it, but a young boy in the seat ahead of us is crying his eyes out as we climb the hill for the big drop while his parents try to comfort him. Been there mate, been there.
We ride Big Thunder Mountain and then go to the Haunted Mansion. This is still my all time number one WDW attraction, I could ride it non-stop. In the ballroom scene I see the grandmother ghost in her rocking chair in front of the fire for the first time.
We have hit all the things we want to do in the Magic Kingdom and are now off to the Animal Kingdom, but before we go Tam insists on a stop at the Main Street Bakery. We have 3 ice cream cookie sandwiches and a huge cinnamon roll. With a large lemonade the bill is $16. It shows that there is still reasonable value to be had on site as the cookie sandwich is made of 2 full size cookies filled with a load of ice cream.
We sit in the area down by the water in front of the castle, which seldom has anyone in it and enjoy our goodies.
Now it's off to the Animal Kingdom. We get the boat across to the TTC (something we haven't done for years) and then the bus to the Animal Kingdom.
We hit the Kilimanjaro Safaris first with barely a 10 minute wait.
Next is It's Tough To Be a Bug where Georgia again surprises us by wanting to do it. India declines, but Georgia enjoys it. I think she also enjoys getting one up on India by doing something India won't do.
As we are walking through the path winding its way through the Tree of Life a small boy says to his father 'Did Disney make it or did it just grow that way?'
Round to Dinoland where Tam wants to do Primeval Whirl. I give this a miss because I get sick on the teacups so this looks a bit dodgy.
Tam and India enjoy it, but this area still rankles with me. Far too tacky.
We are just about to leave Dinoland when we notice Tarzan Rocks has just started, so we decide to give it a go. As we are late they seat us right in the very front row (work that one out). From this close you can really appreciate the skill of the roller skating monkeys and the strength and artistry of Tarzan and Jane as they fly through the air.
Tarzan is very well muscled, but completely hairless! What a big girly! I could take him in a fight. Only don't tell him I said so, ok?
Lunch in Asia is particularly uninspiring, a combination of chicken from the chicken shop and fries from McDonalds. A big disappointment is that the seating area down the side of the monkey temple has now been blocked off half way down and turned into a smoking area. They have taken away one of the quietest, prettiest parts of the Animal Kingdom.
A bit of a mistake is made next when we wait 45 minutes to ride Kali River Rapids. It's fun, but not worth that long a wait.
We leave the park and return to the BCV at 4:45 pm for a quick swim.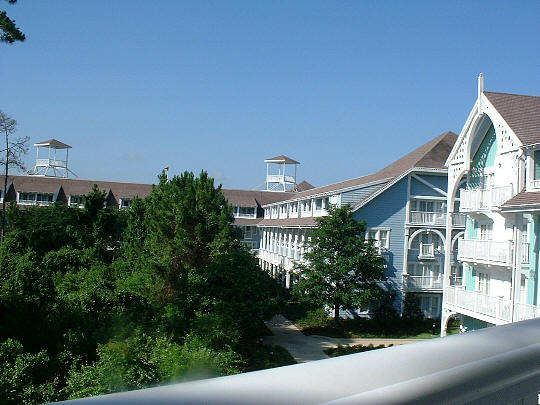 Showered and refreshed we head for Epcot at 6:30 pm.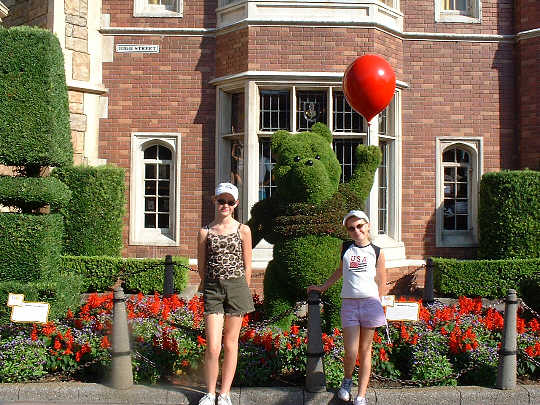 There is some debate as to what we should eat. In the end we plump for fish and chips from the UK pavilion. Well, we like to try strange and exotic foods when on holiday. A beaver tail from Canada completes our artery hardening feast.
The girls want to do Test Track for a final time, so we walk round with them. Georgia even agrees to do the single rider line. She has really started to find her independence on this holiday.
Tam and I walk to Norway at 7:30 pm and sit on a bench to wait for Reflections of Earth. I know it's very early to stake out a place, but there is nothing we desperately want to do and it's lovely to just sit and relax with a few beers and enjoy night falling over Epcot.
By the way the benches lining the railings between Norway and Mexico all face inwards. The blinking things are very heavy, as we find out when we try to turn it round, but we manage eventually. This is a new experience, to watch reflections of Earth while sitting on a bench, very relaxing.
I say to Tam that if Disney ever decide to replace this show we would have to fly out for the last performance. Can you imagine what it would be like? Thousands of fans staking out their viewing positions at park opening. You think I exaggerate? When we entered Epcot for New Years Eve 1999 at 10:00 am, people had already set up blankets to secure their places.
Anyway, let's hope it's not something I have to contemplate for many years to come.
After the show we sit and relax for a while listening to the music and letting the crowds disperse before walking down to Mousegear for some last minute shopping. Actually I spend most of my time watching the fountain and trying to persuade Tam to let me buy a monorail toy. And failing.
We walk back towards the International Gateway as slowly as we possibly can. Ever since Tam heard about the 'fuel dump' she has been desperate to see it.
Sure enough, at 10:35 as we approach the UK pavilion a large fireball explodes from the centre of the lagoon. Very impressive.
Back at the Beach Club we all split a burger and fries at Beaches 'n Cream before going back to the room.
So, here I am having a last beer, writing this report and struggling to find a reason not to go to bed and finish the last full day of our holiday.
Why are we humans so greedy? I'm lucky, I have a lovely family, live in a beautiful part of the world, take fantastic holidays some people can only dream about and it's still not enough for me.
I don't want to go home, I want to stay here. (With my lovely family, of course).
Go on Mickey, give us a job. I'd be the best monorail driver you ever had.
'Por favor, mantangese alehedro de las puertos'. Or something like that.
For all I know it could mean 'Your Granny has run off with a Dutchman'.