DAY 3 - SATURDAY 17TH MAY 2003
The night passes the same way all first nights in Florida pass for me. Having gone to bed at 9:30, I wake up at 12:30 am, 1:30 am then finally at 3:30 am. It is much the same for Tam, though the girls are snoozing away happily. They seem much better at adapting to the time changes than we are.
So here I am, sat in the bathroom at 4:15 am wondering what to tell you about.
Well, I was born at an early age, the son of an exiled Russian Prince and a famous actress whose name must be kept secret because she once had an affair with the then President of the United States.
My formative years were spent learning how to sword fight and being schooled in the ancient Chinese martial art of Mah-Jong. By the age of 10 I was a black belt. (I also had a nice blue one with little penguins on it, but I don't talk about that one much).
I lived in a palace………… What do you mean you don't want to hear about all that? There's ingratitude for you!
I can't really be mad at you because today is the first REAL day of our holiday as it is our first full day in Florida and we set off on the cruise.
Everyone else gets up around 6:30 am and we have a leisurely time taking showers and preparing for the day ahead.
Around 8:15 we head next door to Zachary's (a Greek restaurant) for breakfast. Me and Tam opt for the healthy option of the chefs special. 2 eggs, pancakes, bacon, ham and sausage. India goes for the even healthier option of the steak sandwich, while Georgia has the oh-my-gosh-I-could-run-a-marathon-after-this option of pancakes covered in strawberries and whipped cream. With numerous cups of coffee, chocolate milk for Georgia and the tip, the bill comes to $35. Excellent value.
We check out from the Radisson at 9:45 am and get a taxi to the port. The earliest shuttle we could have got would have been 12:30 and there's no way we could wait that long. The girls are bouncing around with excitement as it is.
On arrival at the port our luggage is taken from us and we enter the cruise terminal. This is a huge, airy building with a nautical theme, even the roof is a waved form. There is a definite Disney feel to the whole place. This could be because I can here 'Just Around The River Bend' playing, but it's more than that.
We have already met Mark and Mandy (from the UK DIS boards) in the car park. They got married last Saturday and aren't looking too tired all things considered.
Tam tells Mark that I am open to bribes when writing a favourable trip report.
Mark offers to buy me a beer later.
At this point I must say what a thoroughly nice couple Mark and Mandy are. Should the beer come to fruition later they will be elevated to 'wonderful'.
Check-in is very smooth as we are first in the non-resident section. We then stand in line to get on the ship. We are about the 5th family in line. Cool! Mark and Mandy are just a couple of places behind us.
The wait is about an hour and we start to board at 12:00.
We are announced on board and go straight off to make our reservations for Palo. We are the first ones there! From there it's off to the Spa to book Tam's cabana massage and the Surial Bath.
Next is the kids club to get the girls booked in. This is all achieved very quickly and we are eating lunch in Topsiders by 1:00 pm. One of the many options available, Tam's favourite is the chilled Orange and Mango Soup. A little strange for my taste, but there are many other things available including minute steak, pork carved off the bone, chicken and salmon.
Off to the stateroom, where we meet our stateroom host, Don. He seems a pleasant chap and we soon have all our luggage unpacked.
There is ample storage space for just about everything. The only thing that is lacking is somewhere to put your cases. I know some people put them under the bed, but ours are too big. We manage to fit one in the wardrobe, then, with one inside the other, stack that against the adjoining door.
A tour of the ship is next. There are too many places to tell you about all of them, but one of the most impressive areas is the spa. The Rainforest Room looks very relaxing with heated loungers to lie on and several different steam rooms to try. Tam is determined to give this a try later in the week.
It's nearly time for the lifeboat drill, so it's back to the room to fetch our life jackets and then off to our muster point. The drill only takes 10 minutes or so, but it is quite unpleasant wearing a large and cumbersome life jacket in that heat (it's 90 degrees today), but I suppose it's necessary.
I'm kept amused by Tam who nearly decapitates the man next to her with her life jacket every time she turns round to tell me something.
With barely enough time to return our life jackets to the room, it's off to the sail away party. Wow, it's a hectic life this cruising!
A band plays, Mickey and Minnie dance and the horn blows 'When You Wish Upon A Star' as we pull out of port. The other notable occurrence is my first drink on board. A cocktail of some description followed by a beer.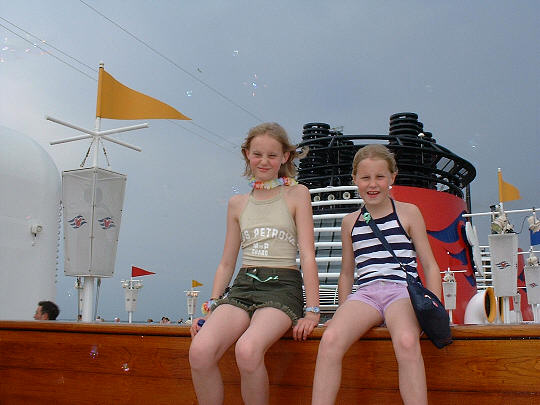 Bubbles at the sailaway party.
When we go down to deck 9 to watch from a quieter vantage point, a lady comes up to me and says 'Are you Kevin Stringer?'. It's Terry who e-mailed me a few days earlier to say she would be on the same cruise as us. Nice to meet someone that you have communicated with. The only bad thing is that she says she thought it was us because she recognised India! I'm supposed to be the unforgettable one in this party! The ego takes another small dent. Who am I kidding, my ego's taken so many knocks over the years it's been battered senseless.
As we stroll past the adult pool somebody shouts to us. There are Mandy and Mark with the whole pool to themselves. I know you get a few perks when you're on your honeymoon, but that's ridiculous!
One thing that has struck me so far is the vast number of children on board, many of them very young.
If I'm being honest I would have to say there are too many for my liking. A good proportion of them seem to be either screaming their heads off or misbehaving. I lose count of the number of times I have heard 'Hey Buddy, don't do that', only for Buddy to do exactly the same again. At which point Buddy's father ignores Buddy and allows him to do whatever he buddy well pleases. Parenting at its best.
Back to the room where we all shower for dinner and enjoy our verandah for the first time while the ship is in motion.
The girls then get their first experience of the Oceaneers Club while Tam and I go off for a quiet drink. We find Sessions Lounge which is adults only. Now this is more like it. Quiet, plush, elegant with a man playing the piano in one corner. I mean he's playing the piano in one corner of the room, not that he's playing just a few notes at the end of the scale.
Mandy and Mark stroll in. Now there's a smart couple, Mark in a suit and Mandy in an evening dress. Or was it Mandy in a suit and Mark in an evening dress. I can't remember. We talk for a while then Tam and I have to go and get the girls from the kids club. They say that it was ok, but they tend to be a bit shy so it may take them a while to make friends.
Off to Animators Palate for our first meal. We are on table 23 and I'm surprised to find that it seats 14! We meet a family of 4 from Jacksonville and a family of 3 from Virginia.
Now those of you that are not mathematically challenged will have worked out that there are still 3 places remaining. And it stays that way as they never show up.
Also the family from Virginia are switching to early dining as their young daughter is very tired.
We've frightened off 3 of them already!
Our servers are Liam and John and they seem very nice. The food is very good as is the wine. I have steak and so does India. She eats the whole thing! Sea air obviously agrees with her as she has been eating like a horse today. Tam has the veal and says it is excellent. Georgia has chicken strips and eats a little before promptly falling asleep in her chair. It has been a long day for her and she's worn out.
Tam suddenly announces that she may not have dessert! An audible gasps emits from everyone in the restaurant and you could hear a pin drop. 'Perhaps I'll just try the fruit and cookies then'. A collective sigh of relief and conversation returns to its previous level.
India tucks away the Chocolate Fudge Cake (her mothers genes must finally be emerging) and I have the Shortbread Berry cobbler. Overall I am impressed with the standard of the food.
The lighting in the restaurant is also very pretty and the colourful ending to the meal rounds things off nicely.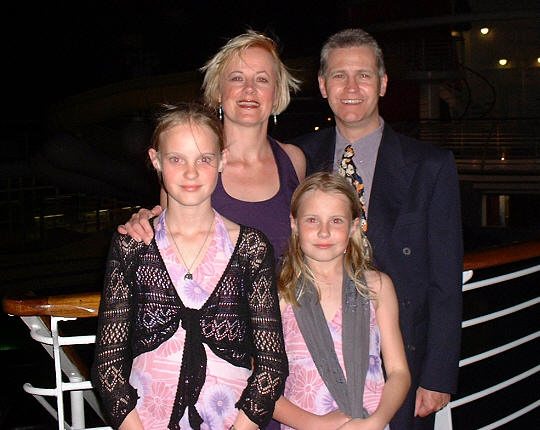 By this time it's gone 10 and Georgia is more than ready for bed so it's back to the stateroom.
I sit on the verandah to write up my trip report and listen to the sea slipping past. The movement of the ship is only slight and is really quite relaxing.
So what are my thoughts on our first day cruising?
Overall I have to say that it did not quite live up to my admittedly high expectations. The sheer number of people on board tends to detract from the overall quality feel.
Do you think they would notice if I were to hoik 2 or 3 hundred children overboard? I'd put them in a lifeboat with bread and water. What do you think I am, a monster?
It could well be that this will turn out to be the most crowded day as everybody boards at once, attends the lifeboat drill, then goes to the sail away party.
On the plus side, the stateroom is lovely and being able to sit on the verandah is wonderful. The level of service is up there with the best Disney can offer. All the crew seem happy and welcoming.